STUFFED (40)
By: Tom Nealon
November 22, 2019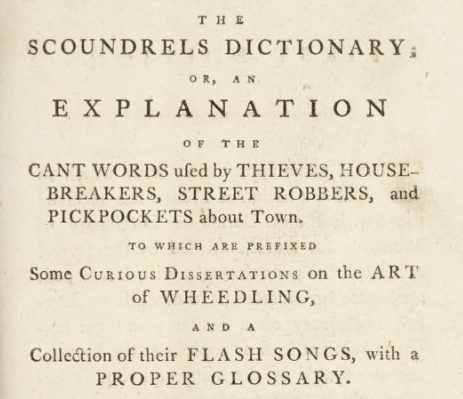 One in a popular series of posts by Tom Nealon, author of Food Fights and Culture Wars: A Secret History of Taste. STUFFED is inspired by Nealon's collection of rare cookbooks, which he sells — among other things — via Pazzo Books.
FLASH THE HASH, pt. 2
In 1788, William Grose published A Classical Dictionary of the Vulgar Tongue, a lowbrow collection of the colorful slang and cant terms and idioms that Samuel Johnson had left out of his highbrow 1755 dictionary. Recently, I pored over Grose's dictionary in search of food- and drink-related words. Here's what I've found, from J through Z.
Jerrycummumble: To shake, towzle, or tumble about.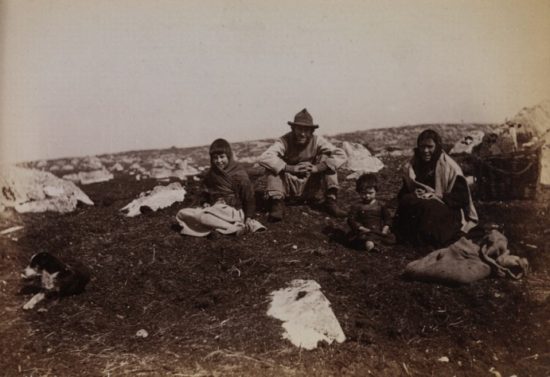 Irish Apricots (in this dictionary I is interspersed with J, I guess because it's a "classical" dictionary): Potatoes. It is a common joke against the Irish vessels to say they are loaded with fruit and timber, that is, potatoes and broomsticks.
Kettle of Fish: When a person has perplexed his affairs in general, or any particular business, he is said to have made a fine kettle of fish of it.
Kickshaws: French dishes: corruption of quelque chose.
Kill Priest: Port wine.
Kissing crust: That part where the loaves have touched in the oven.
Kitchen Physick: Food, good meat roast or boiled.
Lamb's Wool: Apples roasted and put into a strong ale.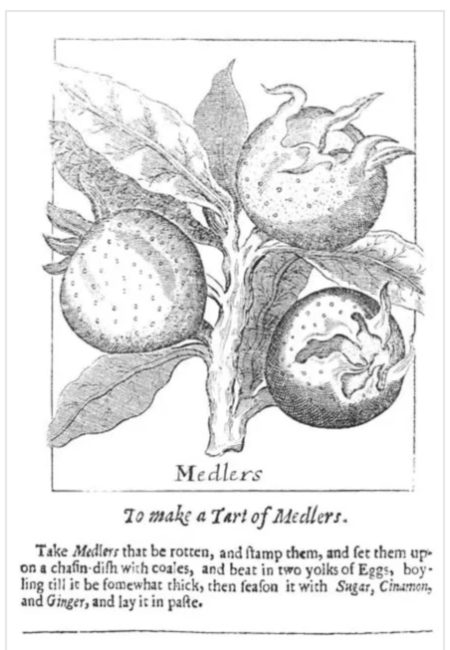 Lareovers for Medlers: An answer frequently given to children, or young people, as a rebuke for their impertinent curiosity, in enquiring what is contained in a box, bundle, or any other closed conveyance: perhaps from a layover, or turnover, a kind of tart not baked but made to contain the fruit by turning one end of the crust over the other. Medlar tarts were probably so made in former times.
Line of the Old Author: Dram of brandy.
Liquor: To liquor one's boots; to drink before a journey.
Lobscouse: A dish much eaten at sea, composed of salt beef, biscuit, and onions, well peppered and stewed together.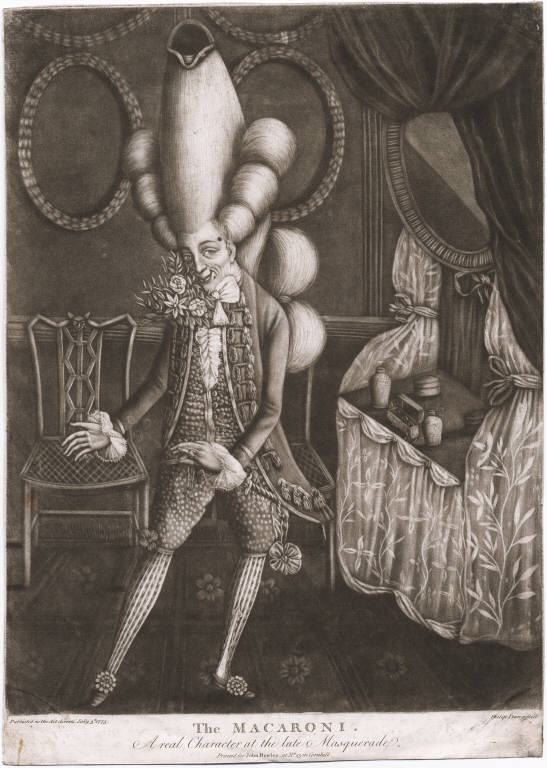 Maccaroni: An Italian paste made of flour and eggs. Also a fop: which name arose from a club called the Maccaroni Club.
Mackerel: A bawd.
Marinated: Transported to some foreign plantation.
Marrow Bones: The knees. To bring any one down on his marrow bones; to make him beg pardon on his knees. Marrow bones and cleavers; principal instruments in the band of rough music; these are generally performed on by butchers, on marriages, elections, riding skimmington, and other public or joyous occasions.
Maundering Broth: Scolding.
To Milk the Pigeon: To endeavor at impossibilities.
More-ish: This wine has but one fault, and that is, it is more-ish: i.e. more of it is wanted, or there is too little of it.
Munster Plumbs: Potatoes.
Nipperkin: A small measure
Norfolk Capon: A red herring.
Nutmegs: Testicles.
Nyp, or Nip: A half pint, a nyp of ale: whence the nipperkin, a small vessel.
Nyp Shop: The Peacock in Grays Inn Lane, where Burton ale is sold in nyps.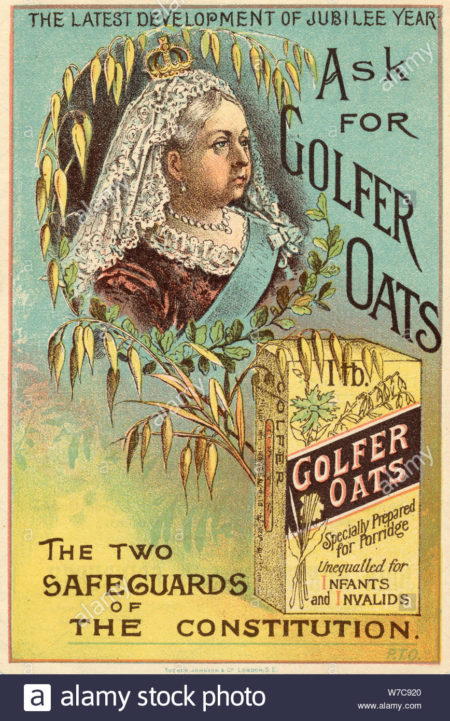 Oats: He has sowed his wild oats; he is staid, or sober, having left off his wild tricks.
Oil of Barley or Barley Broth: Strong beer.
Ostler: Oatstealer.
Oyster: A gob of thick phlegm spit by a consumptive man; in law Latin, unum viridum gobbum.
Pap: Bread sauce; also the food of infants.
Papler: Milk potage.
Parell: Whites of eggs, bay salt, milk, and pump water, beat together and pored into a vessel of wine to prevent its fretting.
Peck: Victuals. Peck and booze; victuals and drink.
Peekin: water cyder.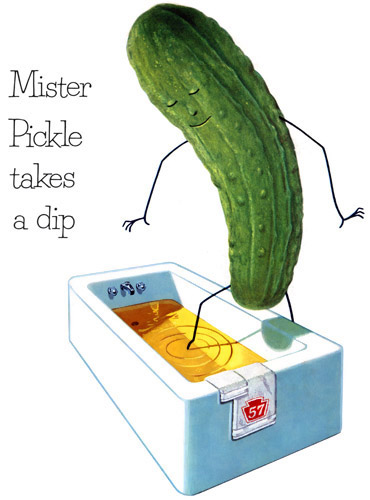 Pickle: An arch waggish fellow. In pickle, or in the pickling tube: in a salivation. There are rods in brine, or pickle, for him; a punishment awaits him, or is prepared for him. Pickle herring; the zany or merry Andrew of a mountebank.
Pigeon's Milk: Boys and novices are frequently sent on the first of April to buy pigeon's milk.
Pork: To cry pork; to give intelligence to the undertaker of a funeral: metaphor borrowed from the raven whose notes sounds like the word pork. Ravens are said to smell carrion at a distance.
Potato Trap: The mouth.
Pudding: The guts.
Pudding-Headed Fellow: A stupid fellow.
Pudding Sleeves: A parson.
Pudding Time: In good time, or at the beginning of the meal. To give the crows a pudding; to die. You must eat some cold pudding to settle your love.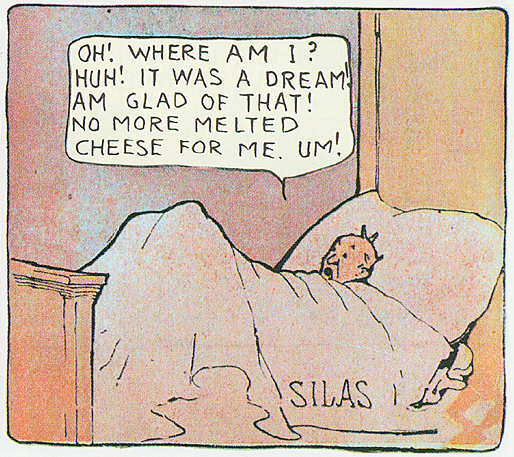 Rabbit: A Welch rabbit; bread and cheese toasted, i.e. a Welsh rare bit. Rabbits were also a sort of wooden canns to drink out of, now out of use.
To Roast: To arrest — also to jeer, ridicule or banter. Roast meat clothes; Sunday or holiday clothes. To cry roast meat; to boast of one's situation. To rule the roast; to be master or paramount.
Rot Gut: Small beer; called beer-a-bumble — will burn one's guts before 'twill make one tumble.
Rough Music: Saucepans, frying-pans, poker and tong, marrow bones and cleavers, bulls horns etc beaten upon and sounded in ludicrous processions.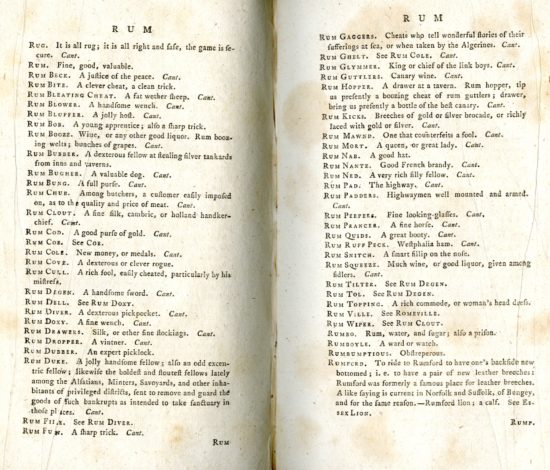 Rum ____: see illustration
Sacheverel: The iron door, or blower, to the mouth of a stove: from a divine of that name who made himself famous for blowing the coals of dissention in the latter end of the reign of Queen Ann.
Salmon-Gundy: Apples, onions, veal or chicken and pickled herrings, minced fine and eaten with oil and vinegar: some derive the name of this mess from the French words selon mon goust, because the propositions of the different ingredients are regulated by the palate of the maker; others say it bears the name of the inventor, who was a rich Dutch merchant: but the general and most probable opinion is that it was invented by the countess of Salmagondi, one of the ladies of Mary de Medicis, wife of King Henry IV of France and by her brought into France.
Salt: Lecherous.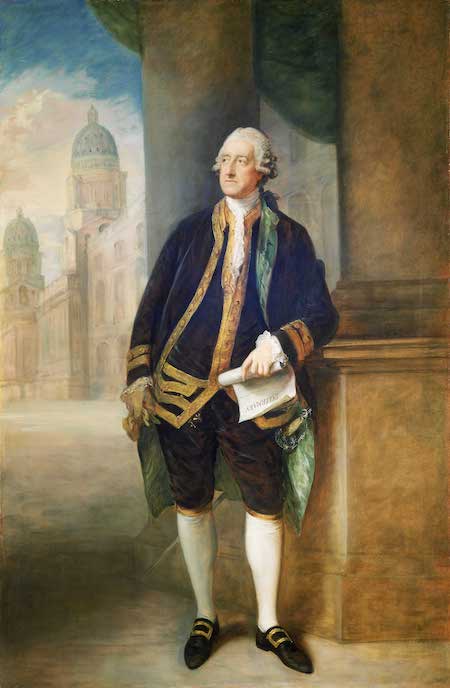 Sandwich: Ham, dried tongue, or some other salted meat, cut thin, and put between two slices of bread and butter; said to be a favourite morsel with the Earl of Sandwich.
Sangaree: Rack punch was formerly so called in bagnios.
Sauce Box: A term of familiar raillery, signifying a bold or forward person.
Scotch Chocolate: Brimstone and milk.
Scratch Platter or Taylor's Ragout: Bread sops in the oil and vinegar in which cucumbers have been sliced.
Sir John Barleycorn: Strong beer.
Sir Loin: The sur, or upper loin.
Slap-bang Shop: A petty cook's shop where there is no credit given, but what is had must be paid down with ready slap-bang, i.e. immediately. This is a common appellation for a night cellar frequented by thieves, and sometimes for a stage coach or caravan.
Slush Bucket: A foul feeder, one that eats much greasy food.
Smash: Leg of mutton and smash; a leg of mutton and mashed turnips.
Spatch Cock: A hen just killed from the roost or yard and immediately skinned, spliot, and broiled: an Irish dish upon any sudden occasion.
Split Fig: A grocer.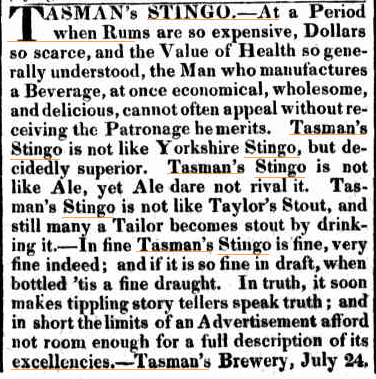 Stingo: Strong beer or other liquor.
Sugar Stick: The virile member.
Sugar Sops: Toasted bread soaked in ale, sweetened with sugar and grated nutmeg: it is eaten with cheese.
Tears of the Tankard: The drippings of liquor on a man's waistcoat.
Three Threads: Half common ale mixed with stale and double beer.
Tie of the Buttery: A goose.
Tiffing: Eating or drinking out of meal time, disputing or falling out; also lying with a wench. A tiff of punch; a small bowl of punch.
Toad: Toad in a hole; meat baked or boiled in a pye crust.
Toasting Iron or Cheese Toaster: A sword.
Toddy: Originally the juice of the cocoa tree, and afterwards rum, water, sugar, and nutmeg.
Turkey Merchant: A poulterer.
Twiddle-Diddles: Testicles.
Victualling Office: The stomach.
Vinegar: A name given to the person who with a whip in his hand, and a hat held before his eyes, keeps the ring clear at boxing matches and cudgel playings; also, in cant terms, a clock.
Water Bewitched: Very weak punch or beer.
Whirlygigs: Testicles.
Whisky: A malt spirit much drank in Ireland.
Yaffling: Eating.
Yarmouth Pye: A pye made of herrings highly spiced, which the city of Norwich is by charter bound to present annually to the king.
Yarum: Milk.
Zany: The jester, Jack Pudden, or merry Andrew, to a mountebank.
***
STUFFED SERIES: THE MAGAZINE OF TASTE | AUGURIES AND PIGNOSTICATIONS | THE CATSUP WAR | CAVEAT CONDIMENTOR | CURRIE CONDIMENTO | POTATO CHIPS AND DEMOCRACY | PIE SHAPES | WHEY AND WHEY NOT | PINK LEMONADE | EUREKA! MICROWAVES | CULINARY ILLUSIONS | AD SALSA PER ASPERA | THE WAR ON MOLE | ALMONDS: NO JOY | GARNISHED | REVUE DES MENUS | REVUE DES MENUS (DEUX) | WORCESTERSHIRE SAUCE | THE THICKENING | TRUMPED | CHILES EN MOVIMIENTO | THE GREAT EATER OF KENT | GETTING MEDIEVAL WITH CHEF WATSON | KETCHUP & DIJON | TRY THE SCROD | MOCK VENISON | THE ROMANCE OF BUTCHERY | I CAN HAZ YOUR TACOS | STUFFED TURKEY | BREAKING GINGERBREAD | WHO ATE WHO? | LAYING IT ON THICK | MAYO MIXTURES | MUSICAL TASTE | ELECTRIFIED BREADCRUMBS | DANCE DANCE REVOLUTION | THE ISLAND OF LOST CONDIMENTS | FLASH THE HASH | BRUNSWICK STEW: B.S. | FLASH THE HASH, pt. 2 | THE ARK OF THE CONDIMENT | SQUEEZED OUT | SOUP v. SANDWICH | UNNATURAL SELECTION | HI YO, COLLOIDAL SILVER | PROTEIN IN MOTION | GOOD RIDDANCE TO RESTAURANTS.
MORE POSTS BY TOM NEALON: Salsa Mahonesa and the Seven Years War, Golden Apples, Crimson Stew, Diagram of Condiments vs. Sauces, etc., and his De Condimentis series (Fish Sauce | Hot Sauce | Vinegar | Drunken Vinegar | Balsamic Vinegar | Food History | Barbecue Sauce | Butter | Mustard | Sour Cream | Maple Syrup | Salad Dressing | Gravy) — are among the most popular we've ever published here at HILOBROW.