POLITICAL OBJECTS (23)
By: Benjamen Walker
March 17, 2017
One in a 25-part series of nonfiction stories about objects of political significance. This is the first volume in the PROJECT:OBJECT series. Please subscribe to the P:O newsletter; and purchase P:O apparel and accessories — all profits will be donated to the ACLU!
*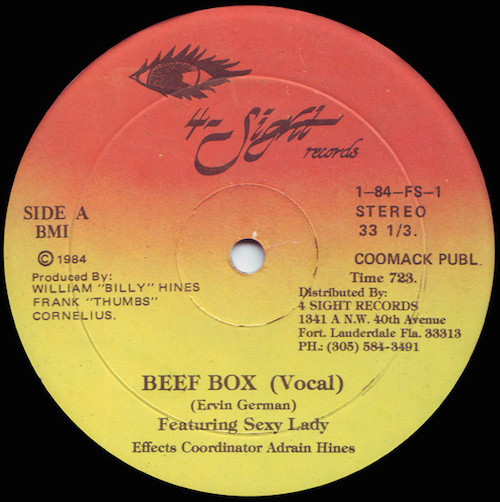 On January 1st, 1984, at age 12, I started a journal with a plan to document the Orwellian realities of the year. President Reagan (Big Brother, duh) had lied a lot, since taking office, and the media let him get away with it; I wanted to stand up and publicly demand the truth. On January 10th, a little old lady did just that in a Wendy's commercial: "Where's the beef?"
The three "Where's the beef" commercials, starring Clara Peller, were insanely popular. Asked, by Bryant Gumbel, what Peller's appeal was, the commercials' director replied, simply: "She's real." Peller challenged the fake. She was a direct challenge to the whole day-glo façade.
"Where's the beef" became the political question of the year: Walter Mondale used it against Gary Hart in the Democratic primary debate. (He should have used it against Reagan too.) A fourth Wendy's commercial, in which Peller shouts down a lying politician, was supposedly filmed — but it never aired. Too incendiary?
One summer night in 1984, as I was working on my journal, the novelty song "Where's the Beef" — produced by the aspiring Nashville DJ Coyote McCloud — came out of my radio. I heard it on Dr. Demento's weekly radio show. Wendy's didn't sue McCloud; instead, they flew in Clara Peller so he could re-record the song with her! (They helped distribute the record, too.) I rushed out the next morning to buy it — but they sold me a different "Where's the Beef" 45!
The pre-Internet meme spread. "Where's the Beef" inspired a lot of musicians. I own 19 "Where's the Beef" discs from 1984. (Rock and roll, country, polka, reggae, samba, electro rock, and hip hop). Many channeled Clara Peller but they all wanted to push through to the real. My favorite, I think, is "Beef Box" by MC Cheif and Sexy Lady. This one rolled out of a record store in a Fort Lauderdale mall. In fact, Sexy Lady was a clerk at Royal Sounds and Ervin German (MC Cheif) was a customer. These are two super-confident rappers: They are totally going to find the beef, and we are welcome to come find it with them.
Some "Where's the Beef" records directly called out Reagan: "Hey Ronnie, Where's The Beef?" was a folk/country version by Tony & Bo. But even the ones that didn't were political records. That's because Wendy's 1984 slogan — created by legendary ad man Cliff Freeman — might just be the only revolutionary slogan penned on Madison Avenue. This should give us pause, since in Orwell's 1984, Emmanuel Goldstein's radical book was covertly written by the state. Still, whenever I listen to "Beef Box", I turn into Winston Smith: Enough with the lies. Where's the beef?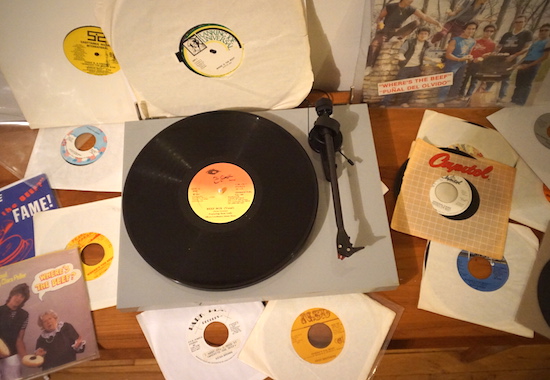 *
POLITICAL OBJECTS series: INTRODUCTION | Luc Sante on CAMPAIGN PAMPHLETS | Lydia Millet on PVC POLAR BEAR | Ben Greenman on MATCHBOX CAR | Rob Baedeker on PRESIDENTS PLACEMAT | L.A. Kauffman on WHEATPASTE POSTER | Astra Taylor on SALAM'S NECKLACE | Carolina A. Miranda on POCHO | Stephen Duncombe on PROTEST SIGN | Marisa Silver on SHAMAN BOWLS | James Hannaham on DR. BUZZARD LP | Virginia Heffernan on HRC PAINTING | Kenya (Robinson) on BURNER PHONE | Kathryn Davis on POLITBUREAU | Chenjerai Kumanyika on NAT TURNER PRINT | Alexis Madrigal on MERMAID COSTUME | Anne Boyer on ALL KNEES AND ELBOWS OF SUSCEPTIBILITY AND REFUSAL | Steven Heller on JFK DOLL | Anne Elizabeth Moore on BLOOD PRESSURE MONITOR | Gary Dauphin on RUM BOTTLE | Tom Frank on DNC PASS | Lizzie Skurnick on GROUP PHOTO | Stuart Ewen on SNCC PIN | Benjamen Walker on BEEF BOX 12″ | Rob Walker on CAMPAIGN SIGN | Alex Kalman on THEM=US PIN.
SIGNIFICANT OBJECTS at HILOBROW: PROJECT:OBJECT homepage | PROJECT:OBJECT newsletter | PROJECT:OBJECT objects (Threadless shop — all profits donated to the ACLU) | POLITICAL OBJECTS series (1Q2017) | TALISMANIC OBJECTS series (2Q2017) | ILLICIT OBJECTS series (3Q2017) | LOST OBJECTS vol. 1 series (4Q2017) | FLAIR series (2Q2018) | FOSSIL series (4Q2018). 12 DAYS OF SIGNIFICANCE | 12 MORE DAYS OF SIGNIFICANCE | 12 DAYS OF SIGNIFICANCE (AGAIN) | ANOTHER 12 DAYS OF SIGNIFICANCE . ALSO SEE: SIGNIFICANT OBJECTS website | SIGNIFICANT OBJECTS collection, ed. Rob Walker and Josh Glenn (Fantagraphics, 2012) | TAKING THINGS SERIOUSLY, ed. Josh Glenn (Princeton Architectural Press, 2007) | TAKING THINGS SERIOUSLY excerpts.