POLITICAL OBJECTS (21)
By: Lizzie Skurnick
March 10, 2017
One in a 25-part series of nonfiction stories about objects of political significance. This is the first volume in the PROJECT:OBJECT series. Please subscribe to the P:O newsletter; and purchase P:O apparel and accessories — all profits will be donated to the ACLU!
*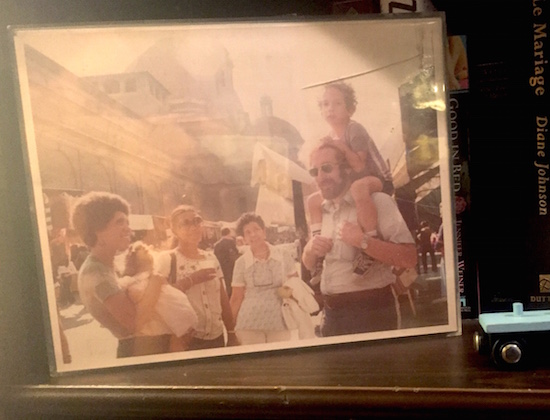 The photo was hanging on a shelf in my parents' study before I liberated it — an '80s plastic box frame, gone grey, with three holes in the back where you can stick your fingers, which I often did. It's a group photo: three black women; one red-headed, bearded white man, in sunglasses; and two children. They are by a fountain in summer, a European palace fading behind them into the background.
On the man's shoulders is a boy — Arab? — while the woman on the far left, with the Black Power Afro (it looks like the seventies) holds a child with a blond halo, in a frilled dress, squirming in a way I recognize in my own son, a toddler. When I was young, I thought the girl was faceless, with devil's horns. Through adult eyes, the orientation is clear: from the back, she is wearing pigtails.
I show the photo to people when they enter my house: watch them, and wait.
Who are the black women, and why are there three? Is the one holding the blond girl the nanny, and, if so, why is she smiling at the other boy? Why, in fact, are all the women smiling at the boy? Did they find him somewhere, is he a gypsy? Is the white man their guide? Why are they in a fancy place in Europe, relaxed, in casual clothes, as if they were normal people, like anyone else?
When I was in college, white people called black people "them": them, they, a regrettable problem that needed to be solved, maybe a lost cause. And the older I get the more I see that this is the problem: that white people fail to see black people as people — human, yes, but them and they, not normal people, like everybody else.
I know the black woman on the left was an English professor who later became a physician; the woman at center, a stewardess for Pan Am, with two Masters degrees in French. The third — who, if you look closer, is older, but not by much — had a Masters from Spelman, in English literature. The first and the third were both professors at universities.
You notice I discuss them in terms of academic achievement, and it does seem that black people need to rise to a significant level of achievement to cease being a problem to white people, even white people without college degrees. Yet then they become singular: marvels, rarities. Obama. Tell white people what the women were, and you get a grunt. Impressive.
Freedom to attend university is one thing, but the freedom to exist as whatever you are is another — not only in the world, but in the minds of your fellow citizens. "What white people have to do, is try to find out in their hearts why it was necessary to have a nigger in the first place," James Baldwin says. "Because I'm not a nigger, I'm a man, but if you think I'm a nigger, it means you need it."
The black woman on the left with the Angela Davis Afro is my mother, and I the blond child, skin a white contrast, squirming away. The next black woman is her sister, and the next my grandmother — young-looking then, even up to her death. The white man holding the fuzzy-headed boy is his father, and mine. We are in the Piazza San Marco.
This was nearly 40 years ago, but when I show the framed photo to people, you see their confusion, their questions. It still needs an explanation, when I show it to them: this picture of my family.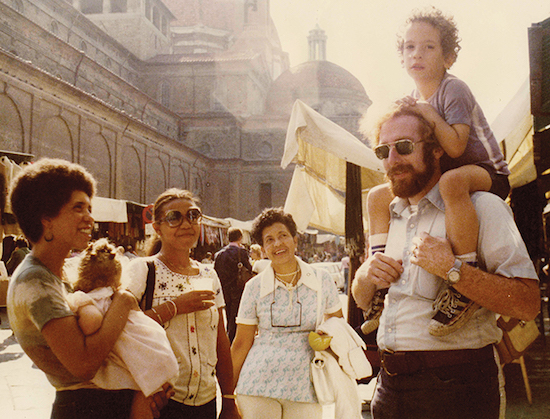 *
POLITICAL OBJECTS series: INTRODUCTION | Luc Sante on CAMPAIGN PAMPHLETS | Lydia Millet on PVC POLAR BEAR | Ben Greenman on MATCHBOX CAR | Rob Baedeker on PRESIDENTS PLACEMAT | L.A. Kauffman on WHEATPASTE POSTER | Astra Taylor on SALAM'S NECKLACE | Carolina A. Miranda on POCHO | Stephen Duncombe on PROTEST SIGN | Marisa Silver on SHAMAN BOWLS | James Hannaham on DR. BUZZARD LP | Virginia Heffernan on HRC PAINTING | Kenya (Robinson) on BURNER PHONE | Kathryn Davis on POLITBUREAU | Chenjerai Kumanyika on NAT TURNER PRINT | Alexis Madrigal on MERMAID COSTUME | Anne Boyer on ALL KNEES AND ELBOWS OF SUSCEPTIBILITY AND REFUSAL | Steven Heller on JFK DOLL | Anne Elizabeth Moore on BLOOD PRESSURE MONITOR | Gary Dauphin on RUM BOTTLE | Tom Frank on DNC PASS | Lizzie Skurnick on GROUP PHOTO | Stuart Ewen on SNCC PIN | Benjamen Walker on BEEF BOX 12″ | Rob Walker on CAMPAIGN SIGN | Alex Kalman on THEM=US PIN.
SIGNIFICANT OBJECTS at HILOBROW: PROJECT:OBJECT homepage | PROJECT:OBJECT newsletter | PROJECT:OBJECT objects (Threadless shop — all profits donated to the ACLU) | POLITICAL OBJECTS series (1Q2017) | TALISMANIC OBJECTS series (2Q2017) | ILLICIT OBJECTS series (3Q2017) | LOST OBJECTS vol. 1 series (4Q2017) | FLAIR series (2Q2018) | FOSSIL series (4Q2018). 12 DAYS OF SIGNIFICANCE | 12 MORE DAYS OF SIGNIFICANCE | 12 DAYS OF SIGNIFICANCE (AGAIN) | ANOTHER 12 DAYS OF SIGNIFICANCE . ALSO SEE: SIGNIFICANT OBJECTS website | SIGNIFICANT OBJECTS collection, ed. Rob Walker and Josh Glenn (Fantagraphics, 2012) | TAKING THINGS SERIOUSLY, ed. Josh Glenn (Princeton Architectural Press, 2007) | TAKING THINGS SERIOUSLY excerpts.