POLITICAL OBJECTS (8)
By: Stephen Duncombe
January 21, 2017
One in a 25-part series of nonfiction stories about objects of political significance. This is the first volume in the PROJECT:OBJECT series. Please subscribe to the P:O newsletter; and purchase P:O apparel and accessories — all profits will be donated to the ACLU!
*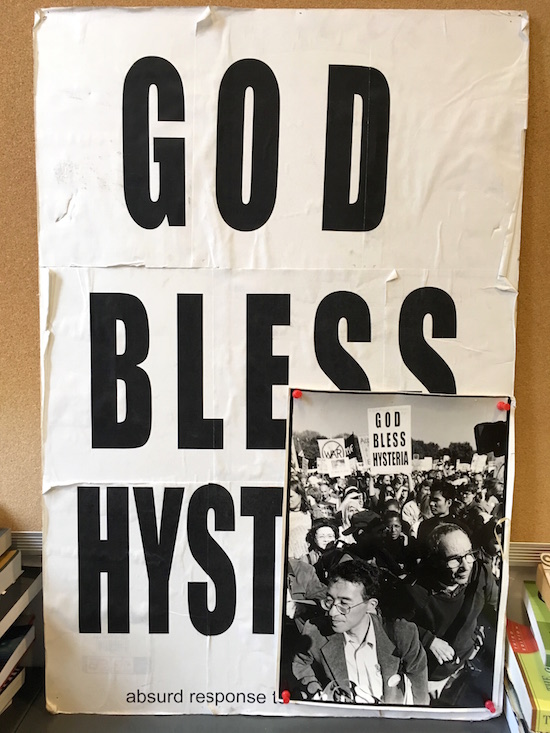 In the Spring of 2003, myself and a group of comrades from the Lower East Side Collective, a community activist group from Lower Manhattan, and Reclaim the Streets, an international direct action group, came together to protest George W. Bush's invasion of Iraq. We called ourselves Absurd Response to an Absurd War, and we organized into a satirical theatre troupe cum affinity group. Fashioning ourselves as faux supporters of US military policy, we would go to protests in order to demonstrate the illogic of what we understood as an absurd war.
One of our signs read, in large block letters, black on white, "God Bless Hysteria." Partly to attract the attention of a jaded and jingoistic news media, and partly done to entertain ourselves — and our fellow protesters – after what had become a long string of earnest, boring and ineffectual protests, we were acting upon the underlying premise of all political satire since Jonathan Swift wrote his "A Modest Proposal" in 1729. That is: in revealing the absurdity of the unfolding war we would open the eyes of the public who would then see The Truth as it is (which, of course, was The Truth as we saw it).
At least that's what we planned. A photo of the sign in situ tells another story. Floating above a crowd of anti-war protesters, and seen from a distance as a spectator may have, the sign does not point to the hysteria of a warmongering government or a complicit media – instead it points to us. "God Bless Hysteria" provided a caption to an image of our protest. We were the hysterical ones, the over-agitated worriers who somehow didn't understand the sober wisdom of going to war with a country that hadn't attacked us over fictitious reports of weapons of mass destruction. Our funny, ironic, and oh-so-clever message backfired.
I've kept the sign and photo in my office these past dozen or more years to remind myself of the importance of context and meaning (and to remember not to be too clever). The most ingenious of messages, the funniest of performances, will always be interpreted by audiences and in settings we can't control. People "make sense" of what they see, hear, and read. And in that public act of making sense, there is no guarantee that our sense will prevail.
Or seemingly any coherent sense at all. For now there is Donald Trump, who conjures up fantasies far more absurd than any satirist could imagine. I look at the protest placard, propped behind my increasingly precarious stacks of books, and realize that "God Bless Hysteria" describes our moment, yet is somehow powerless to intervene in an age where hysteria has become common, accepted, politics. Perhaps, at this moment, the answer lies in out-fantasizing the Fabulist-in-Chief: conjuring up common dreams that might inspire many, rather than clever slogans that make the few of us snicker. Utopian, earnest, and a bit corny, I know, but maybe it's time for that now.
*
POLITICAL OBJECTS series: INTRODUCTION | Luc Sante on CAMPAIGN PAMPHLETS | Lydia Millet on PVC POLAR BEAR | Ben Greenman on MATCHBOX CAR | Rob Baedeker on PRESIDENTS PLACEMAT | L.A. Kauffman on WHEATPASTE POSTER | Astra Taylor on SALAM'S NECKLACE | Carolina A. Miranda on POCHO | Stephen Duncombe on PROTEST SIGN | Marisa Silver on SHAMAN BOWLS | James Hannaham on DR. BUZZARD LP | Virginia Heffernan on HRC PAINTING | Kenya (Robinson) on BURNER PHONE | Kathryn Davis on POLITBUREAU | Chenjerai Kumanyika on NAT TURNER PRINT | Alexis Madrigal on MERMAID COSTUME | Anne Boyer on ALL KNEES AND ELBOWS OF SUSCEPTIBILITY AND REFUSAL | Steven Heller on JFK DOLL | Anne Elizabeth Moore on BLOOD PRESSURE MONITOR | Gary Dauphin on RUM BOTTLE | Tom Frank on DNC PASS | Lizzie Skurnick on GROUP PHOTO | Stuart Ewen on SNCC PIN | Benjamen Walker on BEEF BOX 12″ | Rob Walker on CAMPAIGN SIGN | Alex Kalman on THEM=US PIN.
SIGNIFICANT OBJECTS at HILOBROW: PROJECT:OBJECT homepage | PROJECT:OBJECT newsletter | PROJECT:OBJECT objects (Threadless shop — all profits donated to the ACLU) | POLITICAL OBJECTS series (1Q2017) | TALISMANIC OBJECTS series (2Q2017) | ILLICIT OBJECTS series (3Q2017) | LOST OBJECTS vol. 1 series (4Q2017) | FLAIR series (2Q2018) | FOSSIL series (4Q2018). 12 DAYS OF SIGNIFICANCE | 12 MORE DAYS OF SIGNIFICANCE | 12 DAYS OF SIGNIFICANCE (AGAIN) | ANOTHER 12 DAYS OF SIGNIFICANCE . ALSO SEE: SIGNIFICANT OBJECTS website | SIGNIFICANT OBJECTS collection, ed. Rob Walker and Josh Glenn (Fantagraphics, 2012) | TAKING THINGS SERIOUSLY, ed. Josh Glenn (Princeton Architectural Press, 2007) | TAKING THINGS SERIOUSLY excerpts.