61 Espionage Adventures
By: Joshua Glenn
November 10, 2013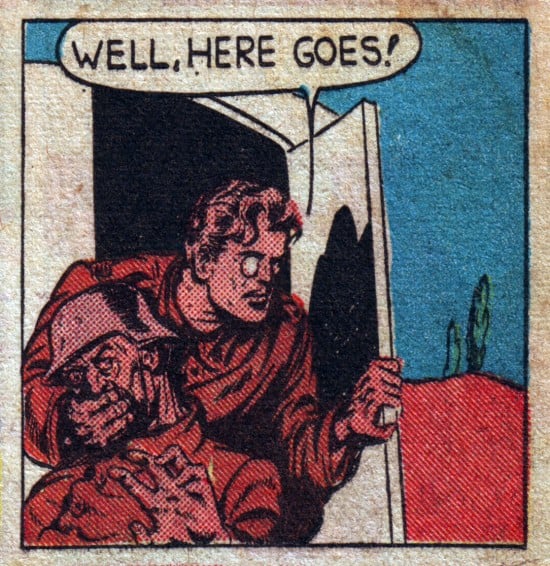 Recently, I compiled a list of two hundred of my favorite adventures published before the Eighties (1984–1993). Forty-one of the titles on that list are espionage adventures. Also, via the following posts — Best 19th Century Adventure (1805–1903) | Best Nineteen-Oughts Adventure (1904–1913) | Best Nineteen-Teens Adventure (1914–1923) | Best Twenties Adventure (1924–1933) | Best Thirties Adventure (1934–1943) | Best Forties Adventure (1944–1953) | Best Fifties Adventure (1954–1963) | Best Sixties Adventure (1964–1973) | Best Seventies Adventure (1974–1983) — I listed another two hundred and fifty of my favorite adventures. Twenty of the titles on those secondary lists are espionage.
Thus — below, please find a list of sixty-one of my favorite espionage adventures — arranged not qualitatively (which would be impossible) but chronologically. The titles marked with an asterisk (*) are from my Top 200 Adventures list; the others are second-tier favorites.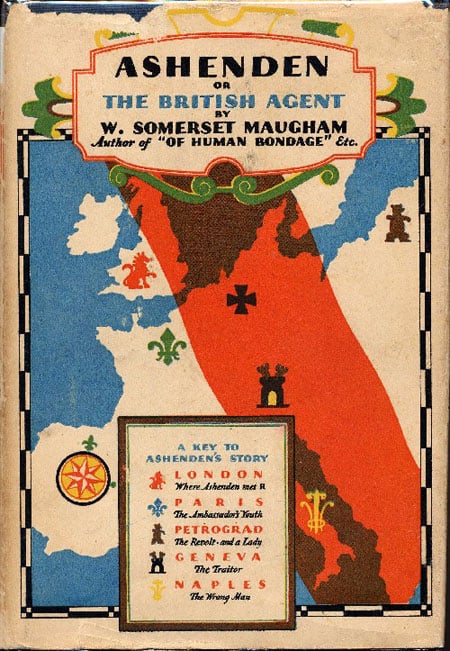 JOSH GLENN'S *BEST ADVENTURES* LISTS: BEST 250 ADVENTURES OF THE 20TH CENTURY | 100 BEST OUGHTS ADVENTURES | 100 BEST RADIUM AGE (PROTO-)SCI-FI ADVENTURES | 100 BEST TEENS ADVENTURES | 100 BEST TWENTIES ADVENTURES | 100 BEST THIRTIES ADVENTURES | 75 BEST GOLDEN AGE SCI-FI ADVENTURES | 100 BEST FORTIES ADVENTURES | 100 BEST FIFTIES ADVENTURES | 100 BEST SIXTIES ADVENTURES | 75 BEST NEW WAVE SCI FI ADVENTURES | 100 BEST SEVENTIES ADVENTURES | 100 BEST EIGHTIES ADVENTURES | 75 BEST DIAMOND AGE SCI-FI ADVENTURES | 100 BEST NINETIES ADVENTURES (in progress) | 1994 | 1995 | 1996 | 1997 | 1998 | 1999 | 2000 | 2001 | 2002 | 2003 | NOTES ON 21st-CENTURY ADVENTURES.
*
Why does my Top Adventures List project stop in 1983? Primarily because I figure that adventure fans already know which adventure novels from the Eighties, Nineties, and Twenty-Oughts are worth reading; I'm interested in directing attention to older, sometimes obscure or forgotten adventures. Also, I have friends who've published adventures since 1983 — I don't want these lists to be biased!
In chronological order, here is the list of my Top Sixty Espionage Adventures.
PS: HILOBROW reader "Don Theman" asks, rather grumpily, why several of the titles on this list are described using the phrase "sardonic inversion of the genre." Here's why: Although in the grand scheme of things, only a tiny fraction of spy novels are sardonic inversions of the genre, I'm particularly fond of this sort of thing. So that's why the phrase is used to describe 9 or 10 of the 61 novels on this list.
THE NINETEENTH CENTURY

* 1844. Alexandre Dumas's 17th c. swashbuckling adventure The Three Musketeers introduces us to three unforgettable characters: the distinguished, highly educated Musketeer Athos; the religious and scholarly yet womanizing younger Musketeer Aramis; and the Falstaffian Musketeer Porthos. It is their sanguine companion D'Artagnan who coins the classic phrase "All for one, and one for all!"
* 1876. Jules Verne's espionage adventure Michael Strogoff, considered one of Verne's best books. When the Tartar Khan incites a rebellion and separates the Russian Far East from the mainland, Michael Strogoff, courier for Tsar Alexander II, is sent to Irkutsk on a crucial mission.
1885. Jules Verne's espionage adventure Mathias Sandorf features: islands, cryptograms, surprise revelations of identity, technically advanced hardware, a solitary figure bent on revenge, a pursuer who is himself pursued, and more. It's the complete espionage adventure package.

* 1900–01. Rudyard Kipling's espionage adventure Kim, in which an Irish orphan in India not only becomes the disciple of a Tibetan lama, but is recruited by the British secret service to spy on Russian agents participating in the Great Game. In the process, he races across India; Kipling — an imperialist, but a keen observer of India all the same — brilliantly captures the essence of that country under the British Raj.
* 1903. Robert Erskine Childers's espionage adventure The Riddle of the Sands can be a demanding read for those with no interest in sailing or timetables. But it's a thrilling yarn nevertheless, one which sought to alert British readers to the danger of German invasion. Its protagonists are archetypes of the amateur adventure hero, the likes of whom would later appear so memorably in the novels of John Buchan.

THE NINETEEN-OUGHTS (1904–1913)

* 1905. Baroness Emma Orczy's historical (18th c.) espionage adventure The Scarlet Pimpernel is set during France's post-Revolution Terror. Sir Percy Blakeney, the effete aristocrat who is secretly the daring Scarlet Pimpernel (or vice-versa), would inspire characters such as Zorro and Batman. "Is he in heaven, or is he in hell, that damned elusive Pimpernel?"
1907. Joseph Conrad's espionage adventure The Secret Agent is a sardonic inversion of the genre. Martin Green says of Conrad: "He has been the literary establishment's hit man in its feud with adventure."

* 1908. G.K. Chesterton's fantasy adventure The Man Who Was Thursday. Subtitled A Nightmare, the book follows a Scotland Yard man as he infiltrates the local chapter of the European anarchist council… only to discover that it has been interpenetrated entirely by detectives. Free-flowing, lyrical, trippy stuff.
1909. Jacques Futrelle's espionage adventure Elusive Isabel. A spy for the Italian government becomes estranged from her employer because she has fallen in love with a member of the US secret service.

* 1913. Sax Rohmer's espionage/science fiction adventure The Mystery of Dr. Fu-Manchu. The first novel, assembled from earlier stories, about the insidious and brilliant Fu Manchu, who would inspire racist depictions of SF's Asian villains from Ming the Merciless to Dr. No.

THE TEENS (1914–1923)

* 1914. André Gide's Les caves du Vatican (in English: Lafcadio's Adventures, or The Vatican Cellars) is best described as an ironic homage to the adventure novel. Its protagonist, Lafcadio, a would-be Nietzschean superman who reads only adventures like Aladdin and Robinson Crusoe, stumbles upon a plot involving the Pope.

* 1915. John Buchan's Richard Hannay adventure The Thirty-Nine Steps. The best hunted-man thriller (or "shocker," to use the author's term) ever, at least until Geoffrey Household's Rogue Male. When mining engineer Richard Hannay discovers the existence of a ring of German spies who have stolen British plans for the outbreak of war, he is framed for murder. Fleeing to Scotland, he must elude not only spies but the police.
* 1916. John Buchan's Richard Hannay adventure Greenmantle is set during WWI. Continuing his undercover work against the Germans and their allies the Turks, Hannay investigates rumors of an uprising in the Muslim world — cf. his 1910 adventure Prester John. Here we meet for the first time Hannay's great characters Sandy Arbuthnot (master of disguise), Peter Pienaar (South African hunter), and John Blenkiron (dyspeptic, anti-fascist American industrialist). Chases, clues, and battles galore.

* 1919. John Buchan's Richard Hannay adventure Mr. Standfast. Near the end of WWI, Hannay is recalled from active duty on the Western Front to go undercover — as a pacifist! — in search of a German agent at large in Britain. John Blenkiron and Peter Pienaar (now an ace pilot) reappear; and we meet their beautiful, brave comrade Mary Lamington.
1919. Sax Rohmer's terrorist adventure The Quest of the Sacred Slipper, in which a British archaeologist uncovers the sacred slipper of the prophet Mohammed. A secret group of fanatics begin a reign of death and destruction.

1920. E. Phillips Oppenheim's Gothic-style espionage adventure The Great Impersonation, in which a dissolute English baronet who happens to look exactly like the military commandant of the colony of German East Africa attempts a mission impossible shortly before the outbreak of WWI. Oppenheim wrote many poorly written, boring adventures; this is his best.
1921. John Buchan's espionage adventure The Path of the King.

* 1922. John Buchan's adventure Huntingtower, published between the third and fourth Richard Hannay novels, is the first of several adventures featuring one of the most unlikely heroes ever, retired Scottish grocer Dickson McCunn. When an exiled Russian noblewoman is imprisoned — in a Scottish tower — by Bolshevik agents, McCunn and unsuccessful poet John Heritage, aided by a troupe of Glasgow slum children, ride to her rescue.

THE TWENTIES (1924–1933)

* 1924. John Buchan's Richard Hannay adventure The Three Hostages. In his fourth outing, Hannay must rescue the kidnapped children of three prominent people. Also, it seems that a sinister criminal organization is tapping into the psychic disorder caused by the Great War! Hannay's wife, Mary, and his comrade Sandy Arbuthnot, master of disguise, join him in his quest.
* 1928. W. Somerset Maugham's espionage adventure story collection Ashenden. Partly based on the author's WWI experience as a member of British Intelligence in Europe. Again breaking my rule against including stories — as opposed to novels — on these lists.

* 1933. James Hilton's Buchan-esque espionage adventure Knight Without Armour. A British secret agent in Russia rescues the daughter of a Tsarist minister from Bolshevik revolutionaries. Adapted into a fun 1937 movie starring Robert Donat and Marlene Dietrich.
1933. John Buchan's espionage adventure A Prince of the Captivity.

THE THIRTIES (1934–1943)

World War I drove a wedge into literature. On one side of that divide were romantic, uncanny adventure (John Buchan's oeuvre being the prime example); on the other side, wised-up, hardboiled adventure (Ernest Hemingway, Dashiell Hammett). During the Twenties, these two modes of adventure writing co-existed; by the end of the Thirties, these two modes would merge in an aufheben (destroying-and-preserving) manner. By 1943 John Buchan-type adventure (like Buchan himself, who died in 1940) was dead; but Buchan-esque themes and memes had found new purchase, in the wised-up adventure writing of Michael Innes, for example, not to mention Eric Ambler and Graham Greene.

PS: Note that Hitchcock's period of great adventure films begins in 1934 — with The Man Who Knew Too Much. Also released during this era: Hitchcock's The 39 Steps (a sardonic adaptation of Buchan's novel), Secret Agent (loosely based on Somerset Maugham's Ashenden), Sabotage (adapted from Conrad's The Secret Agent), Young and Innocent (based on a Josephine Tey adventure), The Lady Vanishes (based on adventure by Ethel Lina White), Jamaica Inn (based on a Daphne du Maurier adventure), Rebecca (based on a Daphne du Maurier's romantic thriller), Foreign Correspondent (James Hilton wrote the dialogue), Suspicion (based on Francis Iles's crime adventure Before the Fact), Saboteur (Dorothy Parker was one of the screenwriters), and Shadow of a Doubt.

PPS: The list of my Top 101 Science Fiction Adventures features only one sf title from the Thirties. Why? In part because there were so many great espionage novels published during that era.

1935. Christopher Isherwood's espionage adventure Mr Norris Changes Trains.
* 1936. John Buchan's Richard Hannay novel The Island of Sheep, in which Hannay and his old comrade Sandy Arbuthnot — plus Hannay's teenage son — must protect the heir to the secret of a great treasure from a sinister conspiracy. The action takes place in Scotland and the Faroe Islands. The modern Scottish tradition of adventure romances draws to a close….

1936. John P. Marquand's Mr. Moto espionage adventure Thank You, Mr. Moto.
1936. Eric Ambler's Ruritanian-style espionage adventure The Dark Frontier. Uses and also parodies elements of this genre. One of the first novels to predict the invention of a nuclear bomb and its consequences. The first of many good ones from this author.

* 1937. John P. Marquand's Mr. Moto espionage adventure Think Fast, Mr. Moto, by the Pulitzer-winning author of The Late George Apley. Sent from Boston to close down a Hawaiian casino run by a distant relation, who turns out to be a beautiful woman, hapless Wilson Hitchings stumbles upon a Manchurian money-laundering scheme. Japanese super-spy Mr. Moto to the rescue!
1937. Eric Ambler's espionage adventure Uncommon Danger; US title: Background to Danger.

* 1938. Eric Ambler's espionage adventure Epitaph for a Spy, the simple declarative style of which — "I arrived in St. Gatien from Nice on Tuesday, the 14th of August. I was arrested at 11:45 a.m. on Thursday, the 16th, by an agent de police and an inspector in plain clothes and taken to the Commissariat." — signaled the genre's break with cloak-and-dagger melodrama. A teacher on vacation is coerced into assisting with a counter-espionage operation.

* 1939. Eric Ambler's espionage/crime adventure The Mask of Dimitrios; US title: A Coffin for Dimitrios. On vacation in pre-WWII Turkey, crime novelist Charles Latimer begins researching a master criminal and spy who has recently died. As he enters his subject's criminal underworld, Latimer realizes that his own life may be in jeopardy.
* 1940. Michael Innes's espionage adventure The Secret Vanguard, a sardonic inversion of John Buchan-style stories, complete with German spies, a chase through Oxford's Bodleian Library, and a heroine on the run (in Scotland, of course). This might be a controversial pick, on my part, because many Innes fans dislike it. But it was a turning point in the author's career, a transition from whodunnits to thrillers; and it was a key influence on Graham Greene.

* 1941. Helen MacInnes's espionage adventure Above Suspicion. A British spy working covertly in Germany is missing, so a young British couple are asked to turn their summer vacation into an undercover mission. Considered exemplary because of the author's nuanced understanding of history, politics, culture, and geography, this is MacInnes's first novel.
* 1941. Agatha Christie's espionage adventure N or M?, which features a hunt for two of Hitler's top secret spy agents in Britain. Fun fact: MI5 investigated Agatha Christie because a character called Major Bletchley appeared in her N or M?. MI5 was afraid that Christie had learned of Britain's top-secret codebreaking center, Bletchley Park.
1941. Margery Allingham's WWII espionage adventure Traitor's Purse.

* 1942. Helen MacInnes's WWII adventure Assignment in Brittany. In this story about a Francophone British soldier sent to spy as part of the resistance to the Nazi occupation of northern France — because he looks just like an injured Breton soldier — MacInnes strikes a dynamic balance between Buchan-style romance and Ambler's hardboiled style. PS: The book was required reading for Allied intelligence agents sent to work with the French underground.
* 1943. Graham Greene's espionage adventure The Ministry of Fear, which Fritz Lang adapted for the screen in 1944. At a charity fête held in wartime London, Arthur Rowe wins a cake that contains a secret message. As German bombs rain down on the city, Rowe is pursed by Nazi spies. NB: Greene credited Michael Innes's The Secret Vanguard as his inspiration.

THE FORTIES (1944–1953)

* 1944. Helen MacInnes's WWII espionage adventure The Unconquerable (aka While We Still Live). A British woman in Warsaw becomes a double agent — working for Germany while passing along secrets to the brave Polish resistance. Neither side trusts her, so when she is pursued by a German officer through the forests of Poland, she's on her own… almost.
* 1946. Michael Innes's fantastical WWII crime/espionage adventure From London Far, an ironic homage to the adventures of John Buchan. A middle-aged scholar of classic literature stumbles upon a massive art smuggling operation in war-torn London; he pretends to be a member of the smuggling gang, and winds up at an isolated Scottish castle housing foreign agents.

* 1949. Michael Innes's espionage adventure The Journeying Boy. Why does Humphrey Paxton, son of one of Britain's leading atomic boffins, insist that he is being persecuted by spies? His new tutor, Mr. Thewless, "a man almost irrationally determined to deny that the universe holds anything dangerous or surprising," suspects that Humphrey is a fantasist and a delinquent — and so does the reader, at first. Ironic homage to the adventure genre.
* 1949. Robert Lawson's YA adventure The Fabulous Flight. When young Peter P. Pepperell III shrinks until he's pocket-sized, he befriends a slang-talking seagull named Gus. Learning that a reclusive middle-European scientist has invented a tiny, super-powerful explosive, Peter and Gus volunteer to steal it away from him. To this day, the compartment in which Peter rides on Gus's back makes me gnash my teeth with envy.

* 1951. Geoffrey Household's espionage adventure A Rough Shoot (aka Shoot First). A Buchan-esque thriller — written to be serialized — in which Roger Taine, a Dorset salesman, accidentally kills a man (while hunting) who turns out to be a neo-Nazi. The dead man's comrades want revenge — and hunt Taine across the rooftops of London. The first of two short adventures, published one after the other, about the same protagonist.
1951. Geoffrey Household's adventure A Time to Kill. Aided by an ex-fascist, Roger Taine stalks the communist Russian agent who has kidnapped Taine's sons. The action ends up in a Buchan-esque smuggler's cave. Sequel to A Rough Shoot.
1951. Michael Innes's espionage adventure Operation Pax (The Paper Thunderbolt). A combination of chase novel, spy thriller, and academic mystery.

THE FIFTIES (1954–1963)

The Fifties was the era of James Bond. Fleming's first Bond book, Casino Royale, appeared in the cusp year of 1953; before 1964, he'd publish Live and Let Die, Moonraker, Diamonds Are Forever, From Russia, with Love, Dr. No, Goldfinger, For Your Eyes Only, Thunderball, The Spy Who Loved Me, and On Her Majesty's Secret Service. I enjoyed these books as an adolescent, but find most of them (except the short stories) almost unreadable now. In contrast to Bond's rococo thrills, Graham Greene, and John le Carré gave us morally ambiguous — yet suspenseful, exciting — espionage adventures.

1954–56. Hergé's Tintin adventure The Calculus Affair. Published as a color album in 1956.

1955. Graham Greene's espionage adventure The Quiet American. A sardonic inversion of the genre.
* 1958. Graham Greene's espionage adventure Our Man in Havana, a sardonic inversion of the genre. In this black comedy, which Greene considered an "entertainment" rather than a "novel," Greene mocks intelligence services, especially the British MI6 (for whom he'd worked during WWII), and their willingness to believe reports from local informants. Adapted as the 1959 movie starring Alec Guinness.

* 1960. Donald Hamilton's espionage adventure Death of a Citizen, the first in a long-running (27 titles) series featuring assassin Matt Helm. The title refers to the metaphorical death of peaceful citizen and family man Matt Helm and the rebirth of the WWII killer. NB: In the late 1960s, several comedy movies — sardonic inversions of the genre — starring Dean Martin were produced.
1960. Ian Fleming's James Bond espionage adventure collection For Your Eyes Only. I like the Bond short stories better than the novels.
* 1962. Len Deighton's espionage adventure The IPCRESS File is a sardonic inversion of the genre… but still an exciting thriller. The plot involves mind control, the titular acronym standing (absurdly) for "Induction of Psycho-neuroses by Conditioned Reflex under strESS." The novel's protagonist if nameless; he works for an intelligence agency with the unexplained acronym WOOC(P). Adapted in 1965 as the popular Michael Caine movie.

* 1963. Helen MacInnes's espionage adventure The Venetian Affair. Though she got famous writing WWII anti-Nazi espionage adventures, some consider her Cold War anti-Communist books to be her best. In this one, set in picturesque Venice, a resourceful, intelligent amateur gets into a situation where a skilled agent would fear to tread. Adapted into a film in 1967 starring Robert Vaughn and Elke Sommer.
* 1963. John le Carré's espionage adventure The Spy Who Came in from the Cold, in which the head of the West Berlin office of the British Secret Intelligence Service, is recalled in disgrace… but then asked to stay "in the cold" for one last mission. A sardonic inversion of the genre, one which de-glamorizes the spy and spy-craft — and at the same time a suspenseful, elegantly plotted, morally ambiguous thriller. Publishers Weekly named it the "best spy novel of all-time." Adapted as an excellent 1965 movie.

THE SIXTIES (1964–1973)

* 1964. Louise Fitzhugh's YA espionage adventure Harriet the Spy. Perhaps my favorite YA novel ever. Harriet is an amazing character. She's praiseworthy in her intrepid, self-motivated, eccentric (and un-supervised) adventuring; a talented crafter of gnomic aperçus; a loyal friend and a terrifying enemy. And yet, she's in the wrong; the reader knows it, and so does everybody else in the book. It's an emotional roller-coaster ride.
* 1972. Trevanian's espionage adventure The Eiger Sanction, the author's first novel. In this sardonic inversion of the espionage sub-genre, an art professor and mountaineer who doubles as a hired assassin for a CIA-like government agency, is tricked into a hazardous "sanction" that involves an attempt to scale one of the most treacherous peaks in the Swiss Alps. Trevanian (film scholar Rodney William Whitaker) has been called "the only writer of airport paperbacks to be compared to Zola, Ian Fleming, Poe and Chaucer." The book was adapted into a weird, vapid 1975 movie directed by and starring Clint Eastwood.

* 1973. Thomas Pynchon's Gravity's Rainbow. Set during the waning days of WWII, Pynchon's infamous masterpiece is an espionage adventure revolving around the quest to uncover the secret of a mysterious device (the "Schwarzgerät) that is to be installed in a German V-2 rocket with the serial number "00000." (The book's title refers to the parabolic trajectory of a V-2, as well as to the introduction of randomness into physics via quantum mechanics.) But the book is also a picaresque adventure following naive Tyrone Slothrop, a naive Allied Intelligence operative, as he wanders — under surveillance — around London and Europe.

THE SEVENTIES (1974–1983)

* 1974. John le Carré's espionage adventure Tinker Tailor Soldier Spy. George Smiley — the pudgy, cuckolded, anti-James Bond — is recalled to the British Secret Intelligence Service to hunt down a double agent… one of his own ex-colleagues. After The Spy Who Came in from the Cold, this is the second-best novel by the author… who worked for MI5 and MI6 in the '50s and '60s, when Kim Philby was exposed as a KGB mole. The 2011 movie version, starring Gary Oldman, was pretty good; so was the the 1979 miniseries with Alec Guinness.
1974. Richard Condon's black-comedy political thriller Winter Kills. The novel parallels the real life assassination of John F. Kennedy and the various conspiracy theories that surround the event. Adapted into a 1979 film.

1974. James Grady's hunted-man adventure Six Days of the Condor — upon which the 1975 Robert Redford movie Three Days of the Condor is based — sees a nerdy CIA analyst (he specializes in reading thrillers and mysteries) use his knowledge to survive the attacks of trained assassins and rogue CIA agents.
1975. Brian Garfield's Hopscotch. Adapted into the 1980 Walter Matthau movie of the same title.
1975. Len Deighton's espionage adventure Yesterday's Spy. Thirty years after WWII, Steve Champion, hero and wily leader of an anti-Nazi intelligence group which operated in occupied France during the war, is up to something. His former second-in-command, the novel's unnamed narrator, is tasked with the unenviable job of figuring out what it is.

1978. Ken Follett's WWII espionage adventure The Eye of the Needle.
1980. Robert Ludlum's espionage adventure The Bourne Identity.
***
20 ADVENTURE THEMES AND MEMES: Index to All Adventure Lists | Introduction to Adventure Themes & Memes Series | Index to Entire Series | The Robinsonade (theme: DIY) | The Robinsonade (theme: Un-Alienated Work) | The Robinsonade (theme: Cozy Catastrophe) | The Argonautica (theme: All for One, One for All) | The Argonautica (theme: Crackerjacks) | The Argonautica (theme: Argonaut Folly) | The Argonautica (theme: Beautiful Losers) | The Treasure Hunt | The Frontier Epic | The Picaresque | The Avenger Drama (theme: Secret Identity) | The Avenger Drama (theme: Self-Liberation) | The Avenger Drama (theme: Reluctant Bad-Ass) | The Atavistic Epic | The Hide-And-Go-Seek Game (theme: Artful Dodger) | The Hide-And-Go-Seek Game (theme: Conspiracy Theory) | The Hide-And-Go-Seek Game (theme: Apophenia) | The Survival Epic | The Ruritanian Fantasy | The Escapade