25 Frontier & Western Adventures
By: Joshua Glenn
November 26, 2013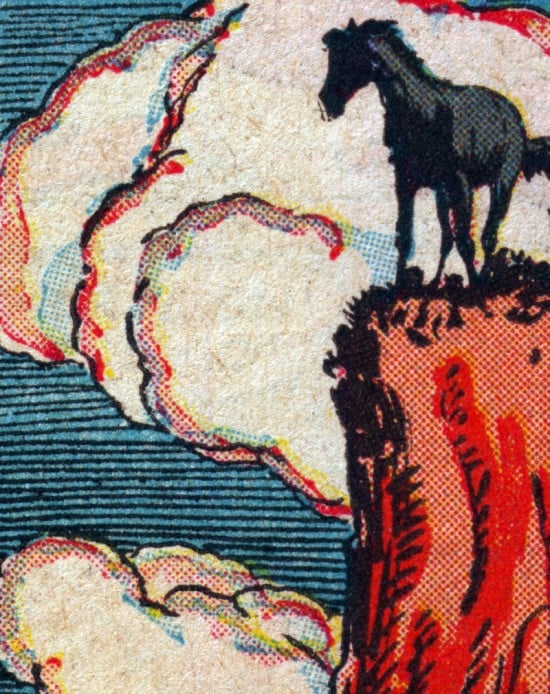 Recently, I compiled a list of two hundred of my favorite adventures published before the Eighties (1984–1993).
Six of the titles on that list are frontier adventures; six are western adventures. Also, via the following posts — Best 19th Century Adventure (1805–1903) | Best Nineteen-Oughts Adventure (1904–1913) | Best Nineteen-Teens Adventure (1914–1923) | Best Twenties Adventure (1924–1933) | Best Thirties Adventure (1934–1943) | Best Forties Adventure (1944–1953) | Best Fifties Adventure (1954–1963) | Best Sixties Adventure (1964–1973) | Best Seventies Adventure (1974–1983) — I listed another two hundred and fifty of my favorite adventures. Four of the titles on those secondary lists are frontier adventures; nine are western adventures.
Thus — below, please find a list of twenty-five of my favorite western and frontier adventures — arranged not qualitatively (which would be impossible) but chronologically. The titles marked with an asterisk (*) are from my Top 200 Adventures list; the others are second-tier favorites.
As noted in an earlier post, the frontier epic takes the central dilemma of all adventure — the enlightened, modern, rationalized social order vs. a passionate, authentic life — and makes it concrete. Civilization is a place, according to the frontier epic. Once you've physically crossed its border or traveled to its far frontier, civilization's restrictive forms and norms begin to break down. Forms and norms that your civilization encourages you to regard as natural, permanent, and inevitable are revealed as unnatural, impermanent, and evitable.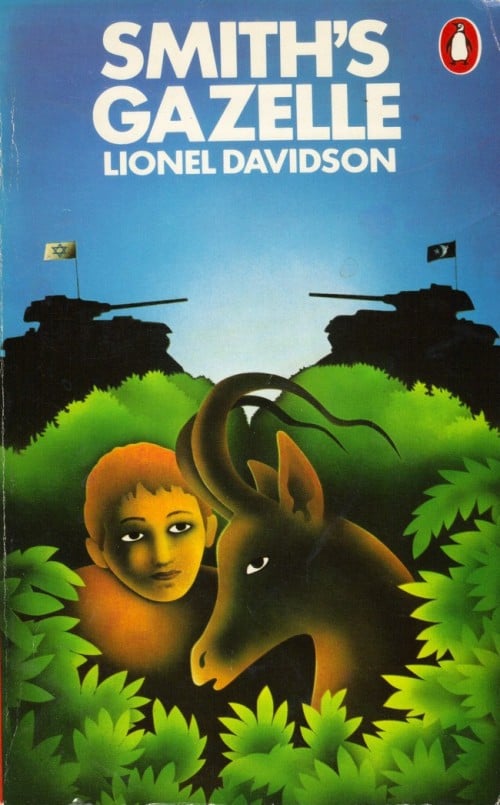 JOSH GLENN'S *BEST ADVENTURES* LISTS: BEST 250 ADVENTURES OF THE 20TH CENTURY | 100 BEST OUGHTS ADVENTURES | 100 BEST RADIUM AGE (PROTO-)SCI-FI ADVENTURES | 100 BEST TEENS ADVENTURES | 100 BEST TWENTIES ADVENTURES | 100 BEST THIRTIES ADVENTURES | 75 BEST GOLDEN AGE SCI-FI ADVENTURES | 100 BEST FORTIES ADVENTURES | 100 BEST FIFTIES ADVENTURES | 100 BEST SIXTIES ADVENTURES | 75 BEST NEW WAVE SCI FI ADVENTURES | 100 BEST SEVENTIES ADVENTURES | 100 BEST EIGHTIES ADVENTURES | 75 BEST DIAMOND AGE SCI-FI ADVENTURES | 100 BEST NINETIES ADVENTURES (in progress) | 1994 | 1995 | 1996 | 1997 | 1998 | 1999 | 2000 | 2001 | 2002 | 2003 | NOTES ON 21st-CENTURY ADVENTURES.
*
Why does my Top Adventures List project stop in 1983? Primarily because I figure that adventure fans already know which adventure novels from the Eighties, Nineties, and Twenty-Oughts are worth reading; I'm interested in directing attention to older, sometimes obscure or forgotten adventures. Also, I have friends who've published adventures since 1983 — I don't want these lists to be biased!
In chronological order, here is the list of my Top 25 Frontier & Western Adventures.
THE NINETEENTH CENTURY

* 1814. Walter Scott's 18th c. frontier adventure Waverley. The novel — which sends a young Englishman adventuring in the highlands of Scotland, during the Jacobite uprising which sought to put Bonnie Prince Charlie on the British throne — is regarded as the first historical novel. Note that Scotland, that savage tribal land just across the border from hyper-civilized England, was the original adventure frontier.

* 1826. James Fenimore Cooper's frontier adventure The Last of the Mohicans. Cooper's Leatherstocking tales were popular and influential (esp. in France!), and therefore deserve a mention here — despite the fact that Mark Twain tore Cooper a new one. Despite its flaws — there are many! — this novel does feature a truly epic pursuit, so it deserves a place on the Top 21.

1867. Ouida's frontier adventure Under Two Flags takes place in North Africa. With a twist: The hero feels morally and emotionally on the side of those he fights against.
* 1888. Rudyard Kipling's Haggard-esque frontier adventure The Man Who Would Be King. Two British adventurers become kings of a remote part of Afghanistan, because — it turns out — the Kafirs there practice a form of Masonic ritual and the adventurers know Masonic secrets.

* 1899. Joseph Conrad's Heart of Darkness, the protagonist of which is sent up a river in Africa to seek the European manager of a remote ivory station who has turned into a charismatic monster, is a sardonic inversion of yarns by adventure authors who didn't give much thought to the colonialist and racist context within which their civilization-vs.-savagery narratives played out. "The horror! The horror!"

THE NINETEEN-OUGHTS (1904–1913)

1906. Rex Beach's Klondike adventure The Spoilers. The author spent a number of years in the Klondike, and wrote several popular novels; this is the one to read.
1908. John Fox Jr.'s adventure The Trail of the Lonesome Pine, about an engineer who is caught in the middle of feuding Kentucky mountaineers. A bestseller in its time.

* 1910. John Buchan's frontier adventure Prester John. A young Scotsman seeking his fortune in South Africa runs afoul of Laputa, leader of a planned rising of the Zulu and Swazi peoples against British colonial rule. The first great yarn from my favorite adventure writer… with the caveat that, as with most fiction of the time, it's quite racist.

* 1912. Zane Grey's Western adventure Riders of the Purple Sage. I'm not a huge fan of this particular adventure sub-genre, but if you're going to read one Western, this is it. Set in southern Utah in 1871, its complex plot involves polygamous Mormons, a notorious gunman searching for his long-lost sister, and a mysterious masked rider.

THE TEENS (1914–1923)

1914. Eugene Manlove Rhodes's Bransford in Arcadia features a cowboy hero who refuses to compromise the woman he loves to clear himself of a murder charge. Rhodes is considered one of the best cowboy authors of the early 20th Century.
1914–15. Harry Leon Wilson's comical Western adventure Ruggles of Red Gap, which was adapted into an excellent 1935 film by Leo McCarey. NB: The character Ruggles, an English butler who keeps saving the day, predates P.G. Wodehouse's Jeeves by a year.

* 1919. Max Brand's (Frederick Faust) Western adventure The Untamed relates the story of archetypal western hero Whistling Dan Barry's evolution from innocence to experience. Considered a classic in the genre, the book is Max Brand's first important Western. The author eventually wrote more than 500 novels, usually at a breakneck pace.

THE THIRTIES (1934–1943)

1940. Walter Van Tilburg Clark's The Ox-Bow Incident. A tense, moving morality drama about vigilantism on the western frontier. Attacks many of the Western genre's assumptions.
1941. Howard Fast's Western/historical adventure The Last Frontier. A group of Cheyenne Indians, trying to escape to their homeland after betrayal on a reservation, are relentlessly pursued by the Army.

THE FORTIES (1944–1953)

1949. Paul Bowles's The Sheltering Sky, a cult classic of existentialism — and a sardonic inversion of the frontier adventure sub-genre.
1949. Jack Schaefer's Western adventure Shane. About a young boy's relationship with a former gunfighter who comes to work on his family's farm and gets involved in the violent clash between the farmers and the cattlemen.
1949. Walter Van Tilburg Clark's Western adventure The Track of the Cat. A symbolic depiction of the struggle between good and evil.

THE FIFTIES (1954–1963)

1959. Saul Bellow's comic adventure Henderson the Rain King is a sardonic inversion of the frontier adventure sub-genre. Henderson, a Connecticut millionaire, faces death in the jungle and emerges reborn.
1960. E.L. Doctorow's Western adventure Welcome to Hard Times. A frontier town is destroyed by a psychopathic killer. Adapted as a 1967 movie with Aldo Ray and Henry Fonda.

1961. Elmore Leonard's Western adventure Hombre. A sardonic inversion of the Western, and a cult classic. Adapted in 1967 as a Paul Newman movie.

THE SIXTIES (1964–1973)

* 1964. Thomas Berger's revisionist Western Little Big Man. Jack Crabb, a 111-year-old survivor of Custer's Last Stand, narrates his mock-heroic, picaresque adventures. As his roles vary over the course of his wanderings, from Cheyenne warrior to Army scout to small-time huckster, so does the style of Crabb's (unreliable) narrative. Adapted as a movie in 1970 by Arthur Penn.

* 1968. Ishmael Reed's African-American postmodern Western adventure Yellow Back Radio Broke-Down. Set in a time warp, it concerns the battle of black cowboy The Loop Garoo Kid against an evil rancher. It introduces Reed's concept of HooDoo, i.e., the primitive forces of life pitted against the white Christian tradition.

* 1968. Charles Portis's satirical Western adventure True Grit, which is told from the perspective of a 14-year-old girl seeking retribution for the murder of her father. Considered one of the great American novels. John Wayne would win a Best Actor Oscar for his portrayal of Rooster Cogburn in the 1969 movie adaptation; the 2010 Coen Brothers adaptation is also excellent.
* 1971. Lionel Davidson's frontier adventure Smith's Gazelle, which should be much better-known. A 9-year-old Bedouin boy and a 9-year-old Israeli kibbutznik runaway meet in a hidden ravine in the Israeli desert, which is rumored to be haunted by djinns; though Ishmael and Jacob have been raised as foes, they become friends. Turns out that a reclusive, crazed, and deformed Bedouin shepherd has bred a herd of gazelle in the ravine; an Israeli officer and others are searching for evidence that these gazelle — a species thought to be extinct — do in fact exist. And then the Six-Day War happens.

THE SEVENTIES (1974–1983)

* 1975. Edward Abbey's anarchistic adventure The Monkey Wrench Gang. Four ecologically minded misfits team up to use sabotage (bulldozers and trains) as way of protesting environmentally damaging activities in the American Southwest. The Monkeywrench Gang despise liberals — particularly the Sierra Club. The book, which is very funny and exciting, inspired the formation of the direct-action environmentalist group Earth First!
***
20 ADVENTURE THEMES AND MEMES: Index to All Adventure Lists | Introduction to Adventure Themes & Memes Series | Index to Entire Series | The Robinsonade (theme: DIY) | The Robinsonade (theme: Un-Alienated Work) | The Robinsonade (theme: Cozy Catastrophe) | The Argonautica (theme: All for One, One for All) | The Argonautica (theme: Crackerjacks) | The Argonautica (theme: Argonaut Folly) | The Argonautica (theme: Beautiful Losers) | The Treasure Hunt | The Frontier Epic | The Picaresque | The Avenger Drama (theme: Secret Identity) | The Avenger Drama (theme: Self-Liberation) | The Avenger Drama (theme: Reluctant Bad-Ass) | The Atavistic Epic | The Hide-And-Go-Seek Game (theme: Artful Dodger) | The Hide-And-Go-Seek Game (theme: Conspiracy Theory) | The Hide-And-Go-Seek Game (theme: Apophenia) | The Survival Epic | The Ruritanian Fantasy | The Escapade