Clockwork Man — now available!
By: HILOBROW
September 23, 2013
Announcement!
HiLoBooks's gorgeous paperback edition of E.V. Odle's obscure but amazing science fiction classic The Clockwork Man is now available for sale. Buy your copy now, while supplies last!
"Edwin Vincent Odle's ominous, droll, and unforgettable The Clockwork Man is a missing link between Lewis Carroll and John Sladek or Philip K. Dick," says Jonathan Lethem in a blurb for HiLoBooks. "Considered with them, it suggests an alternate lineage for SF, springing as much from G.K. Chesterton's sensibility as from H.G. Wells's."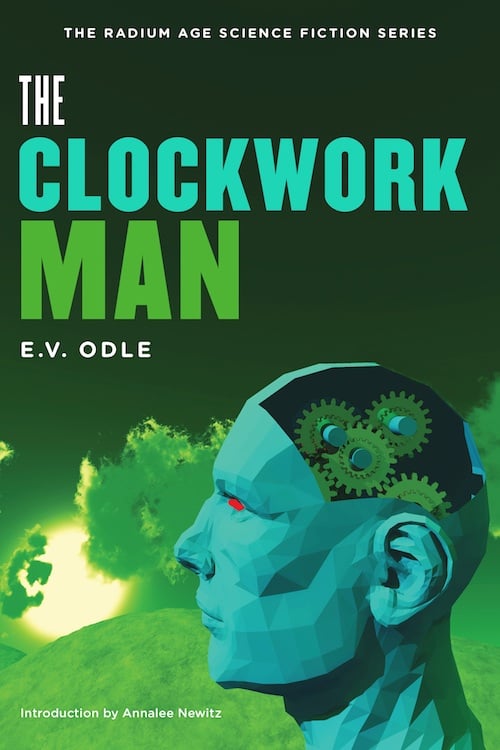 Serialized here at HiLoBrow.com from March through July 2013, The Clockwork Man is considered the original cyborg novel! Years from now, advanced beings known as the Makers will implant clockwork devices into our heads. At the cost of a certain amount of agency, these marvelous devices will permit us to move unhindered through time and space, and to live perfectly regulated lives. However, if one of these devices should ever go awry, a "clockwork man" from the future might turn up in the 1920s, perhaps at a cricket match in a small English village.
The HiLoBooks edition of The Clockwork Man features an Introduction by Annalee Newitz, editor-in-chief of the science fiction and science blog io9. She's the author of Scatter, Adapt, and Remember: How Humans Will Survive a Mass Extinction (2013) and Pretend We're Dead: Capitalist Monsters in American Pop Culture (2006).
The Clockwork Man was first published in 1923 — the same year as Karel Čapek's pioneering android play, R.U.R..
"This is still one of the most eloquent pleas for the rejection of the 'rational' future and the conservation of the humanity of man," writes Brian Stableford in Scientific Romance in Britain, 1890-1950. "Of the many works of scientific romance that have fallen into utter obscurity, this is perhaps the one which most deserves rescue."
"Perhaps the outstanding scientific romance of the 1920s," agrees the sci-fi reference book Anatomy of Wonder.
Rumors that "E.V. Odle" was a pen name for Virginia Woolf are amusing, but unfounded. Edwin Vincent Odle (1890–1942) was a playwright, critic, and short-story author who lived in Bloomsbury, London during the 1910s; his brother, Alan, was a well-known illustrator and eccentric. From 1925–35, he was editor of the British short-story magazine The Argosy.
***
For more information about HiLoBooks, visit our homepage.
RADIUM AGE SCIENCE FICTION: "Radium Age" is HILOBROW's name for the 1904–33 era, which saw the discovery of radioactivity, the revelation that matter itself is constantly in movement — a fitting metaphor for the first decades of the 20th century, during which old scientific, religious, political, and social certainties were shattered. This era saw the publication of genre-shattering writing by, e.g.: Algernon Blackwood | Edgar Rice Burroughs | Karel Čapek | Buster Crabbe | August Derleth | Arthur Conan Doyle | Hugo Gernsback | Charlotte Perkins Gilman | Cicely Hamilton | Hermann Hesse | William Hope Hodgson | Aldous Huxley | Inez Haynes Irwin | Alfred Jarry | Jack Kirby (Radium Age sf's influence on) | Murray Leinster | Gustave Le Rouge | Gaston Leroux | David Lindsay | Jack London | H.P. Lovecraft | A. Merritt | Maureen O'Sullivan | Sax Rohmer | Paul Scheerbart | Upton Sinclair | Clark Ashton Smith | E.E. "Doc" Smith | Olaf Stapledon | John Taine | H.G. Wells | Jack Williamson | Stanisław Ignacy Witkiewicz | S. Fowler Wright | Philip Gordon Wylie | Yevgeny Zamyatin
MORE RADIUM AGE SF: What is Radium Age science fiction? |Radium Age 100: 100 Best Science Fiction Novels from 1904–33 | Radium Age Supermen | Radium Age Robots | Radium Age Apocalypses | Radium Age Telepaths | Radium Age Eco-Catastrophes | Radium Age Cover Art (1) | SF's Best Year Ever: 1912 | Radium Age Science Fiction Poetry | Enter Highbrowism | Bathybius! Primordial ooze in Radium Age sf | War and Peace Games (H.G. Wells's training manuals for supermen)
HILOBOOKS: The mission of HiLoBooks is to serialize novels (both original and reissued) on HiLobrow, and to reissue Radium Age science fiction in beautiful new print editions. The following titles can be read in serial form via HiLobrow.com and/or purchased in gorgeous paperback form: Jack London's The Scarlet Plague, Rudyard Kipling's With the Night Mail (and "As Easy as A.B.C."), Arthur Conan Doyle's The Poison Belt, H. Rider Haggard's When the World Shook, Edward Shanks' The People of the Ruins, William Hope Hodgson's The Night Land, J.D. Beresford's Goslings, E.V. Odle's The Clockwork Man, Cicely Hamilton's Theodore Savage, and Muriel Jaeger's The Man with Six Senses.