Best 1999 Adventures (5)
By: Joshua Glenn
November 3, 2020
One in a series of 10 posts identifying Josh Glenn's favorite 1999 adventure novels.
*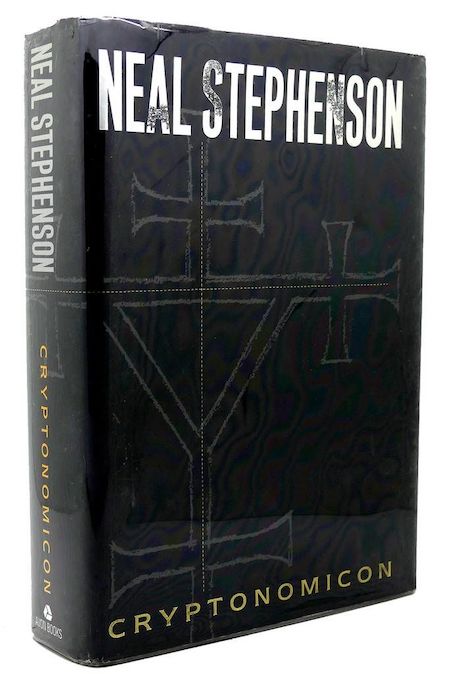 Neal Stephenson's treasure-hunt adventure Cryptonomicon.
During WWII, mathematical genius and codebreaker Lawrence Waterhouse is assigned to an ultra-secret unit whose mission it is to disguise the fact that Allied intelligence has solved Germany's Enigma code… by staging events that provide alternative explanations for the Allied intelligence successes. US Marine sergeant Bobby Shaftoe is part of Waterhouse's tactical-deception team. Meanwhile, Japanese mining engineer Goto Dengo, with whom Shaftoe has become friendly, is assigned to conceal a fortune in stolen gold in a bunker constructed on a remote island in the Philippines. Circa 1997, in the book's other storyline, Lawrence's grandson Randy is an entrepreneur helping to create a data haven in a sultanate near the Philippines, with the long-term goal of instructing genocide-target populations on the art of defensive warfare. Doug Shaftoe, son of Bobby, and his daughter Amy, do the undersea surveying for the haven's engineering work… which is overseen by Goto Furudenendu, heir-apparent to Goto Dengo's empire. Cutting across this three-family historical saga is Enoch Root, chaplain to Bobby Shaftoe's unit in the 1940s, a Catholic lay worker "trying to bring Internet stuff to China" in the 1990s, and a member of (or advisor to) some kind of ancient secret society that may nudge the advancement of science and Enlightenment from one era to another. The WWII action is thrilling, the present-day treasure hunt somewhat less so but certainly intriguing. An impressive effort.
Fun facts: Winner of the Locus SF Award. Root and his secret society, along with various Waterhouses and Shaftoes, also appear in Stephenson's Baroque Cycle (published in three volumes in 2003–2004), and in his 2019 novel Fall; or, Dodge in Hell.
***
JOSH GLENN'S *BEST ADVENTURES* LISTS: BEST 250 ADVENTURES OF THE 20TH CENTURY | 100 BEST OUGHTS ADVENTURES | 100 BEST RADIUM AGE (PROTO-)SCI-FI ADVENTURES | 100 BEST TEENS ADVENTURES | 100 BEST TWENTIES ADVENTURES | 100 BEST THIRTIES ADVENTURES | 75 BEST GOLDEN AGE SCI-FI ADVENTURES | 100 BEST FORTIES ADVENTURES | 100 BEST FIFTIES ADVENTURES | 100 BEST SIXTIES ADVENTURES | 75 BEST NEW WAVE SCI FI ADVENTURES | 100 BEST SEVENTIES ADVENTURES | 100 BEST EIGHTIES ADVENTURES | 75 BEST DIAMOND AGE SCI-FI ADVENTURES | 100 BEST NINETIES ADVENTURES | 75 BEST HADRON AGE SCI-FI ADVENTURES | NOTES ON 21st-CENTURY ADVENTURES.