Diamond Age 75 (36)
By: Joshua Glenn
November 17, 2019
One in a series of posts about the 75 best science fiction novels published during the genre's Diamond Age era (from 1984–2003, according to HILOBROW's periodization schema). For Josh Glenn's complete Diamond Age Sci-Fi 75 list, click here.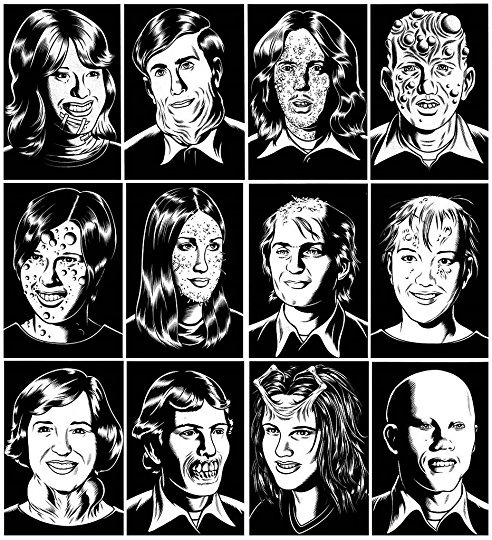 Charles Burns's horror/sci-fi graphic novel Black Hole (serialized 1995–2005; in book form, 2005).
I became aware of Charles Burns in the mid-1980s, thanks to his retro-sci-fi/horror "El Borbah" and "Big Baby" stories, which at the level of form may have paid tribute to the stylings of Will Elder, Hergé, and Chester Gould — but which were more sophisticated, in a surrealist, absurdist way. I was 28 when Kitchen Sink (Fantagraphics took over, later) began publishing the twelve installments that would make up Black Hole; I was 38 by the time the complete version was published. I mention this because my take on the story changed, during those years. A sexually transmitted disease mutates teenagers — over the course of a summer, in a suburb of Seattle, in the mid-1970s — into B-movie-esque monsters! The lucky ones are those who merely grow a little tail, or sprout chest-tendrils, or who shed their skin! Within this milieu, a lover's triangle develops among Chris, Rob, and Keith; Keith, meanwhile, falls under the erotic spell of Eliza, a free-spirited artist living with dope dealers! Chris runs away, to live in the woods near her fellow freaks; but someone is killing them! When early issues of Black Hole appeared, I reveled in what I understood to be Burns's nihilistic, body-horror take on, say, Dazed and Confused. However, by the time the last installment appeared, I looked forward not to finding out what happened next (for better or worse, it's essentially a midcentury-style romance comic) so much as reimmersing myself in Burns's fully realized world — gorgeous chiaroscuro, discontinuous chronology, teenage angst, sexual frustration and liberation… plus David Bowie's Diamond Dogs. Wow!
Fun facts: "There are certain truths that exist in genre fiction, even though it's full of stereotypes and two-dimensional characters," Burns said in an interview, once. "There's a certain amount of unconsciousness that goes into genre fiction or genre movies. And out of that unconsciousness, I always see a certain kind of truth."
***
DIAMOND AGE SCI-FI at HILOBROW: William Gibson | Bruce Sterling | Margaret Atwood | Ann Nocenti | Frank Miller | Alan Moore | Octavia E. Butler | Iain M. Banks | Grant Morrison | Neal Stephenson | Jonathan Lethem | Charles Burns | China Miéville.
JOSH GLENN'S *BEST ADVENTURES* LISTS: BEST 250 ADVENTURES OF THE 20TH CENTURY | 100 BEST OUGHTS ADVENTURES | 100 BEST RADIUM AGE (PROTO-)SCI-FI ADVENTURES | 100 BEST TEENS ADVENTURES | 100 BEST TWENTIES ADVENTURES | 100 BEST THIRTIES ADVENTURES | 75 BEST GOLDEN AGE SCI-FI ADVENTURES | 100 BEST FORTIES ADVENTURES | 100 BEST FIFTIES ADVENTURES | 100 BEST SIXTIES ADVENTURES | 75 BEST NEW WAVE SCI FI ADVENTURES | 100 BEST SEVENTIES ADVENTURES | 100 BEST EIGHTIES ADVENTURES | 75 BEST DIAMOND AGE SCI-FI ADVENTURES | 100 BEST NINETIES ADVENTURES (in progress) | 1994 | 1995 | 1996 | 1997 | 1998 | 1999 | 2000 | 2001 | 2002 | 2003 | NOTES ON 21st-CENTURY ADVENTURES.