Diamond Age 75 (29)
By: Joshua Glenn
September 29, 2019
One in a series of posts about the 75 best science fiction novels published during the genre's Diamond Age era (from 1984–2003, according to HILOBROW's periodization schema). For Josh Glenn's complete Diamond Age Sci-Fi 75 list, click here.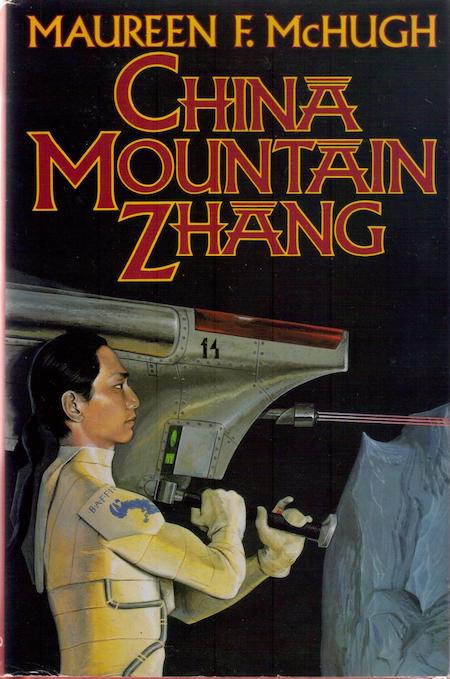 Maureen F. McHugh's China Mountain Zhang (1992).
The titular China Mountain Zhang is a gay New Yorker of Chinese descent; unambitious, introverted, and concerned to hide the truth about his national origin (American-born-Chinese are considered inferior to Chinese-born-Chinese; also, he's half-Hispanic), Zhang isn't the heroic type. Instead, he serves as our guide to a future world in which America's economy has collapsed and the People's Republic of China has become a hegemonic world power. In the chapters about Zhang, he begins as a construction foreman; his sexuality has cost him his first job and his chance of a great career in Shanghai. He's posted to an Arctic scientific station on Baffin Island, as an engineering tech; he studies cutting-edge, daoist engineering in Wuxi, the new Imperial City; he tutors Martian homesteaders in their hard-scrabble agricultural commune; and he finishes up as a kind of super-architect. Along the way, he cruises for casual sex, while taking care to mask his same-sex desire — whih is forbidden, in China. The book's other chapters show us the world from the perspectve of other characters: San-xiang, a deformed Chinese woman who seeks genetic modification, only to discover that a pretty face isn't the solution to her problems; Angel, a cyber-kite flier in New York; two Martian settlers. There are many stories, here; they don't cohere — but they all concern ordinary people winning small-scale victories within a repressive social order. It's not an adventure, but it's impossible to put down.
Fun fact: McHugh's first novel, China Mountain Zhang was nominated for the Hugo and Nebula Awards, and won the James Tiptree, Jr. Award. It has been described as an exemplar of "Mundane Science Fiction" (MSF). McHugh's 2011 collection, After The Apocalypse, was one of Publisher's Weekly's 10 best books of 2011.
***
DIAMOND AGE SCI-FI at HILOBROW: William Gibson | Bruce Sterling | Margaret Atwood | Ann Nocenti | Frank Miller | Alan Moore | Octavia E. Butler | Iain M. Banks | Grant Morrison | Neal Stephenson | Jonathan Lethem | Charles Burns | China Miéville.
JOSH GLENN'S *BEST ADVENTURES* LISTS: BEST 250 ADVENTURES OF THE 20TH CENTURY | 100 BEST OUGHTS ADVENTURES | 100 BEST RADIUM AGE (PROTO-)SCI-FI ADVENTURES | 100 BEST TEENS ADVENTURES | 100 BEST TWENTIES ADVENTURES | 100 BEST THIRTIES ADVENTURES | 75 BEST GOLDEN AGE SCI-FI ADVENTURES | 100 BEST FORTIES ADVENTURES | 100 BEST FIFTIES ADVENTURES | 100 BEST SIXTIES ADVENTURES | 75 BEST NEW WAVE SCI FI ADVENTURES | 100 BEST SEVENTIES ADVENTURES | 100 BEST EIGHTIES ADVENTURES | 75 BEST DIAMOND AGE SCI-FI ADVENTURES | 100 BEST NINETIES ADVENTURES (in progress) | 1994 | 1995 | 1996 | 1997 | 1998 | 1999 | 2000 | 2001 | 2002 | 2003 | NOTES ON 21st-CENTURY ADVENTURES.