Best 1958 Adventures (5)
By: Joshua Glenn
August 24, 2018
One in a series of 10 posts identifying Josh Glenn's favorite 1958 adventure novels. Happy 60th anniversary!
*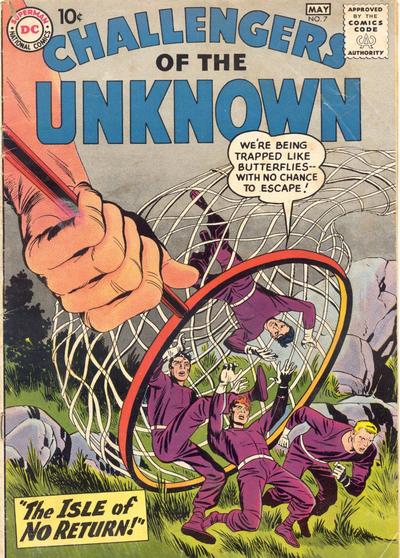 Jack Kirby's pre-Silver Age sci-fi adventures (c. 1958–1961).
Shortly before he and Stan Lee began their extraordinary run at Marvel Comics, capitalizing on a revived interest in superhero storytelling and revolutionizing the industry with The Fantastic Four (1961) and other titles, Jack Kirby spent three years freelancing for DC and Atlas — during which time he drew hundreds of pages of sci-fi comics. With writers Dick and Dave Wood, he co-created the Challengers of the Unknown, a quartet of jump-suited adventurers who investigated science fictional and apparent paranormal occurrences; the team — pilot Kyle "Ace" Morgan, daredevil Matthew "Red" Ryan, strong and slow-witted Leslie "Rocky" Davis, and scientist Walter Mark "Prof" Haley — is a precursor to The Fantastic Four. In the pages of DC's Adventure Comics and World's Finest Comics, Kirby recast DC's Green Arrow as a science-fiction hero, complete with an Arrowcar and Arrowplane. Perhaps most importantly, during this period Kirby drew dozens of sci-fi and sci-fantasy stories (such as "I Discovered the Secret of the Flying Saucers") for Amazing Adventures, Strange Tales, Strange Worlds, Tales to Astonish, Tales of Suspense, World of Fantasy, and other anthologies [see Richard Gagnon's note in the comments]. His monster stories, in particular — for example, Groot, the Thing from Planet X; Grottu, King of the Insects; Fin Fang Foom — are extremely fun.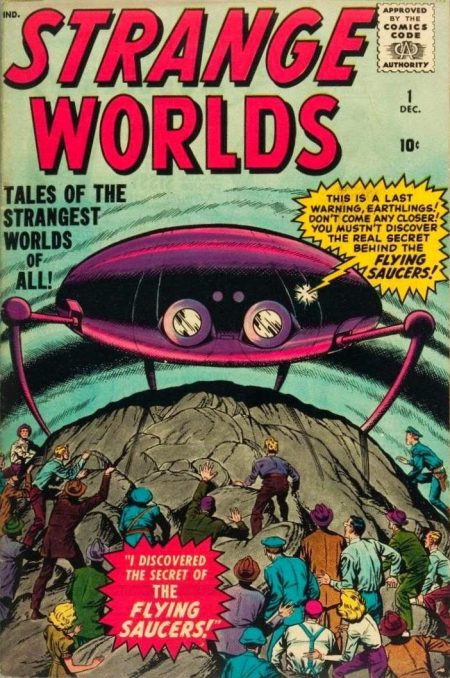 ***
MORE JACK KIRBY at HILOBROW: Douglas Rushkoff on THE ETERNALS | John Hilgart on BLACK MAGIC | Gary Panter on DEMON | Dan Nadel on OMAC | Deb Chachra on CAPTAIN AMERICA | Mark Frauenfelder on KAMANDI | Jason Grote on MACHINE MAN | Ben Greenman on SANDMAN | Annie Nocenti on THE X-MEN | Greg Rowland on THE FANTASTIC FOUR | Joshua Glenn on TALES TO ASTONISH | Lynn Peril on YOUNG LOVE | Jim Shepard on STRANGE TALES | David Smay on MISTER MIRACLE | Joe Alterio on BLACK PANTHER | Sean Howe on THOR | Mark Newgarden on JIMMY OLSEN | Dean Haspiel on DEVIL DINOSAUR | Matthew Specktor on THE AVENGERS | Terese Svoboda on TALES OF SUSPENSE | Matthew Wells on THE NEW GODS | Toni Schlesinger on REAL CLUE | Josh Kramer on THE FOREVER PEOPLE | Glen David Gold on JOURNEY INTO MYSTERY | Douglas Wolk on 2001: A SPACE ODYSSEY | MORE EXEGETICAL COMMENTARIES: Joshua Glenn on Kirby's Radium Age Sci-Fi Influences | Chris Lanier on Kirby vs. Kubrick | Scott Edelman recalls when the FF walked among us | Adam McGovern is haunted by a panel from THE NEW GODS | Matt Seneca studies the sensuality of Kirby's women | Btoom! Rob Steibel settles the Jack Kirby vs. Stan Lee question | Galactus Lives! Rob Steibel analyzes a single Kirby panel in six posts | Danny Fingeroth figgers out The Thing | Adam McGovern on four decades (so far) of Kirby's "Fourth World" mythos | Jack Kirby: Anti-Fascist Pipe Smoker |
JOSH GLENN'S *BEST ADVENTURES* LISTS: BEST 250 ADVENTURES OF THE 20TH CENTURY | 100 BEST OUGHTS ADVENTURES | 100 BEST RADIUM AGE (PROTO-)SCI-FI ADVENTURES | 100 BEST TEENS ADVENTURES | 100 BEST TWENTIES ADVENTURES | 100 BEST THIRTIES ADVENTURES | 75 BEST GOLDEN AGE SCI-FI ADVENTURES | 100 BEST FORTIES ADVENTURES | 100 BEST FIFTIES ADVENTURES | 100 BEST SIXTIES ADVENTURES | 75 BEST NEW WAVE SCI FI ADVENTURES | 100 BEST SEVENTIES ADVENTURES | 100 BEST EIGHTIES ADVENTURES | 75 BEST DIAMOND AGE SCI-FI ADVENTURES | 100 BEST NINETIES ADVENTURES (in progress) | 1994 | 1995 | 1996 | 1997 | 1998 | 1999 | 2000 | 2001 | 2002 | 2003 | NOTES ON 21st-CENTURY ADVENTURES.