New Wave Sci-Fi 75 (40)
By: Joshua Glenn
July 8, 2018
One in a series of posts about the 75 best science fiction novels published during the genre's New Wave era (from 1964–1983, according to HILOBROW's periodization schema). For Josh Glenn's complete New Wave Sci-Fi 75 list, click here.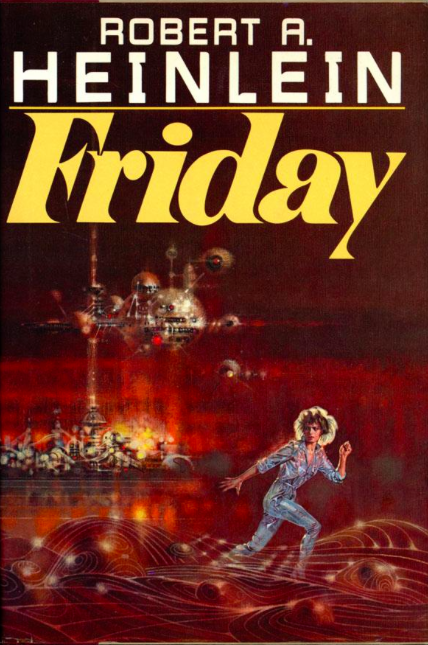 Robert Heinlein's sci-fi adventure Friday (1982).
Heinlein fans were relieved to see the master return — after a seven-year hiatus and the worst book of his career, 1980's The Number of the Beast — to kiss-kiss bang-bang form. This is a fun spy novel, featuring a kick-ass combat courier, Friday Jones, who struggles to conceal her status as an "artificial person" genetically engineered to be stronger, faster, and smarter than the rest of us — because of prejudice and opprobrium. Heinlein was fond of reimagining what "family" could mean, and Friday's group family, composed of several husbands and wives and many children, is a semi-intriguing idea. At the same time, critics are absolutely correct to point out that Heinlein is at his sex-positive skeeviest here… and that there really isn't anything resembling a plot. What makes this novel worth mentioning in the context of New Wave sci-fi, I think, is the ingenious means by which Friday's agency activates her highly advanced abductive reasoning ability — that is to say, her capacity for making imaginative excogitations of hypotheses on the unknown causes of resulting facts. (For example, Friday accurately predicts the second coming of the Black Plague.) I've emulated these methods — archive binges, asking myself questions while in a hypnogogic state — in my own commercial semiotics practice.
Fun facts: Science fiction author Jo Walton has called Friday "the worst book I love." I think that's more or less how I feel about it, too. Though I love even worse books.
***
NEW WAVE SCI-FI at HILOBROW: 75 Best New Wave (1964–1983) Sci-Fi Novels | Back to Utopia: Fredric Jameson's theorizing about New Wave sci-fi | Douglas Adams | Poul Anderson | J.G. Ballard | John Brunner | William Burroughs | Octavia E. Butler | Samuel R. Delany | Philip K. Dick | Frank Herbert | Ursula K. Le Guin | Barry N. Malzberg | Moebius (Jean Giraud) | Michael Moorcock | Alan Moore | Gary Panter | Walker Percy | Thomas Pynchon | Joanna Russ | James Tiptree Jr. (Alice Sheldon) | Kurt Vonnegut | PLUS: Jack Kirby's Golden Age and New Wave science fiction comics.
JOSH GLENN'S *BEST ADVENTURES* LISTS: BEST 250 ADVENTURES OF THE 20TH CENTURY | 100 BEST OUGHTS ADVENTURES | 100 BEST RADIUM AGE (PROTO-)SCI-FI ADVENTURES | 100 BEST TEENS ADVENTURES | 100 BEST TWENTIES ADVENTURES | 100 BEST THIRTIES ADVENTURES | 75 BEST GOLDEN AGE SCI-FI ADVENTURES | 100 BEST FORTIES ADVENTURES | 100 BEST FIFTIES ADVENTURES | 100 BEST SIXTIES ADVENTURES | 75 BEST NEW WAVE SCI FI ADVENTURES | 100 BEST SEVENTIES ADVENTURES | 100 BEST EIGHTIES ADVENTURES | 75 BEST DIAMOND AGE SCI-FI ADVENTURES | 100 BEST NINETIES ADVENTURES (in progress) | 1994 | 1995 | 1996 | 1997 | 1998 | 1999 | 2000 | 2001 | 2002 | 2003 | NOTES ON 21st-CENTURY ADVENTURES.