Diamond Age 75 (32)
By: Joshua Glenn
October 20, 2019
One in a series of posts about the 75 best science fiction novels published during the genre's Diamond Age era (from 1984–2003, according to HILOBROW's periodization schema). For Josh Glenn's complete Diamond Age Sci-Fi 75 list, click here.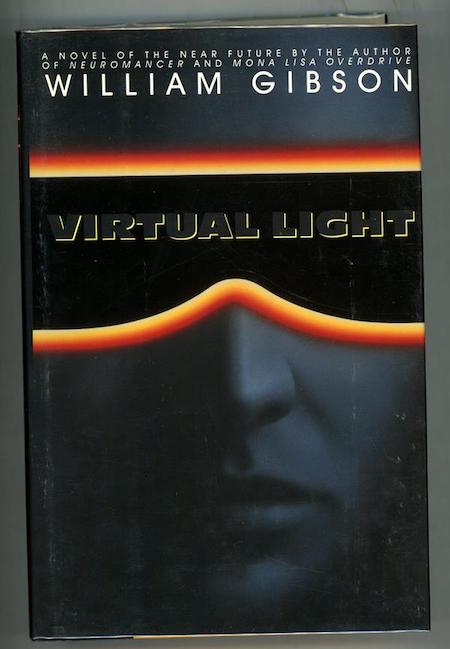 William Gibson's Bridge sci-fi adventure Virtual Light (1993).
A bike messenger who lives in the Bay Bridge community — an anarchic shantytown suspended between San Francisco and Oakland; it's divided into suspension-side and cantilever-side zones — steals a valuable pair of sunglasses, which (it turns out) allow the wearer to perceive optically encoded information about a ruthless corporate cabal's scheme to raze San Francisco and rebuild it using nanotechnology. The first installment in Gibson's Bridge trilogy is set in the then-near future of 2006; although the context of Virtual Light is post-catastrophic (earthquake, social upheavals), this series is not nearly as far-out as his Sprawl trilogy. Alas, it's more realistic: the middle class has all but vanished, public space has been privatized, everything is polluted. The messenger, whose name we eventually discover is Chevette, takes it on the lam. She is pursued by two cops (Svobodov and Orlovsky), a psychotic assassin (Loveless) dispatched by the company that made the glasses, and by Rydell — a former police officer hired by the "skip-tracer" Lucius Warbaby. (Meanwhile, another subplot focuses on Yamazaki, a Japanese sociologist studying the bridge dwellers — in particular, Chevette's mentor, Skinner.) When Rydell catches up with Chevette, he has to decide whether to take her in… or to join her in attempting to get the word out about the nanotech plot!
Fun facts: The novel was a finalist nominee for a Hugo Award.
***
DIAMOND AGE SCI-FI at HILOBROW: William Gibson | Bruce Sterling | Margaret Atwood | Ann Nocenti | Frank Miller | Alan Moore | Octavia E. Butler | Iain M. Banks | Grant Morrison | Neal Stephenson | Jonathan Lethem | Charles Burns | China Miéville.
JOSH GLENN'S *BEST ADVENTURES* LISTS: BEST 250 ADVENTURES OF THE 20TH CENTURY | 100 BEST OUGHTS ADVENTURES | 100 BEST RADIUM AGE (PROTO-)SCI-FI ADVENTURES | 100 BEST TEENS ADVENTURES | 100 BEST TWENTIES ADVENTURES | 100 BEST THIRTIES ADVENTURES | 75 BEST GOLDEN AGE SCI-FI ADVENTURES | 100 BEST FORTIES ADVENTURES | 100 BEST FIFTIES ADVENTURES | 100 BEST SIXTIES ADVENTURES | 75 BEST NEW WAVE SCI FI ADVENTURES | 100 BEST SEVENTIES ADVENTURES | 100 BEST EIGHTIES ADVENTURES | 75 BEST DIAMOND AGE SCI-FI ADVENTURES | 100 BEST NINETIES ADVENTURES (in progress) | 1994 | 1995 | 1996 | 1997 | 1998 | 1999 | 2000 | 2001 | 2002 | 2003 | NOTES ON 21st-CENTURY ADVENTURES.