Best 1958 Adventures (3)
By: Joshua Glenn
August 21, 2018
One in a series of 10 posts identifying Josh Glenn's favorite 1958 adventure novels. Happy 60th anniversary!
*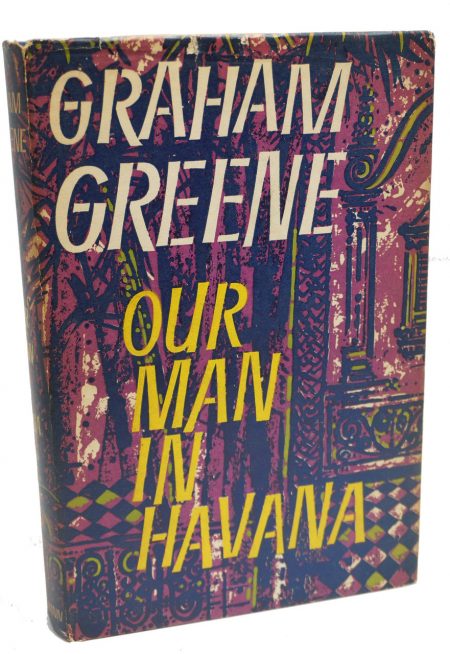 Graham Greene's sardonic espionage adventure Our Man In Havana.
This black comedy set in (pre-Missile Crisis) Cuba, which Greene considered an "entertainment" rather than one of his serious novels, mocks the willingness of intelligence services to believe reports from local informants. Hard-pressed to satisfy his teenage daughter's expensive tastes, Wormold, who owns a Havana vacuum-cleaner shop, begins selling invented information about agents and government installations (actually sketches of vacuum cleaner parts) to Britain's MI6. Havana's tawdry side is brought to life vividly, and the Batista regime is a chilling backdrop. When the real-life model for one of his imaginary agents is killed in apparent accident, Wormold must attempt to save the real people who share names with his fictional agents. Soon enough, an Soviet agent is assigned to assassinate Wormold himself… at which point, our man in Havana begins scheming to get his hands on an actual list of all of the spies in Havana — from Batista's chief torturer.
Fun facts: The book was adapted by Carol Reed as a 1959 movie of the same title starring Alec Guinness. PS: Greene was recruited by MI6 during World War II, and worked in counter-espionage in the Iberian Peninsula, where he had learned about greedy German agents in Portugal sending the Germans fictitious reports.
***
JOSH GLENN'S *BEST ADVENTURES* LISTS: BEST 250 ADVENTURES OF THE 20TH CENTURY | 100 BEST OUGHTS ADVENTURES | 100 BEST RADIUM AGE (PROTO-)SCI-FI ADVENTURES | 100 BEST TEENS ADVENTURES | 100 BEST TWENTIES ADVENTURES | 100 BEST THIRTIES ADVENTURES | 75 BEST GOLDEN AGE SCI-FI ADVENTURES | 100 BEST FORTIES ADVENTURES | 100 BEST FIFTIES ADVENTURES | 100 BEST SIXTIES ADVENTURES | 75 BEST NEW WAVE SCI FI ADVENTURES | 100 BEST SEVENTIES ADVENTURES | 100 BEST EIGHTIES ADVENTURES | 75 BEST DIAMOND AGE SCI-FI ADVENTURES | 100 BEST NINETIES ADVENTURES (in progress) | 1994 | 1995 | 1996 | 1997 | 1998 | 1999 | 2000 | 2001 | 2002 | 2003 | NOTES ON 21st-CENTURY ADVENTURES.