Best 1990 Adventures (8)
By: Joshua Glenn
May 7, 2020
One in a series of 10 posts identifying Josh Glenn's favorite 1990 adventure novels.
*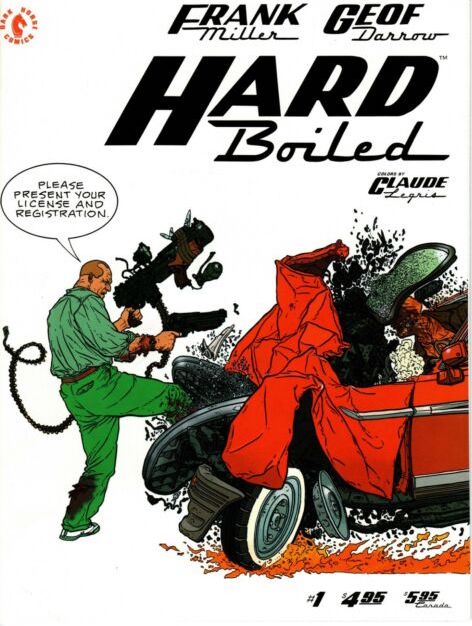 Frank Miller and Geof Darrow's satirical sci-fi comic Hard Boiled (1990–1992).
As a teenager in the '70s, Geof Darrow was obsessed with the comics of Jean Giraud (Moebius), the influence of whom can be seen in Darrow's comics. Moebius introduced Darrow to Frank Miller; the two would collaborate on the three-issue Hard Boiled and The Big Guy and Rusty the Boy Robot (1995), both from Dark Horse. Set in a dystopian, near-future Los Angeles, Hard Boiled is a PKD-ish yarn about insurance investigator Carl Seltz, whose suburban life is disturbed by memory gaps and violent dreams. (The plot of Miller's 1983–1984 comic Rōnin explores some of the same ideas.) Seltz seems to have a secret life as a violent tax collector… but when his pursuit of a tax evader leads to a wild car chase and a scene of epic destruction, we're left wondering who this guy really is. He wonders, too. Darrow's European-inflected artwork is mesmerizing — incredibly detailed, each panel demanding close attention. The weapons are extraordinary; each shard of shattered glass is limned. Miller's story is a thrill ride and a satirical commentary on our violent society. Carl discovers that both of his identities are fictitious: Will he fulfill his destiny as a rebel leader… or return to his suburban idyll?
Fun facts: Winner of the 1991 Eisner award for Best Writer/Artist Team. A 2017 graphic novel version of the series featured a completely new, more realistic and neutral color palette. Darrow went on to create the storyboards for The Matrix, and the Wachowskis were at point supposed to adapt Hard Boiled as a movie.
***
JOSH GLENN'S *BEST ADVENTURES* LISTS: BEST 250 ADVENTURES OF THE 20TH CENTURY | 100 BEST OUGHTS ADVENTURES | 100 BEST RADIUM AGE (PROTO-)SCI-FI ADVENTURES | 100 BEST TEENS ADVENTURES | 100 BEST TWENTIES ADVENTURES | 100 BEST THIRTIES ADVENTURES | 75 BEST GOLDEN AGE SCI-FI ADVENTURES | 100 BEST FORTIES ADVENTURES | 100 BEST FIFTIES ADVENTURES | 100 BEST SIXTIES ADVENTURES | 75 BEST NEW WAVE SCI FI ADVENTURES | 100 BEST SEVENTIES ADVENTURES | 100 BEST EIGHTIES ADVENTURES | 75 BEST DIAMOND AGE SCI-FI ADVENTURES | 100 BEST NINETIES ADVENTURES (in progress) | 1994 | 1995 | 1996 | 1997 | 1998 | 1999 | 2000 | 2001 | 2002 | 2003 | NOTES ON 21st-CENTURY ADVENTURES.