Diamond Age 75 (12)
By: Joshua Glenn
June 3, 2019
One in a series of posts about the 75 best science fiction novels published during the genre's Diamond Age era (from 1984–2003, according to HILOBROW's periodization schema). For Josh Glenn's complete Diamond Age Sci-Fi 75 list, click here.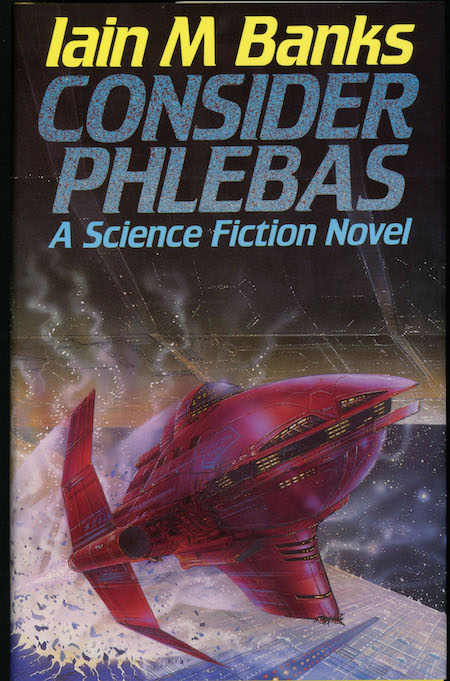 Iain M. Banks's Culture adventure Consider Phlebas (1987).
When Banks set about rebooting sci-fi's Space Opera genre, he invented the Culture — a post-scarcity, galaxy-spanning, left-libertarian society of humanoids, aliens, and godlike "Minds" (artificial intelligences) dwelling primarily in spaceships and other off-planet constructs. Although self-sufficient, the Culture derives its sense of purpose from improving the lives of those in developing societies. Sounds utopian, right? However, Bora Horza Gobuchul, protagonist of the first Culture novel, is an honorable, principled shape-shifter who despises the Culture for its decadence. There's a war going on between the Idiran Empire (a three-legged, religious, warrior race) and the Culture; Horza — whom we first meet in a prison cell slowly filling with sewage — is an agent of the unpleasant Iridans. His mission? Capture a damaged Culture Mind (which was intended for use on a new class of warship) that's stranded on an off-limits, post-catastrophic planet. Banks is perhaps having too much fun with the genre, in his first effort: there's a prison break; Horza joins a crew of pirates and is taken prisoner by a cannibal cult; the Culture destroys one of its own mega-colonies; and there's a dizzying array of future tech. It's also perhaps a bit too long-winded, a bit too much telling vs. showing, at times. But it's a very impressive effort, and Perosteck Balveda is the first of many interestingly conflicted Culture agents that we'll encounter.
Fun fact: Nebula-winning sci-fi author (and HILOBROW friend) Charlie Jane Anders has recounted, of Consider Phlebas, that the book "made me start reading science fiction in general, after a lapse, and made me want to write in the genre myself." Amazon announced in 2018 that it has acquired the TV rights to Consider Phlebas, which will be adapted by Dennis Kelly.
***
DIAMOND AGE SCI-FI at HILOBROW: William Gibson | Bruce Sterling | Margaret Atwood | Ann Nocenti | Frank Miller | Alan Moore | Octavia E. Butler | Iain M. Banks | Grant Morrison | Neal Stephenson | Jonathan Lethem | Charles Burns | China Miéville.
JOSH GLENN'S *BEST ADVENTURES* LISTS: BEST 250 ADVENTURES OF THE 20TH CENTURY | 100 BEST OUGHTS ADVENTURES | 100 BEST RADIUM AGE (PROTO-)SCI-FI ADVENTURES | 100 BEST TEENS ADVENTURES | 100 BEST TWENTIES ADVENTURES | 100 BEST THIRTIES ADVENTURES | 75 BEST GOLDEN AGE SCI-FI ADVENTURES | 100 BEST FORTIES ADVENTURES | 100 BEST FIFTIES ADVENTURES | 100 BEST SIXTIES ADVENTURES | 75 BEST NEW WAVE SCI FI ADVENTURES | 100 BEST SEVENTIES ADVENTURES | 100 BEST EIGHTIES ADVENTURES | 75 BEST DIAMOND AGE SCI-FI ADVENTURES | 100 BEST NINETIES ADVENTURES (in progress) | 1994 | 1995 | 1996 | 1997 | 1998 | 1999 | 2000 | 2001 | 2002 | 2003 | NOTES ON 21st-CENTURY ADVENTURES.