A IS FOR ADVENTURE (22)
By: Joshua Glenn
November 18, 2019
An irregular series of posts featuring notes towards Josh Glenn's The Adventurer's Glossary, a work in progress which — like his previous books, The Idler's Glossary and The Wage Slave's Glossary, both of which feature brilliant companion essays by Mark Kingwell — will attempt to smuggle ideology critique into what only appears to be a simple defining vocabulary or clavis. Readers, please suggest additions!
THE ADVENTURER'S GLOSSARY (NOTES): A-OK to AVENGER | BADASS to BUSHIDO | CAHOOTS to CWTCH | DAB HAND to DYNO | EAT IT to EXPLOIT | FACE to FUGAZI | GALAHAD to GUNG-HO | HACK to HURT LOCKER | ILL to IRISH | JACK to JURY-RIG | KAPUT to KNUCKLE UP | LABONZA to LOCK AND LOAD | MACGYVER to MOXIE | NAIL to NUTS | O.G. to OUTRÉ | PACKING to PUNK | QUANDARY to QUIXOTIC | RAFFISH to RURITANIA | SAFARI to SWASHBUCKLE | TAILSPIN to TWEENER | UMBRAGE to UPTAKE | VALIANT to VOYAGE | WALK THE WALK to WRANGLE | X to X MARKS THE SPOT | YIPPEE KI-YAY to YOLO | ZEALOUS to ZOOM.
*
---
VALIANT to VOYAGE
---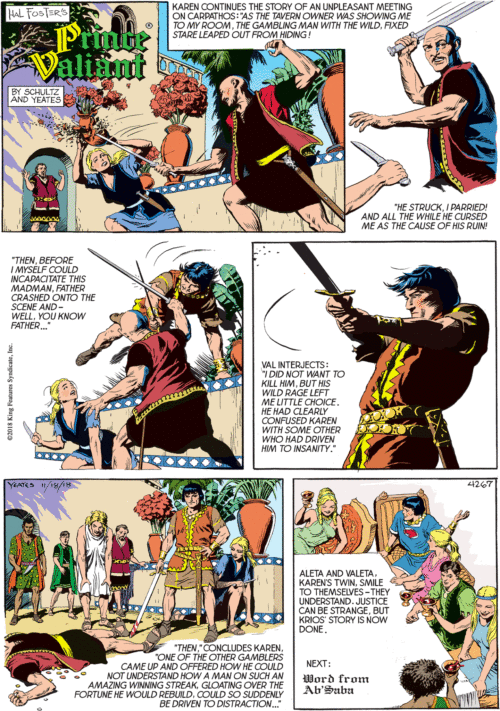 VALIANT: Physically courageous, and stout-hearted; especially, showing boldness in fight or on the field of battle. Originally, the 14th-century term, which derives from the Latin valere [to be strong, be of worth"], meant "stalwart of body, bone, hands." If we still use this old-fashioned term today, it's thanks in no small part to the popular comic strip Prince Valiant, created by Hal Foster in 1937 and still appearing weekly in newspapers.
VALOR: The quality of mind and spirit which enables a person to face danger — particularly in warfare or conflict — with courage or bravery. Like valiant, it also derives from the Latin valere. In 1955, EC Comics published a short-lived comic book, Valor, dedicated to tales of action and adventure in bygone eras: Ancient Egypt, the Roman Empire, the Middle Ages, the Crusades, etc., etc. It's an antiquated term, now.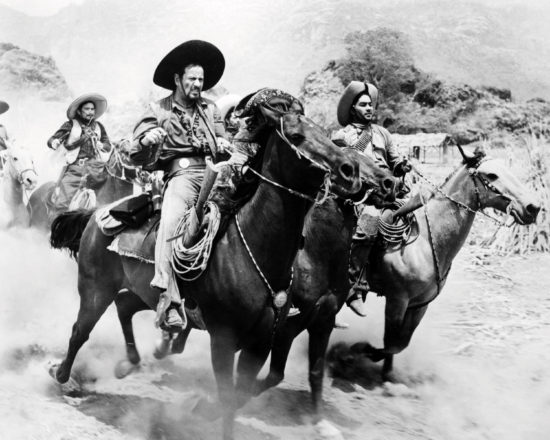 VAMOOSE: An alteration of the Spanish ¡vamos! ("let's go!"), this early 19th-century Americanism means "make off, depart, decamp." In 1890, William Randolph Hearst — who'd just taken over his first newspaper, the San Francisco Examiner — commissioned a powerful, aerodynamic racing yacht, which he named the Vamoose.
VANGUARD: The foremost division of an arm; the forefront or van. A Scottish term borrowed from the Old French avant [before] + garde [body of soldiers, troop]. The vanguard of an advancing military formation is charged with seeking out the enemy. Figuratively speaking, to be in the vanguard is to be at the forefront of a movement.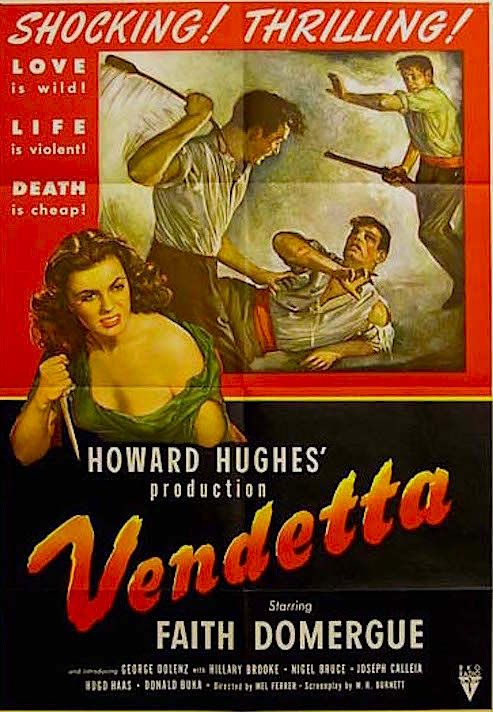 VENDETTA: A blood-feud, usually of a hereditary character — as is customary among the inhabitants of Corsica and parts of Italy. From the Latin vindicta [vengeance]. The dystopian 1982 graphic novel V for Vendetta, written by Alan Moore, features a masked anarchist who seeks revenge against the government officials who've tortured him.
VENGEANCE: The act of avenging oneself or another — inflicting injury or punishment not out of mere malicious retaliation, that is, but as an act of retributive punishment. To do something with a vengeance is to do it with great force, in an extreme degree. The Old Testament-ish term derives from the Latin vindicare [punish], by way of Old French.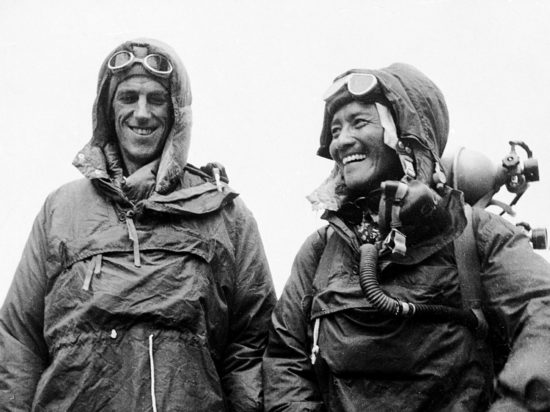 VENTURE: An act or occasion of trying one's chance or fortune; a course or proceeding in which there is considerable risk of loss as well as chance of gain. The 15th-century term is an aphetic one — which is to say, it's the French term aventure [adventure] without the initial vowel. A venturesome person is one ready or disposed to take risks.
VERSUTE: Cunning, crafty, wily. The 17th-century term is derived from the Latin versutus [turn]. Versutiloquous is a fun term meaning "talking cunningly or craftily."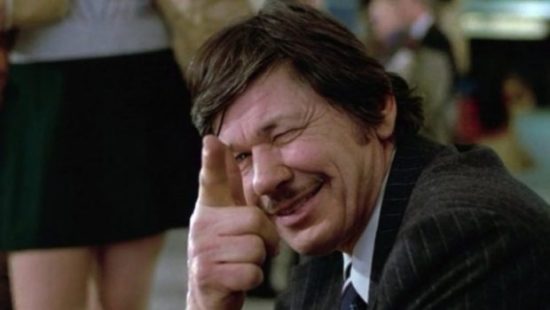 VIGILANTE: A civilian who acts in a law-enforcement capacity, without authority — typically because the legal agencies are thought to be inadequate. The Spanish word vigilante [watchman, guard] entered English in the 19th century, when it was used to describe members of self-appointed "vigilance committees," organized to suppress and punish crime summarily. In the Western literary and cultural tradition, characteristics of vigilantism have often been vested in folkloric heroes and legendary outlaws.
VIGOR: Activity or energy of body or constitution. A 14th-century term derived from the Latin vigor [liveliness, activity, force], via Anglo-Norman; it originally was used to describe active physical strength as an attribute or quality of living persons or animals.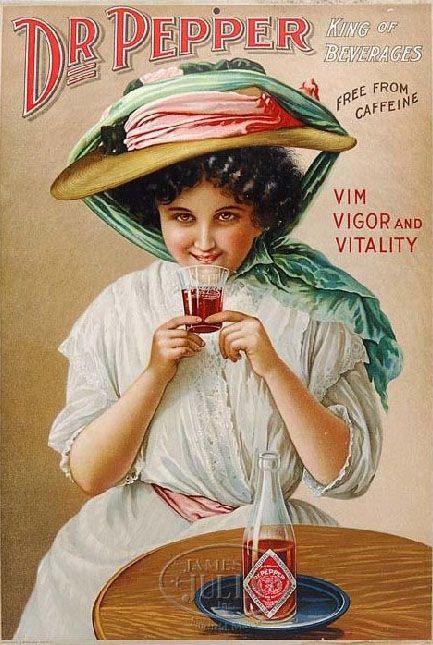 VIM: A slangy way of saying "force, energy" — almost always in the phrase vim and vigor. Possibly from the Latin vis [strength, energy], although the etymology is unclear.
VOYAGE: A journey over water, or through air or space, to some distant place. The medieval term is from Anglo-Norman by way of the Latin viaticum [supply of provisions or an official allowance of money for a long trip]. The fantastic voyage is one of the oldest literary forms — think of Homer's Odyssey — and the most important prose form in the ancestry of science fiction. Jules Verne, the so-called Father of Science Fiction, published a widely popular series of 19th-century scientific adventure novels — including Journey to the Center of the Earth, Twenty Thousand Leagues Under the Sea, and Around the World in Eighty Days — known collectively as the Voyages extraordinaires.
***
ALSO SEE: THE IDLER'S GLOSSARY | THE WAGE SLAVE'S GLOSSARY | The Perfect Flâneur | The Sweetest Hangover | You Down with VCP? | NEW ESCAPOLOGIST Q&A | H IS FOR HOBO — excerpts from The Idler's Glossary and The Wage Slave's Glossary | WAGE SLAVERY — Josh Glenn and Mark Kingwell discuss | IDLENESS — Josh Glenn and Mark Kingwell discuss | IDLER Q&A WITH THE PROGRESSIVE | IDLE IDOL: HENRY MILLER | WATCHING THE DETECTIVES | A SCENE FROM GOODFELLAS.
JOSH GLENN'S BEST ADVENTURES PROJECT: JOSH GLENN'S *BEST ADVENTURES* LISTS: BEST 250 ADVENTURES OF THE 20TH CENTURY | 100 BEST OUGHTS ADVENTURES | 100 BEST RADIUM AGE (PROTO-)SCI-FI ADVENTURES | 100 BEST TEENS ADVENTURES | 100 BEST TWENTIES ADVENTURES | 100 BEST THIRTIES ADVENTURES | 75 BEST GOLDEN AGE SCI-FI ADVENTURES | 100 BEST FORTIES ADVENTURES | 100 BEST FIFTIES ADVENTURES | 100 BEST SIXTIES ADVENTURES | 75 BEST NEW WAVE SCI FI ADVENTURES | 100 BEST SEVENTIES ADVENTURES | 100 BEST EIGHTIES ADVENTURES | 75 BEST DIAMOND AGE SCI-FI ADVENTURES | 100 BEST NINETIES ADVENTURES (in progress) | 1994 | 1995 | 1996 | 1997 | 1998 | 1999 | 2000 | 2001 | 2002 | 2003 | NOTES ON 21st-CENTURY ADVENTURES.