A IS FOR ADVENTURE (16)
By: Joshua Glenn
September 27, 2019
An irregular series of posts featuring notes towards Josh Glenn's The Adventurer's Glossary, a work in progress which — like his previous books, The Idler's Glossary and The Wage Slave's Glossary, both of which feature brilliant companion essays by Mark Kingwell — will attempt to smuggle ideology critique into what only appears to be a simple defining vocabulary or clavis. Readers, please suggest additions!
THE ADVENTURER'S GLOSSARY (NOTES): A-OK to AVENGER | BADASS to BUSHIDO | CAHOOTS to CWTCH | DAB HAND to DYNO | EAT IT to EXPLOIT | FACE to FUGAZI | GALAHAD to GUNG-HO | HACK to HURT LOCKER | ILL to IRISH | JACK to JURY-RIG | KAPUT to KNUCKLE UP | LABONZA to LOCK AND LOAD | MACGYVER to MOXIE | NAIL to NUTS | O.G. to OUTRÉ | PACKING to PUNK | QUANDARY to QUIXOTIC | RAFFISH to RURITANIA | SAFARI to SWASHBUCKLE | TAILSPIN to TWEENER | UMBRAGE to UPTAKE | VALIANT to VOYAGE | WALK THE WALK to WRANGLE | X to X MARKS THE SPOT | YIPPEE KI-YAY to YOLO | ZEALOUS to ZOOM.
*
---
PACKING to PUNK
---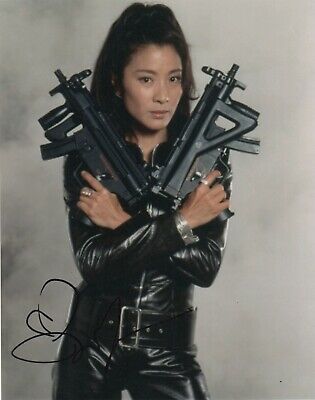 PACKING: Slang for carrying a loaded firearm on one's person, as in the 1943 movie Pistol Packin' Mama. The term has remained current: "I piggedy-pack steel," boasts the 1992 song "Mic Checka" by Das EFX, which goes on to explain: "I got a big gun."
PALADIN: In the French courtly literature of the 12th century, Charlemagne's twelve foremost knights include Roland, Oliver, Ogier the Dane, maybe even the Saracen giant Fierabras. These companions were called paladins, in 16th century English; the term was borrowed from French by way of the Latin palatinus [high-level royal official]. The term, which has come to mean "a knight renowned for heroism and chivalry," was popularized in the 1970s by its use as a character class in Dungeons & Dragons.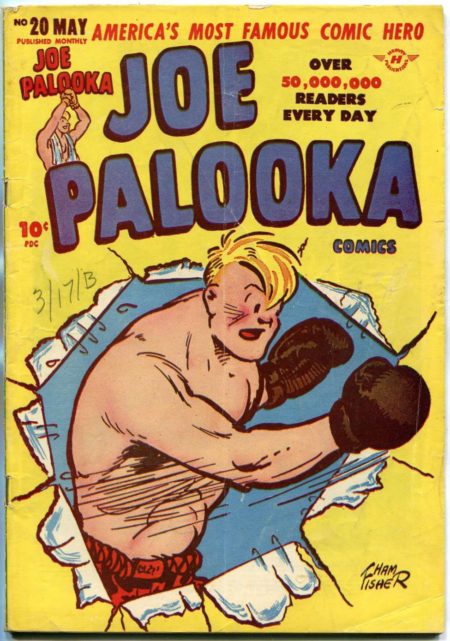 PALOOKA: Joe Palooka was a popular 1930s–1950s comic strip, by Ham Fisher, about a well-meaning but clumsy prizefighter's adventures. The slang term palooka, which means "lout, inept prizefighter," is of uncertain derivation; it first appeared in the 1920s.
PANIC: A sudden feeling of alarm or fear of sufficient intensity or uncontrollableness as to lead to extravagant or wildly unthinking behaviour, such as that which may spread through a crowd of people. The 17th-century term was originally and chiefly used allusively; panic experienced in mountains, caves, and lonely places was attributed by the ancient Greeks to the influence of Pan, who was believed to dwell in such locales.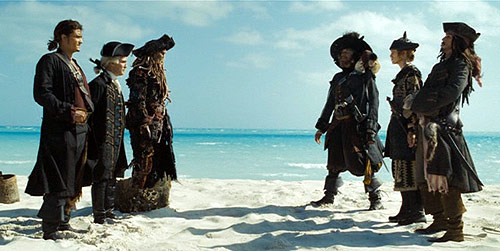 PARLEY: A meeting between opposing sides in a dispute; especially — in the term's original, 16th-century usage — a conference with an enemy, for discussing the mutual arrangement of matters such as terms for an armistice. The Anglo-Norman term is derived from the French parler [speak, discuss]. In the 19th century, the North American Indian word powwow — a significant ceremony — also came to mean "conference."
PATRIOTISM: A patriot loves his or her homeland — the term is derived from the Greek πατριώτης [fellow-countryman] — and is willing to defend it. Alas, because this honorable term has long since been co-opted by my-country-right-or-wrong nationalists, and therefore disparaged by anti-jingoistic, but too often woolly-minded internationalists, the terms patriot and patriotism are now impossible to use in a non-provocative manner.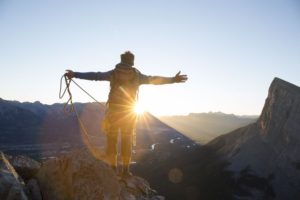 PEAK EXPERIENCE: A momentary awareness of joy or fulfillment, akin to ecstasy. The concept — a more stimulating version of the psychological phenomenon called flow — was developed in the late 1950s by the psychologist Abraham Maslow, whose theory of psychological health was predicated on fulfilling innate human needs in priority.
PEEL SOMEONE'S CAP: To kill someone, in hip hop jargon, by shooting them in the head. "I caught you slippin', I'm gon' catch you," warns Snoop Dogg in "Tha Shiznit" (1993), "then I peel your cap." A demonstration, perhaps, of a scalp-hunter's bravado. Similarly: to push someone's wig back is to shoot and kill, or at least assault them.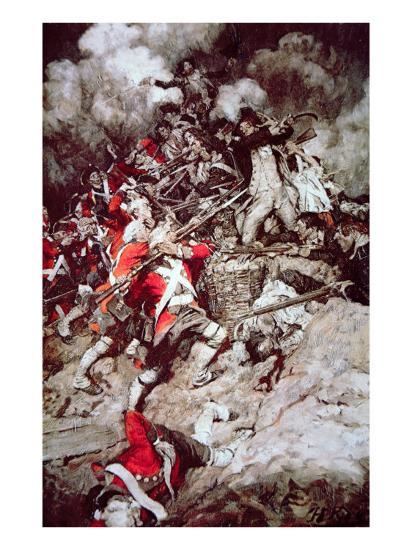 PELL-MELL: In a confused medley or throng. The 16th-century term — borrowed from French, where it seems to have once been a phrase like pesle [bolt, flee] et mesle [mix, mingle] — was originally used in a military context, to describe hand-to-hand combat, or heated pursuit, in which it's difficult to distinguish friend from foe.
PEREGRINATION: The action or an act of traveling or going from place to place; a course of travel; a journey, especially on foot. This 15th-century term originally meant "pilgrimage"; or else it referred to the idea that life itself was but a temporary sojourn. It is derived from the past participial stem of the Latin pereginari [sojourn abroad].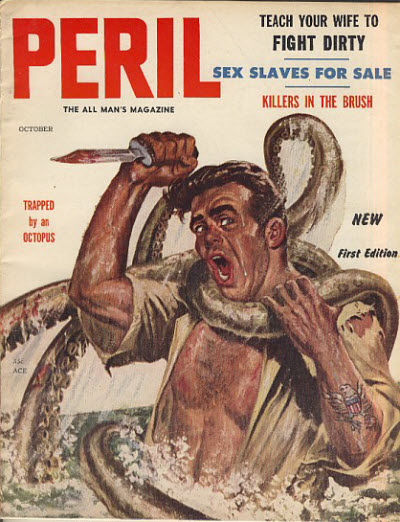 PERIL: The position or condition of being exposed to the chance of injury, loss, or destruction; risk, jeopardy, danger. The 13th-century term is an Anglo-Norman one, derived from the Latin periculum [test, trial, danger]. Imminent peril is a legal concept meaning "danger that is menacingly close at hand." To do something at all perils is to do it at whatever risk, whatever the consequences may be.
PETARD, HOIST WITH ONE'S OWN: A petard is a 16th-century small bomb, used to make a hole in a wall. To be hoist with one's petard is to be blown into the air by one's own bomb; figuratively — as Shakespeare uses the phrase in Hamlet — it means to be destroyed by one's own device for the ruin of others, to be foiled by one's own plan.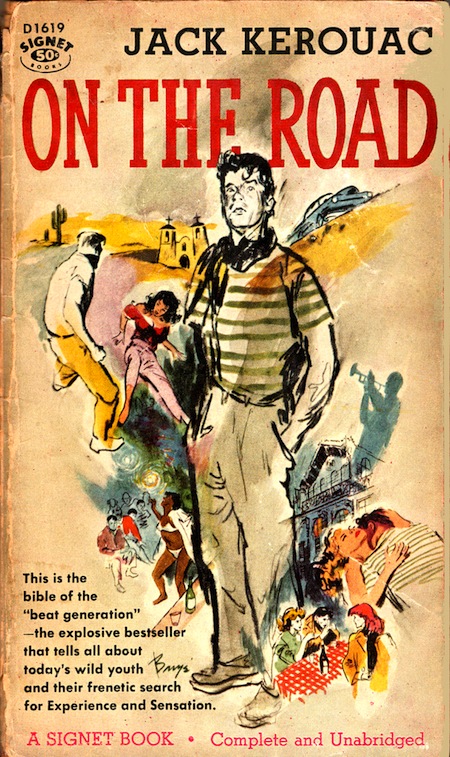 PICARESQUE: The fictional adventures of a roguish, low-class, yet appealing hero who lives by his or her wits in a corrupt society. In search of a passionate life, a pícaro — the 17th-century term is a Spanish one, meaning "rogue, scoundrel" — seeks escape not only from the strictures of an enlightened, modern social order, but from the imposition of narrative structure itself. A picaresque lifestyle is a wandering, drifting, transitory one.
PILGRIMAGE: A journey (usually of a long distance) undertaken to a place of particular significance or interest, especially as an act of homage or respect. Originally, this 13th-century term referred specifically to journeys made as an act of religious devotion; by the 16th century, however, a secular usage of pilgrimage had also become common. Pilgrim is an Anglo-Norman term meaning "stranger, alien, person on a journey."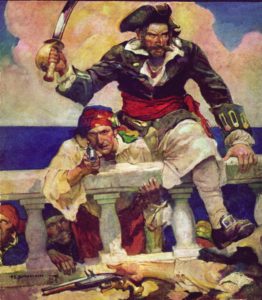 PIRATE: A person who plunders or robs from ships, especially at sea. The 15th-century term is derived from the Latin pirata, which was borrowed from the Greek πειρατής [one who attempts, attacks, assaults]. In extended use, a pirate is a person who goes about in search of plunder: a freebooter, marauder, raider. Recent scholarship suggests that piracy was more egalitarian than any other area of employment at the time.
PITTED: Surfer slang describing the practice of riding the hollow center ("barrel") of a breaking wave. Memorably described, in a 2002 video that went viral, by surfer Micah Peasley like so: "You just drop in, smack the lip… waapah! Drop down… swoopah! And then after that you just drop in, ride the barrel and get pitted, so pitted, like that."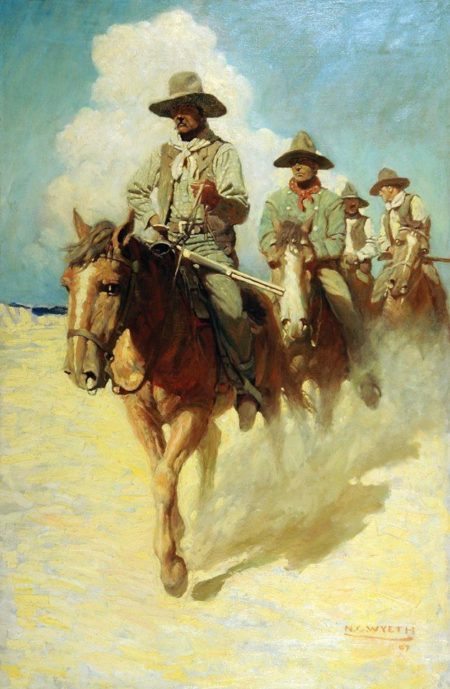 POSSE: In the 17th century, posse — a shortening of the Latin phrase posse comitatus [force of the county], meaning "population of able-bodied men in a county whom the sheriff may summon to repress a riot, pursue felons, etc. — meant "assembled force, band, or company, often with hostile intent." By the 1980s, it had become a slang term meaning "gang involved in crime," or more innocently, "like-minded peers." To posse up is to gather together, especially in preparation for a fight.
PREPARED, BE: Robert Baden-Powell, the founder of Scouting, devised the Scout motto "Be Prepared." In his 1908 enchiridion Scouting for Boys, Baden-Powell explained that this means: "You are always in a state of readiness in mind and body to do your duty." It is no coincidence that the motto's initials are the same as B-P's own.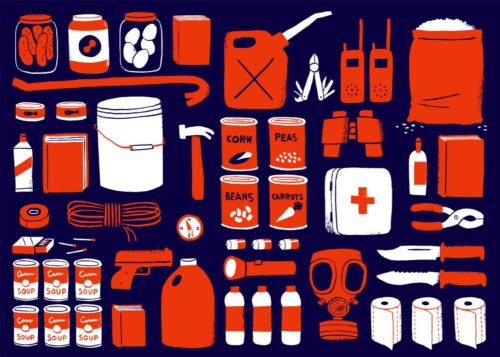 PREPPER: A survivalist. The term came into common usage in the 1990s; in the 1970s, these highly prepared folks who anticipate — half-fearfully, half-gleefully — a natural disaster, terrorist attack, financial collapse, pandemic, unusual cosmic event, etc., etc., instead liked to call themselves "retreaters." A prepper takes care to ensure that once the unthinkable happens, they'll be able to live off the grid in relative comfort.
PUNK: The first distinct music scene to claim the punk label appeared in New York around 1974; rock critics adopted the term from shows and movies like Kojak and Dirty Harry, in which cops disparagingly called persons of no account "punks." (The prison or hobo use of the term, meaning "young man kept by an older man as a sexual partner," wasn't widely known at the time.) The punk ethos rejects mainstream values and celebrates DIY endeavors and political direct action, which is why the term belongs in this glossary.
***
ALSO SEE: THE IDLER'S GLOSSARY | THE WAGE SLAVE'S GLOSSARY | The Perfect Flâneur | The Sweetest Hangover | You Down with VCP? | NEW ESCAPOLOGIST Q&A | H IS FOR HOBO — excerpts from The Idler's Glossary and The Wage Slave's Glossary | WAGE SLAVERY — Josh Glenn and Mark Kingwell discuss | IDLENESS — Josh Glenn and Mark Kingwell discuss | IDLER Q&A WITH THE PROGRESSIVE | IDLE IDOL: HENRY MILLER | WATCHING THE DETECTIVES | A SCENE FROM GOODFELLAS.
JOSH GLENN'S BEST ADVENTURES PROJECT: JOSH GLENN'S *BEST ADVENTURES* LISTS: BEST 250 ADVENTURES OF THE 20TH CENTURY | 100 BEST OUGHTS ADVENTURES | 100 BEST RADIUM AGE (PROTO-)SCI-FI ADVENTURES | 100 BEST TEENS ADVENTURES | 100 BEST TWENTIES ADVENTURES | 100 BEST THIRTIES ADVENTURES | 75 BEST GOLDEN AGE SCI-FI ADVENTURES | 100 BEST FORTIES ADVENTURES | 100 BEST FIFTIES ADVENTURES | 100 BEST SIXTIES ADVENTURES | 75 BEST NEW WAVE SCI FI ADVENTURES | 100 BEST SEVENTIES ADVENTURES | 100 BEST EIGHTIES ADVENTURES | 75 BEST DIAMOND AGE SCI-FI ADVENTURES | 100 BEST NINETIES ADVENTURES (in progress) | 1994 | 1995 | 1996 | 1997 | 1998 | 1999 | 2000 | 2001 | 2002 | 2003 | NOTES ON 21st-CENTURY ADVENTURES.