A IS FOR ADVENTURE (15)
By: Joshua Glenn
September 12, 2019
An irregular series of posts featuring notes towards Josh Glenn's The Adventurer's Glossary, a work in progress which — like his previous books, The Idler's Glossary and The Wage Slave's Glossary, both of which feature brilliant companion essays by Mark Kingwell — will attempt to smuggle ideology critique into what only appears to be a simple defining vocabulary or clavis. Readers, please suggest additions!
THE ADVENTURER'S GLOSSARY (NOTES): A-OK to AVENGER | BADASS to BUSHIDO | CAHOOTS to CWTCH | DAB HAND to DYNO | EAT IT to EXPLOIT | FACE to FUGAZI | GALAHAD to GUNG-HO | HACK to HURT LOCKER | ILL to IRISH | JACK to JURY-RIG | KAPUT to KNUCKLE UP | LABONZA to LOCK AND LOAD | MACGYVER to MOXIE | NAIL to NUTS | O.G. to OUTRÉ | PACKING to PUNK | QUANDARY to QUIXOTIC | RAFFISH to RURITANIA | SAFARI to SWASHBUCKLE | TAILSPIN to TWEENER | UMBRAGE to UPTAKE | VALIANT to VOYAGE | WALK THE WALK to WRANGLE | X to X MARKS THE SPOT | YIPPEE KI-YAY to YOLO | ZEALOUS to ZOOM.
*
---
O.G. to OUTRÉ
---
O.G.: An O.G. is an Old Giggleswickian, i.e., a former pupil of the Giggleswick School in North Yorkshire, England. Perhaps more relevantly to this glossary, the term is also 1990s-era hip hop slang meaning "original gangster"; that is, a veteran criminal who has seen it all and is therefore deserving of his juniors' respect. "Hung out with the O.G.'s and got some street knowledge," Ice Cube recounts in his 1991 song "Doing Dumb Shit."
OATS: Spirit. To feel one's oats, in 19th-century American sporting slang, is to be high-spirited, aware of one's power or strength; the term was originally applied to horses, but it was soon also applied to boisterous, obstreperous, high-stepping humans.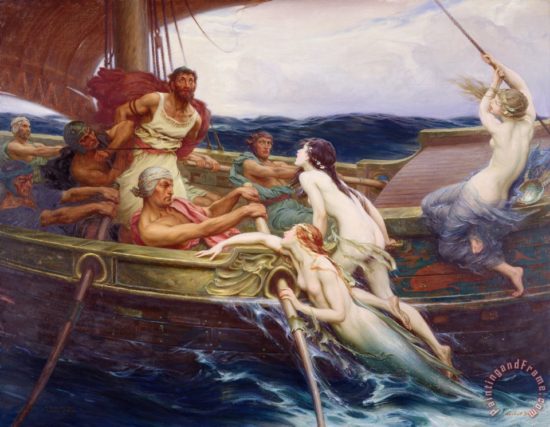 ODYSSEY: The Odyssey is one of two great hexametric epic poems traditionally attributed to Homer (the other being the Iliad), which describes the ten years' wanderings of Odysseus (Ulysses) on his way home to Ithaca after the fall of Troy. In extended use, an odyssey is any series of wanderings or long adventurous journey.
ODDS, NEVER TELL ME THE: "The possibility of successfully navigating an asteroid field," the android C-3PO tells Han Solo in The Empire Strikes Back, "is approximately 3,720 to 1." Solo's reply — "Never tell me the odds!" — has become a much imitated, meme-worthy expression of bravado. There are many ways in which one can violate the normative rules of decision-making with respect to probability; this is the most bad-ass.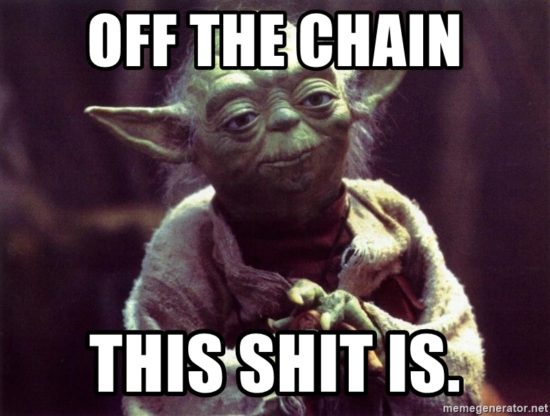 OFF THE CHAIN: In 1990s-era hip hop lyrics, off the chain means "unrestrained, exciting" — i.e., like a dog who has been loosed from its leash. In Lil Wayne's 1999 song "Come On," he offers several synonyms: "I'm off the wall, off the hook, off the chain."
OFFICE: A surreptitious signal, given as a warning. To tip the office, in 19th-century slang, is to alert someone of something via a look, word, gesture, or other hint. A police informer might do this in order to help apprehend a criminal; a criminal might also do it.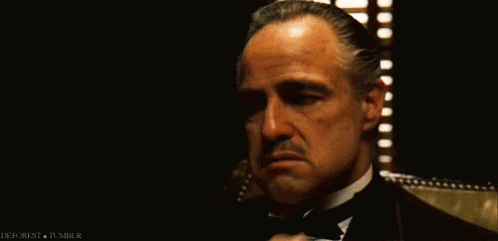 OMERTÀ: A code of silence, typically observed in Italian ethnic enclaves, that valorizes a refusal to cooperate with authorities or outsiders, even though doing so aids and abets criminal activity. The omertà — a 19th-century Sicilian term which may derive from the Spanish hombredad [manliness] — originated in Southern Italy; but the practice predates the emergence of Mafia-type organizations by hundreds of years.
ON POINT: Performing well. This is perhaps one of the few phrases equally popular among ballerinas — for whom it means "being on the tips of the toes," something that takes years of training to master — and hip hoppers. "On point and reactin', and ready for action," brags Rakim in Eric B. & Rakim's 1990 song "In The Ghetto," for example.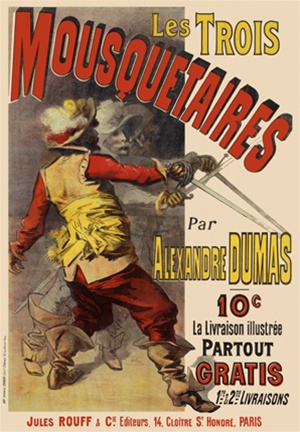 ONE FOR ALL, ALL FOR ONE AND: This intrepid phrase, borrowed from the Latin Unus pro omnibus, omnes pro uno, was popularized by its use in Alexandre Dumas père's 1844 swashbuckling adventure The Three Musketeers. In adventure fiction, teams who adopt this sort of worldview stress the importance of rapport among individuals of divergent backgrounds — who overcome prejudice in order to collaborate.
ONISM: An awareness of how little of the world you'll experience, according to John Koenig's online Dictionary of Obscure Sorrows. "The frustration of being stuck in just one body," Koenig elaborates, "that inhabits only one place at a time."
ORPED: Active, alert, self-assured, bold, vigorous, valiant. This Middle English term, dating to the 14th century and now obsolete, was exclusively used to describe knights. It has been suggested that the term derives from an Old English term meaning "without a cloak" — that is, ready for battle — but the OED finds this etymology unconvincing.
ORIENTEERING: To cross unknown land with the aid of a topographical map and compass. Orienteering was originally a training exercise in land navigation for future military offices, invented in the 1880s at a Swedish military academy. The term derives from orient or orientate, meaning literally "turn to the east" — that is, put oneself in the right position in relation to unfamiliar surroundings.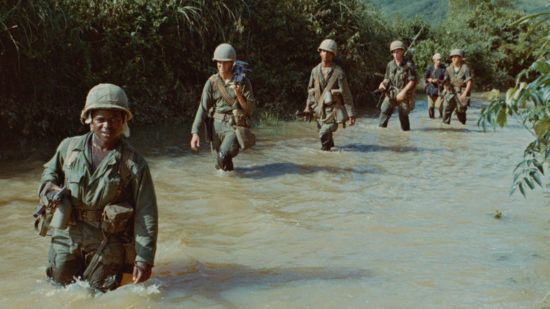 OSCAR MIKE: On the move, in military jargon. Oscar and Mike are the names of the NATO phonetic letters O and M. Fun fact: In the online first-person shooter videogame Battleborn, Oscar Mike is a discarded clone soldier from a long-forgotten war.
OUTFIT: In Old West argot, an outfit is any object, item, or device that one might possess — from a horse to a suit of clothes to a pocket-knife. The term also described a group of cowboys or explorers; in the 1930s, the term would be applied, sardonically, to groups of hobos or criminals. The military use of the phrase — as a synonym for "unit" — dates back to the 1860s, but seems to have been standardized during WWI.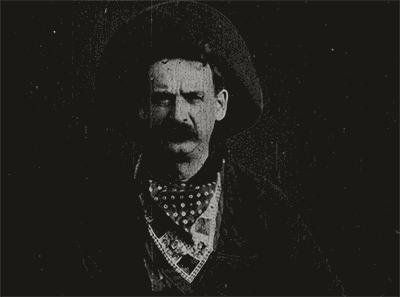 OUTLAW: A person who lives without regard for the law. The Old English term was originally a legal one, describing a person deprived of the law's benefits and protection; in the 13th century it also came to mean "miscreant, felon, especially one on the run." In weakened use, today, an outlaw is a renegade, one who behaves in an unorthodox way.
OUTRÉ: Beyond the bounds of what is usual or considered correct and proper; unorthodox. The 18th-century term is borrowed from French; it's the past participle of outrer [go beyond limits, push to excess]. An outré action or phenomenon is not quite bizarre, but it's more than merely offbeat, outlandish, or remarkable.
***
ALSO SEE: THE IDLER'S GLOSSARY | THE WAGE SLAVE'S GLOSSARY | The Perfect Flâneur | The Sweetest Hangover | You Down with VCP? | NEW ESCAPOLOGIST Q&A | H IS FOR HOBO — excerpts from The Idler's Glossary and The Wage Slave's Glossary | WAGE SLAVERY — Josh Glenn and Mark Kingwell discuss | IDLENESS — Josh Glenn and Mark Kingwell discuss | IDLER Q&A WITH THE PROGRESSIVE | IDLE IDOL: HENRY MILLER | WATCHING THE DETECTIVES | A SCENE FROM GOODFELLAS.
JOSH GLENN'S BEST ADVENTURES PROJECT: JOSH GLENN'S *BEST ADVENTURES* LISTS: BEST 250 ADVENTURES OF THE 20TH CENTURY | 100 BEST OUGHTS ADVENTURES | 100 BEST RADIUM AGE (PROTO-)SCI-FI ADVENTURES | 100 BEST TEENS ADVENTURES | 100 BEST TWENTIES ADVENTURES | 100 BEST THIRTIES ADVENTURES | 75 BEST GOLDEN AGE SCI-FI ADVENTURES | 100 BEST FORTIES ADVENTURES | 100 BEST FIFTIES ADVENTURES | 100 BEST SIXTIES ADVENTURES | 75 BEST NEW WAVE SCI FI ADVENTURES | 100 BEST SEVENTIES ADVENTURES | 100 BEST EIGHTIES ADVENTURES | 75 BEST DIAMOND AGE SCI-FI ADVENTURES | 100 BEST NINETIES ADVENTURES (in progress) | 1994 | 1995 | 1996 | 1997 | 1998 | 1999 | 2000 | 2001 | 2002 | 2003 | NOTES ON 21st-CENTURY ADVENTURES.