A IS FOR ADVENTURE (9)
By: Joshua Glenn
June 27, 2019
An irregular series of posts featuring notes towards Josh Glenn's The Adventurer's Glossary, a work in progress which — like his previous books, The Idler's Glossary and The Wage Slave's Glossary, both of which feature brilliant companion essays by Mark Kingwell — will attempt to smuggle ideology critique into what only appears to be a simple defining vocabulary or clavis. Readers, please suggest additions!
THE ADVENTURER'S GLOSSARY (NOTES): A-OK to AVENGER | BADASS to BUSHIDO | CAHOOTS to CWTCH | DAB HAND to DYNO | EAT IT to EXPLOIT | FACE to FUGAZI | GALAHAD to GUNG-HO | HACK to HURT LOCKER | ILL to IRISH | JACK to JURY-RIG | KAPUT to KNUCKLE UP | LABONZA to LOCK AND LOAD | MACGYVER to MOXIE | NAIL to NUTS | O.G. to OUTRÉ | PACKING to PUNK | QUANDARY to QUIXOTIC | RAFFISH to RURITANIA | SAFARI to SWASHBUCKLE | TAILSPIN to TWEENER | UMBRAGE to UPTAKE | VALIANT to VOYAGE | WALK THE WALK to WRANGLE | X to X MARKS THE SPOT | YIPPEE KI-YAY to YOLO | ZEALOUS to ZOOM.
*
---
ILL to IRISH
---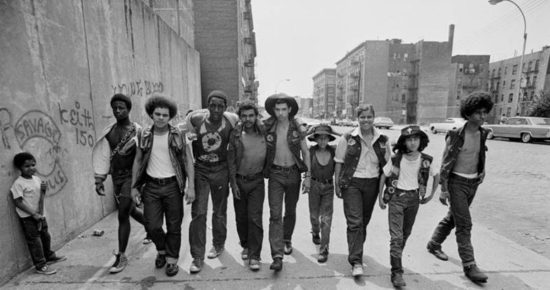 ILL: Old-school hip hop argot meaning "offensive, rowdy, aggressive." In "Rapper's Delight" (1979), the first hip hop record to gain mainstream popularity, Big Bank Hank reinterprets Ecclesiastes when he raps, "Now there's… A time to break and a time to chill/To act civilized or act real ill./But whatever ya do in your lifetime/Ya never let a MC steal your rhyme." Illtown, meanwhile, is East Orange, New Jersey.
IMBROGLIO: A state of great confusion and entanglement; a complicated or difficult situation; a scandal. An 18th-century borrowing from Italian, where broglio means "confusion." Imbroglio and embroilment both descend from the Middle French em- (thoroughly) + brouiller (mix, confuse); the terms entered English around the same time.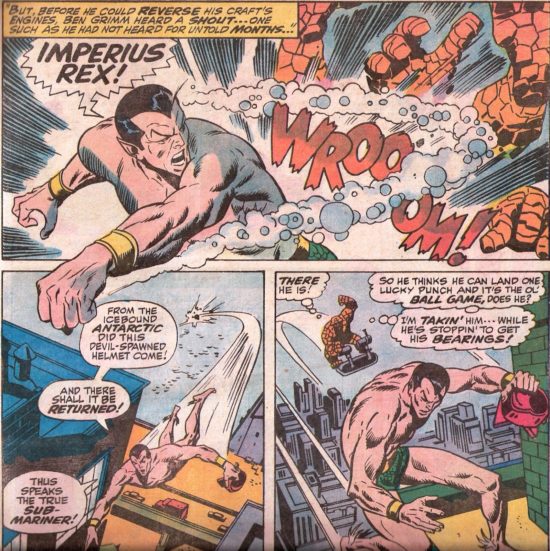 IMPERIUS REX: A cod-Latin slogan, uttered by the Marvel superhero Namor, king of Atlantis, when he swims into battle. Coined by Stan Lee, the phrase is supposed to signal a Nietzschean concept like, "I assume power and authority without justification!"
IMPETUOUS: Acting or done quickly and without thought or care; moving forcefully or rapidly. The term comes via French from the Latin impetus (driving force, assault, ardor). The impetuous among us act without thinking long and hard about the consequences of their actions; we tend to admire them, because they're all heart.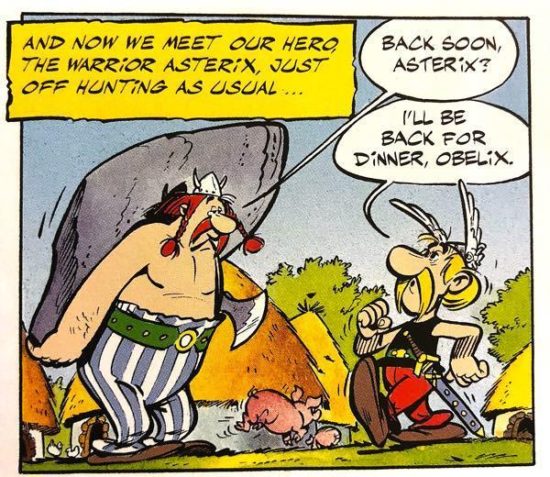 INDOMITABLE: Incapable of being subdued, unbeatable. From the Latin in (not) + domitare (tame). When the term was first used in English, in the 17th century, it was a pejorative synonym of "wild"; but by the 1800s, indomitable was being used to describe people whose courage and persistence helped them to succeed in difficult situations. English translations of Goscinny and Uderzo's Astérix comics always begin with these inspiring lines: "The year is 50 BC. Gaul is entirely occupied by the Romans. Well, not entirely… one small village of indomitable Gauls still holds out against the invaders."
INTELLIGENCE: The ability to perceive or infer information, and to retain it as knowledge to be applied towards adaptive behaviors within a context — therefore, a key skill for adventurers, who can't succeed without creativity and critical thinking. In the game Dungeons & Dragons, a character's intelligence modifier determines everything from the knowledge that she might have, to the number of spells that she can learn.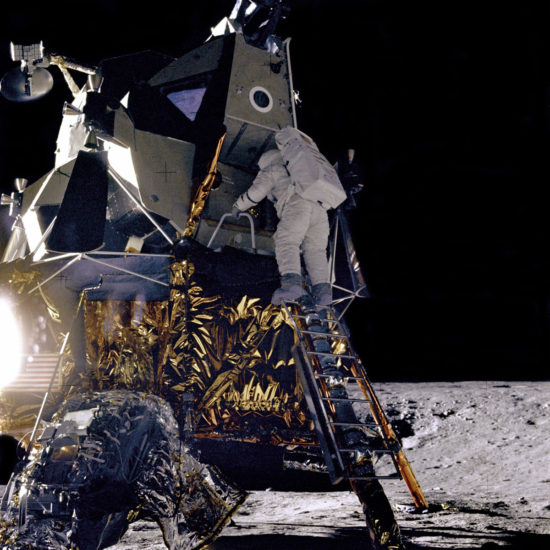 INTREPID: Fearless, undaunted, in the face of the unknown. The term, from the Latin in (not) + trepidus (alarmed), was introduced into English in 1697, by John Dryden's introduction to his translation of Virgil's epic poem, the Aeneid. Many British warships have been named Intrepid; and so was the Lunar Module landed on the Moon in 1969. Intrepid was also the code name of Canadian WWII spymaster William Stephenson.
IRISH: Fighting spirit, especially in an Irish person. It raised the Irish in me or It got my Irish up means "It made me fighting mad." An Irish hint is a threat; Irish confetti is stones thrown in a street fight. An Irish goodbye involves leaving a party without saying your farewells. Now considered pejoratives.
***
ALSO SEE: THE IDLER'S GLOSSARY | THE WAGE SLAVE'S GLOSSARY | The Perfect Flâneur | The Sweetest Hangover | You Down with VCP? | NEW ESCAPOLOGIST Q&A | H IS FOR HOBO — excerpts from The Idler's Glossary and The Wage Slave's Glossary | WAGE SLAVERY — Josh Glenn and Mark Kingwell discuss | IDLENESS — Josh Glenn and Mark Kingwell discuss | IDLER Q&A WITH THE PROGRESSIVE | IDLE IDOL: HENRY MILLER | WATCHING THE DETECTIVES | A SCENE FROM GOODFELLAS.
JOSH GLENN'S BEST ADVENTURES PROJECT: JOSH GLENN'S *BEST ADVENTURES* LISTS: BEST 250 ADVENTURES OF THE 20TH CENTURY | 100 BEST OUGHTS ADVENTURES | 100 BEST RADIUM AGE (PROTO-)SCI-FI ADVENTURES | 100 BEST TEENS ADVENTURES | 100 BEST TWENTIES ADVENTURES | 100 BEST THIRTIES ADVENTURES | 75 BEST GOLDEN AGE SCI-FI ADVENTURES | 100 BEST FORTIES ADVENTURES | 100 BEST FIFTIES ADVENTURES | 100 BEST SIXTIES ADVENTURES | 75 BEST NEW WAVE SCI FI ADVENTURES | 100 BEST SEVENTIES ADVENTURES | 100 BEST EIGHTIES ADVENTURES | 75 BEST DIAMOND AGE SCI-FI ADVENTURES | 100 BEST NINETIES ADVENTURES (in progress) | 1994 | 1995 | 1996 | 1997 | 1998 | 1999 | 2000 | 2001 | 2002 | 2003 | NOTES ON 21st-CENTURY ADVENTURES.