A IS FOR ADVENTURE (11)
By: Joshua Glenn
July 25, 2019
An irregular series of posts featuring notes towards Josh Glenn's The Adventurer's Glossary, a work in progress which — like his previous books, The Idler's Glossary and The Wage Slave's Glossary, both of which feature brilliant companion essays by Mark Kingwell — will attempt to smuggle ideology critique into what only appears to be a simple defining vocabulary or clavis. Readers, please suggest additions!
THE ADVENTURER'S GLOSSARY (NOTES): A-OK to AVENGER | BADASS to BUSHIDO | CAHOOTS to CWTCH | DAB HAND to DYNO | EAT IT to EXPLOIT | FACE to FUGAZI | GALAHAD to GUNG-HO | HACK to HURT LOCKER | ILL to IRISH | JACK to JURY-RIG | KAPUT to KNUCKLE UP | LABONZA to LOCK AND LOAD | MACGYVER to MOXIE | NAIL to NUTS | O.G. to OUTRÉ | PACKING to PUNK | QUANDARY to QUIXOTIC | RAFFISH to RURITANIA | SAFARI to SWASHBUCKLE | TAILSPIN to TWEENER | UMBRAGE to UPTAKE | VALIANT to VOYAGE | WALK THE WALK to WRANGLE | X to X MARKS THE SPOT | YIPPEE KI-YAY to YOLO | ZEALOUS to ZOOM.
*
---
KAPUT to KNUCKLE UP
---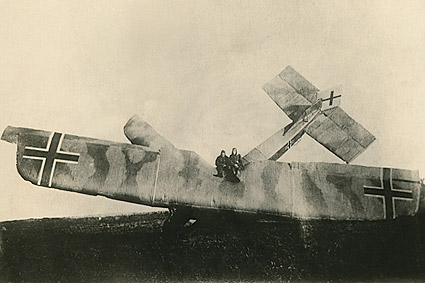 KAPUT: Shortly after WWI, this German slang term, which means "done for, destroyed, rendered useless," was popularized in English usage. Fun fact: Kaput was itself borrowed from the popular two-person French card game piquet, in which, in the unlikely event that one loses all 12 tricks, one's opponent can score a whopping 40 points. This trickless state of affairs is known as being capot.
KAYFABE: The illusion, and the upkeep of the illusion, that professional wrestling is not staged. The term, which is often said to have originated in travelling carnivals, may be derived from a strategically distorted Pig Latin pronunciation of the word fake. When a wrestler breaks kayfabe, it means that he or she is acting out of character.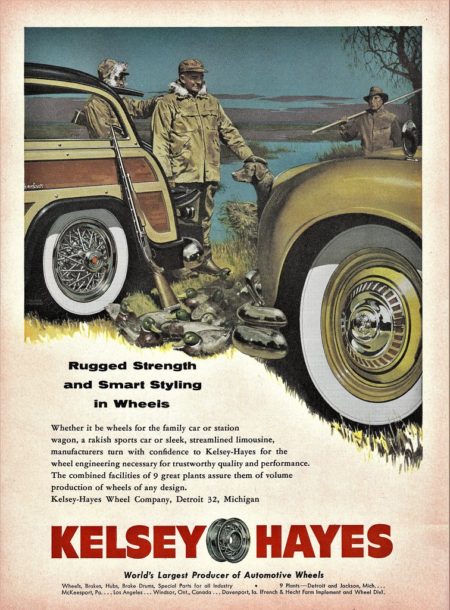 KELSEY'S NUTS: The welded nuts and bolts on the wheels manufactured by the Kelsey Wheel Co., in 1920s America, must have been truly impossible to loosen. Why else would vulgar-sounding similes like safe as Kelsey's nuts and tight as Kelsey's nuts have become so popular among GIs during WWII? In the '70s, Richard Nixon would use the phrase dead as Kelsey's nuts to describe his political career.
KEMO SABE: This invented term, supposedly meaning "faithful friend," was introduced in 1933 on The Lone Ranger radio series; it was spoken by Tonto, the Lone Ranger's faithful Indian companion. Though often used half in jest, these days, the phrase remains an effective way for a man to express affection for a friend.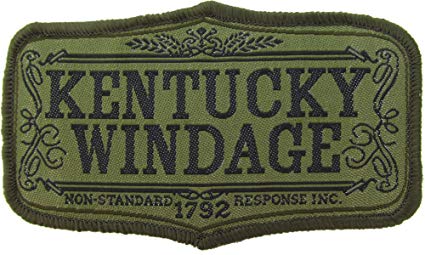 KENTUCKY WINDAGE: Allowance made for the effect of wind upon the accuracy of a rifle shot. In WWII-era military parlance, the phrase Kentucky windage acknowledged the intuitive ability of Kentuckian backwoodsmen to allow for cross-winds (or other conditions) when adjusting their aiming point.
KIBOSH: To put the kibosh on something is to stop, finish, quash it. The early 19th-century phrase is of uncertain origin; the suggestion that it derives from Yiddish is without foundation. Later in the century, the term kibosh began to be used as a verb meaning "put a stop to" or "clobber."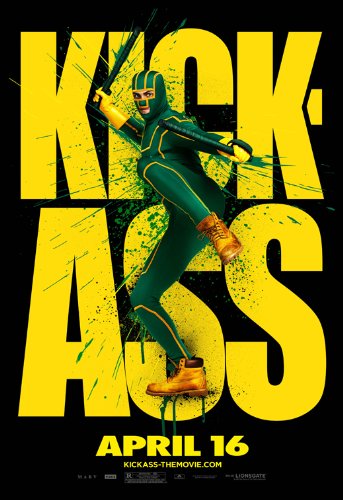 KICK ASS: As a verb, in 1970s slang, the phrase means "act roughly or aggressively," or "to be powerful or assertive." As an adjective, it means "pugnacious, uncompromising" and "exciting."
KING-HELL: Midcentury slang term meaning "formidable in impact, violence, or size." A king-hell knee to the groin, for example, is a particularly brutal blow; a king-hell war story is a particularly graphic one.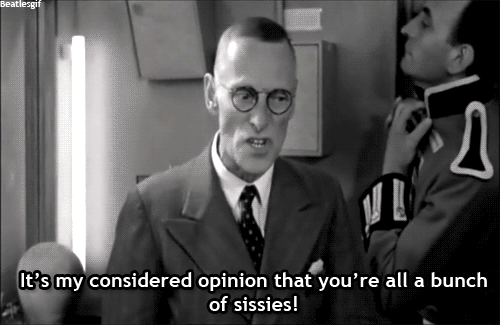 KING MIXER: A mixer is a trouble-maker, someone who stirs things up and starts fights; a king mixer is a particularly talented social prankster who's turned trouble-making into an art form. (King means "first-class, superlative" in Australian slang.) The phrase was memorably used by Paul McCartney, in the 1964 musical comedy A Hard Day's Night, to describe his character's difficult grandfather.
KNIGHTLY: Gallant, valiant, heroic, noble. The Old Saxon term knecht means "soldier"; a knight is a man granted an honorary title for military service to a monarch or church. By the Late Middle Ages, thanks to the literary cycles known as the Matter of France, relating to Charlemagne and his paladins, and the Matter of Britain, relating to the legend of King Arthur and his knights, the rank had become associated with the ideals of chivalry.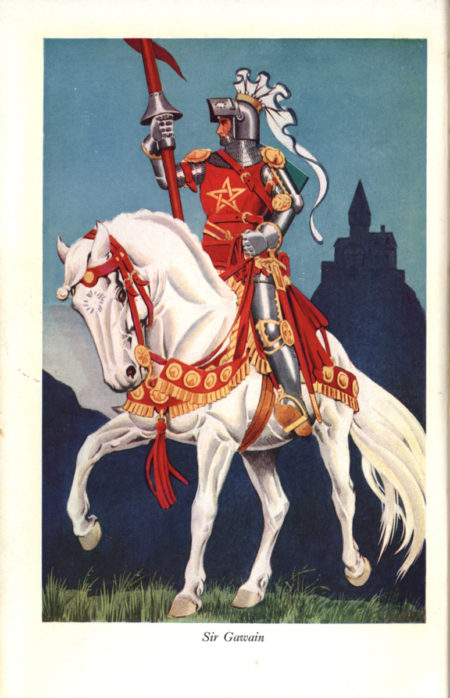 KNIGHT ERRANTRY: In Chivalric Romance, a landless knight errant would wander about the countryside, searching for wrongs to right and ladies to rescue — in hopes of earning their own land. (In "Sir Gawain and the Green Knight," Gawain is referred to as a "knygt erraunt".) The literary trope was refurbished in the 20th century by movies about rootless samurai, cowboys, wuxia heroes, and other adventurers — all of whom typically have a mysterious past, a stoic disposition, and a heart of gold.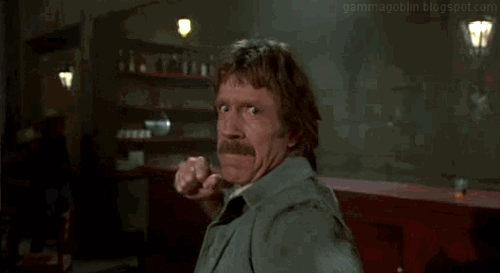 KNOCK: To knock is to strike a particularly sharp, forceful blow; the Old Norse term knoka is probably — like bang, splash, and others — of echoic origin. In 18th-century slang, to knock is to flabbergast, stun — as in such phrases as knock 'em dead, knock one's socks off. To knock stiff, knock someone's block off, or knock someone into a cocked hat is to thrash that person senseless.
KNUCKLE UP: To punch, fight with fists. The 1960s slang term survives in hip hop: "Knuckle up, bust a fool in his fuckin eye," advises Ice-T in 1993's "Watch The Ice Break." A knuckle poultice, in 19th-century slang, is a punch in the face; a knuckle sandwich, in 1960s slang, is a punch in the mouth.
***
ALSO SEE: THE IDLER'S GLOSSARY | THE WAGE SLAVE'S GLOSSARY | The Perfect Flâneur | The Sweetest Hangover | You Down with VCP? | NEW ESCAPOLOGIST Q&A | H IS FOR HOBO — excerpts from The Idler's Glossary and The Wage Slave's Glossary | WAGE SLAVERY — Josh Glenn and Mark Kingwell discuss | IDLENESS — Josh Glenn and Mark Kingwell discuss | IDLER Q&A WITH THE PROGRESSIVE | IDLE IDOL: HENRY MILLER | WATCHING THE DETECTIVES | A SCENE FROM GOODFELLAS.
JOSH GLENN'S BEST ADVENTURES PROJECT: JOSH GLENN'S *BEST ADVENTURES* LISTS: BEST 250 ADVENTURES OF THE 20TH CENTURY | 100 BEST OUGHTS ADVENTURES | 100 BEST RADIUM AGE (PROTO-)SCI-FI ADVENTURES | 100 BEST TEENS ADVENTURES | 100 BEST TWENTIES ADVENTURES | 100 BEST THIRTIES ADVENTURES | 75 BEST GOLDEN AGE SCI-FI ADVENTURES | 100 BEST FORTIES ADVENTURES | 100 BEST FIFTIES ADVENTURES | 100 BEST SIXTIES ADVENTURES | 75 BEST NEW WAVE SCI FI ADVENTURES | 100 BEST SEVENTIES ADVENTURES | 100 BEST EIGHTIES ADVENTURES | 75 BEST DIAMOND AGE SCI-FI ADVENTURES | 100 BEST NINETIES ADVENTURES (in progress) | 1994 | 1995 | 1996 | 1997 | 1998 | 1999 | 2000 | 2001 | 2002 | 2003 | NOTES ON 21st-CENTURY ADVENTURES.