A IS FOR ADVENTURE (13)
By: Joshua Glenn
August 20, 2019
An irregular series of posts featuring notes towards Josh Glenn's The Adventurer's Glossary, a work in progress which — like his previous books, The Idler's Glossary and The Wage Slave's Glossary, both of which feature brilliant companion essays by Mark Kingwell — will attempt to smuggle ideology critique into what only appears to be a simple defining vocabulary or clavis. Readers, please suggest additions!
THE ADVENTURER'S GLOSSARY (NOTES): A-OK to AVENGER | BADASS to BUSHIDO | CAHOOTS to CWTCH | DAB HAND to DYNO | EAT IT to EXPLOIT | FACE to FUGAZI | GALAHAD to GUNG-HO | HACK to HURT LOCKER | ILL to IRISH | JACK to JURY-RIG | KAPUT to KNUCKLE UP | LABONZA to LOCK AND LOAD | MACGYVER to MOXIE | NAIL to NUTS | O.G. to OUTRÉ | PACKING to PUNK | QUANDARY to QUIXOTIC | RAFFISH to RURITANIA | SAFARI to SWASHBUCKLE | TAILSPIN to TWEENER | UMBRAGE to UPTAKE | VALIANT to VOYAGE | WALK THE WALK to WRANGLE | X to X MARKS THE SPOT | YIPPEE KI-YAY to YOLO | ZEALOUS to ZOOM.
*
---
MACGYVER to MOXIE
---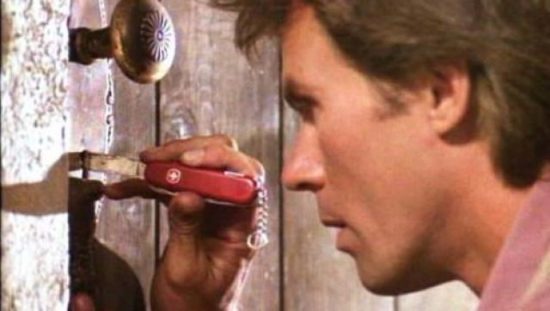 MacGYVER: Richard Dean Anderson portrayed the titular field agent of the 1985–1992 TV series MacGyver. Because the character, who eschewed a gun in favor of a Swiss Army knife and duct tape, was known for his resourcefulness, MacGyver has become a verb meaning "construct, fix, or modify something by ingenious improvisation, using everyday items that would not usually be used for the purpose; adapt expediently."
MAHOSKA: Early 20th century underworld slang meaning "a thing of importance or interest," especially a weapon, contraband, or anything that must be kept secret. The term likely derives from the Irish phrase mo thosca [my business]. A mahosker, meanwhile, is an object or person imbued with power and authority.
MAKE, ON THE: Ruthlessly intent on achieving one's goal, by whatever means necessary. In the 19th century, on the make was typically used to describe a person intent upon profit or advancement, or thievery; in the 1920s, it was applied to lotharios.
MANEUVER: A tactical or strategic movement or change of position. The 18th-century military and nautical term was borrowed from French manœuvre [literally, manual labor, i.e., to adjust a ship's rigging]; it can refer to the movement of troops, vessels, or tanks. Among individuals, a maneuver is an adroit, well-planned stratagem, move, or gambit.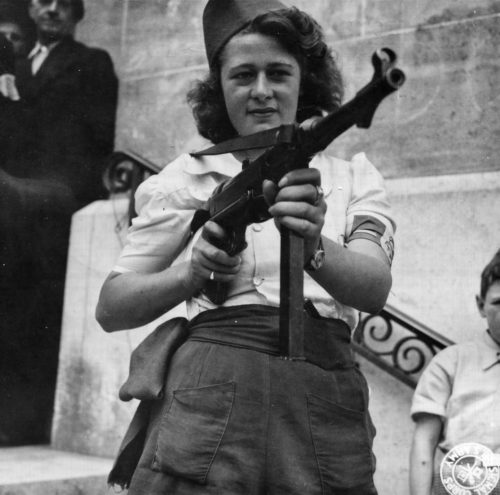 MAQUIS: During the German occupation of France in 1940–1945, men and women who escaped into the mountains to avoid providing forced labor became organized into active resistance groups. The terrain was covered with a scrub growth called maquis, so these rural guerrilla bands became known as the Maquis, or maquisards. The term was quickly extended to similar movements in Italy, Belgium, and other occupied countries.
MARK I: In Vietnam War-era military jargon, Mark I means "basic, ummodified, or unsurpassable; old-fashioned in a good way." A mark one eyeball, for example, is an inspection made with direct human vision — as distinct from radar or a computer display; this phrase entered popular consciousness during the Moon landings.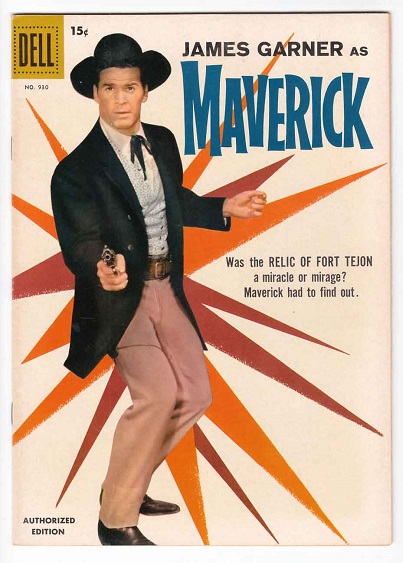 MAVERICK: In the Old West, an unbranded calf was known as a maverick — after the name of a Texas rancher whose unbranded calves often went astray. The term came to mean "unorthodox or independent-minded person," particularly a politician, like Republican Senator John McCain, who refuses to conform to the views of his own party.
MAX, TO THE: To the limit, utterly. This 1970s-era slang phrase may now be associated with air-headed Valley Girls and surfer dudes, but it originally derives from midcentury military slang terms like max effort (maximum effort), make a cold max (score the maximum number of hit on a target), and bring the max (exert maximum or lethal force).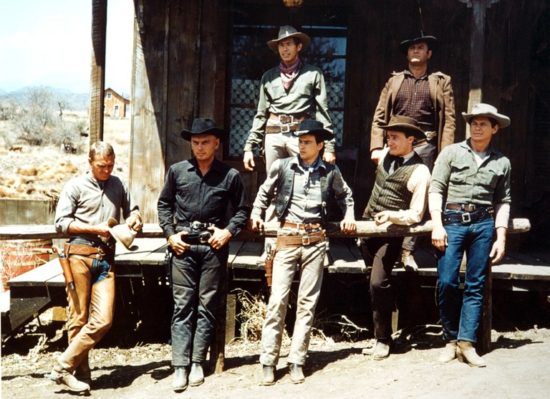 MERCENARY: A soldier hired to serve in a foreign army or other military organization; the 14th-century term is derived from a Latin word meaning "paid, rewarded." Before the 19th century, when self-employed artisans looked down on "hirelings," the term was expanded to refer to anyone who works merely for money, or whose motivation is crass. Today, we're all hirelings; perhaps this explains why fictional soldiers of fortune — from the Magnificent Seven to the A-Team and the Expendables — have become so popular.
METTLE: When Prince Hal brags, in Shakespeare's Henry IV, Pt. 1, that his drinking buddies call him "a lad of metall," he's not revealing that he's secretly a robot. The term mettle — a person's spiritedness, courage, strength of character; the "stuff" of which one is made — was originally a variant of metal. To show one's mettle is to demonstrate one's spirit or courage. A mettlesome person (or horse) is high-spirited, playful, brave.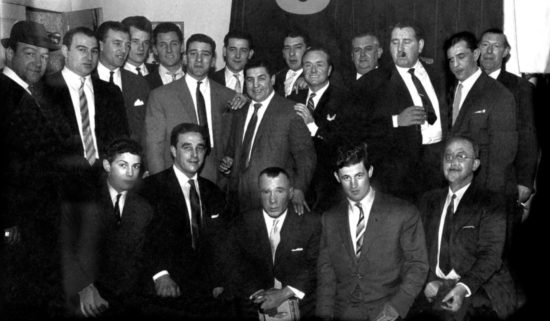 MOB-HANDED: Forming a large group, present in considerable numbers. This 1930s-era British colloquialism sounds like underworld slang, and it is often used to describe a large group of ruffians… but it can also describe a large group of policemen, say, or bicyclists. To mob up, in 1920s US slang, means "go into illicit partnership with."
MOJO: Power, force, influence. Originally, this African American slang term meant "magical power, voodoo"; it is likely derived from the Gullah (South Carolina Creole) term moco [witchcraft]. To get one's mojo working is to work one's magic; Jim Morrison's lyric "Mr. Mojo Risin'," however, is an anagrammatic reference to his impressive penis.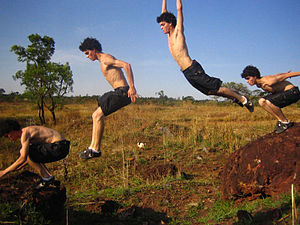 MONEY, ON THE: This WWII-era phrase was originally used to describe tuning an engine perfectly, or landing a plane precisely; it was later generalized to mean "correct, right, exactly on target." A money player, in 1920s-era sporting slang, is one who performs well under the pressure of intense competition; she always delivers the goods.
MOXIE: One of the first mass-produced soft drinks in America was manufactured in Bedford, N.H., in the 1880s; originally, it was a patent medicine marketed as a cure-all for modern life's complaints, from low energy to feeling overwhelmed. Perhaps this explains why the product's name, Moxie, in the 1930s came to mean "the ability to face difficulty with spirit and courage." Moxie also came to mean "vigor" and "initiative."
***
ALSO SEE: THE IDLER'S GLOSSARY | THE WAGE SLAVE'S GLOSSARY | The Perfect Flâneur | The Sweetest Hangover | You Down with VCP? | NEW ESCAPOLOGIST Q&A | H IS FOR HOBO — excerpts from The Idler's Glossary and The Wage Slave's Glossary | WAGE SLAVERY — Josh Glenn and Mark Kingwell discuss | IDLENESS — Josh Glenn and Mark Kingwell discuss | IDLER Q&A WITH THE PROGRESSIVE | IDLE IDOL: HENRY MILLER | WATCHING THE DETECTIVES | A SCENE FROM GOODFELLAS.
JOSH GLENN'S BEST ADVENTURES PROJECT: JOSH GLENN'S *BEST ADVENTURES* LISTS: BEST 250 ADVENTURES OF THE 20TH CENTURY | 100 BEST OUGHTS ADVENTURES | 100 BEST RADIUM AGE (PROTO-)SCI-FI ADVENTURES | 100 BEST TEENS ADVENTURES | 100 BEST TWENTIES ADVENTURES | 100 BEST THIRTIES ADVENTURES | 75 BEST GOLDEN AGE SCI-FI ADVENTURES | 100 BEST FORTIES ADVENTURES | 100 BEST FIFTIES ADVENTURES | 100 BEST SIXTIES ADVENTURES | 75 BEST NEW WAVE SCI FI ADVENTURES | 100 BEST SEVENTIES ADVENTURES | 100 BEST EIGHTIES ADVENTURES | 75 BEST DIAMOND AGE SCI-FI ADVENTURES | 100 BEST NINETIES ADVENTURES (in progress) | 1994 | 1995 | 1996 | 1997 | 1998 | 1999 | 2000 | 2001 | 2002 | 2003 | NOTES ON 21st-CENTURY ADVENTURES.