The Lost Prince (30)
By: Frances Hodgson Burnett
July 26, 2014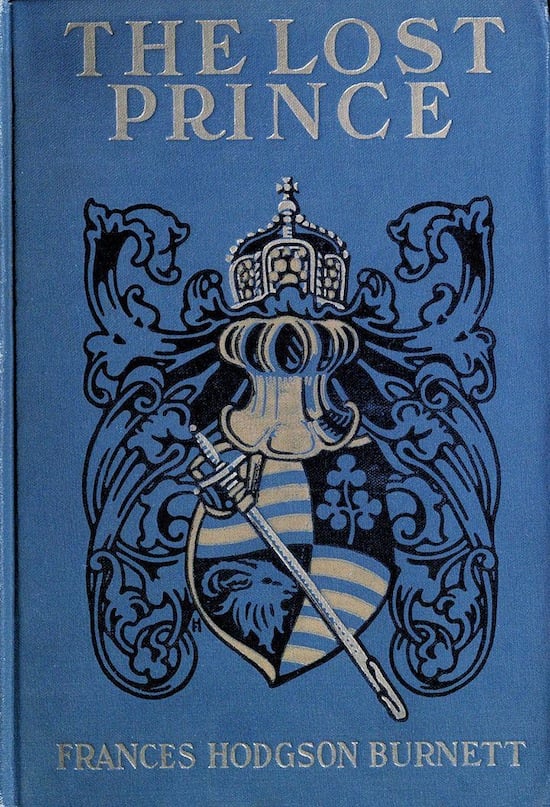 Frances Hodgson Burnett is best known for her sentimental children's novels Little Lord Fauntleroy (1885-6), A Little Princess (1905), and The Secret Garden (1911). But HiLoBooks prefers a later Burnett novel: The Lost Prince, a 1915 Ruritanian-style thriller in which two adolescent boys, one of whom is a disabled street urchin called "The Rat," play a proto-Alternate Reality Game about a revolution in far-off Samavia… which turns into the real thing.
HILOBROW is pleased to serialize The Lost Prince, our first departure from Radium Age science fiction — into adventure fiction. A new installment will appear each week for thirty-one weeks.
ALL INSTALLMENTS
***
Chapter 30: The Game is at an End
So long as the history of Europe is written and read, the unparalleled story of the Rising of the Secret Party in Samavia will stand out as one of its most startling and romantic records. Every detail connected with the astonishing episode, from beginning to end, was romantic even when it was most productive of realistic results. When it is related, it always begins with the story of the tall and kingly Samavian youth who walked out of the palace in the early morning sunshine singing the herdsmen's song of beauty of old days. Then comes the outbreak of the ruined and revolting populace; then the legend of the morning on the mountain side, and the old shepherd coming out of his cave and finding the apparently dead body of the beautiful young hunter. Then the secret nursing in the cavern; then the jolting cart piled with sheepskins crossing the frontier, and ending its journey at the barred entrance of the monastery and leaving its mysterious burden behind. And then the bitter hate and struggle of dynasties, and the handful of shepherds and herdsmen meeting in their cavern and binding themselves and their unborn sons and sons' sons by an oath never to be broken. Then the passing of generations and the slaughter of peoples and the changing of kings, — and always that oath remembered, and the Forgers of the Sword, at their secret work, hidden in forests and caves. Then the strange story of the uncrowned kings who, wandering in other lands, lived and died in silence and seclusion, often laboring with their hands for their daily bread, but never forgetting that they must be kings, and ready, — even though Samavia never called. Perhaps the whole story would fill too many volumes to admit of it ever being told fully.
But history makes the growing of the Secret Party clear, — though it seems almost to cease to be history, in spite of its efforts to be brief and speak only of dull facts, when it is forced to deal with the Bearing of the Sign by two mere boys, who, being blown as unremarked as any two grains of dust across Europe, lit the Lamp whose flame so flared up to the high heavens that as if from the earth itself there sprang forth Samavians by the thousands ready to feed it — Iarovitch and Maranovitch swept aside forever and only Samavians remaining to cry aloud in ardent praise and worship of the God who had brought back to them their Lost Prince. The battle-cry of his name had ended every battle. Swords fell from hands because swords were not needed. The Iarovitch fled in terror and dismay; the Maranovitch were nowhere to be found. Between night and morning, as the newsboy had said, the standard of Ivor was raised and waved from palace and citadel alike. From mountain, forest and plain, from city, village and town, its followers flocked to swear allegiance; broken and wounded legions staggered along the roads to join and kneel to it; women and children followed, weeping with joy and chanting songs of praise. The Powers held out their scepters to the lately prostrate and ignored country. Train-loads of food and supplies of all things needed began to cross the frontier; the aid of nations was bestowed. Samavia, at peace to till its land, to raise its flocks, to mine its ores, would be able to pay all back. Samavia in past centuries had been rich enough to make great loans, and had stored such harvests as warring countries had been glad to call upon. The story of the crowning of the King had been the wildest of all — the multitude of ecstatic people, famished, in rags, and many of them weak with wounds, kneeling at his feet, praying, as their one salvation and security, that he would go attended by them to their bombarded and broken cathedral, and at its high altar let the crown be placed upon his head, so that even those who perhaps must die of their past sufferings would at least have paid their poor homage to the King Ivor who would rule their children and bring back to Samavia her honor and her peace.
"Ivor! Ivor!" they chanted like a prayer, — "Ivor! Ivor!" in their houses, by the roadside, in the streets.
"The story of the Coronation in the shattered Cathedral, whose roof had been torn to fragments by bombs," said an important London paper, "reads like a legend of the Middle Ages. But, upon the whole, there is in Samavia's national character, something of the mediaeval, still."
*
Lazarus, having bought and read in his top floor room every newspaper recording the details which had reached London, returned to report almost verbatim, standing erect before Marco, the eyes under his shaggy brows sometimes flaming with exultation, sometimes filled with a rush of tears. He could not be made to sit down. His whole big body seemed to have become rigid with magnificence. Meeting Mrs. Beedle in the passage, he strode by her with an air so thunderous that she turned and scuttled back to her cellar kitchen, almost falling down the stone steps in her nervous terror. In such a mood, he was not a person to face without something like awe.
In the middle of the night, The Rat suddenly spoke to Marco as if he knew that he was awake and would hear him.
"He has given all his life to Samavia!" he said. "When you traveled from country to country, and lived in holes and corners, it was because by doing it he could escape spies, and see the people who must be made to understand. No one else could have made them listen. An emperor would have begun to listen when he had seen his face and heard his voice. And he could be silent, and wait for the right time to speak. He could keep still when other men could not. He could keep his face still — and his hands — and his eyes. Now all Samavia knows what he has done, and that he has been the greatest patriot in the world. We both saw what Samavians were like that night in the cavern. They will go mad with joy when they see his face!"
"They have seen it now," said Marco, in a low voice from his bed.
Then there was a long silence, though it was not quite silence because The Rat's breathing was so quick and hard.
"He — must have been at that coronation!" he said at last. "The King — what will the King do to — repay him?"
Marco did not answer. His breathing could be heard also. His mind was picturing that same coronation — the shattered, roofless cathedral, the ruins of the ancient and magnificent high altar, the multitude of kneeling, famine-scourged people, the battle-worn, wounded and bandaged soldiery! And the King! And his father! Where had his father stood when the King was crowned? Surely, he had stood at the King's right hand, and the people had adored and acclaimed them equally!
"King Ivor!" he murmured as if he were in a dream. "King Ivor!"
The Rat started up on his elbow.
"You will see him," he cried out. "He's not a dream any longer. The Game is not a game now — and it is ended — it is won! It was real — HE was real! Marco, I don't believe you hear."
"Yes, I do," answered Marco, "but it is almost more a dream than when it was one."
"The greatest patriot in the world is like a king himself!" raved The Rat. "If there is no bigger honor to give him, he will be made a prince — and Commander-in-Chief — and Prime Minister! Can't you hear those Samavians shouting, and singing, and praying? You'll see it all! Do you remember the mountain climber who was going to save the shoes he made for the Bearer of the Sign? He said a great day might come when one could show them to the people. It's come! He'll show them! I know how they'll take it!" His voice suddenly dropped — as if it dropped into a pit. "You'll see it all. But I shall not."
Then Marco awoke from his dream and lifted his head. "Why not?" he demanded. It sounded like a demand.
"Because I know better than to expect it!" The Rat groaned. "You've taken me a long way, but you can't take me to the palace of a king. I'm not such a fool as to think that, even if your father —"
He broke off because Marco did more than lift his head. He sat upright.
"You bore the Sign as much as I did," he said. "We bore it together."
"Who would have listened to me?" cried The Rat. "You were the son of Stefan Loristan."
"You were the friend of his son," answered Marco. "You went at the command of Stefan Loristan. You were the army of the son of Stefan Loristan. That I have told you. Where I go, you will go. We will say no more of this — not one word."
And he lay down again in the silence of a prince of the blood. And The Rat knew that he meant what he said, and that Stefan Loristan also would mean it. And because he was a boy, he began to wonder what Mrs. Beedle would do when she heard what had happened — what had been happening all the time a tall, shabby "foreigner" had lived in her dingy back sitting-room, and been closely watched lest he should go away without paying his rent, as shabby foreigners sometimes did. The Rat saw himself managing to poise himself very erect on his crutches while he told her that the shabby foreigner was — well, was at least the friend of a King, and had given him his crown — and would be made a prince and a Commander-in-Chief — and a Prime Minister — because there was no higher rank or honor to give him. And his son — whom she had insulted — was Samavia's idol because he had borne the Sign. And also that if she were in Samavia, and Marco chose to do it he could batter her wretched lodging-house to the ground and put her in a prison — "and serve her jolly well right!"
The next day passed, and the next; and then there came a letter. It was from Loristan, and Marco turned pale when Lazarus handed it to him. Lazarus and The Rat went out of the room at once, and left him to read it alone. It was evidently not a long letter, because it was not many minutes before Marco called them again into the room.
"In a few days, messengers — friends of my father's — will come to take us to Samavia. You and I and Lazarus are to go," he said to The Rat.
"God be thanked!" said Lazarus. "God be thanked!"
Before the messengers came, it was the end of the week. Lazarus had packed their few belongings, and on Saturday Mrs. Beedle was to be seen hovering at the top of the cellar steps, when Marco and The Rat left the back sitting-room to go out.
"You needn't glare at me!" she said to Lazarus, who stood glowering at the door which he had opened for them. "Young Master Loristan, I want to know if you've heard when your father is coming back?"
"He will not come back," said Marco.
"He won't, won't he? Well, how about next week's rent?" said Mrs. Beedle. "Your man's been packing up, I notice. He's not got much to carry away, but it won't pass through that front door until I've got what's owing me. People that can pack easy think they can get away easy, and they'll bear watching. The week's up to-day."
Lazarus wheeled and faced her with a furious gesture. "Get back to your cellar, woman," he commanded. "Get back under ground and stay there. Look at what is stopping before your miserable gate."
A carriage was stopping — a very perfect carriage of dark brown. The coachman and footman wore dark brown and gold liveries, and the footman had leaped down and opened the door with respectful alacrity. "They are friends of the Master's come to pay their respects to his son," said Lazarus. "Are their eyes to be offended by the sight of you?"
"Your money is safe," said Marco. "You had better leave us."
Mrs. Beedle gave a sharp glance at the two gentlemen who had entered the broken gate. They were of an order which did not belong to Philibert Place. They looked as if the carriage and the dark brown and gold liveries were every-day affairs to them.
"At all events, they're two grown men, and not two boys without a penny," she said. "If they're your father's friends, they'll tell me whether my rent's safe or not."
The two visitors were upon the threshold. They were both men of a certain self-contained dignity of type; and when Lazarus opened wide the door, they stepped into the shabby entrance hall as if they did not see it. They looked past its dinginess, and past Lazarus, and The Rat, and Mrs. Beedle — through them, as it were — at Marco.
He advanced towards them at once.
"You come from my father!" he said, and gave his hand first to the elder man, then to the younger.
"Yes, we come from your father. I am Baron Rastka — and this is the Count Vorversk," said the elder man, bowing.
"If they're barons and counts, and friends of your father's, they are well-to-do enough to be responsible for you," said Mrs. Beedle, rather fiercely, because she was somewhat over-awed and resented the fact. "It's a matter of next week's rent, gentlemen. I want to know where it's coming from."
The elder man looked at her with a swift cold glance. He did not speak to her, but to Lazarus. "What is she doing here?" he demanded.
Marco answered him. "She is afraid we cannot pay our rent," he said. "It is of great importance to her that she should be sure."
"Take her away," said the gentleman to Lazarus. He did not even glance at her. He drew something from his coat-pocket and handed it to the old soldier. "Take her away," he repeated. And because it seemed as if she were not any longer a person at all, Mrs. Beedle actually shuffled down the passage to the cellar-kitchen steps. Lazarus did not leave her until he, too, had descended into the cellar kitchen, where he stood and towered above her like an infuriated giant.
"To-morrow he will be on his way to Samavia, miserable woman!" he said. "Before he goes, it would be well for you to implore his pardon."
But Mrs. Beedle's point of view was not his. She had recovered some of her breath.
"I don't know where Samavia is," she raged, as she struggled to set her dusty, black cap straight. "I'll warrant it's one of these little foreign countries you can scarcely see on the map — and not a decent English town in it! He can go as soon as he likes, so long as he pays his rent before he does it. Samavia, indeed! You talk as if he was Buckingham Palace!"
NEXT INSTALLMENT | ALL INSTALLMENTS
***
READ GORGEOUS PAPERBACKS: HiLoBooks has reissued the following 10 obscure but amazing Radium Age science fiction novels in beautiful print editions: Jack London's The Scarlet Plague, Rudyard Kipling's With the Night Mail (and "As Easy as A.B.C."), Arthur Conan Doyle's The Poison Belt, H. Rider Haggard's When the World Shook, Edward Shanks' The People of the Ruins, William Hope Hodgson's The Night Land, J.D. Beresford's Goslings, E.V. Odle's The Clockwork Man, Cicely Hamilton's Theodore Savage, and Muriel Jaeger's The Man with Six Senses. For more information, visit the HiLoBooks homepage.
SERIALIZED BY HILOBOOKS: Jack London's The Scarlet Plague | Rudyard Kipling's With the Night Mail (and "As Easy as A.B.C.") | Arthur Conan Doyle's The Poison Belt | H. Rider Haggard's When the World Shook | Edward Shanks' The People of the Ruins | William Hope Hodgson's The Night Land | J.D. Beresford's Goslings | E.V. Odle's The Clockwork Man | Cicely Hamilton's Theodore Savage | Muriel Jaeger's The Man With Six Senses | Jack London's "The Red One" | Philip Francis Nowlan's Armageddon 2419 A.D. | Homer Eon Flint's The Devolutionist | W.E.B. DuBois's "The Comet" | Edgar Rice Burroughs's The Moon Men | Charlotte Perkins Gilman's Herland | Sax Rohmer's "The Zayat Kiss" | Eimar O'Duffy's King Goshawk and the Birds | Frances Hodgson Burnett's The Lost Prince | Morley Roberts's The Fugitives | Helen MacInnes's The Unconquerable | Geoffrey Household's Watcher in the Shadows | William Haggard's The High Wire | Hammond Innes's Air Bridge | James Branch Cabell's Jurgen | John Buchan's "No Man's Land" | John Russell's "The Fourth Man" | E.M. Forster's "The Machine Stops" | John Buchan's Huntingtower | Arthur Conan Doyle's When the World Screamed | Victor Bridges' A Rogue By Compulsion | Jack London's The Iron Heel | H. De Vere Stacpoole's The Man Who Lost Himself | P.G. Wodehouse's Leave It to Psmith | Richard Connell's "The Most Dangerous Game" | Houdini and Lovecraft's "Imprisoned with the Pharaohs" | Arthur Conan Doyle's "The Sussex Vampire".
ORIGINAL FICTION: HILOBROW has serialized three novels: James Parker's The Ballad of Cocky The Fox ("a proof-of-concept that serialization can work on the Internet" — The Atlantic); Karinne Keithley Syers's Linda Linda Linda (which includes original music); and Robert Waldron's roman à clef The School on the Fens. We also publish original stories and comics. These include: Matthew Battles's stories "Gita Nova", "Makes the Man," "Imago," "Camera Lucida," "A Simple Message", "Children of the Volcano", "The Gnomon", "Billable Memories", "For Provisional Description of Superficial Features", "The Dogs in the Trees", "The Sovereignties of Invention", and "Survivor: The Island of Dr. Moreau"; several of these later appeared in the collection The Sovereignties of Invention | Peggy Nelson's "Mood Indigo", "Top Kill Fail", and "Mercerism" | Annalee Newitz's "The Great Oxygen Race" | Flourish Klink's Star Trek fanfic "Conference Comms" | Charlie Mitchell's "A Fantasy Land" | Charlie Mitchell's "Sentinels" | Joshua Glenn's "The Lawless One", and the mashup story "Zarathustra vs. Swamp Thing" | Adam McGovern and Paolo Leandri's Idoru Jones comics | John Holbo's "Sugarplum Squeampunk" | "Another Corporate Death" (1) and "Another Corporate Death" (2) by Mike Fleisch | Kathryn Kuitenbrouwer and Frank Fiorentino's graphic novel "The Song of Otto" (excerpt) | John Holbo's graphic novel On Beyond Zarathustra (excerpt) | "Manoj" and "Josh" by Vijay Balakrishnan | "Verge" by Chris Rossi, and his audio novel Low Priority Hero | EPIC WINS: THE ILIAD (1.408-415) by Flourish Klink | EPIC WINS: THE KALEVALA (3.1-278) by James Parker | EPIC WINS: THE ARGONAUTICA (2.815-834) by Joshua Glenn | EPIC WINS: THE MYTH OF THE ELK by Matthew Battles | TROUBLED SUPERHUMAN CONTEST: Charles Pappas, "The Law" | CATASTROPHE CONTEST: Timothy Raymond, "Hem and the Flood" | TELEPATHY CONTEST: Rachel Ellis Adams, "Fatima, Can You Hear Me?" | OIL SPILL CONTEST: A.E. Smith, "Sound Thinking | LITTLE NEMO CAPTION CONTEST: Joe Lyons, "Necronomicon" | SPOOKY-KOOKY CONTEST: Tucker Cummings, "Well Marbled" | INVENT-A-HERO CONTEST: TG Gibbon, "The Firefly" | FANFICTION CONTEST: Lyette Mercier's "Sex and the Single Superhero"