The Lost Prince (18)
By: Frances Hodgson Burnett
May 3, 2014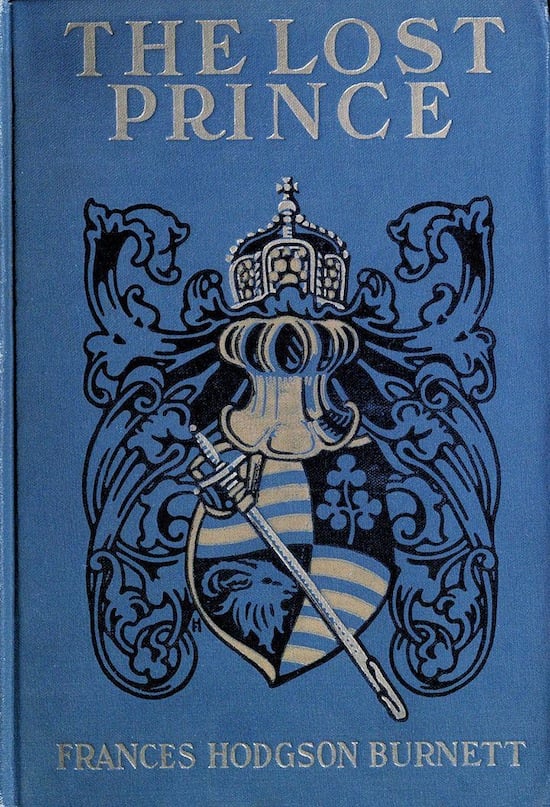 Frances Hodgson Burnett is best known for her sentimental children's novels Little Lord Fauntleroy (1885-6), A Little Princess (1905), and The Secret Garden (1911). But HiLoBooks prefers a later Burnett novel: The Lost Prince, a 1915 Ruritanian-style thriller in which two adolescent boys, one of whom is a disabled street urchin called "The Rat," play a proto-Alternate Reality Game about a revolution in far-off Samavia… which turns into the real thing.
HILOBROW is pleased to serialize The Lost Prince, our first departure from Radium Age science fiction — into adventure fiction. A new installment will appear each week for thirty-one weeks.
ALL INSTALLMENTS
***
Chapter 18: "Cities and Faces"
The hours of Marco's unexplained absence had been terrible to Loristan and to Lazarus. They had reason for fears which it was not possible for them to express. As the night drew on, the fears took stronger form. They forgot the existence of The Rat, who sat biting his nails in the bedroom, afraid to go out lest he might lose the chance of being given some errand to do but also afraid to show himself lest he should seem in the way.
"I'll stay upstairs," he had said to Lazarus. "If you just whistle, I'll come."
The anguish he passed through as the day went by and Lazarus went out and came in and he himself received no orders, could not have been expressed in any ordinary words. He writhed in his chair, he bit his nails to the quick, he wrought himself into a frenzy of misery and terror by recalling one by one all the crimes his knowledge of London police-courts supplied him with. He was doing nothing, yet he dare not leave his post. It was his post after all, though they had not given it to him. He must do something.
In the middle of the night Loristan opened the door of the back sitting-room, because he knew he must at least go upstairs and throw himself upon his bed even if he could not sleep.
He started back as the door opened. The Rat was sitting huddled on the floor near it with his back against the wall. He had a piece of paper in his hand and his twisted face was a weird thing to see.
"Why are you here?" Loristan asked.
"I've been here three hours, sir. I knew you'd have to come out sometime and I thought you'd let me speak to you. Will you — will you?"
"Come into the room," said Loristan. "I will listen to anything you want to say. What have you been drawing on that paper?" as The Rat got up in the wonderful way he had taught himself. The paper was covered with lines which showed it to be another of his plans.
"Please look at it," he begged. "I daren't go out lest you might want to send me somewhere. I daren't sit doing nothing. I began remembering and thinking things out. I put down all the streets and squares he might have walked through on his way home. I've not missed one. If you'll let me start out and walk through every one of them and talk to the policemen on the beat and look at the houses — and think out things and work at them — I'll not miss an inch — I'll not miss a brick or a flagstone — I'll —" His voice had a hard sound but it shook, and he himself shook.
Loristan touched his arm gently.
"You are a good comrade," he said. "It is well for us that you are here. You have thought of a good thing."
"May I go now?" said The Rat.
"This moment, if you are ready," was the answer. The Rat swung himself to the door.
Loristan said to him a thing which was like the sudden lighting of a great light in the very center of his being.
"You are one of us. Now that I know you are doing this I may even sleep. You are one of us." And it was because he was following this plan that The Rat had turned into Brandon Terrace and heard the Samavian song ringing out from the locked basement of Number 10.
"Yes, he is one of us," Loristan said, when he told this part of the story to Marco as they sat by the fire. "I had not been sure before. I wanted to be very sure. Last night I saw into the depths of him and knew. He may be trusted."
From that day The Rat held a new place. Lazarus himself, strangely enough, did not resent his holding it. The boy was allowed to be near Loristan as he had never dared to hope to be near. It was not merely that he was allowed to serve him in many ways, but he was taken into the intimacy which had before enclosed only the three. Loristan talked to him as he talked to Marco, drawing him within the circle which held so much that was comprehended without speech. The Rat knew that he was being trained and observed and he realized it with exaltation. His idol had said that he was "one of them" and he was watching and putting him to tests so that he might find out how much he was one of them. And he was doing it for some grave reason of his own. This thought possessed The Rat's whole mind. Perhaps he was wondering if he should find out that he was to be trusted, as a rock is to be trusted. That he should even think that perhaps he might find that he was like a rock, was inspiration enough.
"Sir," he said one night when they were alone together, because The Rat had been copying a road-map. His voice was very low — "do you think that — sometime — you could trust me as you trust Marco? Could it ever be like that — ever?"
"The time has come," and Loristan's voice was almost as low as his own, though strong and deep feeling underlay its quiet — "the time has come when I can trust you with Marco — to be his companion — to care for him, to stand by his side at any moment. And Marco is — Marco is my son." That was enough to uplift The Rat to the skies. But there was more to follow.
"It may not be long before it may be his part to do work in which he will need a comrade who can be trusted — as a rock can be trusted."
He had said the very words The Rat's own mind had given to him.
"A Rock! A Rock!" the boy broke out. "Let me show you, sir. Send me with him for a servant. The crutches are nothing. You've seen that they're as good as legs, haven't you? I've trained myself."
"I know, I know, dear lad." Marco had told him all of it. He gave him a gracious smile which seemed as if it held a sort of fine secret. "You shall go as his aide-de-camp. It shall be part of the game."
He had always encouraged "the game," and during the last weeks had even found time to help them in their plannings for the mysterious journey of the Secret Two. He had been so interested that once or twice he had called on Lazarus as an old soldier and Samavian to give his opinions of certain routes — and of the customs and habits of people in towns and villages by the way. Here they would find simple pastoral folk who danced, sang after their day's work, and who would tell all they knew; here they would find those who served or feared the Maranovitch and who would not talk at all. In one place they would meet with hospitality, in another with unfriendly suspicion of all strangers. Through talk and stories The Rat began to know the country almost as Marco knew it. That was part of the game too — because it was always "the game," they called it. Another part was The Rat's training of his memory, and bringing home his proofs of advance at night when he returned from his walk and could describe, or recite, or roughly sketch all he had seen in his passage from one place to another. Marco's part was to recall and sketch faces. Loristan one night gave him a number of photographs of people to commit to memory. Under each face was written the name of a place.
"Learn these faces," he said, "until you would know each one of them at once wheresoever you met it. Fix them upon your mind, so that it will be impossible for you to forget them. You must be able to sketch any one of them and recall the city or town or neighborhood connected with it."
Even this was still called "the game," but Marco began to know in his secret heart that it was so much more, that his hand sometimes trembled with excitement as he made his sketches over and over again. To make each one many times was the best way to imbed it in his memory. The Rat knew, too, though he had no reason for knowing, but mere instinct. He used to lie awake in the night and think it over and remember what Loristan had said of the time coming when Marco might need a comrade in his work. What was his work to be? It was to be something like "the game." And they were being prepared for it. And though Marco often lay awake on his bed when The Rat lay awake on his sofa, neither boy spoke to the other of the thing his mind dwelt on. And Marco worked as he had never worked before. The game was very exciting when he could prove his prowess. The four gathered together at night in the back sitting-room. Lazarus was obliged to be with them because a second judge was needed. Loristan would mention the name of a place, perhaps a street in Paris or a hotel in Vienna, and Marco would at once make a rapid sketch of the face under whose photograph the name of the locality had been written. It was not long before he could begin his sketch without more than a moment's hesitation. And yet even when this had become the case, they still played the game night after night. There was a great hotel near the Place de la Concorde in Paris, of which Marco felt he should never hear the name during all his life without there starting up before his mental vision a tall woman with fierce black eyes and a delicate high-bridged nose across which the strong eyebrows almost met. In Vienna there was a palace which would always bring back at once a pale cold-faced man with a heavy blonde lock which fell over his forehead. A certain street in Munich meant a stout genial old aristocrat with a sly smile; a village in Bavaria, a peasant with a vacant and simple countenance. A curled and smoothed man who looked like a hair-dresser brought up a place in an Austrian mountain town. He knew them all as he knew his own face and No. 7 Philibert Place.
But still night after night the game was played.
Then came a night when, out of a deep sleep, he was awakened by Lazarus touching him. He had so long been secretly ready to answer any call that he sat up straight in bed at the first touch.
"Dress quickly and come down stairs," Lazarus said. "The Prince is here and wishes to speak with you."
Marco made no answer but got out of bed and began to slip on his clothes.
Lazarus touched The Rat.
The Rat was as ready as Marco and sat upright as he had done.
"Come down with the young Master," he commanded. "It is necessary that you should be seen and spoken to." And having given the order he went away.
No one heard the shoeless feet of the two boys as they stole down the stairs.
An elderly man in ordinary clothes, but with an unmistakable face, was sitting quietly talking to Loristan who with a gesture called both forward.
"The Prince has been much interested in what I have told him of your game," he said in his lowest voice. "He wishes to see you make your sketches, Marco."
Marco looked very straight into the Prince's eyes which were fixed intently on him as he made his bow.
"His Highness does me honor," he said, as his father might have said it. He went to the table at once and took from a drawer his pencils and pieces of cardboard.
"I should know he was your son and a Samavian," the Prince remarked.
Then his keen and deep-set eyes turned themselves on the boy with the crutches.
"This," said Loristan, "is the one who calls himself The Rat. He is one of us."
The Rat saluted.
"Please tell him, sir," he whispered, "that the crutches don't matter."
"He has trained himself to an extraordinary activity," Loristan said. "He can do anything."
The keen eyes were still taking The Rat in.
"They are an advantage," said the Prince at last.
Lazarus had nailed together a light, rough easel which Marco used in making his sketches when the game was played. Lazarus was standing in state at the door, and he came forward, brought the easel from its corner, and arranged the necessary drawing materials upon it.
Marco stood near it and waited the pleasure of his father and his visitor. They were speaking together in low tones and he waited several minutes. What The Rat noticed was what he had noticed before — that the big boy could stand still in perfect ease and silence. It was not necessary for him to say things or to ask questions — to look at people as if he felt restless if they did not speak to or notice him. He did not seem to require notice, and The Rat felt vaguely that, young as he was, this very freedom from any anxiety to be looked at or addressed made him somehow look like a great gentleman.
Loristan and the Prince advanced to where he stood.
"L'Hotel de Marigny," Loristan said.
Marco began to sketch rapidly. He began the portrait of the handsome woman with the delicate high-bridged nose and the black brows which almost met. As he did it, the Prince drew nearer and watched the work over his shoulder. It did not take very long and, when it was finished, the inspector turned, and after giving Loristan a long and strange look, nodded twice.
"It is a remarkable thing," he said. "In that rough sketch she is not to be mistaken."
Loristan bent his head.
Then he mentioned the name of another street in another place — and Marco sketched again. This time it was the peasant with the simple face. The Prince bowed again. Then Loristan gave another name, and after that another and another; and Marco did his work until it was at an end, and Lazarus stood near with a handful of sketches which he had silently taken charge of as each was laid aside.
"You would know these faces wheresoever you saw them?" said the Prince. "If you passed one in Bond Street or in the Marylebone Road, you would recognize it at once?"
"As I know yours, sir," Marco answered.
Then followed a number of questions. Loristan asked them as he had often asked them before. They were questions as to the height and build of the originals of the pictures, of the color of their hair and eyes, and the order of their complexions. Marco answered them all. He knew all but the names of these people, and it was plainly not necessary that he should know them, as his father had never uttered them.
After this questioning was at an end the Prince pointed to The Rat who had leaned on his crutches against the wall, his eyes fiercely eager like a ferret's.
"And he?" the Prince said. "What can he do?"
"Let me try," said The Rat. "Marco knows."
Marco looked at his father.
"May I help him to show you?" he asked.
"Yes," Loristan answered, and then, as he turned to the Prince, he said again in his low voice: "He is one of us."
Then Marco began a new form of the game. He held up one of the pictured faces before The Rat, and The Rat named at once the city and place connected with it, he detailed the color of eyes and hair, the height, the build, all the personal details as Marco himself had detailed them. To these he added descriptions of the cities, and points concerning the police system, the palaces, the people. His face twisted itself, his eyes burned, his voice shook, but he was amazing in his readiness of reply and his exactness of memory.
"I can't draw," he said at the end. "But I can remember. I didn't want any one to be bothered with thinking I was trying to learn it. So only Marco knew."
This he said to Loristan with appeal in his voice.
"It was he who invented 'the game,'" said Loristan. "I showed you his strange maps and plans."
"It is a good game," the Prince answered in the manner of a man extraordinarily interested and impressed. "They know it well. They can be trusted."
"No such thing has ever been done before," Loristan said. "It is as new as it is daring and simple."
"Therein lies its safety," the Prince answered.
"Perhaps only boyhood," said Loristan, "could have dared to imagine it."
"The Prince thanks you," he said after a few more words spoken aside to his visitor. "We both thank you. You may go back to your beds."
And the boys went.
NEXT INSTALLMENT | ALL INSTALLMENTS
***
* "It may not be long before it may be his part to do work in which he will need a comrade who can be trusted — as a rock can be trusted." — Heavy handed religious symbolism, here. Loristan is God, Marco his only Son, and the Rat the Son's Rock (Peter).
READ GORGEOUS PAPERBACKS: HiLoBooks has reissued the following 10 obscure but amazing Radium Age science fiction novels in beautiful print editions: Jack London's The Scarlet Plague, Rudyard Kipling's With the Night Mail (and "As Easy as A.B.C."), Arthur Conan Doyle's The Poison Belt, H. Rider Haggard's When the World Shook, Edward Shanks' The People of the Ruins, William Hope Hodgson's The Night Land, J.D. Beresford's Goslings, E.V. Odle's The Clockwork Man, Cicely Hamilton's Theodore Savage, and Muriel Jaeger's The Man with Six Senses. For more information, visit the HiLoBooks homepage.
SERIALIZED BY HILOBOOKS: Jack London's The Scarlet Plague | Rudyard Kipling's With the Night Mail (and "As Easy as A.B.C.") | Arthur Conan Doyle's The Poison Belt | H. Rider Haggard's When the World Shook | Edward Shanks' The People of the Ruins | William Hope Hodgson's The Night Land | J.D. Beresford's Goslings | E.V. Odle's The Clockwork Man | Cicely Hamilton's Theodore Savage | Muriel Jaeger's The Man With Six Senses | Jack London's "The Red One" | Philip Francis Nowlan's Armageddon 2419 A.D. | Homer Eon Flint's The Devolutionist | W.E.B. DuBois's "The Comet" | Edgar Rice Burroughs's The Moon Men | Charlotte Perkins Gilman's Herland | Sax Rohmer's "The Zayat Kiss" | Eimar O'Duffy's King Goshawk and the Birds | Frances Hodgson Burnett's The Lost Prince | Morley Roberts's The Fugitives | Helen MacInnes's The Unconquerable | Geoffrey Household's Watcher in the Shadows | William Haggard's The High Wire | Hammond Innes's Air Bridge | James Branch Cabell's Jurgen | John Buchan's "No Man's Land" | John Russell's "The Fourth Man" | E.M. Forster's "The Machine Stops" | John Buchan's Huntingtower | Arthur Conan Doyle's When the World Screamed | Victor Bridges' A Rogue By Compulsion | Jack London's The Iron Heel | H. De Vere Stacpoole's The Man Who Lost Himself | P.G. Wodehouse's Leave It to Psmith | Richard Connell's "The Most Dangerous Game" | Houdini and Lovecraft's "Imprisoned with the Pharaohs" | Arthur Conan Doyle's "The Sussex Vampire."
ORIGINAL FICTION: HILOBROW has serialized three novels: James Parker's The Ballad of Cocky The Fox ("a proof-of-concept that serialization can work on the Internet" — The Atlantic); Karinne Keithley Syers's Linda Linda Linda (which includes original music); and Robert Waldron's roman à clef The School on the Fens. We also publish original stories and comics. These include: Matthew Battles's stories "Gita Nova", "Makes the Man," "Imago," "Camera Lucida," "A Simple Message", "Children of the Volcano", "The Gnomon", "Billable Memories", "For Provisional Description of Superficial Features", "The Dogs in the Trees", "The Sovereignties of Invention", and "Survivor: The Island of Dr. Moreau"; several of these later appeared in the collection The Sovereignties of Invention | Peggy Nelson's "Mood Indigo", "Top Kill Fail", and "Mercerism" | Annalee Newitz's "The Great Oxygen Race" | Flourish Klink's Star Trek fanfic "Conference Comms" | Charlie Mitchell's "A Fantasy Land" | Charlie Mitchell's "Sentinels" | Joshua Glenn's "The Lawless One", and the mashup story "Zarathustra vs. Swamp Thing" | Adam McGovern and Paolo Leandri's Idoru Jones comics | John Holbo's "Sugarplum Squeampunk" | "Another Corporate Death" (1) and "Another Corporate Death" (2) by Mike Fleisch | Kathryn Kuitenbrouwer and Frank Fiorentino's graphic novel "The Song of Otto" (excerpt) | John Holbo's graphic novel On Beyond Zarathustra (excerpt) | "Manoj" and "Josh" by Vijay Balakrishnan | "Verge" by Chris Rossi, and his audio novel Low Priority Hero | EPIC WINS: THE ILIAD (1.408-415) by Flourish Klink | EPIC WINS: THE KALEVALA (3.1-278) by James Parker | EPIC WINS: THE ARGONAUTICA (2.815-834) by Joshua Glenn | EPIC WINS: THE MYTH OF THE ELK by Matthew Battles | TROUBLED SUPERHUMAN CONTEST: Charles Pappas, "The Law" | CATASTROPHE CONTEST: Timothy Raymond, "Hem and the Flood" | TELEPATHY CONTEST: Rachel Ellis Adams, "Fatima, Can You Hear Me?" | OIL SPILL CONTEST: A.E. Smith, "Sound Thinking | LITTLE NEMO CAPTION CONTEST: Joe Lyons, "Necronomicon" | SPOOKY-KOOKY CONTEST: Tucker Cummings, "Well Marbled" | INVENT-A-HERO CONTEST: TG Gibbon, "The Firefly" | FANFICTION CONTEST: Lyette Mercier's "Sex and the Single Superhero"