The Lost Prince (17)
By: Frances Hodgson Burnett
April 27, 2014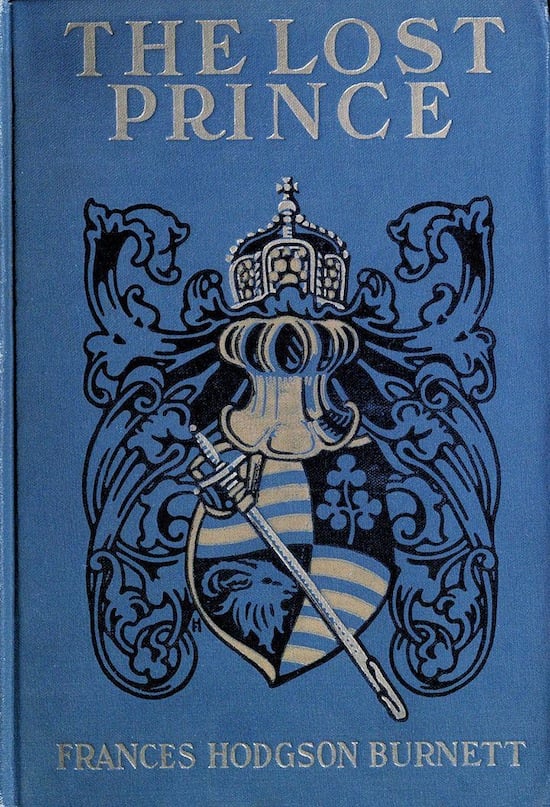 Frances Hodgson Burnett is best known for her sentimental children's novels Little Lord Fauntleroy (1885-6), A Little Princess (1905), and The Secret Garden (1911). But HiLoBooks prefers a later Burnett novel: The Lost Prince, a 1915 Ruritanian-style thriller in which two adolescent boys, one of whom is a disabled street urchin called "The Rat," play a proto-Alternate Reality Game about a revolution in far-off Samavia… which turns into the real thing.
HILOBROW is pleased to serialize The Lost Prince, our first departure from Radium Age science fiction — into adventure fiction. A new installment will appear each week for thirty-one weeks.
ALL INSTALLMENTS
***
Chapter 17: "It Is a Very Bad Sign"
The policeman was not so much excited as out of temper. He did not know what Marco knew or what The Rat knew. Some common lad had got himself locked up in a house, and some one would have to go to the landlord and get a key from him. He had no intention of laying himself open to the law by breaking into a private house with his truncheon, as The Rat expected him to do.
"He got himself in through some of his larks, and he'll have to wait till he's got out without smashing locks," he growled, shaking the area door. "How did you get in there?" he shouted.
It was not easy for Marco to explain through a keyhole that he had come in to help a lady who had met with an accident. The policeman thought this mere boy's talk. As to the rest of the story, Marco knew that it could not be related at all without saying things which could not be explained to any one but his father. He quickly made up his mind that he must let it be believed that he had been locked in by some queer accident. It must be supposed that the people had not remembered, in their haste, that he had not yet left the house.
When the young clerk from the house agency came with the keys, he was much disturbed and bewildered after he got inside.
"They've made a bolt of it," he said. "That happens now and then, but there's something queer about this. What did they lock these doors in the basement for, and the one on the stairs? What did they say to you?" he asked Marco, staring at him suspiciously.
"They said they were obliged to go suddenly," Marco answered.
"What were you doing in the basement?"
"The man took me down."
"And left you there and bolted? He must have been in a hurry."
"The lady said they had not a moment's time."
"Her ankle must have got well in short order," said the young man.
"I knew nothing about them," answered Marco. "I had never seen them before."
"The police were after them," the young man said. "That's what I should say. They paid three months' rent in advance, and they have only been here two. Some of these foreign spies lurking about London; that's what they were."
The Rat had not waited until the keys arrived. He had swung himself at his swiftest pace back through the streets to No. 7 Philibert Place. People turned and stared at his wild pale face as he almost shot past them.
He had left himself barely breath enough to speak with when he reached the house and banged on the door with his crutch to save time.
Both Loristan and Lazarus came to answer.
The Rat leaned against the door gasping.
"He's found! He's all right!" he panted. "Some one had locked him in a house and left him. They've sent for the keys. I'm going back. Brandon Terrace, No. 10."
Loristan and Lazarus exchanged glances. Both of them were at the moment as pale as The Rat.
"Help him into the house," said Loristan to Lazarus. "He must stay here and rest. We will go." The Rat knew it was an order.
He did not like it, but he obeyed.
"This is a bad sign, Master," said Lazarus, as they went out together.
"It is a very bad one," answered Loristan.
"God of the Right, defend us!" Lazarus groaned.
"Amen!" said Loristan. "Amen!"
The group had become a small crowd by the time they reached Brandon Terrace. Marco had not found it easy to leave the place because he was being questioned. Neither the policeman nor the agent's clerk seemed willing to relinquish the idea that he could give them some information about the absconding pair.
The entrance of Loristan produced its usual effect. The agent's clerk lifted his hat, and the policeman stood straight and made salute. Neither of them realized that the tall man's clothes were worn and threadbare. They felt only that a personage was before them, and that it was not possible to question his air of absolute and serene authority. He laid his hand on Marco's shoulder and held it there as he spoke. When Marco looked up at him and felt the closeness of his touch, it seemed as if it were an embrace — as if he had caught him to his breast.
"My boy knew nothing of these people," he said. "That I can guarantee. He had seen neither of them before. His entering the house was the result of no boyish trick. He has been shut up in this place for nearly twenty-four hours and has had no food. I must take him home. This is my address." He handed the young man a card.
Then they went home together, and all the way to Philibert Place Loristan's firm hand held closely to his boy's shoulder as if he could not endure to let him go. But on the way they said very little.
"Father," Marco said, rather hoarsely, when they first got away from the house in the terrace, "I can't talk well in the street. For one thing, I am so glad to be with you again. It seemed as if — it might turn out badly."
"Beloved one," Loristan said the words in their own Samavian, "until you are fed and at rest, you shall not talk at all."
Afterward, when he was himself again and was allowed to tell his strange story, Marco found that both his father and Lazarus had at once had suspicions when he had not returned. They knew no ordinary event could have kept him. They were sure that he must have been detained against his will, and they were also sure that, if he had been so detained, it could only have been for reasons they could guess at.
"This was the card that she gave me," Marco said, and he handed it to Loristan. "She said you would remember the name." Loristan looked at the lettering with an ironic half-smile.
"I never heard it before," he replied. "She would not send me a name I knew. Probably I have never seen either of them. But I know the work they do. They are spies of the Maranovitch, and suspect that I know something of the Lost Prince. They believed they could terrify you into saying things which would be a clue. Men and women of their class will use desperate means to gain their end."
"Might they — have left me as they threatened?" Marco asked him.
"They would scarcely have dared, I think. Too great a hue and cry would have been raised by the discovery of such a crime. Too many detectives would have been set at work to track them."
But the look in his father's eyes as he spoke, and the pressure of the hand he stretched out to touch him, made Marco's heart thrill. He had won a new love and trust from his father. When they sat together and talked that night, they were closer to each other's souls than they had ever been before.
They sat in the firelight, Marco upon the worn hearth-rug, and they talked about Samavia — about the war and its heart-rending struggles, and about how they might end.
"Do you think that some time we might be exiles no longer?" the boy said wistfully. "Do you think we might go there together — and see it — you and I, Father?"
There was a silence for a while. Loristan looked into the sinking bed of red coal.
"For years—for years I have made for my soul that image," he said slowly. "When I think of my friend on the side of the Himalayan Mountains, I say, 'The Thought which Thought the World may give us that also!'"
NEXT INSTALLMENT | ALL INSTALLMENTS
***
READ GORGEOUS PAPERBACKS: HiLoBooks has reissued the following 10 obscure but amazing Radium Age science fiction novels in beautiful print editions: Jack London's The Scarlet Plague, Rudyard Kipling's With the Night Mail (and "As Easy as A.B.C."), Arthur Conan Doyle's The Poison Belt, H. Rider Haggard's When the World Shook, Edward Shanks' The People of the Ruins, William Hope Hodgson's The Night Land, J.D. Beresford's Goslings, E.V. Odle's The Clockwork Man, Cicely Hamilton's Theodore Savage, and Muriel Jaeger's The Man with Six Senses. For more information, visit the HiLoBooks homepage.
SERIALIZED BY HILOBOOKS: Jack London's The Scarlet Plague | Rudyard Kipling's With the Night Mail (and "As Easy as A.B.C.") | Arthur Conan Doyle's The Poison Belt | H. Rider Haggard's When the World Shook | Edward Shanks' The People of the Ruins | William Hope Hodgson's The Night Land | J.D. Beresford's Goslings | E.V. Odle's The Clockwork Man | Cicely Hamilton's Theodore Savage | Muriel Jaeger's The Man With Six Senses | Jack London's "The Red One" | Philip Francis Nowlan's Armageddon 2419 A.D. | Homer Eon Flint's The Devolutionist | W.E.B. DuBois's "The Comet" | Edgar Rice Burroughs's The Moon Men | Charlotte Perkins Gilman's Herland | Sax Rohmer's "The Zayat Kiss" | Eimar O'Duffy's King Goshawk and the Birds | Frances Hodgson Burnett's The Lost Prince | Morley Roberts's The Fugitives | Helen MacInnes's The Unconquerable | Geoffrey Household's Watcher in the Shadows | William Haggard's The High Wire | Hammond Innes's Air Bridge | James Branch Cabell's Jurgen | John Buchan's "No Man's Land" | John Russell's "The Fourth Man" | E.M. Forster's "The Machine Stops" | John Buchan's Huntingtower | Arthur Conan Doyle's When the World Screamed | Victor Bridges' A Rogue By Compulsion | Jack London's The Iron Heel | H. De Vere Stacpoole's The Man Who Lost Himself | P.G. Wodehouse's Leave It to Psmith | Richard Connell's "The Most Dangerous Game" | Houdini and Lovecraft's "Imprisoned with the Pharaohs" | Arthur Conan Doyle's "The Sussex Vampire."
ORIGINAL FICTION: HILOBROW has serialized three novels: James Parker's The Ballad of Cocky The Fox ("a proof-of-concept that serialization can work on the Internet" — The Atlantic); Karinne Keithley Syers's Linda Linda Linda (which includes original music); and Robert Waldron's roman à clef The School on the Fens. We also publish original stories and comics. These include: Matthew Battles's stories "Gita Nova", "Makes the Man," "Imago," "Camera Lucida," "A Simple Message", "Children of the Volcano", "The Gnomon", "Billable Memories", "For Provisional Description of Superficial Features", "The Dogs in the Trees", "The Sovereignties of Invention", and "Survivor: The Island of Dr. Moreau"; several of these later appeared in the collection The Sovereignties of Invention | Peggy Nelson's "Mood Indigo", "Top Kill Fail", and "Mercerism" | Annalee Newitz's "The Great Oxygen Race" | Flourish Klink's Star Trek fanfic "Conference Comms" | Charlie Mitchell's "A Fantasy Land" | Charlie Mitchell's "Sentinels" | Joshua Glenn's "The Lawless One", and the mashup story "Zarathustra vs. Swamp Thing" | Adam McGovern and Paolo Leandri's Idoru Jones comics | John Holbo's "Sugarplum Squeampunk" | "Another Corporate Death" (1) and "Another Corporate Death" (2) by Mike Fleisch | Kathryn Kuitenbrouwer and Frank Fiorentino's graphic novel "The Song of Otto" (excerpt) | John Holbo's graphic novel On Beyond Zarathustra (excerpt) | "Manoj" and "Josh" by Vijay Balakrishnan | "Verge" by Chris Rossi, and his audio novel Low Priority Hero | EPIC WINS: THE ILIAD (1.408-415) by Flourish Klink | EPIC WINS: THE KALEVALA (3.1-278) by James Parker | EPIC WINS: THE ARGONAUTICA (2.815-834) by Joshua Glenn | EPIC WINS: THE MYTH OF THE ELK by Matthew Battles | TROUBLED SUPERHUMAN CONTEST: Charles Pappas, "The Law" | CATASTROPHE CONTEST: Timothy Raymond, "Hem and the Flood" | TELEPATHY CONTEST: Rachel Ellis Adams, "Fatima, Can You Hear Me?" | OIL SPILL CONTEST: A.E. Smith, "Sound Thinking | LITTLE NEMO CAPTION CONTEST: Joe Lyons, "Necronomicon" | SPOOKY-KOOKY CONTEST: Tucker Cummings, "Well Marbled" | INVENT-A-HERO CONTEST: TG Gibbon, "The Firefly" | FANFICTION CONTEST: Lyette Mercier's "Sex and the Single Superhero"