Theodore Savage — now available!
By: HILOBROW
October 15, 2013
Announcement! HiLoBooks's gorgeous paperback edition of Cicely Hamilton's obscure but amazing dystopian science fiction classic Theodore Savage is now available for sale. Buy your copy now, while supplies last!
The book — by a women's rights activist often remembered today for her polemical plays, tracts and treatises — was first published in 1922.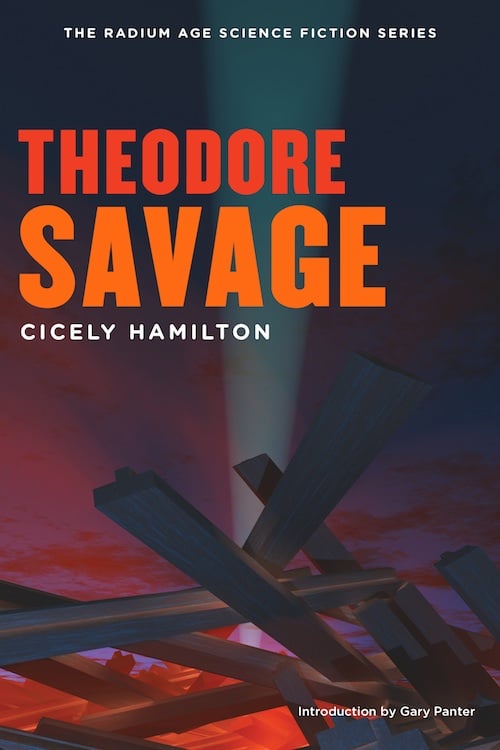 Serialized here at HiLoBrow.com from March through August of this year, Theodore Savage takes place in England. When war breaks out — modern, aerial war whose tactics include displacing entire populations — British civilization collapses overnight. The ironically named Theodore Savage, an educated and idle civil servant, must learn to survive by his wits in a new Britain… one where science and technology swiftly come to be regarded with superstitious awe and terror.
The HiLoBooks edition of Theodore Savage features an Introduction by comics and design legend Gary Panter. Panter won three Emmy awards for his set designs for Pee-Wee's Playhouse. His artistic activity includes the science fiction comics Jimbo and Dal Tokyo, painting, prose, music, and light shows.
"Like Colson Whitehead's Zone One without the zombie camp and idiom, Theodore Savage is a dark, strange, and cruelly contemporary tale of The Ruin and the post-apocalyptic condition that follows," says Alexis Madrigal in a 2013 blurb for HiLoBooks. "The book makes a spirited argument against science and machines, disputing itself viciously to the last word."
"Miss Hamilton always writes forcibly, and her present novel deals with the heart shaking effects of the next war. It might, indeed, be used as a tract to convey an awful warning." — The Spectator (1922)
"A particularly effective and chilling version of a theme that dominates British speculative fiction between the wars." — Anatomy of Wonder, Neil Barron, ed.
"Hamilton is one of the first — and among the darkest — of those UK novelists whose vision of things was shaped by WWI, which they saw as foretelling the end of civilization." — The Encyclopedia of Science Fiction, Clute and Nicholls, eds.
Cicely Hamilton (1872–1952) was an Anglo-Irish novelist, dramatist, and campaigner for women's rights who served during WWI with an ambulance unit and at a military hospital in France. Her plays include Diana of Dobson's (1908) and How the Vote was Won (1909); her 1909 treatise Marriage as a Trade is a witty criticism of that institution. The dystopian Theodore Savage is her only science fiction novel.
***
For more information about HiLoBooks, visit our homepage.
RADIUM AGE SCIENCE FICTION: "Radium Age" is HILOBROW's name for the 1904–33 era, which saw the discovery of radioactivity, the revelation that matter itself is constantly in movement — a fitting metaphor for the first decades of the 20th century, during which old scientific, religious, political, and social certainties were shattered. This era saw the publication of genre-shattering writing by, e.g.: Algernon Blackwood | Edgar Rice Burroughs | Karel Čapek | Buster Crabbe | August Derleth | Arthur Conan Doyle | Hugo Gernsback | Charlotte Perkins Gilman | Cicely Hamilton | Hermann Hesse | William Hope Hodgson | Aldous Huxley | Inez Haynes Irwin | Alfred Jarry | Jack Kirby (Radium Age sf's influence on) | Murray Leinster | Gustave Le Rouge | Gaston Leroux | David Lindsay | Jack London | H.P. Lovecraft | A. Merritt | Maureen O'Sullivan | Sax Rohmer | Paul Scheerbart | Upton Sinclair | Clark Ashton Smith | E.E. "Doc" Smith | Olaf Stapledon | John Taine | H.G. Wells | Jack Williamson | Stanisław Ignacy Witkiewicz | S. Fowler Wright | Philip Gordon Wylie | Yevgeny Zamyatin
MORE RADIUM AGE SF: What is Radium Age science fiction? |Radium Age 100: 100 Best Science Fiction Novels from 1904–33 | Radium Age Supermen | Radium Age Robots | Radium Age Apocalypses | Radium Age Telepaths | Radium Age Eco-Catastrophes | Radium Age Cover Art (1) | SF's Best Year Ever: 1912 | Radium Age Science Fiction Poetry | Enter Highbrowism | Bathybius! Primordial ooze in Radium Age sf | War and Peace Games (H.G. Wells's training manuals for supermen)
HILOBOOKS: The mission of HiLoBooks is to serialize novels (both original and reissued) on HiLobrow, and to reissue Radium Age science fiction in beautiful new print editions. The following titles can be read in serial form via HiLobrow.com and/or purchased in gorgeous paperback form: Jack London's The Scarlet Plague, Rudyard Kipling's With the Night Mail (and "As Easy as A.B.C."), Arthur Conan Doyle's The Poison Belt, H. Rider Haggard's When the World Shook, Edward Shanks' The People of the Ruins, William Hope Hodgson's The Night Land, J.D. Beresford's Goslings, E.V. Odle's The Clockwork Man, Cicely Hamilton's Theodore Savage, and Muriel Jaeger's The Man with Six Senses.