SCARLET PLAGUE audiobook
By: HILOBROW
August 4, 2013
Last year, we announced the publication of HiLoBooks's gorgeous paperback edition of the forgotten, brilliant science fiction novel The Scarlet Plague, by Jack London. (Buy your copy now, while supplies last.)
If in addition to the paperback edition, you'd like to own an audiobook edition of The Scarlet Plague, then you're in luck. Our friends at Dreamscape are releasing audiobook versions of HiLoBooks' entire Radium Age Science Fiction series. Their third title is The Scarlet Plague, read by Drew Ariana. Buy it here.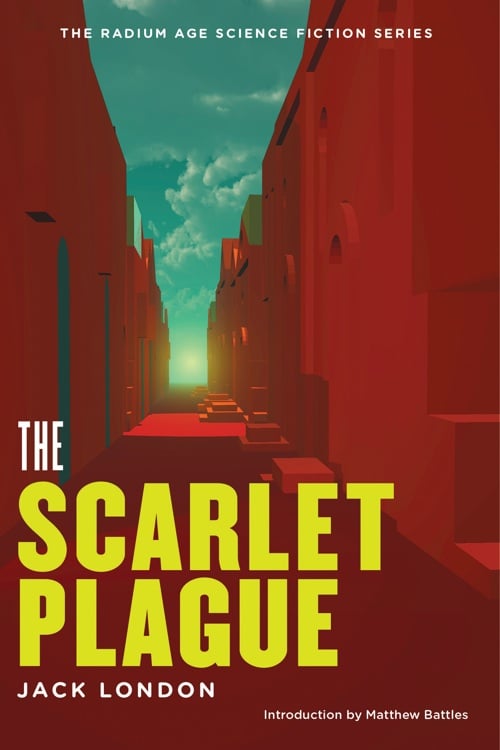 Outside the ruins of San Francisco, a former UC Berkeley professor recounts the chilling sequence of events — a gruesome pandemic which killed nearly every living soul on the planet, in a matter of days — which led to his current lowly state. Modern civilization has fallen, and a new race of barbarians, descended from the world's brutalized workers, has assumed power. Over the space of a few decades, all learning has been lost.
The catastrophe happens in 2013; 2012 marks the centennial of the novel's first publication.
"London's style is typically lush but his viewpoint is skeptical and dystopian … [the] story reminds us of the dangers we still court with our careless ways." — The Times (1912)
"I knew Jack London was all about romanticizing nature and the frontier and primitive peoples and, you know, the wild. But this showed me a whole new realm of London's ambivalence about civilization: The Scarlet Plague is not just among the first modern post-apocalyptic fictions — starting right about now, a global contagion wipes out nearly all 8 billion earthlings — but maybe the most Edenic and winsome one ever." — Kurt Andersen (2012 blurb for HiLoBooks)
"A beautiful edition, proofed and corrected. I would much rather read this than any of the free editions for that reason: I find errors distracting and this version has none." — Amazon.com user review.
Introduction — to the HiLoBooks print edition, not the Dreamscape audiobook — by Matthew Battles, literary editor of HiLobrow.com and author of Library: An Unquiet History, Letter by Letter, and the science fiction story collection The Sovereignties of Invention.
***
For more information about HiLoBooks, visit our homepage.
RADIUM AGE SCIENCE FICTION: "Radium Age" is HILOBROW's name for the 1904–33 era, which saw the discovery of radioactivity, the revelation that matter itself is constantly in movement — a fitting metaphor for the first decades of the 20th century, during which old scientific, religious, political, and social certainties were shattered. This era saw the publication of genre-shattering writing by, e.g.: Algernon Blackwood | Edgar Rice Burroughs | Karel Čapek | Buster Crabbe | August Derleth | Arthur Conan Doyle | Hugo Gernsback | Charlotte Perkins Gilman | Cicely Hamilton | Hermann Hesse | William Hope Hodgson | Aldous Huxley | Inez Haynes Irwin | Alfred Jarry | Jack Kirby (Radium Age sf's influence on) | Murray Leinster | Gustave Le Rouge | Gaston Leroux | David Lindsay | Jack London | H.P. Lovecraft | A. Merritt | Maureen O'Sullivan | Sax Rohmer | Paul Scheerbart | Upton Sinclair | Clark Ashton Smith | E.E. "Doc" Smith | Olaf Stapledon | John Taine | H.G. Wells | Jack Williamson | Stanisław Ignacy Witkiewicz | S. Fowler Wright | Philip Gordon Wylie | Yevgeny Zamyatin
MORE RADIUM AGE SF: What is Radium Age science fiction? |Radium Age 100: 100 Best Science Fiction Novels from 1904–33 | Radium Age Supermen | Radium Age Robots | Radium Age Apocalypses | Radium Age Telepaths | Radium Age Eco-Catastrophes | Radium Age Cover Art (1) | SF's Best Year Ever: 1912 | Radium Age Science Fiction Poetry | Enter Highbrowism | Bathybius! Primordial ooze in Radium Age sf | War and Peace Games (H.G. Wells's training manuals for supermen)
HILOBOOKS: The mission of HiLoBooks is to serialize novels (both original and reissued) on HiLobrow, and to reissue Radium Age science fiction in beautiful new print editions. The following titles can be read in serial form via HiLobrow.com and/or purchased in gorgeous paperback form: Jack London's The Scarlet Plague, Rudyard Kipling's With the Night Mail (and "As Easy as A.B.C."), Arthur Conan Doyle's The Poison Belt, H. Rider Haggard's When the World Shook, Edward Shanks' The People of the Ruins, William Hope Hodgson's The Night Land, J.D. Beresford's Goslings, E.V. Odle's The Clockwork Man, Cicely Hamilton's Theodore Savage, and Muriel Jaeger's The Man with Six Senses.