Paul Klee
By: David Smay
December 18, 2012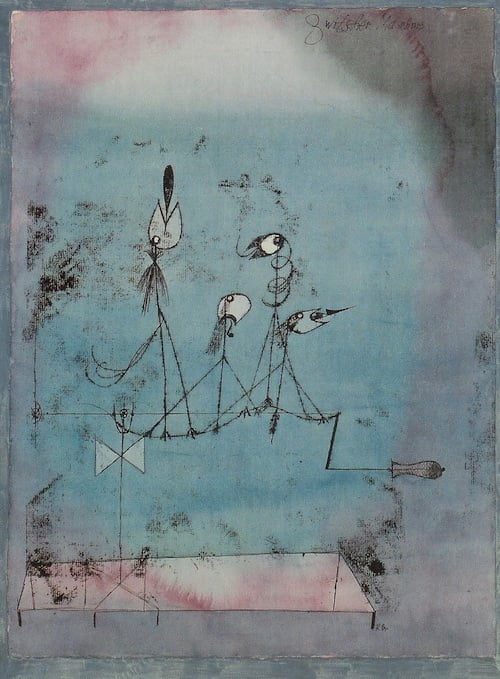 When you stand in front of PAUL KLEE's (1879–1940) Twittering Machine you realize that he's the only Modernist painter who could've had a career as a cartoonist at the New Yorker. A violin prodigy born to a German music teacher and Swiss singer he took up art, partly to piss off his parents but also because he couldn't reconcile his love of Bach with 20th century aesthetics. But musicality informed his work so completely that you think of the composition of his paintings, and the harmonies of his color blocks, and his rhythmic japes in paint. A facile draftsman, he spent years struggling with color until he took a trip to Tunis where the light of North Africa illuminated something in him, and he understood color; his treatise on it is still a standard art school tract. For somebody famous for his affiliations — a member of both the Blaue Reiter, and a teacher at Bauhaus — Klee is not much like anybody else. He's funnier than any other painter and more verbal — not just in the caption-like punchlines of his titles, but in the evocation of language in his paintings. (Keith Haring built a multi-million dollar career that never went beyond Klee's Comedian's Handbill.) Teacher, theorist, diarist, master draftsman, "most delightsome violinist of Bach and Handel," veteran of the mud-death Great War that took his friends Franz Marc and August Macke, stay-at-home Dad, creator of beef knucklebone puppets for his son, painter. There are no painters as articulate as Klee, as self-aware and playful; no other painter reaches equally into music, nature, language and theater as Klee does, conjuring performances in paint. And when you're dropping his name remember it's pronounced almost like "Powell Clay" and array your exactly off-kilter grin into something equal parts sardonic and affectionate.
***
On his or her birthday, HiLobrow irregularly pays tribute to one of our high-, low-, no-, or hilobrow heroes. Also born this date: Michael Moorcock and Jacques Pepin.
READ MORE about members of the Psychonaut Generation (1874–1883).