KOJAK YOUR ENTHUSIASM (5)
By: Douglas Wolk
April 14, 2022
One in a series of 25 enthusiastic posts, contributed by 25 HILOBROW friends and regulars, on the topic of our favorite TV shows of the Seventies (1974–1983).
*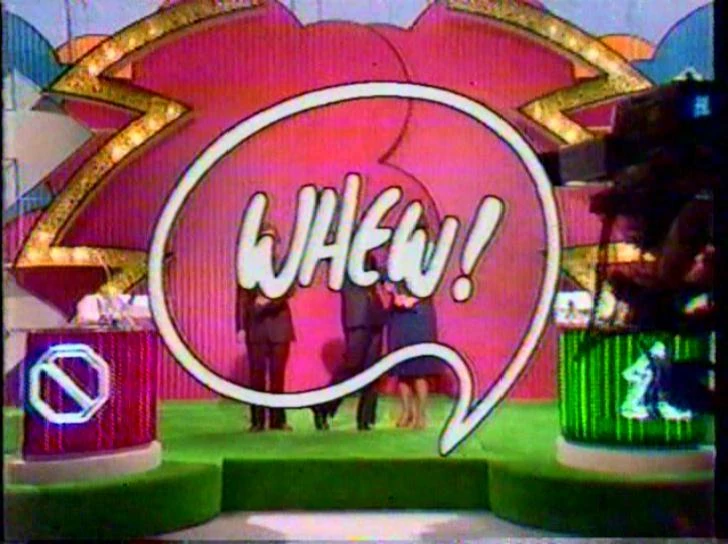 WHEW! | 1979–1980
In the summer of 1979, I spent a few months at my grandparents' house, where I had a great deal of time to kill. I read a lot of science fiction paperbacks and watched a lot of game shows. My favorite show was WHEW! — stylized as all caps, inside a word balloon, pronounced semi-audibly — which had just debuted that April, as part of CBS's overhaul of its daytime schedule. It aired at 10:30 AM, and I sprinted back from swimming class every day to watch it.
Tom Kennedy (also host of Name That Tune in those days) was the host; Rod Roddy was the announcer, and later went on to the same role on The Price is Right; the show's theme song was written by a pre-Growing Pains Alan Thicke. WHEW! had rules so convoluted that there were only four minutes of gameplay within each 25-minute episode, but it mostly involved "bloopers" — factual statements displayed on a video screen, with a crucial word replaced by an underlined joke. (Sample: "Roger Moore became James Bond in the film, 'Live and Let Sean Connery Out of His Contract.'") Contestants had to correctly fix a string of bloopers within a minute, which included the time it took for Kennedy to read each blooper out loud and yell "Charge!" every time they answered one correctly.
The show's top prize ($25,000) was the highest on CBS at the time, but the look of it was unabashedly low-rent. One episode cut to a commercial while successful contestant Stephen Matthews was bouncing for joy; after the break, Kennedy explained that Matthews had thrown his knee out and been hospitalized, and would be back on the show after he recuperated.
WHEW! is apparently a bit of a cult item among game show aficionados, but until this week, I hadn't seen it for over four decades (and incorrectly remembered that the "bloopers" were all quotations). Watching it now, I note that as a nine-year-old I had just thought it was funny — and that my junior copy-editor's brain had loved fixing bloopers — but that I'd entirely missed how fantastically thirsty it was. Beyond the kid-friendly trappings of the Hanna-Barbera-designed cartoon villains who appeared on the set in various guises, WHEW! is all leisure suits and sneaky glances and innuendo. One final-round blooper: "Horehound is a type of lonely guy." A contestant, prompted by Kennedy to introduce herself: "I'm a high school English teacher, I coach softball, and I go fox hunting on occasion." "Fox hunting?! Where do you go to do that?" "Well, at singles bars."
WHEW! became Celebrity WHEW! in November 1979, with the likes of Betty White and Jamie Farr assisting contestants. By the time I went back to my grandparents' place the next summer, it had been replaced by reruns of Alice.
***
KOJAK YOUR ENTHUSIASM: INTRODUCTION by Josh Glenn | Lynn Peril on ONE DAY AT A TIME | Dan Reines on THE WHITE SHADOW | Carlo Rotella on BARNEY MILLER | Lucy Sante on POLICE WOMAN | Douglas Wolk on WHEW! | Susan Roe on THE LOVE BOAT | Peggy Nelson on THE BIONIC WOMAN | Michael Grasso on WKRP IN CINCINNATI | Josh Glenn on SHAZAM! | Vanessa Berry on IN SEARCH OF… | Mark Kingwell on BATTLESTAR GALACTICA | Tom Nealon on BUCK ROGERS | Heather Quinlan on LITTLE HOUSE ON THE PRAIRIE | Adam McGovern on FAWLTY TOWERS | Gordon Dahlquist on THE STREETS OF SAN FRANCISCO | David Smay on LAVERNE & SHIRLEY | Miranda Mellis on WELCOME BACK, KOTTER | Rick Pinchera on THE MUPPET SHOW | Kio Stark on WONDER WOMAN | Marc Weidenbaum on ARK II | Carl Wilson on LOU GRANT | Greg Rowland on STAR TREK: THE ANIMATED SERIES | Dave Boerger on DOCTOR WHO | William Nericcio on CHICO AND THE MAN | Erin M. Routson on HAPPY DAYS. Plus: David Cantwell on THE WALTONS.
MORE ENTHUSIASM at HILOBROW
MÖSH YOUR ENTHUSIASM (1Q2024): ENTER SANDMAN | MILQUETOAST | CHRISTBAIT RISING | GOING BLIND | HERE COME THE COPS | & 20 other Eighties (1984–1993) Metal songs. STOOGE YOUR ENTHUSIASM (4Q2023): MOVE ON FAST | 96 TEARS | SHE CRACKED | WHAT A WAY TO DIE | PSYCHOTIC REACTION | & 20 other Sixties (1964–1973) proto-punk songs. CURVE YOUR ENTHUSIASM (3Q2023): PIZZA PURISM | BOY BANDS | THE '86 METS | LOVE ISLAND UK | ELTON JOHN | & 20 other reconsidered enthusiasms. TEEN YOUR ENTHUSIASM (2Q2023): ANDY GIBB | VALERIE BERTINELLI | KIM WILDE | ARLO GUTHRIE | MIKE PATTON | & 20 other heartthrobs from our adolescences. DOLLY YOUR ENTHUSIASM (1Q2023): WE FOUND IT | TOGETHER AGAIN | SUNDAY MORNIN' COMIN' DOWN | BAD CASE OF THE BLUES | FANCY | & 20 other Sixties (1964–1973) Country records. KILL YOUR ENTHUSIASM (4Q2022): LT. TASHA YAR | JOYCE SUMMERS | COL. HENRY BLAKE | MRS. LANDINGHAM | ALEX KAMAL | & 20 other TV deaths. BLURB YOUR ENTHUSIASM (3Q2022): LEFT-CORNER BRICK | JOY IS RESISTANCE | THE FUTURE IS PASSÉ | EVERY MINUTE AN OCEAN | SHUT UP, HE EXPLAINED | & 20 other apothegms to live by. KOJAK YOUR ENTHUSIASM (2Q2022): ARK II | WKRP IN CINCINNATI | BUCK ROGERS | THE WHITE SHADOW | POLICE WOMAN | & 20 other Seventies (1974–1983) TV shows. KICK YOUR ENTHUSIASM (1Q2022): KUILL | CATO | COSMO | TRIXIE | VOLSTAGG | & 20 other sidekicks. NERD YOUR ENTHUSIASM (4Q2021): TIME | THE POST OFFICE | ARDUIN | DOUBT | SUMMATIONS | & 20 other nerdy passions. SWERVE YOUR ENTHUSIASM (3Q2021): WARHOL'S WALT WHITMAN | 70, GIRLS, 70 | TYRAEL'S MIGHT | SHIRATO SANPEI | THE LEON SUITES | & 20 other never-realized cultural productions. FIVE-O YOUR ENTHUSIASM (2Q2021): DARK SHADOWS | MANNIX | GET SMART | THE ADDAMS FAMILY | I DREAM OF JEANNIE | & 20 other Sixties (1964–1973) TV shows. FERB YOUR ENTHUSIASM (1Q2021): STEVEN UNIVERSE | TOP CAT | REN & STIMPY | SHE-RA AND THE PRINCESSES OF POWER | DRAGON BALL Z | & 20 other animated series. CARBONA YOUR ENTHUSIASM (2020): "Sex Bomb" | "Going Underground" | "Soft South Africans" | "Typical Girls" | "Human Fly" | & 20 other Seventies (1974–1983) punk singles. KLAATU YOU (2020 weekly): ZARDOZ | METROPOLIS | DARK STAR | SINS OF THE FLESHAPOIDS | SOLARIS | & dozens of other pre-STAR WARS sci-fi movies. CONVOY YOUR ENTHUSIASM (2019): THE TAKING OF PELHAM ONE TWO THREE | ROLLERBALL | BLACK SUNDAY | SORCERER | STRAIGHT TIME | & 20 other Seventies (1974–1983) action movies. SERIOCOMIC (2019 weekly): LITTLE LULU | VIZ | MARSUPILAMI | ERNIE POOK'S COMEEK | HELLBOY | & dozens of other comics. TUBE YOUR ENTHUSIASM (2018): LOONEY TUNES | THREE STOOGES | THE AVENGERS | ROCKY & BULLWINKLE | THE TWILIGHT ZONE | & 20 other Fifties (1954–1963) TV shows. WOWEE ZOWEE (2018 weekly): UNISEX | UNDER THE PINK | DUMMY | AMOR PROHIBIDO | HIPS AND MAKERS | & dozens of other Nineties (1994–2003) albums. KLUTE YOUR ENTHUSIASM (2017): THE KILLERS | BANDE À PART (BAND OF OUTSIDERS) | ALPHAVILLE | HARPER | BLOW-UP | & 20 other Sixties (1964–1973) neo-noir movies. #SQUADGOALS (2017 weekly): THE WILD BUNCH | BOWIE'S BAND | THE BLOOMSBURY GROUP | THE HONG KONG CAVALIERS | VI ÄR BÄST! & dozens of other squads. GROK MY ENTHUSIASM (2016 weekly): THE THEORY AND PRACTICE OF LUNCH | WEEKEND | MILLION YEAR PICNIC | LA BARONNE EMILE D'ERLANGER | THE SURVIVAL SAMPLER | & dozens more one-off enthusiasms. QUIRK YOUR ENTHUSIASM (2016): "Tainted Love" | "Metal" | "Frankie Teardrop" | "Savoir Faire" | "Broken English" | & 20 other Seventies (1974–1983) new wave singles. CROM YOUR ENTHUSIASM (2015): DARKER THAN YOU THINK | THE SWORD IN THE STONE | OUT OF THE SILENT PLANET | THIEVES' HOUSE | QUEEN OF THE BLACK COAST | & 20 other Thirties (1934–1943) fantasy novels. KERN YOUR ENTHUSIASM (2014): ALDINE ITALIC | DATA 70 | TORONTO SUBWAY | JOHNSTON'S "HAMLET" | TODD KLONE | & 20 other typefaces. HERC YOUR ENTHUSIASM (2013): "Spoonin' Rap" | "Rapper's Delight" | "Rappin' Blow" | "The Incredible Fulk" | "The Adventures of Super Rhyme" | & 20 other Seventies (1974–1983) hip-hop songs. KIRK YOUR ENTHUSIASM (2012): Justice or vengeance? | Kirk teaches his drill thrall to kiss | "KHAAAAAN!" | "No kill I" | Kirk browbeats NOMAD | & 20 other Captain Kirk scenes. KIRB YOUR ENTHUSIASM (2011): THE ETERNALS | BLACK MAGIC | DEMON | OMAC | CAPTAIN AMERICA | & 20 other Jack Kirby panels.