HiLoBooks to publish Haggard!
By: HILOBROW
February 10, 2012
BREAKING NEWS: In September 2012, HiLoBooks will publish When the World Shook, a rare science fiction novel by H. Rider Haggard! This will be the fourth in a series of six Radium Age science fiction novels published in 2012 by HiLoBooks. Please help us spread the word!
NOW AVAILABLE FOR PRE-ORDERING!
Haggard was a popular English writer of adventure novels set in exotic locations, including King Solomon's Mines (considered one of the first of the Lost World genre) and She. When The World Shook, which features suspended animation, a superman from Atlantis, and an infernal engine capable of tilting the planet and drowning mankind, is the most science-fictional of his writings. Haggard's friend Rudyard Kipling assisted with the plotting.
PLUS: A new Introduction by James Parker, English expat friend of/contributor to HiLobrow.com, and a contributing editor at The Atlantic.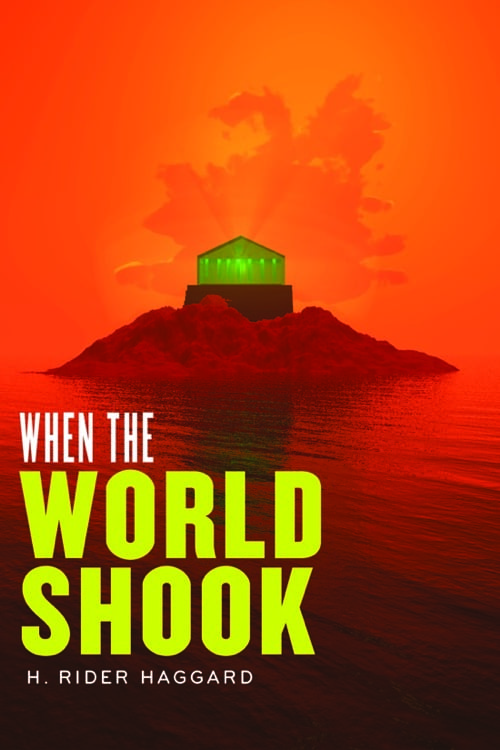 As previously announced, the first three titles we'll serialize online and then publish in print form are: Jack London's The Scarlet Plague (in May; PRE-ORDER NOW), Rudyard Kipling's With the Night Mail and "As Easy as A.B.C." (in June; PRE-ORDER NOW), and Arthur Conan Doyle's The Poison Belt (in July; PRE-ORDER NOW).
The print versions of each book will feature a new introduction, by a HiLobrow contributor or a friend of HiLobrow; and original cover art by Michael Lewy. More titles to be announced in coming months.
HiLobrow.com will serialize When the World Shook — illustrated with period photographs — in 24 weekly installments, from March through August 2012. HiLobrow.com is currently serializing Jack London's The Scarlet Plague. You can subscribe to HILOBROW's serialized fiction via RSS.
For more info on HiLoBooks, visit the HiLoBooks homepage.
Our thanks to io9, the Wall Street Journal blog Ideas Market, NPR's Science Friday blog, Comic Critique, and others for talking up our project! And thanks for the HiLoBooks love, Twitter!
MORE INFO on WHEN THE WORLD SHOOK
When the World Shook
By H. Rider Haggard
[978-1-935869-56-6]
Marooned on a South Sea island, Humphrey Arbuthnot and his friends awaken the last two members of an advanced race, who have spent 250,000 years in a state of suspended animation. Using astral projection, Lord Oro visits London and the battlefields of the Western Front; horrified by the degraded state of modern civilization, he activates chthonic technology capable of obliterating it. Will Oro's beautiful daughter, Yva, who has fallen in love with Humphrey, stop him in time?
The novel was first serialized in 1918-19, and published in book form in 1919. "A really splendid romance, rich in color, fresh and gorgeous in its imaginative qualities and power, and needless to add, absorbingly interesting, is this wherein Rider Haggard tells us of what happened 'When the World Shook.'" — The New York Times, 1919. "Speaking quite soberly and without exaggeration, this story of 'When the World Shook' is an amazing novel. Amazing in its imaginative quality, its romance, the splendor of its descriptions, doubly amazing when one remembers that it is the successor to a long series of colorful tales of adventure in savage or extraordinary lands… We frankly admit that, in our opinion at least, Rider Haggard has never conceived and placed before our eyes any pictures more thrilling or more impressive that are contained in this latest book." — New York Evening Post, 1919. "Rider Haggard has again unbridled his splendid imagination. A thrilling, gigantic wonder tale." — Pittsburgh Sun, 1919. "Infused with a knotted eroticism." — Clute & Nicholls, The Encyclopedia of Science Fiction, 1979.
Think of them! The unmeasured space of blackness threaded by those globes of ghastly incandescence that now hung a while and now shot upwards, downwards, across, apparently without origin or end, like a stream of meteors that had gone mad. Then the travelling mountain, two thousand feet in height, or more, with its enormous saucer-like rim painted round with bands of lurid red and blue, and about its grinding foot the tulip bloom of emitted flame. Then the fierce-faced Oro at his post, his hand upon the rod, waiting, remorseless, to drown half of this great world, with the lovely Yva standing calm-eyed like a saint in hell and watching me above the edge of the shield which such a saint might bear to turn aside the fiery darts of the wicked. And lastly we three men flattened terror-stricken, against the wall.

Nightmare! Imagination! No, these pale before that scene which it was given to our human eyes to witness.

And all the while, bending, bowing towards us — away from us — making obeisance to the path in front as though in greeting, to the path behind as though in farewell; instinct with a horrible life, with a hideous and gigantic grace, that titanic Terror whirled onwards to the mark of fate.
Introduction by James Parker, author of Turned On: A Biography of Henry Rollins and a contributing editor at The Atlantic. In 2010-11, HiLobrow serialized Parker's swearing-animal novel, The Ballad of Cocky the Fox.
Bookstores: For ordering info, please contact Publishers Group West.
Journalists: For media inquiries, please contact Richard Nash.
***
MORE RADIUM AGE SCI FI ON HILOBROW: HiLoBooks homepage! | What is Radium Age science fiction? |Radium Age 100: 100 Best Science Fiction Novels from 1904–33 | Radium Age Supermen | Radium Age Robots | Radium Age Apocalypses | Radium Age Telepaths | Radium Age Eco-Catastrophes | Radium Age Cover Art (1) | SF's Best Year Ever: 1912 | Radium Age Science Fiction Poetry | Enter Highbrowism | Bathybius! Primordial ooze in Radium Age sf | War and Peace Games (H.G. Wells's training manuals for supermen) | Radium Age: Context series | J.D. Beresford | Algernon Blackwood | Edgar Rice Burroughs | Karel Čapek | Buster Crabbe | August Derleth | Arthur Conan Doyle | Hugo Gernsback | Charlotte Perkins Gilman | Cicely Hamilton | Hermann Hesse | William Hope Hodgson | Aldous Huxley | Inez Haynes Irwin | Alfred Jarry | Jack Kirby (Radium Age sf's influence on) | Murray Leinster | Gustave Le Rouge | Gaston Leroux | David Lindsay | Jack London | H.P. Lovecraft | A. Merritt | Maureen O'Sullivan | Sax Rohmer | Paul Scheerbart | Upton Sinclair | Clark Ashton Smith | E.E. "Doc" Smith | Olaf Stapledon | John Taine | H.G. Wells | Jack Williamson | Stanisław Ignacy Witkiewicz | S. Fowler Wright | Philip Gordon Wylie | Yevgeny Zamyatin