De Condimentis (3)
By: Tom Nealon
September 29, 2010
THE VENN PLATTER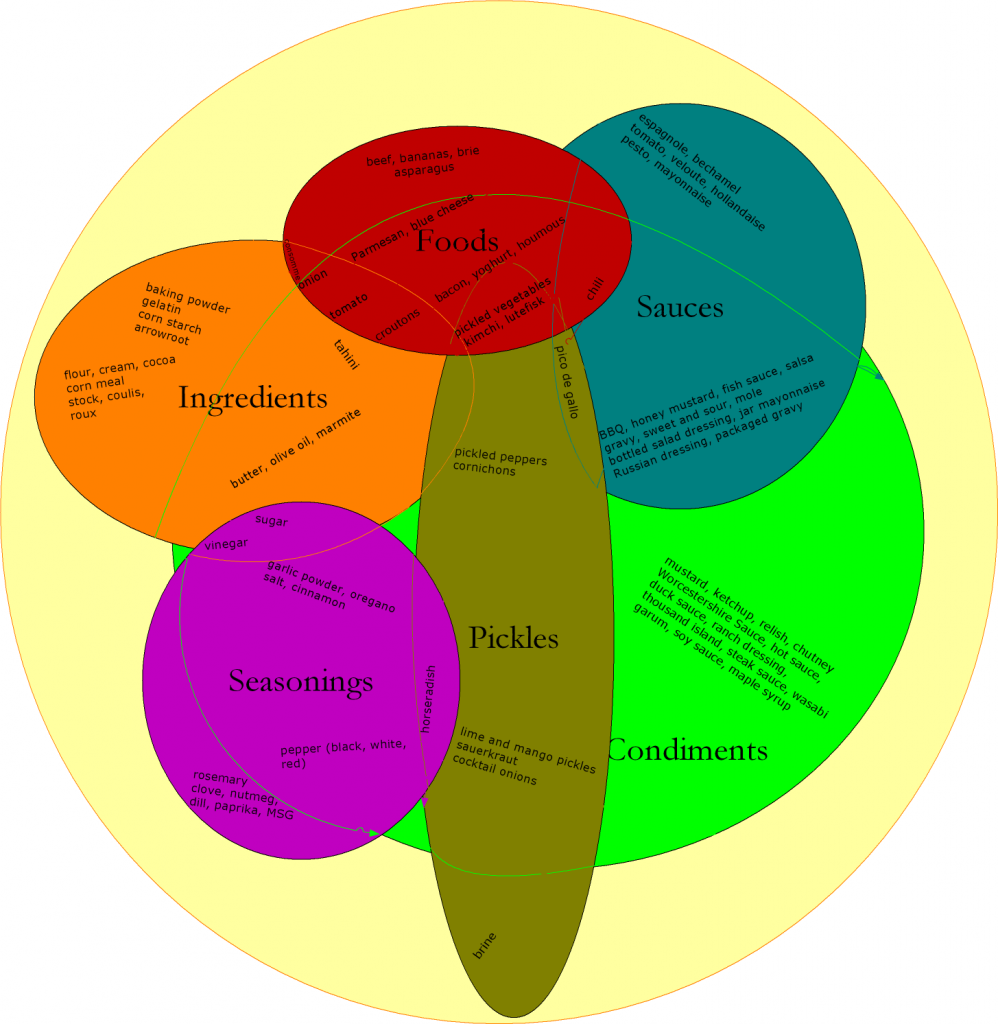 Click on the image to blow it up to full size.
Notes:
1. I've largely ignored anything whose primary purpose is to be spread on bread (or toast if you're English). Your nut butters, Nutella, fluff, jams, jellys, marmalades, etc. Perhaps they can be dealt with alone someday – perhaps in a dark alley behind a bakery, late some night…
2. Sauces have a propensity to turn feral, ranging beyond their accustomed category to act as condiments or even ingredients. Some sauces that have turned feral: BBQ, honey mustard, fish sauce (there are too many fish sauces to categorize, and they are used in too many ways, but what's more feral than uncategorizability?), salsa, sweet-and-sour, mole, gravy. Pesto is not yet feral, but it's curious. Tomato sauce, too, shows evidence of turning feral, but as yet its feral uses are limited to bread sticks and fried cheese.
3. Sauces that have been dumbed down into mere condiments include bottled salad dressing, jar mayonnaise, Russian dressing.
4. Chutney, as a class, defies categorization (some are sauces, while others have turned feral).
5. Marmite is an ingredient for a dish that doesn't exist.
6. Cream is an ingredient — unless you routinely drink cream, in which case it's a food.
7. Thousand island dressing is a sauce not dumbed down, but invented to be, a condiment (Russian dressing + relish = nothing dumb about that).
***
MORE CONDIMENTS: Series Introduction | Fish Sauce | Diagram of Condiments vs. Sauces, etc. | Hot Sauce | Vinegar | Drunken Vinegar | Balsamic Vinegar | Food History | Barbecue Sauce | Butter | Mustard | Sour Cream | Maple Syrup | Salad Dressing | Gravy
STUFFED SERIES: THE MAGAZINE OF TASTE | AUGURIES AND PIGNOSTICATIONS | THE CATSUP WAR | CAVEAT CONDIMENTOR | CURRIE CONDIMENTO | POTATO CHIPS AND DEMOCRACY | PIE SHAPES | WHEY AND WHEY NOT | PINK LEMONADE | EUREKA! MICROWAVES | CULINARY ILLUSIONS | AD SALSA PER ASPERA | THE WAR ON MOLE | ALMONDS: NO JOY | GARNISHED | REVUE DES MENUS | REVUE DES MENUS (DEUX) | WORCESTERSHIRE SAUCE | THE THICKENING | TRUMPED | CHILES EN MOVIMIENTO | THE GREAT EATER OF KENT | GETTING MEDIEVAL WITH CHEF WATSON | KETCHUP & DIJON | TRY THE SCROD | MOCK VENISON | THE ROMANCE OF BUTCHERY | I CAN HAZ YOUR TACOS | STUFFED TURKEY | BREAKING GINGERBREAD | WHO ATE WHO? | LAYING IT ON THICK | MAYO MIXTURES | MUSICAL TASTE | ELECTRIFIED BREADCRUMBS | DANCE DANCE REVOLUTION | THE ISLAND OF LOST CONDIMENTS | FLASH THE HASH | BRUNSWICK STEW: B.S. | FLASH THE HASH, pt. 2 | THE ARK OF THE CONDIMENT | SQUEEZED OUT | SOUP v. SANDWICH | UNNATURAL SELECTION | HI YO, COLLOIDAL SILVER | PROTEIN IN MOTION | GOOD RIDDANCE TO RESTAURANTS.