Denver Pyle
By: David Smay
May 11, 2009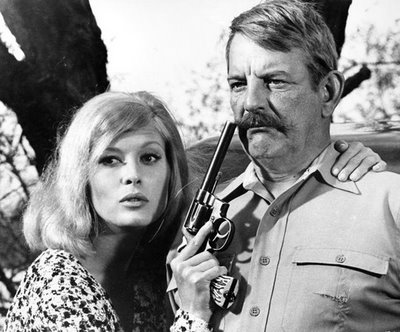 You know everything you need to know about career of DENVER PYLE (1920-1997) by looking at his characters' names: Amos Carruthers, Bagley the Blacksmith , Jumpy Jordan, Grandpappy John, Briscoe Darling, and, of course, Uncle Jesse. The avuncular hillbilly par excellence, Pyle looked fabulous in either buckskins or overalls. Not so much an actor as a found object of mountain-man authenticity in size, bearing, face, and voice. With a filmography that features more than seventy-five films, he managed exactly three stone classics: Johnny Guitar, The Man Who Shot Liberty Valance, and Bonnie and Clyde.
On his or her birthday, HiLobrow irregularly pays tribute to one of our high-, low-, no-, or hilobrow heroes. Also born this date: Rosa Auslander,
Martha Graham
, Phil Silvers.
READ MORE about members of the New God Generation (1914-23).