ILLICIT OBJECTS (16)
By: Douglas Rushkoff
August 20, 2017
One in a 25-part series of nonfiction stories about objects of illicit significance. This is the third volume in the PROJECT:OBJECT series. Please subscribe to the P:O newsletter; and purchase P:O apparel and accessories — all profits will be donated to the ACLU!
*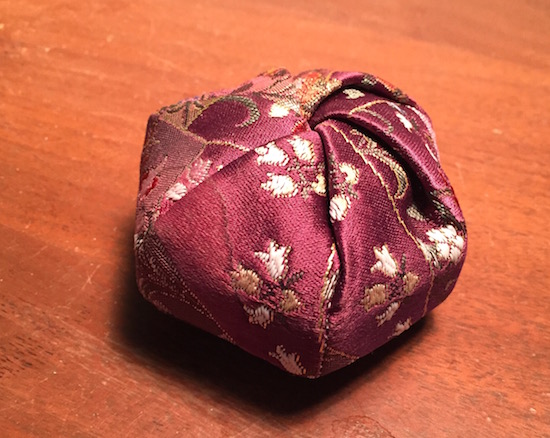 You might have assumed that Timothy Leary's Los Angeles home was quite a drug den. But from the 1980s onward, as I discovered for myself, after we became friendly, Tim rarely kept any serious stores of drugs of his own. There were always drugs in the house — because everyone who visited him came bearing gifts. People considered it an honor to offer Tim whatever exotic strain of chemical or pill they could access. If he wanted a joint, whoever was visiting would just roll one from their own supply.
Tim's own supply of drugs was minuscule. In addition to a couple of pills, a little paper-fold of cocaine, and maybe a hit of E, his little silk stash box contained implements: a little glass tube, a razor blade.
In 1995, when Tim revealed that he had untreatable prostate cancer, the bounty grew even larger. Some famous old LSD chemist got released from wherever they were holding him, long enough for him to cook up some black gelatin tabs for Tim's 75th birthday bash that year. One guy used to bring vials of Ketamine injectable that we'd reduce in the microwave to a powder for Tim to snort. When Oliver Stone came by one afternoon, Tim hoped he was planning to direct a Leary biopic; alas, he was bearing a mason jar of some South American concoction that he wanted Tim to try.
By the end, though, Tim was doing mainly nitrous. It was the only thing that took away the pain. We got a big tank from the auto supply shop, and Tim would inhale balloons. Everybody else started doing it, too: It was like a two-month-long nitrous party, with guests dropping in and out to say their farewells (in case Tim died before their next visit) and to have a couple of balloons. Often there were no balloons left for Tim.
So he started keeping one or two spare nitrous balloons in his stash box. I saw this as emblematic of his generosity; he had to take measures in order to guarantee access to his own drugs. When Tim died, I kept the stash box — to remind myself that there are limits.
*
ILLICIT OBJECTS series: INTRODUCTION | Kio Stark on PEEPSHOW TOKEN | Sari Wilson on TOMBSTONE PARTS | Annalee Newitz on CAR-BOMB REMNANT | Tito Bottitta on MOONINITE DEVICE | Eric Bennett on DIRTY MAGAZINE | Natalie Kestecher on EROTIC RECORDING (audio) | Wayne Chambliss on RADIOACTIVE TRINITITE | Julian Hoeber on PIG HAMMER | Catherine Newman on HOARDED VICODIN | Josh Glenn on JAY-PEE SLUGGER | Nicole Pasulka on SHROOMS (audio) | Paul Lukas on STOLEN CORKSCREW | Shelby El Otmani on OCCULT CANDLE (audio) | Sam Dingman on HACK DOCUMENTS (audio) | Andrew Leland on GUIDE CANE (audio) | Douglas Rushkoff on LEARY'S STASH BOX | Kalila Holt on BURNT UNDERWEAR (audio) | William Gibson on RACIST BOOK | Alison Fensterstock on FUNERAL FLOWER | Julia Barton on PREGNANCY TEST (audio) | Miranda Mellis on GOLD TEETH | Katie Notopoulos on COPULATING PIGS | Ramona Martinez on STOLEN REMNANT (audio) | Wesley Stace on TOM WAITS NOTE | Mike Montiero on BO DEREK CARDS.
TALISMANIC OBJECTS series: INTRODUCTION | Veda Hille on CROCHET SHEEP | Gary Panter on DINOSAUR BONES | Jami Attenberg on SELENITE CRYSTAL | Annie Nocenti on MINIATURE DICE | Wayne Curtis on CLOCK WINDING KEY | & 20 MORE.
POLITICAL OBJECTS series: INTRODUCTION | Luc Sante on CAMPAIGN PAMPHLETS | Lydia Millet on PVC POLAR BEAR | Ben Greenman on MATCHBOX CAR | Rob Baedeker on PRESIDENTS PLACEMAT | L.A. Kauffman on WHEATPASTE POSTER | & 20 MORE.
SIGNIFICANT OBJECTS at HILOBROW: PROJECT:OBJECT homepage | PROJECT:OBJECT newsletter | PROJECT:OBJECT objects (Threadless shop — all profits donated to the ACLU) | POLITICAL OBJECTS series (1Q2017) | TALISMANIC OBJECTS series (2Q2017) | ILLICIT OBJECTS series (3Q2017) | LOST OBJECTS vol. 1 series (4Q2017) | FLAIR series (2Q2018) | FOSSIL series (4Q2018). 12 DAYS OF SIGNIFICANCE | 12 MORE DAYS OF SIGNIFICANCE | 12 DAYS OF SIGNIFICANCE (AGAIN) | ANOTHER 12 DAYS OF SIGNIFICANCE . ALSO SEE: SIGNIFICANT OBJECTS website | SIGNIFICANT OBJECTS collection, ed. Rob Walker and Josh Glenn (Fantagraphics, 2012) | TAKING THINGS SERIOUSLY, ed. Josh Glenn (Princeton Architectural Press, 2007) | TAKING THINGS SERIOUSLY excerpts.