FRIEND ISLAND (5)
By: Francis Stevens
June 6, 2021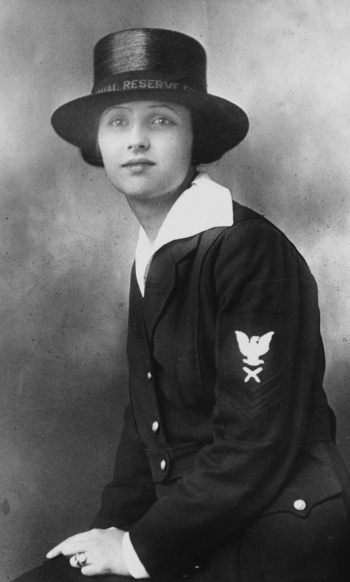 Joy Bright Hancock, one of the first women officers of the US Navy, c. 1918
Using the masculine pen name "Francis Stevens," from 1917–1923 Gertrude Barrows Bennett emerged as one of the first female writers to make a mark in fantasy writing and the nascent sf genre. HiLoBooks is pleased to serialize her 1918 story "Friend Island," a proto-Forbidden Planet parable set in a woman-dominated 22nd century, for HILOBROW's readers.
ALL INSTALLMENTS: 1 | 2 | 3 | 4 | 5.
***
"During them days I really got fond of Nelson Smith. He was a companionable body, and brave, or he wouldn't have been a professional aeronauter, a job that was rightly thought tough enough for a woman, let alone a man. Though he was not so well educated as me, at least he was quiet and modest about what he did know, not like some men, boasting most where there is least to brag of.
"Indeed, I misdoubt if Nelson and me would not have quit the sea and the air together and set up housekeeping in some quiet little town up in New England, maybe, after we had got away, if it had not been for what happened when we went. I never, let me say, was so deceived in any man before nor since. The thing taught me a lesson and I never was fooled again.
"We was all ready to go, and then one morning, like a parting gift from Anita, come a soft and favoring wind. Nelson and I run down the beach together, for we didn't want our floater to blow off and leave us. As we was running, our arms full of coconuts, Nelson Smith, stubbed his bare toe on a sharp rock, and down he went. I hadn't noticed, and was going on.
"But sudden the ground begun to shake under my feet, and the air was full of a queer, grinding, groaning sound, like the very earth was in pain.
"I turned around sharp. There sat Nelson, holding his bleeding toe in both fists and giving vent to such awful words as no decent sea-going lady would ever speak nor hear to!
"'Stop it, stop it!' I shrieked at him, but 'twas too late.
"Island or no island, Anita was a lady, too! She had a gentle heart, but she knowed how to behave when she was insulted.
"With one terrible, great roar a spout of smoke and flame belched up out o' the heart of Anita's crater hill a full mile into the air!
"I guess Nelson stopped swearing. He couldn't have heard himself, anyways. Anita was talking now with tongues of flame and such roars as would have bespoke the raging protest of a continent.
"I grabbed that fool man by the hand and run him down to the water. We had to swim good and hard to catch up with our only hope, the floater. No bark rope could hold her against the stiff breeze that was now blowing, and she had broke her cable. By the time we scrambled aboard great rocks was falling right and left. We couldn't see each other for a while for the clouds of fine gray ash.
"It seemed like Anita was that mad she was flinging stones after us, and truly I believe that such was her intention. I didn't blame her, neither!
"Lucky for us the wind was strong and we was soon out of range.
"'So!' says I to Nelson, after I'd got most of the ashes out of my mouth, and shook my hair clear of cinders. 'So, that was the reason you up and left sudden when you was there before! You aggravated that island till the poor thing druv you out!'
"'Well,' says he, and not so meek as I'd have admired to see him, 'how could I know the darn island was a lady?'
"'Actions speak louder than words,' says I. 'You should have knowed it by her ladylike behavior!'
"'Is volcanoes and slingin' hot rocks ladylike?' he says. 'Is snakes ladylike? T'other time I cut my thumb on a tin can, I cussed a little bit. Say — just a li'l' bit! An' what comes at me out o' all the caves, and out o' every crack in the rocks, and out o' the very spring o' water where I'd been drinkin'? Why snakes! Snakes, if you please, big, little, green, red and sky-blue-scarlet! What'd I do? Jumped in the water, of course. Why wouldn't I? I'd ruther swim and drown than be stung or swallowed to death. But how was I t' know the snakes come outta the rocks because I cussed?'
"'You, couldn't,' I agrees, sarcastic. 'Some folks never knows a lady till she up and whangs 'em over the head with a brick. A real, gentle, kind-like warning, them snakes were, which you would not heed! Take shame to yourself, Nelly,' says I, right stern, 'that a decent little island like Anita can't associate with you peaceable, but you must hurt her sacredest feelings with language no lady would stand by to hear!'
"I never did see Anita again. She may have blew herself right out of the ocean in her just wrath at the vulgar, disgustin' language of Nelson Smith. I don't know. We was took off the floater at last, and I lost track of Nelson just as quick as I could when we was landed at Frisco.
"He had taught me a lesson. A man is just full of mannishness, and the best of 'em ain't good enough for a lady to sacrifice her sensibilities to put up with.
"Nelson Smith, he seemed to feel real bad when he learned I was not for him, and then he apologized. But apologies weren't no use to me. I could never abide him, after the way he went and talked right in the presence of me and my poor, sweet lady friend, Anita!"
Now I am well versed in the lore of the sea in all ages. Through mists of time I have enviously eyed wild voyagings of sea rovers who roved and spun their yarns before the stronger sex came into its own, and ousted man from his heroic pedestal. I have followed — across the printed page — the wanderings of Odysseus. Before Gulliver I have burned the incense of tranced attention; and with reverent awe considered the history of one Munchausen, a baron. But alas, these were only men!
In what field is not woman our subtle superior?
Meekly I bowed my head, and when my eyes dared lift again, the ancient mariness had departed, leaving me to sorrow for my surpassed and outdone idols. Also with a bill for macaroons and tea of such incredible proportions that in comparison therewith I found it easy to believe her story!
***
RADIUM AGE PROTO-SF: "Radium Age" is Josh Glenn's name for the nascent sf genre's c. 1900–1935 era, a period which saw the discovery of radioactivity, i.e., the revelation that matter itself is constantly in movement — a fitting metaphor for the first decades of the 20th century, during which old scientific, religious, political, and social certainties were shattered. More info here.
SERIALIZED BY HILOBOOKS: Jack London's The Scarlet Plague | Rudyard Kipling's With the Night Mail (and "As Easy as A.B.C.") | Arthur Conan Doyle's The Poison Belt | H. Rider Haggard's When the World Shook | Edward Shanks' The People of the Ruins | William Hope Hodgson's The Night Land | J.D. Beresford's Goslings | E.V. Odle's The Clockwork Man | Cicely Hamilton's Theodore Savage | Muriel Jaeger's The Man With Six Senses | Jack London's "The Red One" | Philip Francis Nowlan's Armageddon 2419 A.D. | Homer Eon Flint's The Devolutionist | W.E.B. DuBois's "The Comet" | Edgar Rice Burroughs's The Moon Men | Charlotte Perkins Gilman's Herland | Sax Rohmer's "The Zayat Kiss" | Eimar O'Duffy's King Goshawk and the Birds | Frances Hodgson Burnett's The Lost Prince | Morley Roberts's The Fugitives | Helen MacInnes's The Unconquerable | Geoffrey Household's Watcher in the Shadows | William Haggard's The High Wire | Hammond Innes's Air Bridge | James Branch Cabell's Jurgen | John Buchan's "No Man's Land" | John Russell's "The Fourth Man" | E.M. Forster's "The Machine Stops" | John Buchan's Huntingtower | Arthur Conan Doyle's When the World Screamed | Victor Bridges' A Rogue By Compulsion | Jack London's The Iron Heel | H. De Vere Stacpoole's The Man Who Lost Himself | P.G. Wodehouse's Leave It to Psmith | Richard Connell's "The Most Dangerous Game" | Houdini and Lovecraft's "Imprisoned with the Pharaohs" | Arthur Conan Doyle's "The Sussex Vampire" | Francis Stevens's "Friend Island" | George C. Wallis's "The Last Days of Earth" | Frank L. Pollock's "Finis" | A. Merritt's The Moon Pool | E. Nesbit's "The Third Drug" | George Allan England's "The Thing from — 'Outside'" | Booth Tarkington's "The Veiled Feminists of Atlantis" | H.G. Wells's "The Land Ironclads" | J.D. Beresford's The Hampdenshire Wonder | Valery Bryusov's "The Republic of the Southern Cross" | Algernon Blackwood's "A Victim of Higher Space" | A. Merritt's "The People of the Pit" | Max Brand's The Untamed | Julian Huxley's "The Tissue-Culture King" | Clare Winger Harris's "A Runaway World" | Francis Stevens's "Thomas Dunbar" | George Gurdjieff's "Beelzebub's Tales" | Robert W. Chambers's "The Harbor-Master".
ORIGINAL FICTION: HILOBROW has serialized three novels: James Parker's The Ballad of Cocky The Fox ("a proof-of-concept that serialization can work on the Internet" — The Atlantic); Karinne Keithley Syers's Linda Linda Linda (which includes original music); and Robert Waldron's roman à clef The School on the Fens. We also publish original stories and comics. These include: Matthew Battles's stories "Gita Nova", "Makes the Man," "Imago," "Camera Lucida," "A Simple Message", "Children of the Volcano", "The Gnomon", "Billable Memories", "For Provisional Description of Superficial Features", "The Dogs in the Trees", "The Sovereignties of Invention", and "Survivor: The Island of Dr. Moreau"; several of these later appeared in the collection The Sovereignties of Invention | Peggy Nelson's "Mood Indigo", "Top Kill Fail", and "Mercerism" | Annalee Newitz's "The Great Oxygen Race" | Flourish Klink's Star Trek fanfic "Conference Comms" | Charlie Mitchell's "A Fantasy Land" | Charlie Mitchell's "Sentinels" | Joshua Glenn's "The Lawless One", and the mashup story "Zarathustra vs. Swamp Thing" | Adam McGovern and Paolo Leandri's Idoru Jones comics | John Holbo's "Sugarplum Squeampunk" | "Another Corporate Death" (1) and "Another Corporate Death" (2) by Mike Fleisch | Kathryn Kuitenbrouwer and Frank Fiorentino's graphic novel "The Song of Otto" (excerpt) | John Holbo's graphic novel On Beyond Zarathustra (excerpt) | "Manoj" and "Josh" by Vijay Balakrishnan | "Verge" by Chris Rossi, and his audio novel Low Priority Hero | EPIC WINS: THE ILIAD (1.408-415) by Flourish Klink | EPIC WINS: THE KALEVALA (3.1-278) by James Parker | EPIC WINS: THE ARGONAUTICA (2.815-834) by Joshua Glenn | EPIC WINS: THE MYTH OF THE ELK by Matthew Battles | TROUBLED SUPERHUMAN CONTEST: Charles Pappas, "The Law" | CATASTROPHE CONTEST: Timothy Raymond, "Hem and the Flood" | TELEPATHY CONTEST: Rachel Ellis Adams, "Fatima, Can You Hear Me?" | OIL SPILL CONTEST: A.E. Smith, "Sound Thinking | LITTLE NEMO CAPTION CONTEST: Joe Lyons, "Necronomicon" | SPOOKY-KOOKY CONTEST: Tucker Cummings, "Well Marbled" | INVENT-A-HERO CONTEST: TG Gibbon, "The Firefly" | FANFICTION CONTEST: Lyette Mercier's "Sex and the Single Superhero"