UNSEEN — UNFEARED (9)
By: Francis Stevens
September 4, 2023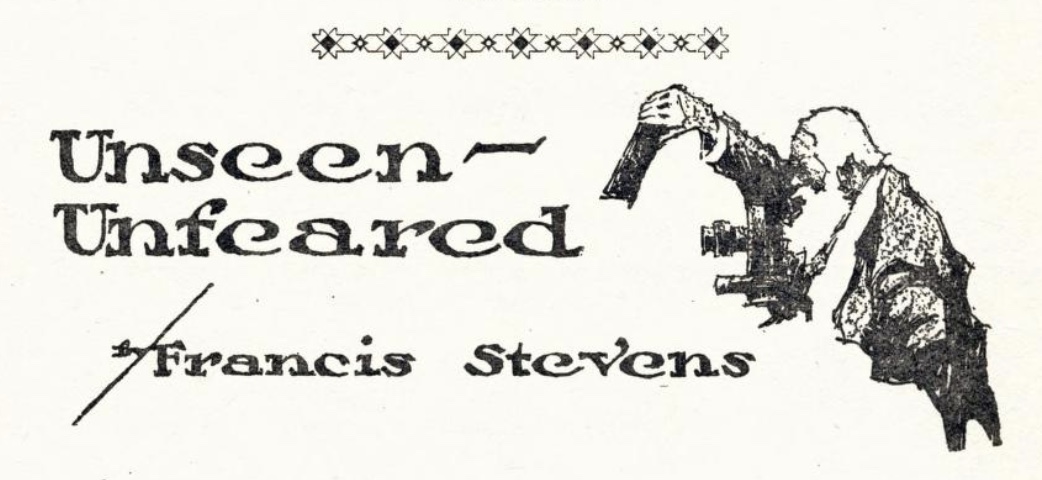 "Unseen — Unfeared" was originally published in the February 10, 1919 edition of People's Favorite Magazine. HiLoBooks is pleased to serialize it here for HILOBROW's readers.
ALL INSTALLMENTS: 1 | 2 | 3 | 4 | 5 | 6 | 7 | 8 | 9 | 10.
***
V.
My friend Mark Jenkins is an intelligent and usually a very careful man. When he took from "Smiler" Callahan a cigar which had every appearance of being excellent, innocent Havana, the act denoted both intelligence and caution. By very clever work he had traced the poisoning of young Ralph Peeler to Mr. Callahan's door, and he believed this particular cigar to be the mate of one smoked by Peeler just previous to his demise. And if, upon arresting Callahan, he had not confiscated this bit of evidence, it would have doubtless been destroyed by its regrettably unconscientious owner.
But when Jenkins shortly afterward gave me that cigar, as one of his own, he committed one of those almost inconceivable blunders which, I think, are occasionally forced upon clever men to keep them from overweening vanity. Discovering his slight mistake, my detective friend spent the night searching for his unintended victim, myself, and that his search was successful was due to Pietro Marini, a young Italian of Jenkins' acquaintance, whom he met about the hour of two a.m. returning from a dance.
Now, Marini had seen me standing on the steps of the house where Doctor Frederick Holt had his laboratory and living rooms, and he had stared at me, not with any ill intent, because he thought I was the sickest-looking, most ghastly specimen of humanity that he had ever beheld. And, sharing the superstition of his South Street neighbors, he wondered if the worthy doctor had poisoned me as well as Peeler. This suspicion he imparted to Jenkins, who, however, had the best of reasons for believing otherwise. Moreover, as he informed Marini, Holt was dead, having drowned himself late the previous afternoon. An hour or so after our talk in the restaurant news of his suicide reached Jenkins.
It seemed wise to search any place where a very sick-looking young man had been seen to enter, so Jenkins came straight to the laboratory. Across the fronts of those houses was the long sign with its mysterious inscription, "See the Great Unseen," not at all mysterious to the detective. He knew that next door to Doctor Holt's the second floor had been thrown together into a lecture room, where at certain hours a young man employed by settlement workers displayed upon a screen stereopticon views of various deadly bacilli, the germs of diseases appropriate to dirt and indifference. He knew, too, that Doctor Holt himself had helped the educational effort along by providing some really wonderful lantern slides, done by micro-color photography.
On the pavement outside, Jenkins found the two-thirds remnant of a cigar, which he gathered in and came up the steps, a very miserable and self-reproachful detective. Neither outer nor inner door was locked, and in the laboratory he found me, alive, but on the verge of death by another means than he had feared.
In the extreme physical depression following my awakening from drugged sleep, and knowing nothing of its cause, I believed my adventure fact in its entirety. My mentality was at too low an ebb to resist its dreadful suggestion. I was searching among Holt's various bottles when Jenkins burst in. At first I was merely annoyed at the interruption of my purpose, but before the anticlimax of his explanation the mists of obsession drifted away and left me still sick in body, but in spirit happy as any man may well be who has suffered a delusion that the world is wholly bad—and learned that its badness springs from his own poisoned brain.
The malice which I had observed in every face, including young Marini's, existed only in my drug-affected vision. Last week's "popular-science" lecture had been recalled to my subconscious mind—the mind that rules dreams and delirium—by the photographic apparatus in Holt's workroom. "See the Great Unseen" assisted materially, and even the corner drug store before which I had paused, with its green-lit show vases, had doubtless played a part. But presently, following something Jenkins told me, I was driven to one protest. "If Holt was not here," I demanded, "if Holt is dead, as you say, how do you account for the fact that I, who have never seen the man, was able to give you an accurate description which you admit to be that of Doctor Frederick Holt?"
He pointed across the room. "See that?" It was a life-size bust portrait, in crayons, the picture of a white-haired man with bushy eyebrows and the most piercing black eyes I had ever seen—until the previous evening. It hung facing the door and near the windows, and the features stood out with a strangely lifelike appearance in the white rays of the arc lamp just outside. "Upon entering," continued Jenkins, "the first thing you saw was that portrait, and from it your delirium built a living, speaking man. So, there are your white-haired showman, your unnatural fear, your color photography and your pretty green golliwogs all nicely explained for you, Blaisdell, and thank God you're alive to hear the explanation. If you had smoked the whole of that cigar—well, never mind. You didn't. And now, my very dear friend, I think it's high time that you interviewed a real, flesh-and-blood doctor. I'll phone for a taxi."
***
RADIUM AGE PROTO-SF: "Radium Age" is Josh Glenn's name for the nascent sf genre's c. 1900–1935 era, a period which saw the discovery of radioactivity, i.e., the revelation that matter itself is constantly in movement — a fitting metaphor for the first decades of the 20th century, during which old scientific, religious, political, and social certainties were shattered. More info here.
SERIALIZED BY HILOBOOKS: Jack London's The Scarlet Plague | Rudyard Kipling's With the Night Mail (and "As Easy as A.B.C.") | Arthur Conan Doyle's The Poison Belt | H. Rider Haggard's When the World Shook | Edward Shanks' The People of the Ruins | William Hope Hodgson's The Night Land | J.D. Beresford's Goslings | E.V. Odle's The Clockwork Man | Cicely Hamilton's Theodore Savage | Muriel Jaeger's The Man With Six Senses | Jack London's "The Red One" | Philip Francis Nowlan's Armageddon 2419 A.D. | Homer Eon Flint's The Devolutionist | W.E.B. DuBois's "The Comet" | Edgar Rice Burroughs's The Moon Men | Charlotte Perkins Gilman's Herland | Sax Rohmer's "The Zayat Kiss" | Eimar O'Duffy's King Goshawk and the Birds | Frances Hodgson Burnett's The Lost Prince | Morley Roberts's The Fugitives | Helen MacInnes's The Unconquerable | Geoffrey Household's Watcher in the Shadows | William Haggard's The High Wire | Hammond Innes's Air Bridge | James Branch Cabell's Jurgen | John Buchan's "No Man's Land" | John Russell's "The Fourth Man" | E.M. Forster's "The Machine Stops" | John Buchan's Huntingtower | Arthur Conan Doyle's When the World Screamed | Victor Bridges' A Rogue By Compulsion | Jack London's The Iron Heel | H. De Vere Stacpoole's The Man Who Lost Himself | P.G. Wodehouse's Leave It to Psmith | Richard Connell's "The Most Dangerous Game" | Houdini and Lovecraft's "Imprisoned with the Pharaohs" | Arthur Conan Doyle's "The Sussex Vampire" | Francis Stevens's "Friend Island" | George C. Wallis's "The Last Days of Earth" | Frank L. Pollock's "Finis" | A. Merritt's The Moon Pool | E. Nesbit's "The Third Drug" | George Allan England's "The Thing from — 'Outside'" | Booth Tarkington's "The Veiled Feminists of Atlantis" | H.G. Wells's "The Land Ironclads" | J.D. Beresford's The Hampdenshire Wonder | Valery Bryusov's "The Republic of the Southern Cross" | Algernon Blackwood's "A Victim of Higher Space" | A. Merritt's "The People of the Pit" | Max Brand's The Untamed | Julian Huxley's "The Tissue-Culture King" | Clare Winger Harris's "A Runaway World" | Francis Stevens's "Thomas Dunbar" | George Gurdjieff's "Beelzebub's Tales" | Robert W. Chambers's "The Harbor-Master".