Série noire (3)
By: Alix Lambert
May 18, 2016
One in a series of posts, by Alix Lambert, filmmaker and author of Crime: A Series of Extraordinary Interviews Exposing the World of Crime — Real and Imagined (2008), about eight crime movies that blew her mind as a young adult.
***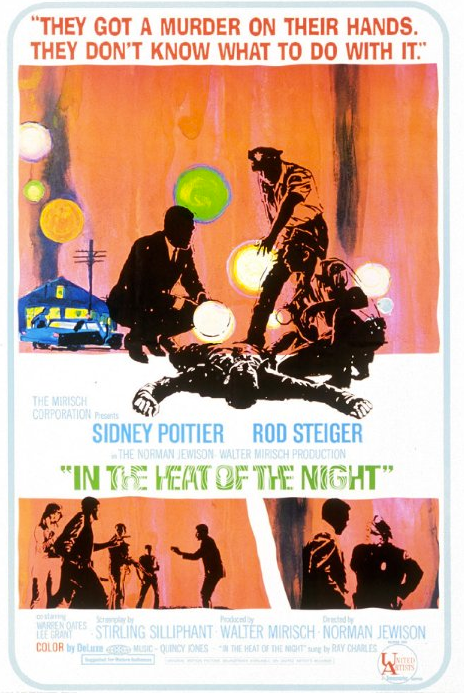 In the Heat of the Night (1967), directed by Norman Jewison.
Almost 50 years ago a film came out starring Sidney Poitier and Rod Steiger set in Mississippi. Directed by Norman Jewison, scored by Quincy Jones, and lensed by the brilliant, recently passed, Haskell Wexler, In The Heat of The Night was controversial in 1967.
Last week, George Zimmerman attempted to sell the gun he used to murder Trayvon Martin.
Re-watching In the Heat of The Night, I wish that I could write that all these years later that a black man would no longer be arrested for a murder that he had no connection to. I wish I could write that a black, unarmed teenager didn't have to worry about being gunned down by a white man who would go unpunished. I wish I could write that a black man no longer had to fear the police. I wish that the shock and horror I felt when I first saw the film as a young teenager was a thing of the past.
Poitier plays Virgil Tibbs, Philadelphia's best homicide detective who happens to be in Misssissippi when he is arrested on suspicion of murdering a prominent white man. Steiger plays Bill Gillespie, the racist Chief of Police who is forced to work with Poitier to solve the case. Both Steiger and Poitier are excellent, but it's Poitier who is the heart, soul, and pulse of the entire film. Poitier is able to do what he is always able to do – deliver a performance of such intensity and measured control that he is immediately and consistently the one you watch. Steiger won Best Actor for his performsnce. Poitier was not even nominated.
I wish I could write that a black actor might have a fair shot at an Oscar nomination. Instead, here is a list of unarmed black men who were killed by police last year:
Michael Brown
Artago Damon Howard
Jeremy Lett
Lavall Hall
Thomas Allen
Charly Leundeu Keunang
Naeschylus Vinzant
Tony Robinson
Anthony Hill
Bobby Gross
Brandon Jones
Eric Harris
Walter Scott
Frank Shephard
William Chapman
David Felix
Brandon Glenn
Kris Jackson
Spencer McCain
Salvado Ellswood
Albert Joseph Davis
Darrius Stewart
Samuel Dubose
Victor Emanuel Larosa
Christian Taylor
The following is excerpted from Bosley Crowther's New York Times review of the film, published almost 50 fucking years ago: "The hot surge of racial hate and prejudice that is so evident and critical now in so many places in this country…. In this juxtaposition of resentments between whites and blacks is vividly and forcefully illustrated one of the awful dilemmas of our times."
***
SÉRIE NOIRE SERIES: The Chalk Garden (1964) | I Confess (1952) | In the Heat of the Night (1967) | The Return of Martin Guerre (1982) | Wanda (1970) | Sorry, Wrong Number (1948) | The Bad Seed (1956) | Joe (1970).
MORE ALIX LAMBERT at HILOBROW: SÉRIE NOIRE series | GROK MY ENTHUSIASM: The Skies Belong To Us | HERMENAUTIC TAROT: The Eye Floater | MORE: including HILO HERO items on Patty Wagstaff, Nelson George, William Kentridge, Angela Davis, and Vito Acconci.
MORE MOVIES at HILOBROW: KLUTE YOUR ENTHUSIASM: 25 neo-noirs of the Sixties (1964–1973) | James Parker's BOURNE VARIATIONS series | Alix Lambert's SÉRIE NOIRE series | Jacob Mikanowski's SCREEN TIME series | Josh Glenn's SHOCKING BLOCKING series | Joanne McNeil's ALL MY STARS series | MORE: including dozens of HILO HERO items on movie directors and actors.