Série noire (6)
By: Alix Lambert
September 6, 2016
One in a series of posts, by Alix Lambert, filmmaker and author of Crime: A Series of Extraordinary Interviews Exposing the World of Crime — Real and Imagined (2008), about eight crime movies that blew her mind as a young adult.
***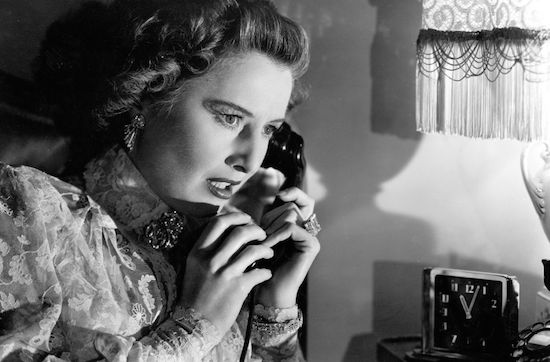 SORRY, WRONG NUMBER (1948), directed by ANATOLE LITVAK.
Barbara Stanwyck was one of the few actors able to successfully transition from silent films to talkies, as much capable of expressing herself with her voice as with her riveting face. Sorry, Wrong Number demands both of her in equal measure, and she delivers.
Directed by Anatole Litvak, and written by Lucille Fletcher (who adapted her own radio play), the 1948 film stars Stanwyck as bedridden Leona Stevenson, only daughter of a wealthy pharmaceutical company owner — who overhears a murder plot when her telephone line gets crossed. The entire film consists of a series of phone calls. We watch Stanwyck go from perfectly composed to terrifyingly undone as she learns that she is the intended murder victim.
Text runs over a bank of phone operators plugging in and connecting and disconnecting calls.
IN THE TANGLED NETWORKS OF A GREAT CITY, THE TELEPHONE IS THE UNSEEN LINK BETWEEN A MILLION LIVES… IT IS THE SERVANT OF OUR COMMON NEEDS… THE CONFIDANTE OF OUR INMOST SECRETS… LIFE AND HAPPINESS WAIT UPON ITS RING…. AND HORROR… AND DEATH!!!
We glean bits of information from that initial call. The murder will take place at 11:15 that night — so that the passing train will drown out any potential screams. The killer is to enter through the kitchen window. Slow pans through the huge, dark, empty house punctuated by sounds of bygone phone culture:
The rotary phone being dialed.
The busy signal.
The phone left off the hook.
The pay phone.
"Your five minutes are up."
No more nickels.
Leona makes and receives calls to a string of people: her husband's secretary, an old flame of his, a chemist for her father's company, the police, the operator, her father, and her husband. Henry Stevenson (Burt Lancaster) has gotten himself into trouble by trying to cheat her father's company. Believing that Leona will die soon from poor health, he thinks he will be able to use life insurance money to resolve his financial problems. But when her doctor tells Henry there is nothing wrong with his wife physically — she's just a neurotic — a murder is planned.
Shots of clocks periodically tell us what time it is as we get closer and closer to 11:15.
Leona receives a call from the chemist, Waldo Evans (Harold Vermilyea), with an important message for her husband: The police know everything. There is no need for the money.
Leona dials the police — as she talks, the camera moves out her bedroom window, down the exterior of her house, catching the shadow of a man on the exterior wall. The camera follows him in through the kitchen window. She hears a click on her phone, "As though someone had lifted the receiver off the extension downstairs."
Finally, Henry calls. She says there is someone in the house — and she gives him Waldo's message. Henry tries to get her to get out of bed and go to the window and scream as loud as she can — "otherwise you've only got three minutes to live."
The man is coming up the stairs. In fear, she hangs up. He is in her bedroom; her face is stricken with horror. She screams loudly and we pan from her face to the open window and the passing train that drowns her out.
***
SÉRIE NOIRE SERIES: The Chalk Garden (1964) | I Confess (1952) | In the Heat of the Night (1967) | The Return of Martin Guerre (1982) | Wanda (1970) | Sorry, Wrong Number (1948) | The Bad Seed (1956) | Joe (1970).
MORE ALIX LAMBERT at HILOBROW: SÉRIE NOIRE series | GROK MY ENTHUSIASM: The Skies Belong To Us | HERMENAUTIC TAROT: The Eye Floater | MORE: including HILO HERO items on Patty Wagstaff, Nelson George, William Kentridge, Angela Davis, and Vito Acconci.
MORE MOVIES at HILOBROW: KLUTE YOUR ENTHUSIASM: 25 neo-noirs of the Sixties (1964–1973) | James Parker's BOURNE VARIATIONS series | Alix Lambert's SÉRIE NOIRE series | Jacob Mikanowski's SCREEN TIME series | Josh Glenn's SHOCKING BLOCKING series | Joanne McNeil's ALL MY STARS series | MORE: including dozens of HILO HERO items on movie directors and actors.