John Bellairs
By: Suzanne Fischer
January 17, 2015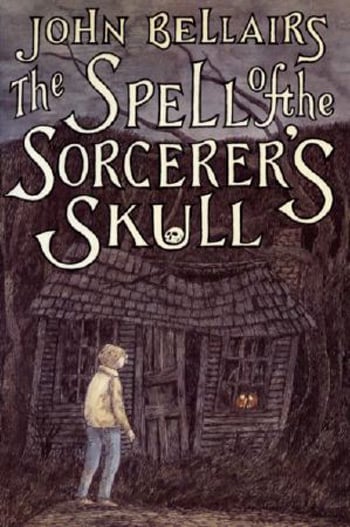 In his books, JOHN BELLAIRS (1938–91) fuses an erudite silliness with real menace. Bellairs's first novel, The Face in the Frost (1969), is a high fantasy pastiche with wizard monks whose spells are double-dactyl poems about St. Athanasius and who watch anachronistic baseball games through a magic mirror. But the evil the monks battle is stark: absence; transformation; the darkest, coldest night. The House with the Clock in Its Walls (1973), his next book, was published as a novel for young readers, and it's a classic. Recently orphaned Lewis Barnavelt moves to New Zebedee, Michigan to live with his uncle in a mansion previously inhabited by a sorcerer whose dark plans are about to come to fruition from beyond the grave. The indelible image of the clock behind the walls, ticking without cease, unfindable, from everywhere and nowhere, gave me nightmares as a child. (The Edward Gorey illustrations in most of Bellairs's books amplify both their menace and their whimsey.) Using the lightly fictionalized midwestern small towns of Marshall, Michigan (where he grew up), Winona, Minnesota (where he taught for two years), and his new town of Haverhill, Massachusetts, as settings, Bellairs wrote over a dozen popular mysteries featuring various sets of young people teamed up with eccentric adults to solve occult crimes. The books are packed full of inside jokes, Catholic trivia, literary references, and, above all, a deep respect for the intelligence and moral compasses of his readers of all ages.
***
MORE FANTASY ON HILOBROW: CROM YOUR ENTHUSIASM series | 65 Fantasy Adventures | Mervyn Peake | Lord Dunsany | H.P. Lovecraft | Edgar Rice Burroughs | Ursula K. LeGuin | Michael Moorcock | Gary Gygax | Clark Ashton Smith | Frank Frazetta | George MacDonald | John Bellairs | T.H. White | Wilkie Collins | M.R. James | Edgar Allan Poe | Lewis Carroll | Mikhail Bulgakov | Guy Endore | Alasdair Gray | Maurice Sendak | Tove Jansson | L. Frank Baum | Roald Dahl | Abraham Merritt | August Derleth | William Hope Hodgson | Madeleine L'Engle
On his or her birthday, HiLobrow irregularly pays tribute to one of our high-, low-, no-, or hilobrow heroes. Also born this date: Ari Up, Annie Nocenti, Eartha Kitt, Andy Kaufman.
READ MORE about members of the Anti-Anti-Utopian Generation (1934-43).