HYPOCRITE IDLER 1Q2021
By: Joshua Glenn
March 28, 2021
To idle is to work on meaningful and varied projects — and to take it easy. The series title refers to this self-proclaimed idler's inability to take it easy.
HILOBROW is a noncommercial blog! The info below should not be construed as a vulgar advertisement for SEMIOVOX, UNBORED, THE ADVENTURER'S GLOSSARY, MIT PRESS's RADIUM AGE SERIES, SEMIOFEST SESSIONS, LOST OBJECTS, GO WEST, or any of my various more-or-less profitable projects. It is merely an update on my doings and undoings — in this case, during 1Q2021.
MORE HYPOCRISY: 2010 | 2011 | 2012 | 2013 | 2014 | 2015 | 2016 | 2017 | 2018 | 2019 | 2020 | 2021 | 1Q2022 | 2Q2022 | 3Q2022 | 4Q2022.
Also see: HILOBROW 1Q2021.
***
---
SEMIOVOX
---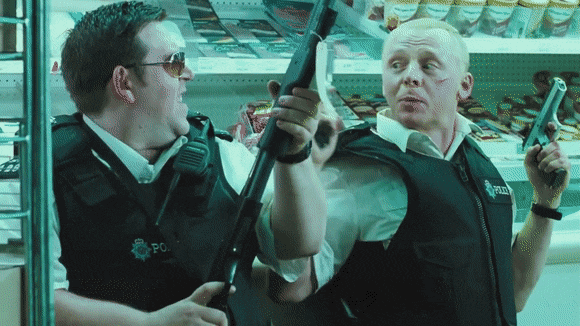 Above: Josh's team conducting research in the field.
I've fossicked as a consulting semiotician since 1999. In 2014, Ron Rentel and I cofounded SEMIOVOX. During 1Q2021, among other fascinating projects, we led strategic and tactical activation workshops around brand positioning, portfolio SKU differentiation, and new product innovation (for one of the world's oldest and most popular condiment brands). Also, working collegially with semio agencies in Canada and England, we undertook US cultural analyses of "Mexican-ness" codes (for one of the world's largest tequila makers), and pack architecture codes (for one of the world's largest spirits companies).
*
Our eponymous website SEMIOVOX features new material each weekday. I'll just mention one of our 1Q2021 series here: We've invited 30+ consulting semioticians from around the world to contribute to COVID CODES, a sixteen-part analysis of those Health & Wellness-themed "source codes" that have shaped (and continue to shape) our perception of — and guide our response to — the epidemic.
Here's the 1Q2021 series lineup: QUICK FIX | FORCEFUL REMEDY | INFALLIBLE AUTHORITY | ULTRA-PRECISE | ADVANCED RESEARCH | SCI-FI NEEDS | FANTASY WANTS | ANCIENT WISDOM | HEALING RITUAL | BIG PICTURE.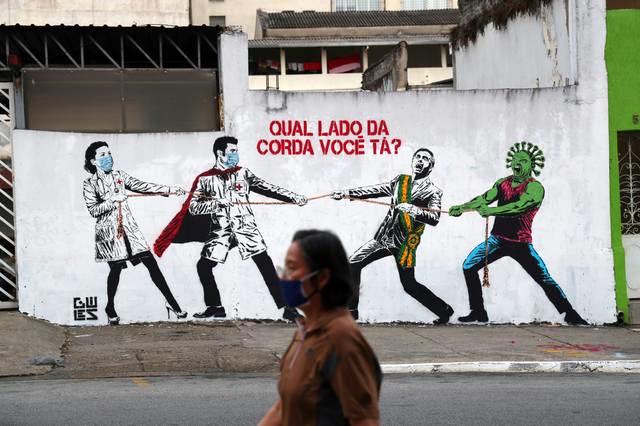 As the COVID CODES series' lead author and editor, I'm very grateful to Martha Arango (Colombia/Sweden), Daria Arkhipova (Russia/Italy), Chris Arning (UK), Maciej Biedziński (Poland), Mariane Cara (Brazil), Paulina Goch-Kenawy (Poland), Samuel Grange (France), Aiyana Gunjan (India), Sarah Johnson (Canada), Wei Fen Lee (Singapore), Charles Leech (Canada), Luca Marchetti (France/Italy), Sónia Marques (Portugal), Serdar Paktin (Turkey), Masha Papanthymou (Russia), Vijay Parthasarathy (US/India), Gabriela Pedranti (Argentina/Spain), Malex Salamanques Amiel (Venezuela/UK), Hamsini Shivakumar (India), Ximena Tobi (Argentina), and the series' other perspicacious, generous contributors.
---
HILOBROW
---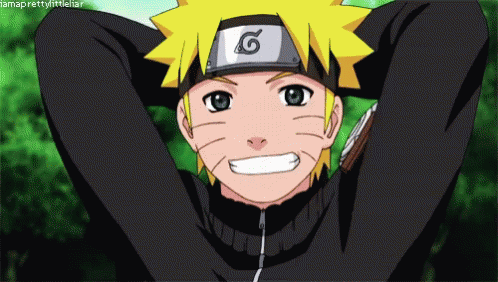 I'm the editor and publisher, here at HILOBROW. To see what our friends and contributors have posted to the site recently, please check out the HILOBROW 1Q2021 post.
Here, I'll just mention our 1Q2021 "enthusiasm" series, FERB YOUR ENTHUSIASM, which is dedicated to cartoons and animated series. Here's the complete series lineup:
Miranda Mellis on STEVEN UNIVERSE | Luc Sante on TOP CAT | Peggy Nelson on PINK PANTHER | Charlie Mitchell on COWBOY BEBOP | Mimi Lipson on THE FLINTSTONES | Sam Glenn on BIG MOUTH | Mandy Keifetz on ROAD RUNNER | Ramona Lyons on SHE-RA | Holly Interlandi on DRAGON BALL Z | Max Glenn on ADVENTURE TIME | Joe Alterio on REN & STIMPY | Josh Glenn on SPEED RACER | Adam McGovern on KIMBA THE WHITE LION | Jonathan Pinchera on SAMURAI JACK | Lynn Peril on JONNY QUEST | Stephanie Burt on X-MEN THE ANIMATED SERIES and X-MEN: EVOLUTION | Elizabeth Foy Larsen on THE JETSONS | Adam Netburn on NARUTO | Madeline Ashby on AVATAR: THE LAST AIRBENDER | Tom Nealon on TRANSFORMERS | Sara Ryan on BOJACK HORSEMAN | Michael Grasso on COSMIC CLOCK | Erin M. Routson on BEAVIS & BUTTHEAD | Deborah Wassertzug on DARIA | Lydia Millet on BOB'S BURGERS.
As the FERB YOUR ENTHUSIASM series' editor, I am very grateful to its contributors, many of whom have donated their honoraria to the ACLU.
---
THE ADVENTURER'S GLOSSARY
---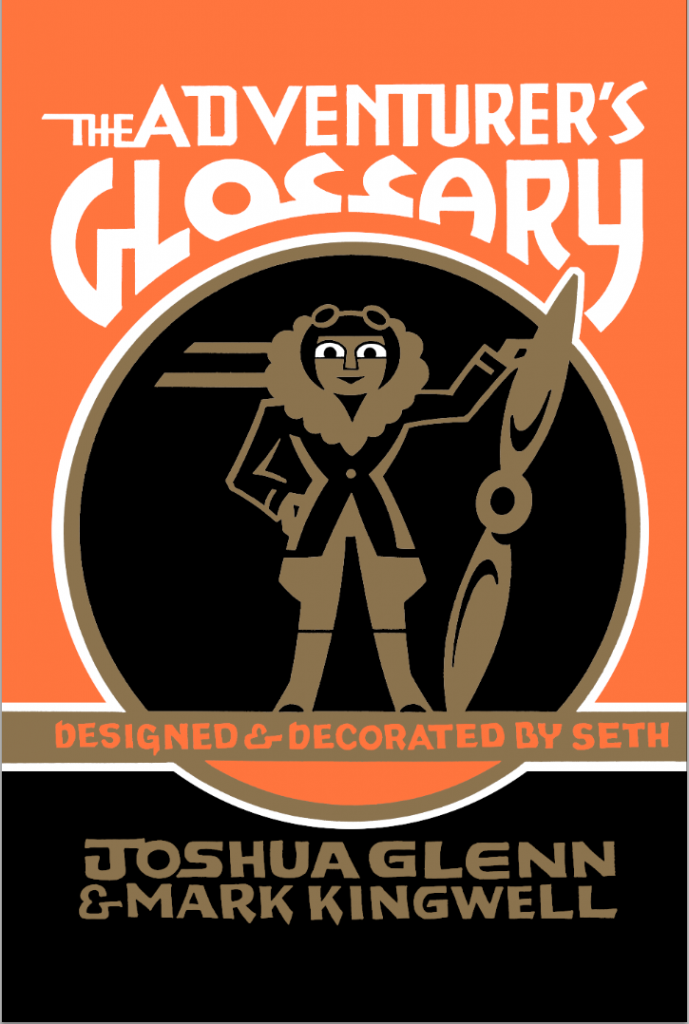 McGill-Queen's University Press, one of Canada's leading academic publishers, has the following to say about my latest book project, The Adventurer's Glossary, forthcoming in September.
Even when adventures are small in the cosmic scope, the terminology of thrilling exploits promotes a life lived at a high pitch. This go-to glossary for the philosophical explorer delves into these contradictions and insights through more than five hundred terms, from A-OK to ZOOM. Semiotician Joshua Glenn sourced terms from Shakespeare, military and biker jargon, hip hop and surfer slang, survivalist and gamer subcultures, comic books, extreme sports, and beyond to ask questions about meaning and selfhood. This diverting survey, paired with copious illustrations by the acclaimed cartoonist Seth, is introduced by Mark Kingwell in a thought-provoking essay. The Adventurer's Glossary extends the entertaining and incisive critique found in the trio's previous books, The Idler's Glossary and The Wage Slave's Glossary.
During 1Q2021, we've gone through the copy-editing process; we're now headed into layout. Seth's spot illustrations and cover design (shown above) are amazing. As we get closer to the publication date, I'll share a few sneak peeks.
Mark and Seth and I are grateful to Khadija Coxon and the rest of the MQUP team. I'm also grateful to Tony Leone and Cara Ciardelli, who redesigned my Adventure Typology diagram, and to Peggy Nelson, who has been helping me develop some adventure-themed marketing materials and AG promotional swag.
---
RADIUM AGE
---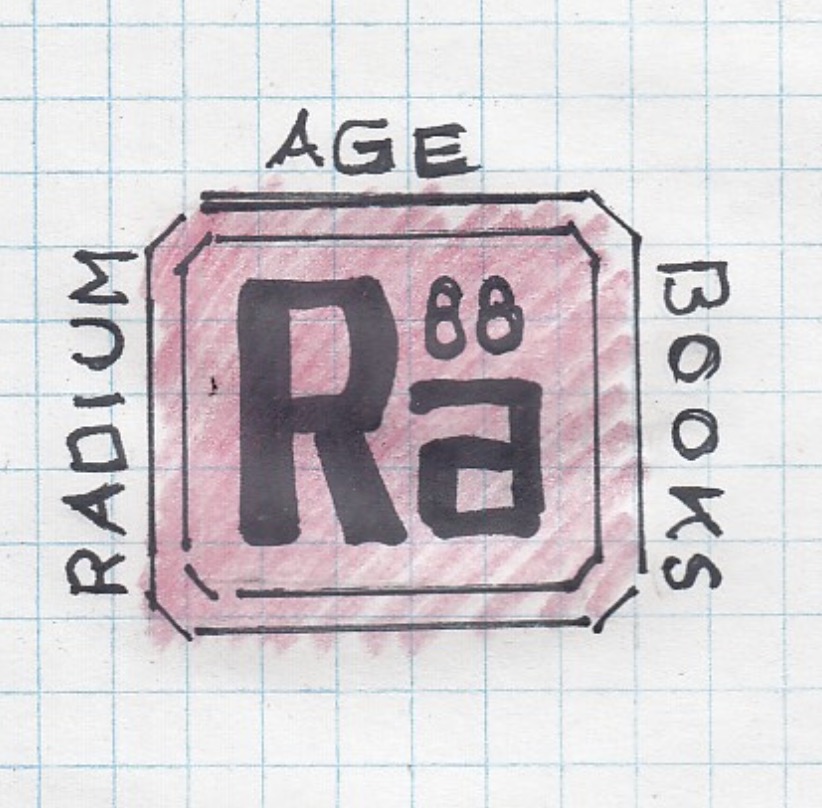 The first four titles in RADIUM AGE, the series of reissued proto-sf novels and stories that I'm editing for MIT Press, have officially entered the production stream. As announced on MITP's RADIUM AGE series page (a work in progress), here's the Spring 2022 lineup:
E.V. Odle's The Clockwork Man (1923), introduced by Annalee Newitz
J.D. Beresford's A World of Women (1913), introduced by Astra Taylor
H.G. Wells's The World Set Free (1914), introduced by Sarah Cole (plus an afterword by yours truly)
Voices from the Radium Age, a collection of Radium Age proto-sf stories that I've selected and introduced
Seth, the talented cartoonist and illustrator with whom I'm also collaborating on The Adventurer's Glossary, has shared his RADIUM AGE cover illustrations and designs with me… they're brilliant. He will also design a RADIUM AGE BOOKS logo; see his initial sketch, above.
More RADIUM AGE series info here.
---
READING & WRITING
---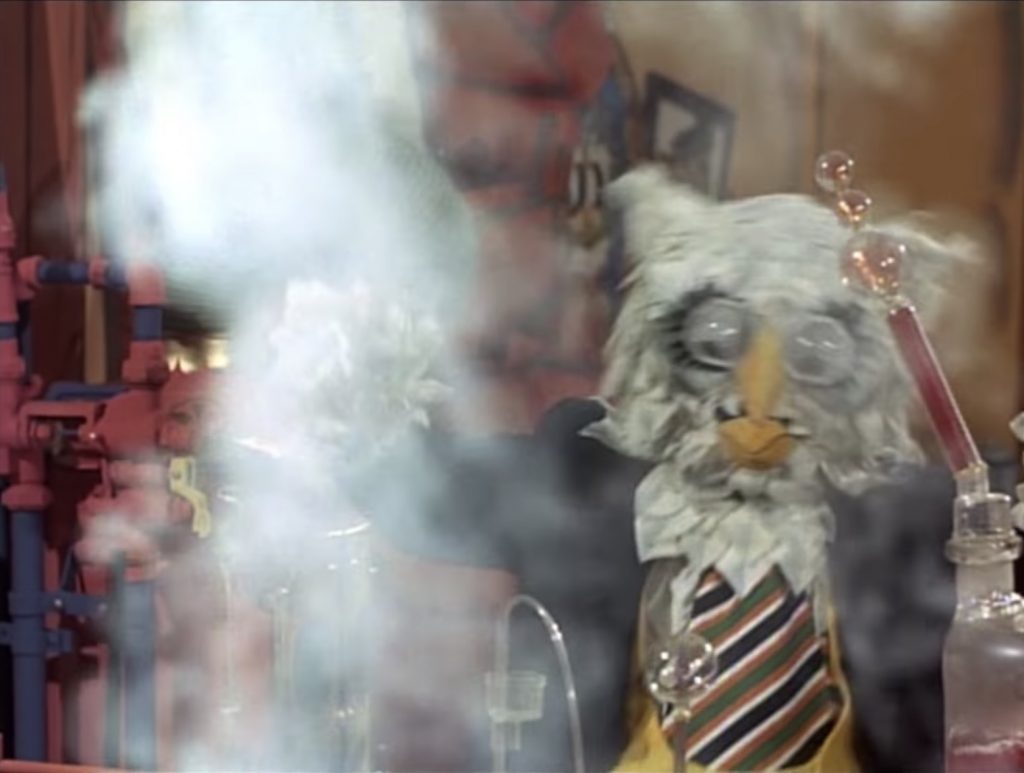 Here at HILOBROW, during 1Q2021 I contributed the following longer-form posts.
INTRODUCTION to the cartoon-celebrating series FERB YOUR ENTHUSIASM. Excerpt: "Cartoons are a visual medium, and each of our contributors has something to say about the design and illustration of their chosen shows. In a few cases, however, the medium is the message; the cartoonistry, not the plot or message, is the main draw."
SPEED RACER, an installment in FERB YOUR ENTHUSIASM. Excerpt: "[Racer X] belongs to no team; he is a mercenary. Yet time and again he sacrifices his own chances to win a race in order to come to Speed's assistance. One was led to believe that this Byronic hero and Speed's presumed-dead brother, Rex Racer, were one and the same. However, if the Racer family was ever reunited, I wouldn't know…"
OWL, an installment in BESTIARY — a new series, edited by HILOBROW friend Matthew Battles, that aims to explore "incursions of nonhuman animals into culture high and low." Excerpt: "Although most of us instinctively feel respect, even veneration for this bird, a surprising number of us instead feel harshly judged by it… which sparks in us a preconscious, irrational desire to take the pompous owl down a peg."
Also, I published the two final installments in BEST ADVENTURES, a long-running series chronicling my attempt to discover and read the 10 best adventure novels from each year of the 20th century (1904–2003). Here they are, posts #99 and #100 out of 100 total in the series:
Having written up the 2002 and 2003 installments, I was also able to complete my 100 Best Adventures of the Nineties (1994–2003) list, as well as the list I'd put together of the 250 Best Adventures of the 20th Century.
*
During 1Q2021, I also finalized several pieces of writing for the RADIUM AGE series; and toiled (slowly, painfully) away at some long-form "semiopunk" science fiction.
---
SIGNIFICANT OBJECTS
---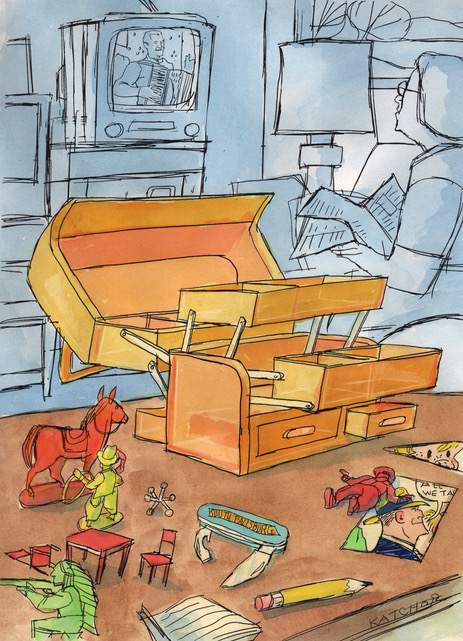 In 2009, Rob Walker and I began collaborating on the literary/economic/anthropological experiment SIGNIFICANT OBJECTS. Over a decade later, we're still at it — via PROJECT:OBJECT (here at HILOBROW) as well as a few other efforts in the works.
In 2Q2021, PROJECT:OBJECT will return with a series of object-oriented narratives cross-posted from our sister site, SEMIOVOX.
*
I'm pleased to announce that we've found a publisher for our LOST OBJECTS book project! We're very excited about this development; the publisher is one with which we've been impressed for several years now. The book will come out in Spring 2022, we think. Watch this space for more details….
Also during 1Q2021, Rob and I contributed to the ongoing development of an unscripted significant objects-related TV series — the details of which must remain obscure, for the moment. Like most TV projects, this one may never see the light of day. However, the production company with whom we've inked a development agreement seems to really believe that we're (collectively) onto something for which they can find a taker….
---
HAPPENINGS
---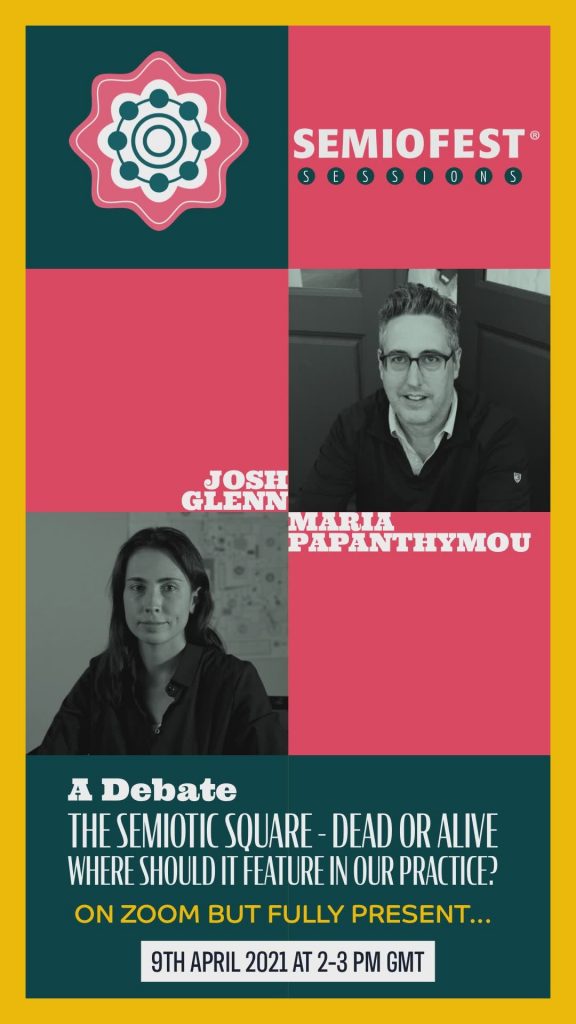 As SEMIOFEST (a worldwide conference series dedicated to raising awareness of semiotics as a perspective and a methodology, and evolving the discipline of commercial semiotics) has announced today, April will see the début of SEMIOFEST SESSIONS. This series of online get-togethers — on which I've been collaborating with the SEMIOFEST board — is intended to educate, entertain, and strengthen affective ties within the global semio community.
Each Session will run for 60 minutes and discuss a selected topic in interesting and varied formats. It will feature both practitioners and audience Q&A.
We've scheduled these sessions for the second Friday of each month. The first installment, which Moscow-based semiotician Masha Papanthymou and I will co-host, is slotted for April 9th. We plan to discuss the infamous "semiotic square" — you can register for this session here.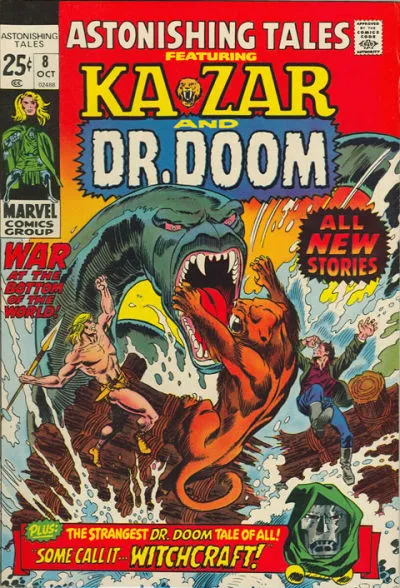 In February, I recorded an episode of VOICE OF LATVERIA, a new Doctor Doom-centric podcast. ("We will always tell you the truth… as Doom sees it.") It's hosted by HILOBROW friend Douglas Wolk, author of the much-anticipated All of the Marvels. We discussed the Doom story "…Though Some Call It Magic!" (Astonishing Tales #8, Oct. 1971).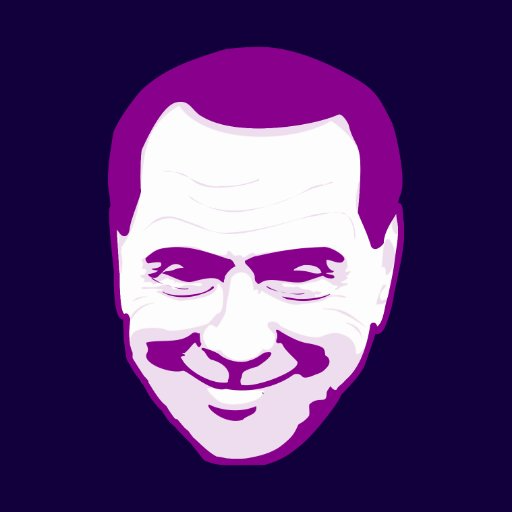 In March, I recorded an episode of the UK podcast Aufhebunga Bunga. "The period in which Western liberal democracy was held to be 'the final form of human government' is now over. Bungacast is the left-wing podcast charting what's emerging and what comes next." We discussed my theory of generations.
Also in March, I enjoyed speaking with Mark Kingwell's Professional Development Seminar for grad students at the University of Toronto. Mark's guest speakers expose his PhD students to people with academic backgrounds who have gone on to successful careers in fields outside universities. It's always fun for me to tout the benefits of the VCP and SCHMOOZITSU…
---
TAKING IT EASY
---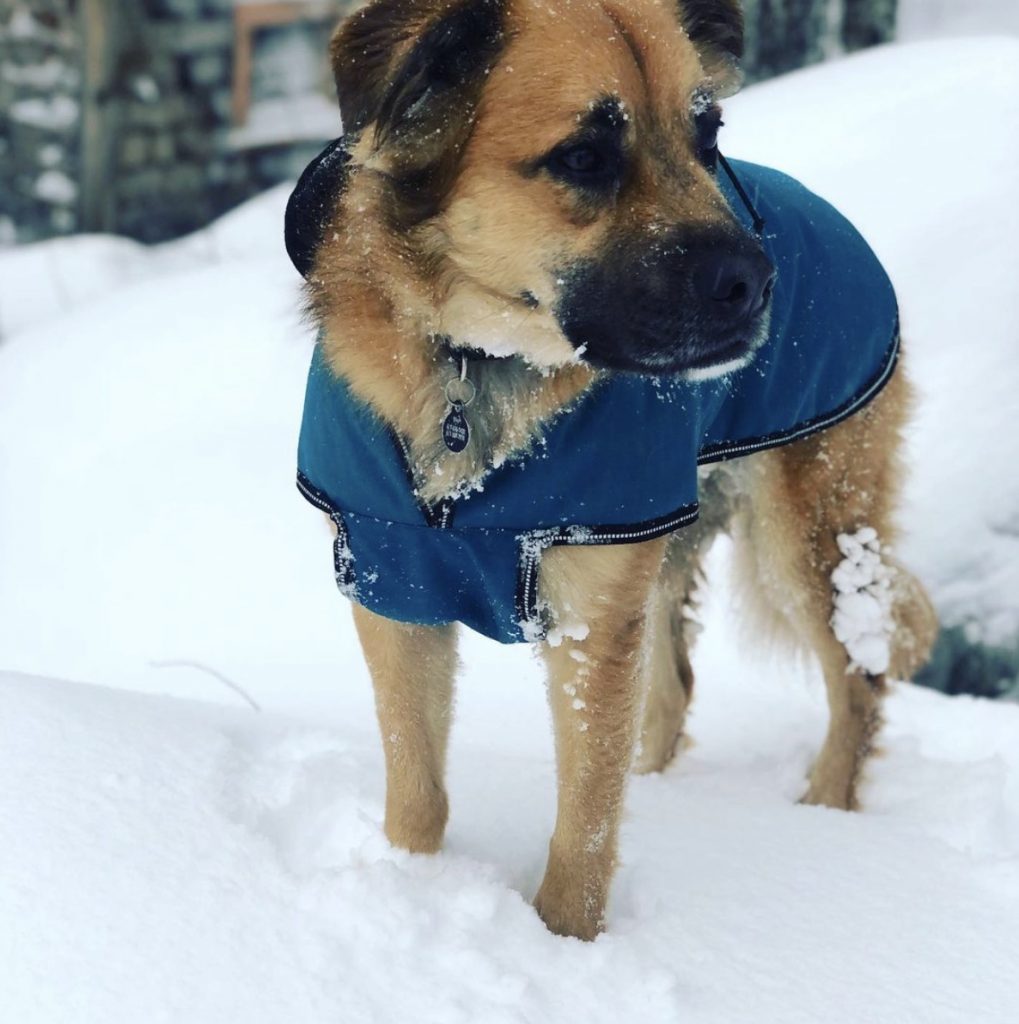 In January and February, Susan and I spent two weeks in a remote New Hampshire cabin, snowshoeing up and down the lesser Ossipees with Tito. It was nice to get away from our own four walls, for a while….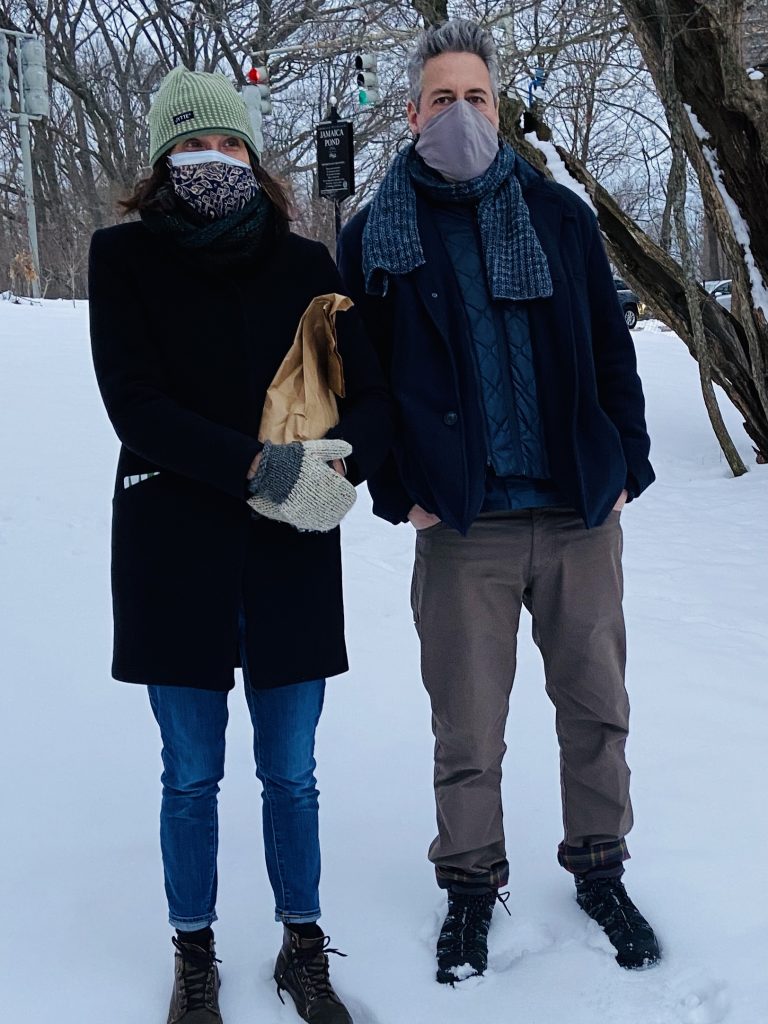 In February, we cautiously convened — three times! — with friends for outdoor walking and talking. Susan's paper bag, BTW, contains cans of the rye-based RTD "Stolen X."

In March, we continued to avoid people. More snowshoeing. Here we are exploring a logging road among unnamed lesser Ossipee peaks.

***
On to 2Q2021…
MORE HYPOCRISY: 2010 | 2011 | 2012 | 2013 | 2014 | 2015 | 2016 | 2017 | 2018 | 2019 | 2020 | 2021 | 1Q2022 | 2Q2022 | 3Q2022 | 4Q2022.