HYPOCRITE IDLER 2Q2019
By: Joshua Glenn
June 28, 2019
To idle is to work on meaningful and varied projects — and also to take it easy. If you're interested in my 2Q2019 projects, please keep reading; otherwise, don't. The title of this series of posts refers to this self-proclaimed idler's inability to take it easy.
MORE HYPOCRISY: 2010 | 2011 | 2012 | 2013 | 2014 | 2015 | 2016 | 2017 | 2018 | 2019 | 1Q2020 | 2Q2020 | 3Q2020 | 4Q2020 SNEAK PEEK.
***
---
SEMIOTICS
---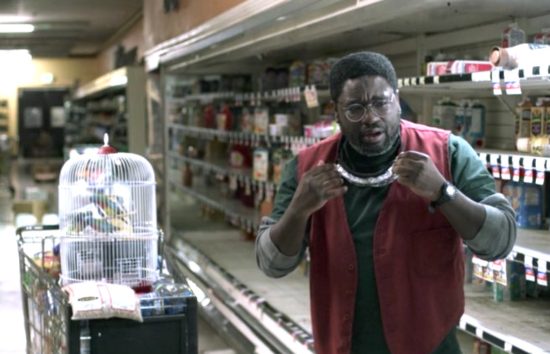 In 2014, Ron Rentel (head of Consumer Eyes) and I co-founded the semiotics-fueled brand consultancy SEMIOVOX, based in Boston and New York. During 2Q2019, Semiovox consulted to brands and agencies across a range of product categories, including Health & Wellness and Real Food, as well as cultural territories. Our audits, which are often global in scope, provide insights and inspiration not only for consumer research, but for the workshops that we run — informing strategy decisions, for brand teams and marketing/design agencies, around everything from brand positioning and communications optimization to breakthrough pack design.
---
HILOBROW
---
I'm the editor and publisher, here at HILOBROW. To see what our many talented friends and contributors have written recently, please check out the HILOBROW 2Q2019 post. In this post, I'll just mention two 2Q2019 series that I edited.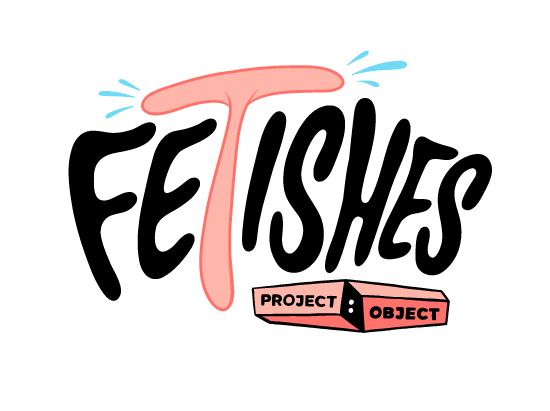 During 2Q2019, PROJECT:OBJECT published its seventh volume of nonfiction narratives devoted to significant objects, here at HILOBROW. The volume's theme was FETISHES. Rob Walker and I asked 25 talented writers to recount true stories about objects with which they are obsessed, to which they are devoted, and from the influence of which they cannot escape.
*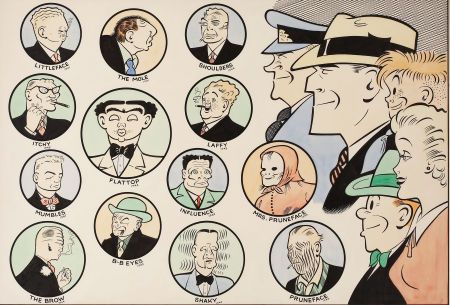 The weekly ENTHUSIASM series, at HILOBROW in 2019, is: SERIOCOMIC. We've invited 52 of HILOBROW's friends and contributors to wax enthusiastic about some of their favorite comic books and strips.
---
READING & WRITING
---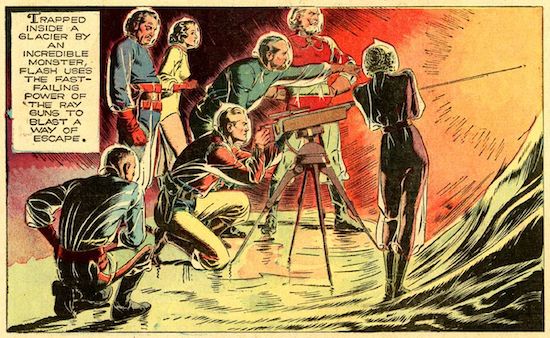 HILOBROW published five new installments in the BEST ADVENTURES series, which chronicles my attempt to identify the 10 best adventures I've read from each year of the 20th century. Here's the 2Q2019 lineup:
Each BEST ADVENTURES installment was first published as 10 individual posts.
ALSO: BEST YA & YYA LIT 1973, from The Dark is Rising and The House with a Clock in Its Walls to I Know What You Did Last Summer.
*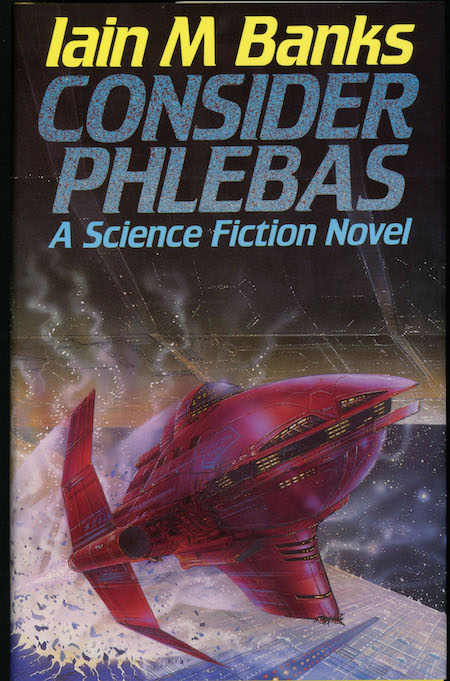 HILOBROW continued to publish new installments in DIAMOND AGE SCI-FI 75, a lit-list series that aims to identify my 75 favorite science-fiction novels published during the Eighties (1984–1993) and Nineties (1994–2003). Here's the 2Q2019 lineup:
Margaret Atwood's THE HANDMAID'S TALE | Orson Scott Card's ENDER'S GAME | Greg Bear's BLOOD MUSIC | Frank Miller's THE DARK KNIGHT RETURNS | Philip K. Dick's RADIO FREE ALBEMUTH | William Gibson's COUNT ZERO | Alan Moore's WATCHMEN | Octavia E. Butler's DAWN | Iain M. Banks's CONSIDER PHLEBAS | Ursula K. Le Guin's ALWAYS COMING HOME | Iain M. Banks's THE PLAYER OF GAMES | Octavia E. Butler's ADULTHOOD RITES | William Gibson's MONA LISA OVERDRIVE
*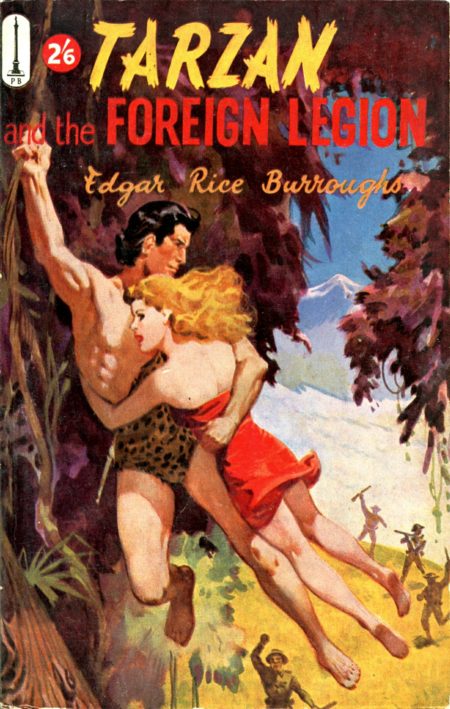 My LISTEN, HOLLYWOOD! series continued to offer unsolicited advice about which 20th-century adventure novels should be adapted as movies. Here's the 2Q2019 lineup:
Robert Heinlein's GLORY ROAD | Poul Anderson's THE HIGH CRUSADE | Edgar Rice Burroughs's TARZAN AND THE FOREIGN LEGION
*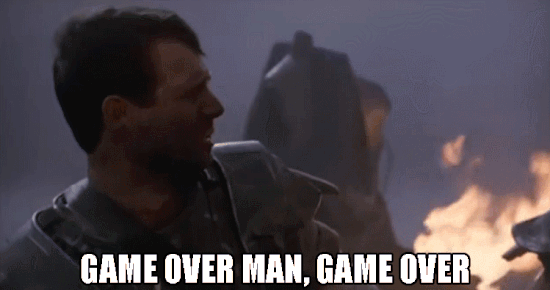 HILOBROW continued to publish my A IS FOR ADVENTURE, notes toward a book — with an accompanying essay by Mark Kingwell, and illustrations by the cartoonist Seth — currently titled The Adventurer's Glossary. Here's the 2Q2019 series lineup:
CAHOOTS to CWTCH | DAB HAND to DYNO | EAT IT to EXPLOIT | FACE to FUGAZI | GALAHAD to GUNG-HO | HACK to HURT LOCKER | ILL to IRISH
---
GO WEST COWORKING
---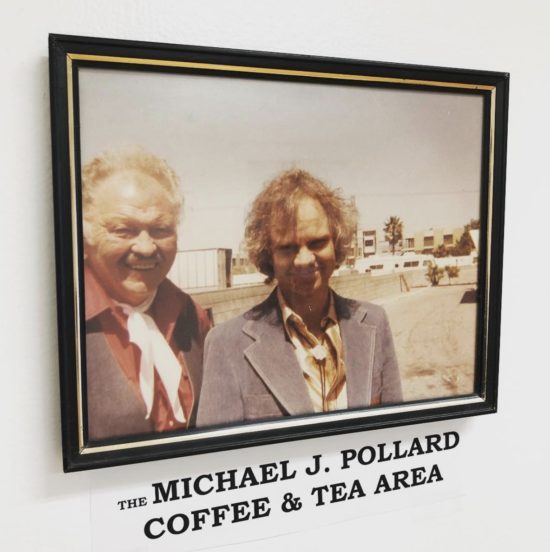 Last year, I cofounded GO WEST, a coworking space located in the business district of Boston's once-sleepy West Roxbury neighborhood. We're a vibrant community of entrepreneurs and remote workers hailing from a variety of fields, including: digital humanities, graphic design, educational software, branding, dog-training, boardgames, political organizing, NGOs, and crowdfunding. Twenty of our twenty-three desks are now occupied — join us! Or just follow us on Instagram.
---
TAKING IT EASY
---
In the taking it easy department…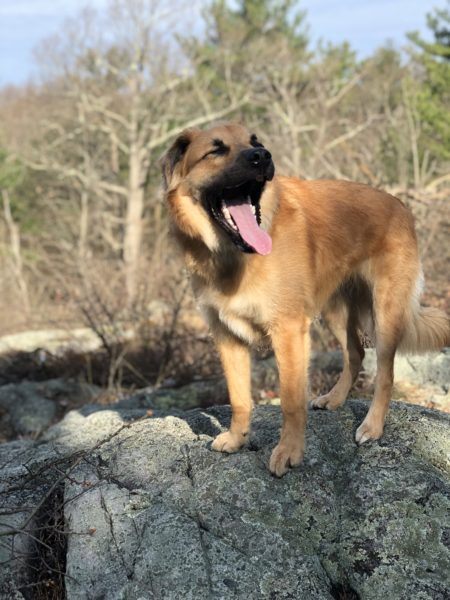 In April, we all enjoyed the warmer weather — particularly Tito.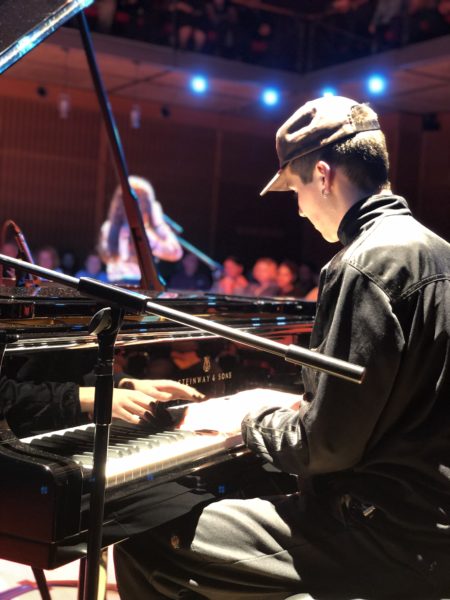 In May, Susan and I attended Max's various final high-school events. Shown here: Max playing piano at the Isabella Stewart Gardner Museum's Calderwood Hall, which was a particularly groovy scene. We also attended the graduations of our niece Haley (Middlebury), and family friend Charlie Mitchell (Beloit), in May.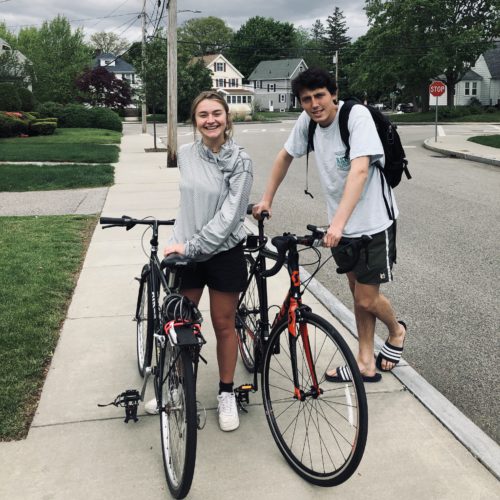 Sam and his girlfriend, Kayla, visited us in May, en route to the YMCA Camp Widjiwagan in Ely, Minnesota — from which point they'll lead kids on challenging, weeks-long expeditions into remote wilderness areas across the American West. An awesome way to spend the summer! Save the Boundary Waters.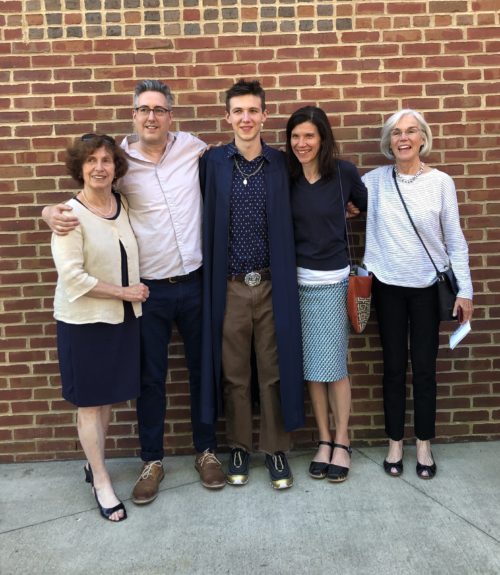 In June, we celebrated Max's graduation from high school! In the fall, he'll be off to NYU's Gallatin School. Max's band, Rangers, dropped their mix-tape Different on June 9:
***
On to 3Q2019…
MORE HYPOCRISY: 2010 | 2011 | 2012 | 2013 | 2014 | 2015 | 2016 | 2017 | 2018 | 2019 | 1Q2020 | 2Q2020 | 3Q2020 | 4Q2020 SNEAK PEEK.