Diamond Age 75 (7)
By: Joshua Glenn
April 28, 2019
One in a series of posts about the 75 best science fiction novels published during the genre's Diamond Age era (from 1984–2003, according to HILOBROW's periodization schema). For Josh Glenn's complete Diamond Age Sci-Fi 75 list, click here.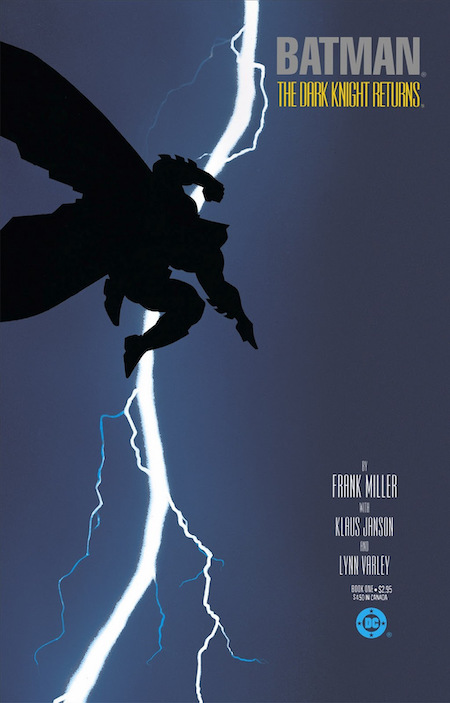 Frank Miller's graphic novel The Dark Knight Returns (serialized 1986; illustrated by Miller and Klaus Janson, colored by Lynn Varley).
Batman first appeared, in 1939, as a grim avenger who punishes evildoers whom the law can't touch; at the acme of the hardboiled Thirties (1934–1943), Batman was the hardboiled-est. However, once the Comics Code Authority was established, in 1954, Batman comics became whimsical, wacky, family-friendly even. Then DC's Dick Giordano hired writer-artist Frank Miller — who'd transformed Marvel's Daredevil and Wolverine into darker, more popular characters — to create The Dark Knight Returns. Inspired by the Clint Eastwood-directed Sudden Impact, in which Dirty Harry, now in his 50s and forced into semi-retirement, returns to work as a quasi-vigilante, the right-wing Miller reimagined Bruce Wayne as the antithesis of "truth, justice, and the American Way" Superman. In a dystopian, yet present-day Gotham City, a retired Wayne returns to action to stop, first, Two-Face, and second, a hyper-violent street gang known as the Mutants. He's joined by Carrie Kelley, a young woman he'd rescued, who becomes the new Robin. The police issue an arrest warrant for Batman; worse, the Joker frames Batman for murder! When Batman mobilizes the disbanded Mutants as vigilantes on the side of justice, the US government orders Superman to apprehend him.
Fun fact: First published as a four-part miniseries, The Dark Knight Returns, has been hailed as one of the greatest works in the comics medium. Its popularity, along with Watchmen, published by DC in 1986–1987, kicked off the era known as the Dark Age of Comic Books.
***
DIAMOND AGE SCI-FI at HILOBROW: William Gibson | Bruce Sterling | Margaret Atwood | Ann Nocenti | Frank Miller | Alan Moore | Octavia E. Butler | Iain M. Banks | Grant Morrison | Neal Stephenson | Jonathan Lethem | Charles Burns | China Miéville.
JOSH GLENN'S *BEST ADVENTURES* LISTS: BEST 250 ADVENTURES OF THE 20TH CENTURY | 100 BEST OUGHTS ADVENTURES | 100 BEST RADIUM AGE (PROTO-)SCI-FI ADVENTURES | 100 BEST TEENS ADVENTURES | 100 BEST TWENTIES ADVENTURES | 100 BEST THIRTIES ADVENTURES | 75 BEST GOLDEN AGE SCI-FI ADVENTURES | 100 BEST FORTIES ADVENTURES | 100 BEST FIFTIES ADVENTURES | 100 BEST SIXTIES ADVENTURES | 75 BEST NEW WAVE SCI FI ADVENTURES | 100 BEST SEVENTIES ADVENTURES | 100 BEST EIGHTIES ADVENTURES | 75 BEST DIAMOND AGE SCI-FI ADVENTURES | 100 BEST NINETIES ADVENTURES (in progress) | 1994 | 1995 | 1996 | 1997 | 1998 | 1999 | 2000 | 2001 | 2002 | 2003 | NOTES ON 21st-CENTURY ADVENTURES.