Diamond Age 75 (6)
By: Joshua Glenn
April 21, 2019
One in a series of posts about the 75 best science fiction novels published during the genre's Diamond Age era (from 1984–2003, according to HILOBROW's periodization schema). For Josh Glenn's complete Diamond Age Sci-Fi 75 list, click here.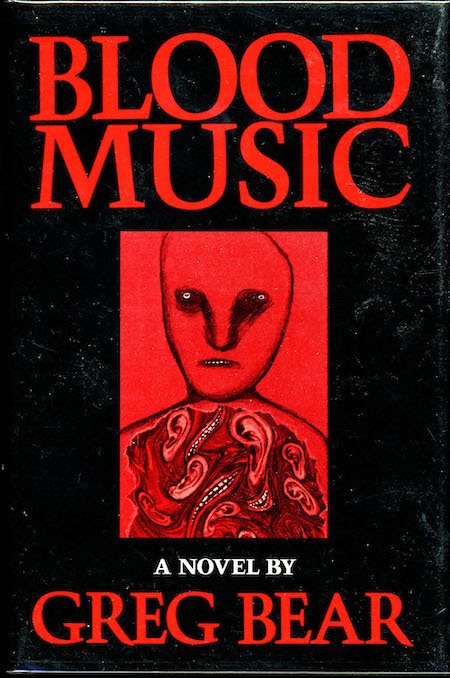 Greg Bear's Blood Music (1985).
Transhumanism — the premise that humankind can/will evolve beyond our current physical and mental limitations — had previously been explored by sci-fi authors such as S. Fowler Wright (The Amphibians), Olaf Stapledon (Odd John), and Arthur C. Clarke (Childhood's End); Bear was among the first to explore — in the 1983 story that was developed into this novel — the role of "wet" nanotechnology in accelerating our evolution. Ordered to destroy the "noocytes" (simple biological computers) that he's created from his own lymphocytes, the biotechnologist Vergil Ulam instead injects them into his own bloodstream. Inside his body, the noocytes become self-aware, alter their own genetic material, form a nanoscale civilization… and begin to transform their host. What begins as a kind of horror story along the lines of David Cronenberg's The Fly (which appeared the following year) rapidly turns into a post-apocalyptic dreamscape, as all life in the North American biosphere is infected and assimilated. There's an amazing chapter in which a news reporter flying over America reports on the surreal scene; it's worth noting that Bear began as a sci-fi artist. As if all of this weren't enough, Bear trots out a pet theory that the nature of reality is affected by its observers… so the sudden introduction of billions of new intelligences throws reality out of whack.
Fun facts: Originally published as a novelette in 1983 in Analog Science Fact & Fiction, winning the Nebula and Hugo Awards.
***
DIAMOND AGE SCI-FI at HILOBROW: William Gibson | Bruce Sterling | Margaret Atwood | Ann Nocenti | Frank Miller | Alan Moore | Octavia E. Butler | Iain M. Banks | Grant Morrison | Neal Stephenson | Jonathan Lethem | Charles Burns | China Miéville.
JOSH GLENN'S *BEST ADVENTURES* LISTS: BEST 250 ADVENTURES OF THE 20TH CENTURY | 100 BEST OUGHTS ADVENTURES | 100 BEST RADIUM AGE (PROTO-)SCI-FI ADVENTURES | 100 BEST TEENS ADVENTURES | 100 BEST TWENTIES ADVENTURES | 100 BEST THIRTIES ADVENTURES | 75 BEST GOLDEN AGE SCI-FI ADVENTURES | 100 BEST FORTIES ADVENTURES | 100 BEST FIFTIES ADVENTURES | 100 BEST SIXTIES ADVENTURES | 75 BEST NEW WAVE SCI FI ADVENTURES | 100 BEST SEVENTIES ADVENTURES | 100 BEST EIGHTIES ADVENTURES | 75 BEST DIAMOND AGE SCI-FI ADVENTURES | 100 BEST NINETIES ADVENTURES (in progress) | 1994 | 1995 | 1996 | 1997 | 1998 | 1999 | 2000 | 2001 | 2002 | 2003 | NOTES ON 21st-CENTURY ADVENTURES.