Listen, Hollywood! (5)
By: Joshua Glenn
May 18, 2019
One in a series of 10 posts suggesting novels (from Josh Glenn's BEST ADVENTURES series) that really ought to be adapted for the big screen.
THE HIGH CRUSADE
Poul Anderson's historical/sci-fi adventure The High Crusade appears on my list of the Best Adventures of 1960.
Anderson was one of science fiction's most highly decorated luminaries, winner of major sci-fi prizes for his stories and novelettes — particularly his Hornblower-esque Flandry of Terra series. He was a terrific fantasy author, too: Three Hearts and Three Lions (1953) and The Broken Sword (1954) were important influences on the game Dungeons & Dragons; and Hrolf Kraki's Saga won the 1974 British Fantasy Award.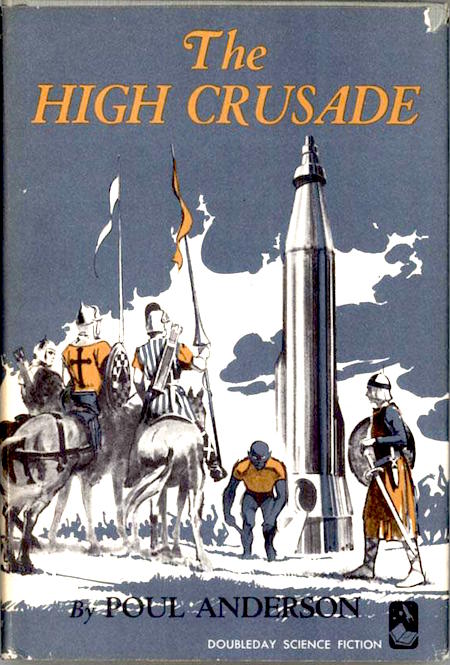 Like Three Hearts and Three Lions, The High Crusade (nominated for a 1961 Hugo) is an ingenious admixture of science fiction and medieval knightly adventure. This book is a beloved classic; it was Anderson's biggest seller worldwide. Hollywood, let's do this!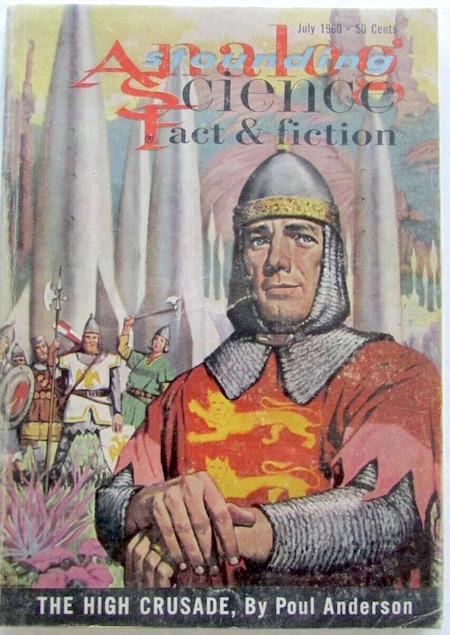 Elevator pitch:
In the mid-14th century, a Wersgorix spacecraft lands in a remote Lincolnshire village — where, as it happens, the doughty Sir Roger is training a military force to battle the French. The blue-skinned humanoids are scouts from a galactic empire looking for new worlds to subjugate. After a thrilling battle, Sir Roger and his warriors — along with all of the village's inhabitants — board the spaceship. They order the one surviving Wersgor to fly them to France; instead, he sends the ship hurtling to a Wersgor colony planet — where the battle of old-fashioned valor against advanced technology continues. Meanwhile, one of Sir Roger's trusted knights and his own wife begin to conspire against him…. This should be thought of as an exciting, knightly adventure set during the Middle Ages, where the foe happen to be aliens; it's not a science-fiction movie with knights.
Unlike, say, Cowboys & Aliens, we're dealing here with smart but credulous, ignorant characters who believe in miracles; so although they're frightened of the alien invaders, at first, in a way they're more quick to accept this bizarre phenomenon as a reality than we might be.
First act: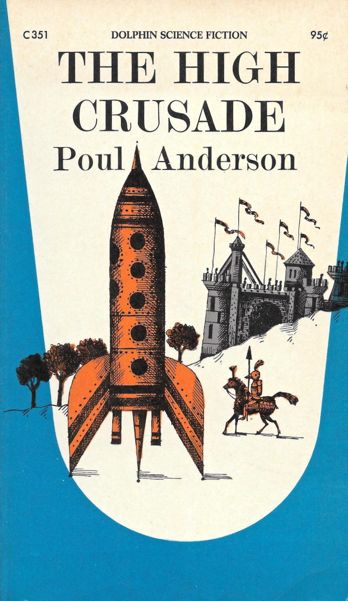 Sir Roger, Baron de Tourneville, has set up shop in the English town of Ansby (in northeastern Lincolnshire), where he's recruited and trained a military force to assist king Edward III in the Hundred Years' War against France. Roger is a tough, gruff warrior; he is married to the sophisticated Lady Catherine, who loves her husband but is getting sick of the military life. Roger's right hand man, Sir Owain Montbelle, is the Lancelot to Roger's Arthur — i.e., he is younger, handsomer, a brave warrior but also a smooth charmer. Other colorful English characters include the knights Red John Hameward and Brian Fitz-William. The timid, learned monk Brother Parvus is the book's narrator; I don't think that's necessary, for the movie adaptation.
The troops are packed and ready to begin marching to the Channel when an enormous silver spacecraft lands outside the town. Blue humanoids who resemble demons emerge from it and begin blasting people with energy beams. However, the aliens, having forgotten hand-to-hand combat since it was made obsolete by their advanced technology, are caught off-guard by the angered Englishmen, who mistake the craft for a French trick. Also, they've placed too much faith in their ship's forcefield — which is designed to repel photon weapons, not arrows fired by England's most accurate archers! The villagers and soldiers in Ansby together storm the craft and kill all but one of the demons.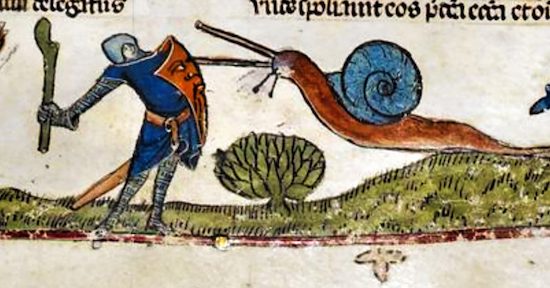 Parvus spends some time teaching the surviving invader, Branithar, to speak Latin. We discover that the ship is a scouting craft for the Wersgorix Empire, a brutal, galaxy-spanning dominion. Sir Roger formulates a plan that with the captured ship, he can take the entire village to France to win the war… and then liberate the Holy Land, too. The townspeople, with all of their belongings, board the ship — which they dub The Crusader — at the baron's instruction, and prepare to take off. Sir Roger directs Branithar to to fly them to France. Instead, the surly alien throws the Crusader into autopilot on course to Tharixan, another Wersgor colony!
Second act: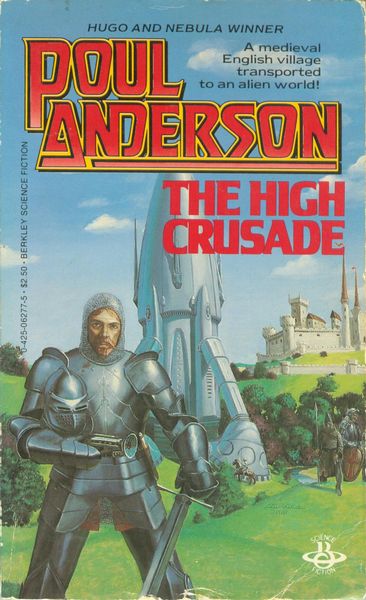 The Crusader arrives at Tharixan in days, and Sir Roger learns of this new world: it is sparsely-populated, with only three fortresses, Ganturath, Stularax, and the main base, Darova. The Earthmen quickly capture Ganturath but destroy the Crusader in the process. Word spreads of the invaders and a meeting is arranged between Sir Roger and his soldiers and the chief of Tharixan, Huruga.
The humans and Wersgor hold talks that do very little to give either side any advantage, but a truce is agreed to. Sir Roger, in order to intimidate the aliens, makes up tall tales about his estate, "which only took up three planets" and his other accomplishments. Sir Roger demands that the entire Wersgorix state submit to the king of England. During the talks, Roger orders the capture of the fortress of Stularax. When the entire base is accidentally obliterated by an atomic bomb, Huruga attacks Ganturath again. He loses, and is forced to surrender to the Earthmen.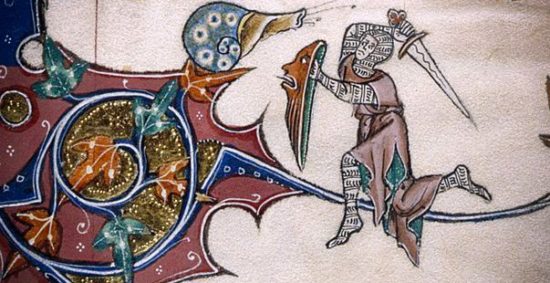 Throughout the voyage and the battle, Lady Catherine and Owain Montbelle have been urging Roger to return to Earth as soon as possible. It now becomes clear that Roger has lost interest in doing so — instead, he wants to conquer the Wersgorix empire on behalf of England's king! At this point, if the script is well-crafted, viewers should be torn — maybe Catherine and Owain are right? Perhaps Roger is just out for glory, and really can't understand how impossible his crusade is?
Third act: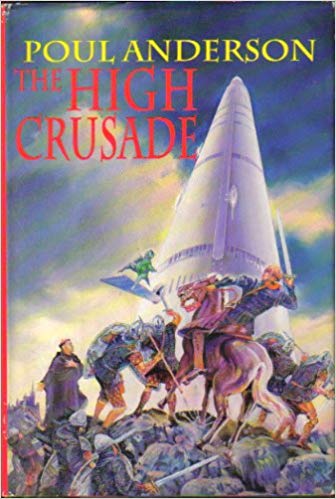 Sir Roger now begins negotiating with three other alien races oppressed by the Wersgor: the Jairs, the Ashenkoghli, and the Prʔ*tans. All seems to be going well, until the treacherous Montbelle and Branithar end up in a death-struggle with Roger; Lady Catherine, whom we had imagined was falling in love with Montbelle, intercedes to help — as does the usually timid Brother Parvus. The Baron's enemies are defeated, but in the process, the only charts showing the way back to Earth are lost.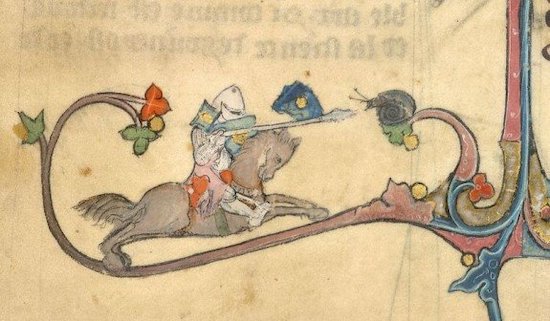 Sir Roger goes on to topple the Wersgor Empire, and liberate their colonies. The book — which is actually fairly short — doesn't spend much time on this part. We mostly hear about it in retrospect. For the movie, I'd imagine that we'd want to witness a climactic battle or two?
Hundreds of years later, we witness (what everyone on Earth believes to be) the first contact between Earth's astronauts and an alien species. The aliens are a mixed-species crew — we recognize members of the the Jairs, the Ashenkoghli, the Prʔ*tans, even the Wersgorix — and among them are humans! Humans who, by the way they dress, are half space jockeys and half-medieval knights. Who have found their way home, at last… their story is going to boggle the Earth astronaut's minds.
*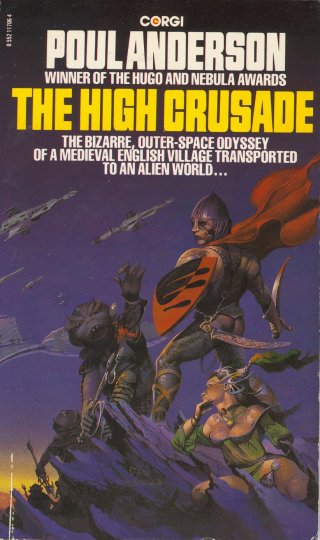 Poul Anderson described The High Crusade as "one of the most popular things I've ever done." It was published in multiple editions, in several languages. It was even adapted into a board game of the same name, by TSR — the folks who brought us Dungeons & Dragons. The great sci-fi director George Pal considering filming the novel, but died before this happened. Roland Emmerich, who would later produce blockbusters like The Day After Tomorrow (2004), Godzilla (1998), and Independence Day (1996), produced a 1994 adaption of The High Crusade that was directed by Klaus Knoesel and Holger Neuhäuser.
Alas, the adaptation went in a wink-wink, nudge-nudge, Monty Python direction… and was, deservedly, a flop. Anderson himself avoided viewing the film, having been told that "it's a piece of botchwork." You know how Disney ruined T.H. White's The Sword in the Stone? Worse than that.
The book has humorous elements — but it's a classic because it doesn't settle for mere absurdity. Sir Roger and his knights are admirable, noble, canny warriors and strategists; Lady Catherine and Brother Parvus may not be so heroic, but they are guided by their moral instincts. The combat scenes are thrilling; the alien races are depicted as noble and virtuous in their way. It's a strange, fun story. The humor comes mostly at the expense of medieval customs and beliefs ("How shall we observe Lent and Easter, with two moons morris-dancing about to confuse the issue?"); but at the same time, this is a celebration of English (and human) chivalry, courage, and spirit.
Hollywood, we can do this. Here's information on the film/TV rights to Anderson's work.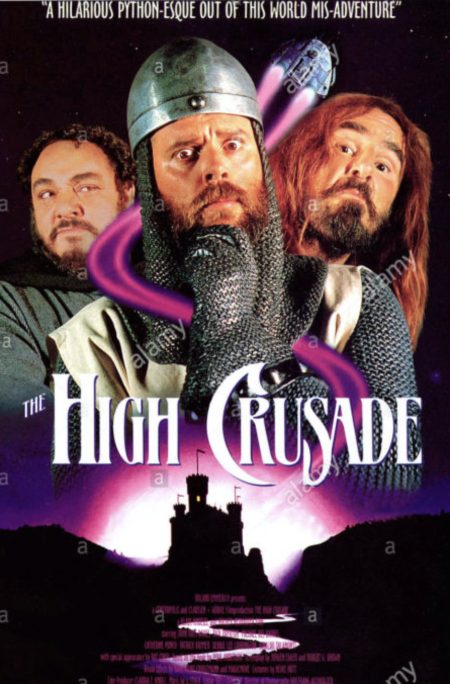 ***
LISTEN, HOLLYWOOD: Michael Innes's FROM LONDON FAR | P.G. Wodehouse's LEAVE IT TO PSMITH | Peter Dickinson's CHANGES TRILOGY | Robert Heinlein's GLORY ROAD | Poul Anderson's THE HIGH CRUSADE | Edgar Rice Burroughs's TARZAN AND THE FOREIGN LEGION | G.K. Chesterton's THE NAPOLEON OF NOTTING HILL | Michael Innes's THE JOURNEYING BOY | Alfred Jarry's EXPLOITS AND OPINIONS OF DR. FAUSTROLL, PATAPHYSICIAN | André Gide's THE VATICAN CAVES [LAFCADIO'S ADVENTURES].
Also see Josh Glenn's SHOCKING BLOCKING series: It Happened One Night (1934) | The Man Who Knew Too Much (1934) | The Guv'nor (1935) | The 39 Steps (1935) | Young and Innocent (1937) | The Lady Vanishes (1938) | Mr. Smith Goes to Washington (1939) | The Big Sleep (1939) | The Little Princess (1939) | Gone With the Wind (1939) | His Girl Friday (1940) | The Diary of a Chambermaid (1946) | The Asphalt Jungle (1950) | The African Queen (1951) | A Bucket of Blood (1959) | Beach Party (1963) | For Those Who Think Young (1964) | Thunderball (1965) | Clambake (1967) | Bonnie and Clyde (1967) | Madigan (1968) | Wild in the Streets (1968) | Barbarella (1968) | Harold and Maude (1971) | The Mack (1973) | The Long Goodbye (1973) | Les Valseuses (1974) | Eraserhead (1976) | The Bad News Bears (1976) | Breaking Away (1979) | Rock'n'Roll High School (1979) | Escape from Alcatraz (1979) | Apocalypse Now (1979) | Caddyshack (1980) | Stripes (1981) | Blade Runner (1982) | Tender Mercies (1983) | Monty Python's The Meaning of Life (1983) | Repo Man (1984) | Buckaroo Banzai (1984) | Raising Arizona (1987) | RoboCop (1987) | Goodfellas (1990) | Candyman (1992) | Dazed and Confused (1993) | Pulp Fiction (1994) | The Fifth Element (1997) | Nacho Libre (2006) | District 9 (2009).
JOSH GLENN'S *BEST ADVENTURES* LISTS: BEST 250 ADVENTURES OF THE 20TH CENTURY | 100 BEST OUGHTS ADVENTURES | 100 BEST RADIUM AGE (PROTO-)SCI-FI ADVENTURES | 100 BEST TEENS ADVENTURES | 100 BEST TWENTIES ADVENTURES | 100 BEST THIRTIES ADVENTURES | 75 BEST GOLDEN AGE SCI-FI ADVENTURES | 100 BEST FORTIES ADVENTURES | 100 BEST FIFTIES ADVENTURES | 100 BEST SIXTIES ADVENTURES | 75 BEST NEW WAVE SCI FI ADVENTURES | 100 BEST SEVENTIES ADVENTURES | 100 BEST EIGHTIES ADVENTURES | 75 BEST DIAMOND AGE SCI-FI ADVENTURES | 100 BEST NINETIES ADVENTURES (in progress) | 1994 | 1995 | 1996 | 1997 | 1998 | 1999 | 2000 | 2001 | 2002 | 2003 | NOTES ON 21st-CENTURY ADVENTURES.