Listen, Hollywood! (6)
By: Joshua Glenn
June 18, 2019
One in a series of 10 posts suggesting novels (from Josh Glenn's BEST ADVENTURES series) that really ought to be adapted for the big screen.
TARZAN OUT OF AFRICA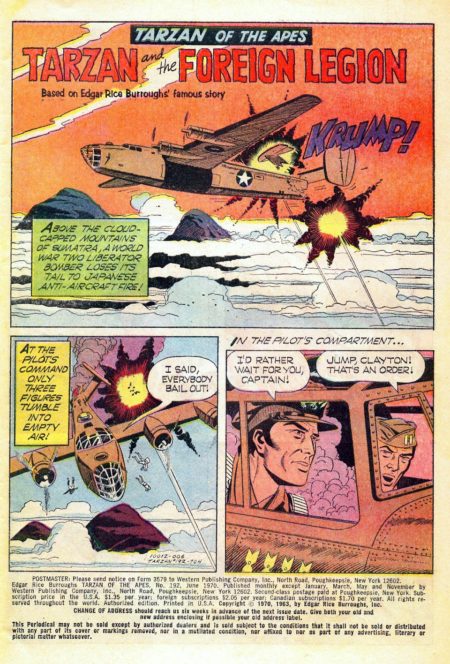 Does anybody today want to watch a Tarzan movie set in occupied Sumatra, with Japanese soldiers and a bloodthirsty orangutang? Probably not. I certainly don't. But let's consider an adaptation of Tarzan and the Foreign Legion, the 22nd Tarzan novel and last new work by Burroughs to be published during his life. Why? Because I want Hollywood to reconsider the later Tarzan — the one who doesn't live in the jungle, who moves among us in disguise, a mythic figure in his own lifetime. This rootless, incognito, post-jungle Tarzan is a great adventure hero. Check it out…
Elevator pitch:
Tarzan and the Foreign Legion (1947) is set in an occupied Japanese territory during WWII. The Japanese occupied the Dutch East Indies because of their rich oil resources and rubber plantations, a vital wartime asset. Our story concerns Corrie van der Meer, daughter of a Dutch rubber planter on Sumatra — not to mention Dutch outlaws (bad) and guerrillas (good), Chinese immigrants (good) and Sumatran natives (good and bad), and Japanese soldiers (bad). A crew of American airmen are shot down on the island; they are a tough outfit, but they have no chance of surviving in the jungle… until Clayton, the quiet RAF observer who'd accompanied them on their flight, tears off his uniform and demonstrates extraordinary strength, agility, cunning, and jungle smarts. Is he crazy? The idea that he might be Tarzan, a real character whom they've all seen portrayed in movies, is absurd. The Americans are dauntless, and the two women characters are fearless and resourceful; yet the mysterious Mr. Clayton is the group's best hope!
Background:
I've long harbored a fondness for the late-period, supposedly inferior Tarzan novels — that is, the series installments after Tarzan and the Ant Men. From Tarzan, Lord of the Jungle (1927–28) forward, we find outlandish stories that no longer focus primarily on Tarzan's own affairs. Instead, John Clayton (Tarzan's alias) shows up to help other adventurers out of pickles, whether they're seeking for the world's largest gem or tunneling to the Earth's core; the villains are Soviet agents, mad scientists, and even a Hollywood film crew. The dozen final Tarzan books are thrilling but also dashed-off, weird, sometimes meta-textual… which is why they're so intriguing, to me.
Sure, like everyone, I'm impressed with Burroughs's first Tarzan book, Tarzan of the Apes (1912). But its immediate sequels, the ones that have been turned into TV shows and movies already, are repetitive. Sure, his monkey friend is cute. But how many times must he rescue Jane and Korak? After they're killed, in Tarzan the Untamed (1920, the 7th installment), everything starts to go sideways, for Tarzan. Which makes the subsequent stories more memorable, for me. Part of what's so fun, too, is the fact that Tarzan has become a celebrity in his own time. He has fans, who've seen the six 1930s Weissmuller movies; later, he has fans who've also see the six 1940s Weissmuller movies. Meanwhile, he's a wealthy member of the British aristocracy, and — like Superman — travels freely among civilized men wearing ordinary clothes.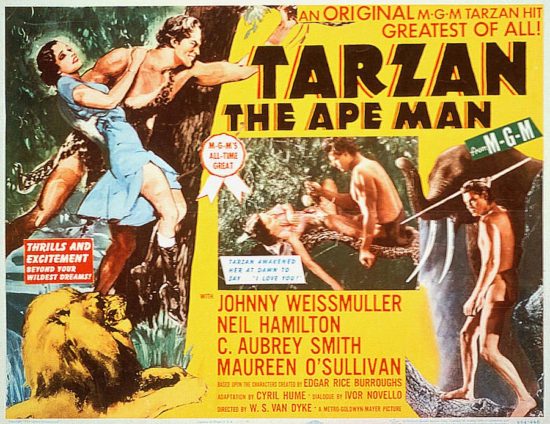 There's no need to tell Tarzan's origin story for the millionth time. We've all seen the movies. Let's instead begin in media res, with a Tarzan who roams the early 20th-century world, in a well-tailored suit, seeking nothing but peace of mind… until he's forced by some manner of villainy to employ his awesome jungle-honed abilities. There's something both tragic and comical about this hero: He was raised by apes; his values are not our values. He is beyond good and evil… but he's a fearsome foe to the wicked. This is a hero around whom one could build a unique, engaging movie franchise or TV series which would attract viewers worldwide.
First act: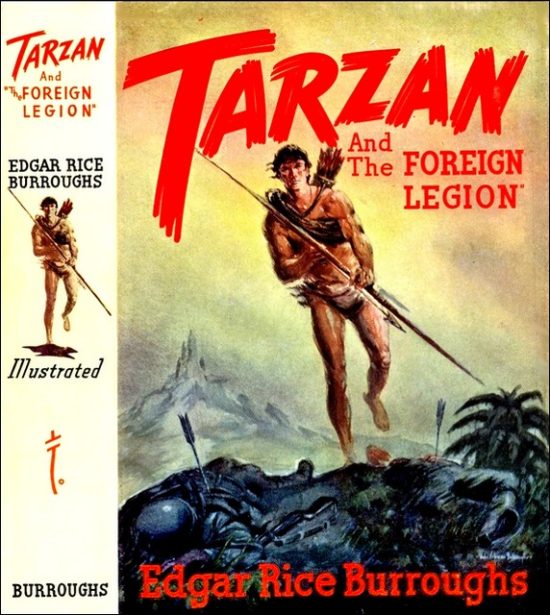 As preamble, we see Corrie's family brutally killed by Japanese invaders. She and her Chinese servant, Sing Tai, flee into the jungle where they're aided by kindly Sumatrans; teenaged Corrie becomes a semi-feral character, skilled at hunting with a bow and surviving by her wits. After two years, however, they're captured by Japanese soldiers — Sing Tai is left for dead, and Corrie is taken prisoner by Captain Tokujo Matsuo and Lieutenant Hideo Sokabe; let's say that one of them is honorable and decent, and the other is villainous.
Meanwhile, an American bomber is shot down. Two of the airmen, Douglas and Davis, are captured by the Japanese, several others die. The survivors: Capt. Jerry Lucas of Oklahoma City, a handsome and charismatic leader (we learn later that he's part Cherokee); Sgt. "Bum" Bubonovitch, a Russian-American from Brooklyn who'd worked at The American Museum of Natural History, and is a very useful man in the jungle; and the pint-sized, pugnacious Tony "Shrimp" Rosetti of Chicago, a gangland refugee turned ball-turret gunner. With them was Col. John Clayton of the RAF. He immediately removes his uniform and fashions a loin cloth; throwing away his gun, he keeps only a knife.
Lucas, Bubonovitch, and Rosetti suspect that Clayton has gone crazy — and he doesn't bother to explain himself. However, he's amazing at climbing trees, swinging from vines, freeing Rosetti from where's trapped high in the canopy. He helps them build a platform in a tree, and we get to know these characters. Bubonovitch is highly educated, Rosetti is streetwise. We also learn that their predicament is hopeless: They're deep in occupied territory, some 500 miles from the southern end of the island… which is over a thousand miles from Australia, the nearest friendly port. They're surrounded not only by Japanese soldiers, but encampments of Dutchmen — some of whom are guerrillas resisting the invaders, others outlaws who can't be trusted.
The next morning, the airmen and their strange companion encounter Sing Tai, who isn't dead. At his urging, the Foreign Legion — as they now call themselves — decides to rescue Corrie from the Japanese patrol.
Second act: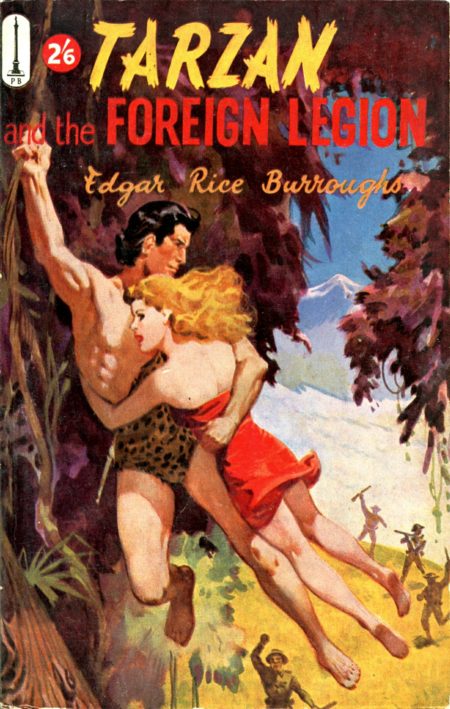 The Americans create a distraction — firing their last bullets — while the loinclothed Clayton sneaks into the Japanese encampment and rescues Corrie.
They then begin their long march to the sea, through the jungle. They are pursued not only by the Japanese, but by Sumatran hunters who've been coerced by the Japanese. Along the trail, Clayton and Corrie teach the others to use bows and other jungle survival techniques. Jerry and Corrie are attracted to one another, though Jerry feels overawed by the magnificent — if apparently insane — Clayton. Rosetti is a misogynist, but even he develops a soft spot for the tough Corrie.
Corrie is captured by the Sumatran hunters — but (even though this is the second time she's been captured already) she's no damsel in distress. She frees herself and escapes… only to encounter a savage tiger. Just in time, Clayton shows up and battles the tiger. When he kills it, he voices the victory cry of the bull ape — at which point the Americans realize who he really is. They've watched the (1930s–1940s) Weissmuller movies about Tarzan, and here he is!
The Americans want to kill the Sumatran hunters, but Tarzan won't let them — he's essentially peaceful, doesn't understand human hatred, and doesn't enjoy killing. (He only enjoyed killing Kulonga, the ape that killed his foster mother.) This is an important aspect of Tarzan's appeal — his values are not civilized, they're both fiercer and kinder than civilized values. They have philosophical conversations, as they travel — and slowly come to identify with Tarzan's way of looking at things.
"You don't know the beasts very well. They have many fine qualities that men would do well to emulate. They have no vices. It was left for man to have those as well as many disagreeable and criminal characteristics that the beasts do not have. When I said that I was more beast than man, I didn't mean that I possessed all their noble qualities. I simply meant that I thought and reacted more like a beast than a man. I have the psychology of a wild beast."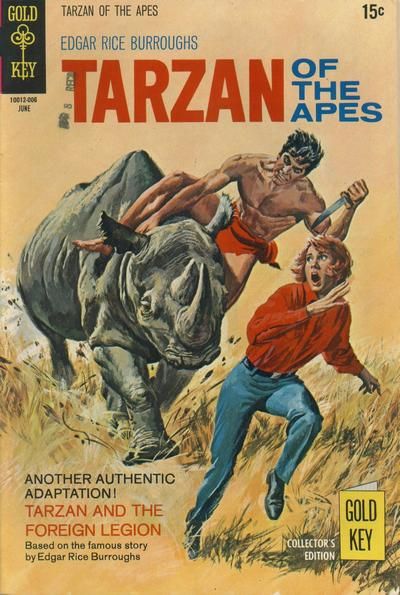 They continue to travel, for many days — encountering wildlife, which delights the scholarly Bubonovitch and terrifies Rosetti. At one point, Corrie is threatened by a charging rhino, and it's Rosetti — who, like the misogynistic Grumpy in Snow White, has become Corrie's fiercest partisan — who saves her, through heroic action. "That was one of the bravest things I ever saw done," Tarzan tells him.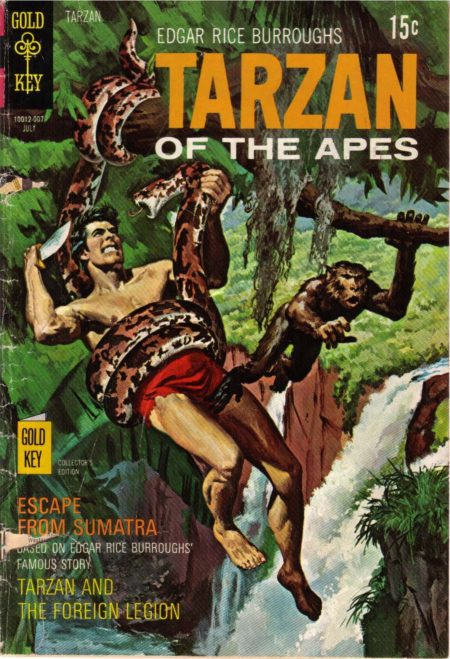 While Tarzan is scouting ahead, Bubonovitch and Rosetti are captured by a Japanese patrol. Tarzan can't come to their immediate aid, because he's busy rescuing a baby orangutang from a python. Tarzan introduces himself to the orangutangs, one of whom — Oju, a brute — challenges him to fight. Tarzan wins the battle, making an enemy of Oju.
[There's a scene in the book where Tarzan is captured by Dutch outlaws, and escapes in the company of a Dutchman whom Jerry perceives as a rival for Connie's affection. I'm not persuaded that any of this is necessary.]
Rosetti and Bubonovitch are forced to kneel in front of the villainous Japanese officer who'd earlier threatened Corrie. He raises his sword to behead them, when Jerry and Corrie attack — with bow and arrows — from the jungle. (Jerry tries to keep Corrie from joining him, she refuses.) Tarzan joins in, too. But they're outnumbered; although this isn't exactly how it happens in the book, I'd suggest that this is when the good Dutch guerrillas show up and save the day.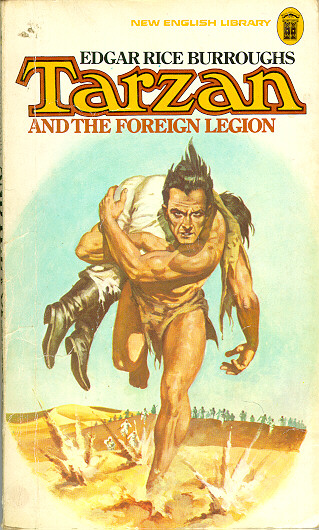 Third act:
[In the book, Corrie is now captured by the Dutch outlaws. She is released by a Sumatran woman who used to be her family's servant, and who now joins their party. That's too many capturings! I'd suggest doing things differently, perhaps as follows.]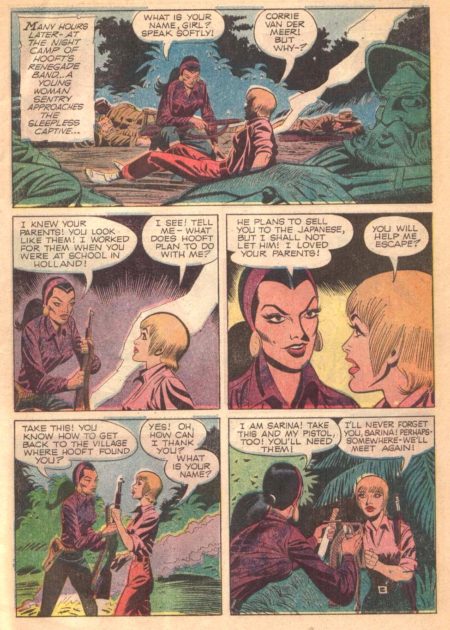 One of the leaders of the Dutch guerrilla group is Sarina, a half-Dutch, half-Austronesian women who grew up in a pirate family. In fact, the Dutch guerrilla group has joined forces with an Idonesian pirate group to fight the Japanese. Sarina is an amazing, impressive figure, described as "a well built woman of thirty-five, lithe and muscular," and "the granddaughter of a Borneo head hunter." She enlivens the third act of the movie, becoming the group's guide as they approach the more populated coastline of the island and seek to escape by boat. Also, Rosetti falls head over heels in love with her.
[OK, in the book Corrie is now abducted by Oju, the brutish orangutang. Tarzan fights and kills Oju. Also, in the book, Jerry becomes very jealous of Corrie's friendship with the rescued Dutchman. Jerry is badly wounded, in a fight with Japanese soldiers, and Corrie nurses him back to health. None of this is needed.]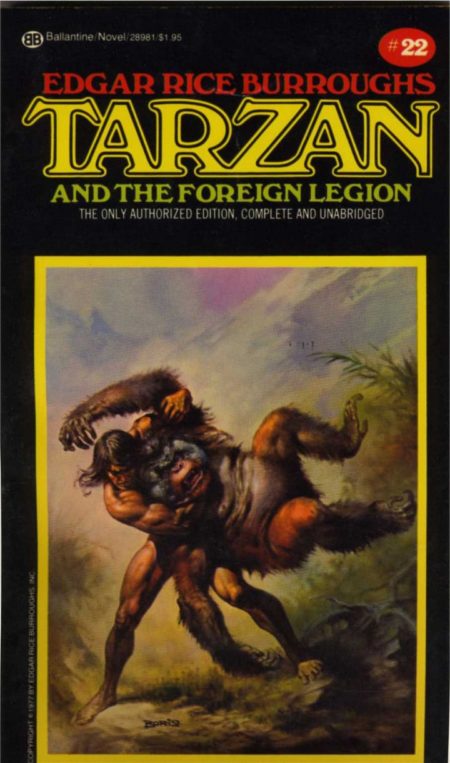 The Foreign Legion — the multicultural Americans, Tarzan, the Dutch girl, the Chinese servant, and the Eurasian Sarina — are approaching the ocean, and making plans to escape by boat, when they discover that Douglas and Davis, the two other surviving Americans, are in a prison camp nearby. They rescue their friends — by now, they are a well-oiled machine. And we get to experience the weirdness of Tarzan all over again — we've all become used to him, by now — when we see him through the eyes of Douglas and Davis.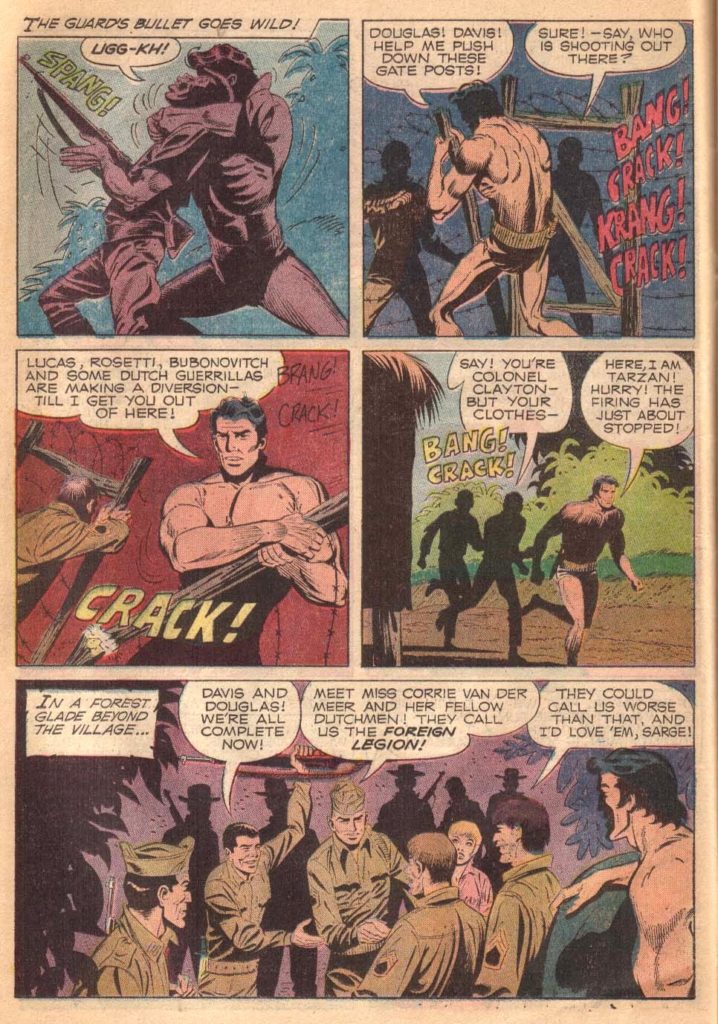 [In the book, Tarzan is captured by the Japanese and rescued by his friends. Unnecessary?]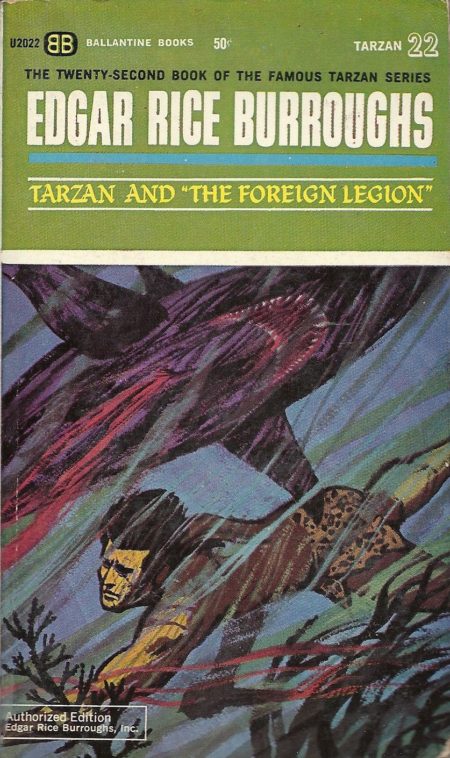 The final adventure is on the sea. Sarina helps them steal a boat – and she is a master sailor. They head for Australia, but encounter a Japanese ship that fires upon them. Their boat is destroyed, Sing Tai killed by a shell, and the Dutchman [whom I've dropped from the movie adaptation] not only hit by Japanese fire but attacked by a shark — which Tarzan fights off.
Then a British sub shows up and destroys the Japanese ship, and rescues what remains of the Foreign Legion.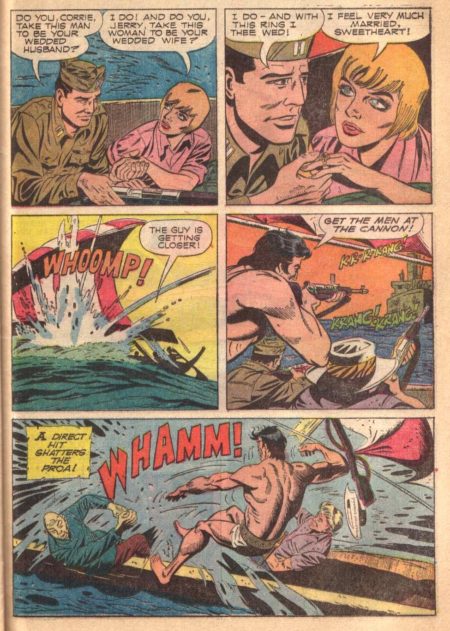 And the Adventure Continues.
*
Hollywood, I know that this particular adventure is dated, racist, schlocky — don't bother adapting it. Instead, let's take Tarzan out of Africa, lose Jane and Nkima and Tantor… and tell some amazing new stories — set in exotic locales, between the two world wars — about this strange, unique, utterly compelling ape-man hero. Tarzan is one of the most famous fictional characters of all time, yet for some reason all we ever hear about is his origin story, again and again. The late-period Tarzan is thrillingly heroic yet deeply weird, both tragic and comical. Hollywood, let's reboot Tarzan!
***
LISTEN, HOLLYWOOD: Michael Innes's FROM LONDON FAR | P.G. Wodehouse's LEAVE IT TO PSMITH | Peter Dickinson's CHANGES TRILOGY | Robert Heinlein's GLORY ROAD | Poul Anderson's THE HIGH CRUSADE | Edgar Rice Burroughs's TARZAN AND THE FOREIGN LEGION | G.K. Chesterton's THE NAPOLEON OF NOTTING HILL | Michael Innes's THE JOURNEYING BOY | Alfred Jarry's EXPLOITS AND OPINIONS OF DR. FAUSTROLL, PATAPHYSICIAN | André Gide's THE VATICAN CAVES [LAFCADIO'S ADVENTURES].
Also see Josh Glenn's SHOCKING BLOCKING series: It Happened One Night (1934) | The Man Who Knew Too Much (1934) | The Guv'nor (1935) | The 39 Steps (1935) | Young and Innocent (1937) | The Lady Vanishes (1938) | Mr. Smith Goes to Washington (1939) | The Big Sleep (1939) | The Little Princess (1939) | Gone With the Wind (1939) | His Girl Friday (1940) | The Diary of a Chambermaid (1946) | The Asphalt Jungle (1950) | The African Queen (1951) | A Bucket of Blood (1959) | Beach Party (1963) | For Those Who Think Young (1964) | Thunderball (1965) | Clambake (1967) | Bonnie and Clyde (1967) | Madigan (1968) | Wild in the Streets (1968) | Barbarella (1968) | Harold and Maude (1971) | The Mack (1973) | The Long Goodbye (1973) | Les Valseuses (1974) | Eraserhead (1976) | The Bad News Bears (1976) | Breaking Away (1979) | Rock'n'Roll High School (1979) | Escape from Alcatraz (1979) | Apocalypse Now (1979) | Caddyshack (1980) | Stripes (1981) | Blade Runner (1982) | Tender Mercies (1983) | Monty Python's The Meaning of Life (1983) | Repo Man (1984) | Buckaroo Banzai (1984) | Raising Arizona (1987) | RoboCop (1987) | Goodfellas (1990) | Candyman (1992) | Dazed and Confused (1993) | Pulp Fiction (1994) | The Fifth Element (1997) | Nacho Libre (2006) | District 9 (2009).
JOSH GLENN'S *BEST ADVENTURES* LISTS: BEST 250 ADVENTURES OF THE 20TH CENTURY | 100 BEST OUGHTS ADVENTURES | 100 BEST RADIUM AGE (PROTO-)SCI-FI ADVENTURES | 100 BEST TEENS ADVENTURES | 100 BEST TWENTIES ADVENTURES | 100 BEST THIRTIES ADVENTURES | 75 BEST GOLDEN AGE SCI-FI ADVENTURES | 100 BEST FORTIES ADVENTURES | 100 BEST FIFTIES ADVENTURES | 100 BEST SIXTIES ADVENTURES | 75 BEST NEW WAVE SCI FI ADVENTURES | 100 BEST SEVENTIES ADVENTURES | 100 BEST EIGHTIES ADVENTURES | 75 BEST DIAMOND AGE SCI-FI ADVENTURES | 100 BEST NINETIES ADVENTURES (in progress) | 1994 | 1995 | 1996 | 1997 | 1998 | 1999 | 2000 | 2001 | 2002 | 2003 | NOTES ON 21st-CENTURY ADVENTURES.