Diamond Age 75 (13)
By: Joshua Glenn
June 9, 2019
One in a series of posts about the 75 best science fiction novels published during the genre's Diamond Age era (from 1984–2003, according to HILOBROW's periodization schema). For Josh Glenn's complete Diamond Age Sci-Fi 75 list, click here.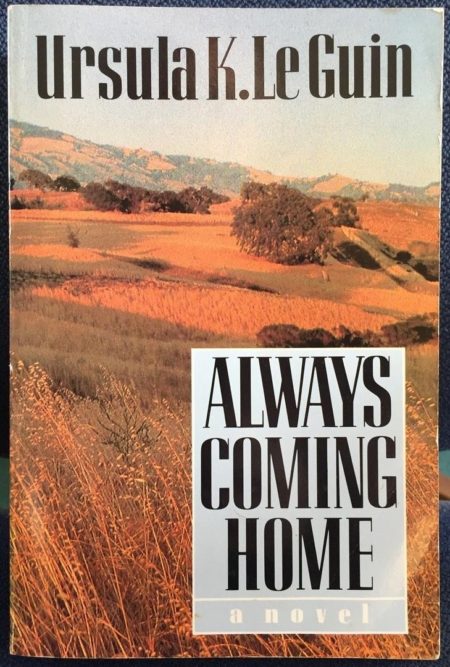 Ursula K. Le Guin's Always Coming Home (1985).
A difficult but rewarding post-apocalyptic text reminiscent of Engine Summer (1979) and Riddley Walker (1980), Le Guin's Always Coming Home isn't exactly a novel; instead, it's the coming-of-age story of a young Kesh woman, Stone Telling, interleaved with a Silmarillion-esque ethnological account of the cultural facts, legends, poetry and song of the Kesh people. The Kesh are a peaceful community who inhabit an isolated island in what used to be California's Napa Valley; at some point in the distant past, they seceded from the rest of America in order to cultivate a mindful approach to technology use, ecological systems, and everything else. An Internet-like computer system survives whatever catastrophe befell America; so does solar power, California's Route 29 ("the old straight road"), steam engines, modern medicine, and flotsam and jetsam like styrofoam. As with the social order depicted in the author's The Dispossessed (1974), Kesh society is an ambiguous utopia: Stone Telling rebels against the culture's taboo against scientific and technological progress. Although she recognizes the flaws of the patriarchal, hierarchical, militaristic neighboring society in which she spent some years growing up, she is attracted to some aspects of that culture.
Fun facts: Le Guin's parents were noted anthropologists who studied the native peoples of Alta California; this book — early editions of which included a cassette tape of Kesh music — is a tribute to their life's work. It is also, according to one character, "a mere dream dreamed in a bad time, an Up Yours to the people who ride snowmobiles, make nuclear weapons, and run prison camps by a middle-aged housewife, a critique of civilization possible only to the civilized, an affirmation pretending to be a rejection, a glass of milk for the soul ulcered by acid rain, a piece of pacifist jeanjacquerie, and a cannibal dance among the savages in the ungodly garden of the farthest West."
***
DIAMOND AGE SCI-FI at HILOBROW: William Gibson | Bruce Sterling | Margaret Atwood | Ann Nocenti | Frank Miller | Alan Moore | Octavia E. Butler | Iain M. Banks | Grant Morrison | Neal Stephenson | Jonathan Lethem | Charles Burns | China Miéville.
JOSH GLENN'S *BEST ADVENTURES* LISTS: BEST 250 ADVENTURES OF THE 20TH CENTURY | 100 BEST OUGHTS ADVENTURES | 100 BEST RADIUM AGE (PROTO-)SCI-FI ADVENTURES | 100 BEST TEENS ADVENTURES | 100 BEST TWENTIES ADVENTURES | 100 BEST THIRTIES ADVENTURES | 75 BEST GOLDEN AGE SCI-FI ADVENTURES | 100 BEST FORTIES ADVENTURES | 100 BEST FIFTIES ADVENTURES | 100 BEST SIXTIES ADVENTURES | 75 BEST NEW WAVE SCI FI ADVENTURES | 100 BEST SEVENTIES ADVENTURES | 100 BEST EIGHTIES ADVENTURES | 75 BEST DIAMOND AGE SCI-FI ADVENTURES | 100 BEST NINETIES ADVENTURES (in progress) | 1994 | 1995 | 1996 | 1997 | 1998 | 1999 | 2000 | 2001 | 2002 | 2003 | NOTES ON 21st-CENTURY ADVENTURES.