Hypocrite Idler 3Q2015
By: Joshua Glenn
October 1, 2015
To idle is to work on meaningful and varied projects — and also to take it easy. (Like Nas, "I used to hustle/Now all I do is relax and strive.") If you're interested in my 3Q2015 projects, please keep reading; otherwise, don't! The title of this series of posts refers to this self-proclaimed idler's inability to take it easy.
MORE HYPOCRISY: 2010 | 2011 | 2012 | 2013 | 2014 | 2015 | 2016 | 2017 | 2018 | 2019 | 1Q2020 | 2Q2020 | 3Q2020 | 4Q2020 SNEAK PEEK.
SEMIOTIC ANALYSIS
WRITING
UNBORED
HILOBROW
HERMENAUTIC CIRCLE
OTHER STUFF
***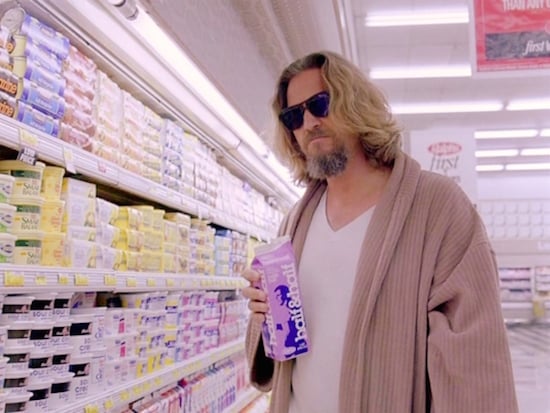 SEMIOTIC ANALYSIS
I'm a cultural and brand semiotician, and co-founder of the Boston- and New York-based agency Semiovox. For over 15 years, my research team and I have inspired brand teams, corporations, and institutions — whether they're seeking to innovate new products, reposition and elevate their brand or image, or develop breakthrough pack designs — by offering a comprehensive, actionable understanding of the latent, taken-for-granted networks of norms (ideas, values, emotions, higher-order benefits) and forms (images, language, design) that influence consumer decision-making within particular product/service categories and (cross-)cultural territories.
Working closely in collaboration with marketing and design agencies, not to mention our sister company, the global brand and innovation agency Consumer Eyes (which brings a full creative department and a suite of immersive consumer research techniques to the table), we frequently facilitate brand stakeholder ideation workshops — the output of which are semiotics-inspired hypotheses, opportunity areas, and concepts that we'll validate and refine with target audiences.
During 3Q2015, we worked across a number of categories, as well as cultural trends and cohorts, including: Evolution of the Family, Positive Aging, Probiotics, French Beauty, Toilet Paper (!), and Textured Hair. Our recent clients include Kraft, Unilever, Beam Suntory, P&G, and MillerCoors, not to mention marketing consultancies in the US, UK, and Poland. On global projects, we collaborate with a network of semioticians and local culture experts from Brazil to Russia and China.
Here at Semiovox HQ, each week our research team uploads scores of ads, packs, and cultural phenomena (trends, videogames, movies, memes, TV, etc.) to our one-of-a-kind semiotic database. Our database boasts over 70,000 entries, meta-tagged for category, emotion, demographics, and more. PS: In 3Q2015, we officially outgrew our office space in Boston's West Roxbury neighborhood. As of October 1, my team and I will move into a larger office.
HiLobrow readers probably aren't interested in hearing more about my day job, so I'll stop there! However, you might perhaps enjoy HILOBROW's semiotic CODE-X series of posts.
***
WRITING
In July, August, and September 2015, I wrote the following posts for HiLobrow.
***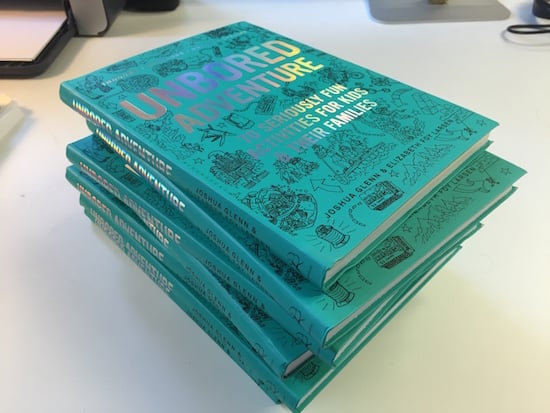 UNBORED
Advance copies of my new book, UNBORED Adventure: 70 Seriously Fun Activities For Kids And Their Families (Bloomsbury), arrived at UNBORED HQ earlier this month. They'll hit bookstore shelves everywhere on October 6.
Boston-area families, please join us at Brookline Booksmith on October 17, at 2 pm, for the book's official launch event!
I'm co-author of UNBORED Adventure with Elizabeth Foy Larsen; the book was designed and art-directed by Tony Leone of Tony Leone Design. This is the second spinoff from our popular 2012 family activities guide, UNBORED. The first, UNBORED Games, was published last October.
In the book's 176 full-color pages, you'll find: adventure apps, adventure gear, adventure skills (from building a fire to open-mindedness), adventure-building projects (e.g., bean shooter, box kite, ghillie poncho, paracord bracelet, upcycled raft), indoor adventures (e.g., sewing your own ditty bag, survival origami), instant adventures, and outdoor adventures (from the pervasive game Assassin to fire-pit recipes to shootin' craps). The book is richly illustrated, as were the previous UNBORED books, by Mister Reusch and Heather Kasunick.
PLUS: Expert essays by adventurer Chris Spurgeon, Bike Snob author BikeSnobNYC, BEN AND BIRDY blogger Catherine Newman, and Kitchen Science Lab for Kids author Liz Lee Heinecke; Best Ever lists (e.g., Dystopian Sci-Fi, Outdoor Adventure Movies); Secret History Comics by Mister Reusch and Heather Kasunick (e.g., Treehouses, Female Explorers, Bicycles); Q&As with Joshua Foer and Dylan Thuras of Atlas Obscura, Playborhood author Mike Lanza, urban biking activist Elly Blue, and Cloudspotting author Gavin Pretor-Pinney; Train Your Grownup features (e.g., Send you Outside, Climb Trees, Let You Roam, Prep for Adventure); and classic lit excerpts (e.g., The Wouldbegoods, Gulliver's Travels, The Swiss Family Robinson). Wow!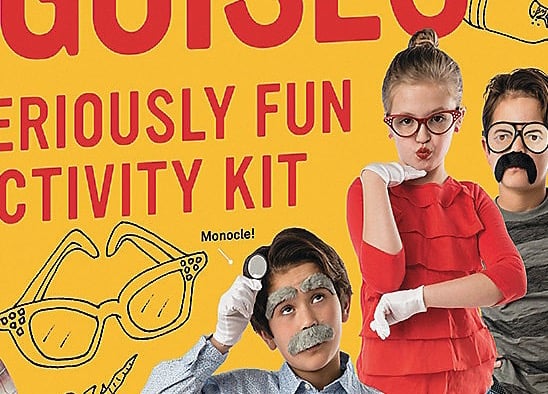 PS: In June, the brainy toy and game company MindWare debuted our first-ever activity kits UNBORED Disguises and UNBORED Treasure Hunt. They're selling like hotcakes!
***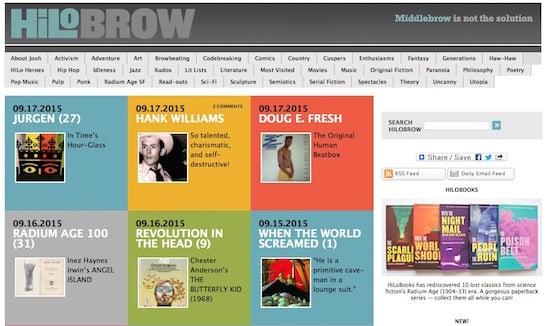 HILOBROW
I'm the editor and publisher, here at HILOBROW. To see what we've been up to during 3Q2015, please check out our Best of HiLobrow 3Q2015 post. In this post, I'll just mention a few series that I edited during 3Q2015.
Since July 1, we've published over 30 new installments in the HILO HEROES series, bringing the series' grand total — since we kicked it off back in 2009 — to just about exactly 1,400 items. HiLo Hero items published in 3Q2015 include: Guy Endore, Carmen Mondragon, Thoreau, Ian Curtis, Berenice Abbott, Herbert Marcuse, Madame Blavatsky, E.J. Bellocq, James Tiptree Jr., Terminator X, Alice Coltrane, and Paulo Freire. (On Sept. 17, I wished Doug E. Fresh a happy 49th birthday.) I am very grateful to HiLobrow contributors Devin McKinney, Brian Berger, Bill Nericcio, Suzanne Fischer, Mark Kingwell, Jacob Mikanowski, Barbara Bogaev, Anthony Miller, Tom Nealon, Mike Fleisch, and Marilyn Snell!

*

In August, we published a series of 25 posts, by 25 contributors, on the topic of our favorite fantasy novels from the Thirties (1934–1943). CROM YOUR ENTHUSIASM — which takes its moniker from Robert E. Howard's Conan mythos — was our fifth annual ENTHUSIASM series. Here's the series lineup:

Erik Davis on Jack Williamson's DARKER THAN YOU THINK | Sara Ryan on T.H. White's THE SWORD IN THE STONE | Mark Kingwell on C.S. Lewis's OUT OF THE SILENT PLANET | David Smay on Fritz Leiber's THIEVES' HOUSE | Natalie Zutter on Robert E. Howard's QUEEN OF THE BLACK COAST | James Parker on J.R.R. Tolkien's THE HOBBIT | Adrienne Crew on Dion Fortune's THE SEA PRIESTESS | Gabriel Boyer on Clark Ashton Smith's ZOTHIQUE stories | John Hilgart on H.P. Lovecraft's THE CASE OF CHARLES DEXTER WARD | Barbara Bogaev on William Sloane's TO WALK THE NIGHT | Rob Wringham on Flann O'Brien's THE THIRD POLICEMAN | Dan Fox on Hergé's THE SEVEN CRYSTAL BALLS | Flourish Klink on C.S. Lewis's PERELANDRA | Tor Aarestad on L. Sprague de Camp and Fletcher Pratt's THE ROARING TRUMPET | Anthony Miller on H.P. Lovecraft's THE SHADOW OVER INNSMOUTH | Suzanne Fischer on E.R. Eddison's MISTRESS OF MISTRESSES | Molly Sauter on Herbert Read's THE GREEN CHILD | Diana Leto on Edgar Rice Burroughs's TARZAN AND THE LION MAN | Joshua Glenn on Robert E. Howard's THE HOUR OF THE DRAGON | Andrew Hultkrans on H.P. Lovecraft's AT THE MOUNTAINS OF MADNESS | Lynn Peril on Fritz Leiber's CONJURE WIFE | Gordon Dahlquist on H.P. Lovecraft's THE SHADOW OUT OF TIME | Adam McGovern on C.L. Moore's JIREL OF JOIRY stories | Tom Nealon on Fritz Leiber's TWO SOUGHT ADVENTURE | John Holbo on Robert E. Howard's CONAN MYTHOS.

*

HILOBROW's 10-post REVOLUTION IN THE HEAD series is dedicated to New Wave-era (1964–1983) science fiction book covers depicting blown minds and deconstructed heads; and HILOBROW's 10-post CIRCLE GAME series is dedicated to circles used as metaphors on vintage book and LP covers, and movie posters.
*
Click here for a sneak peek of HILOBROW's 4Q2015.
***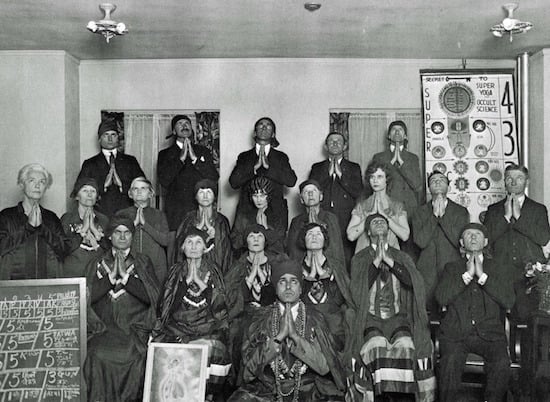 HERMENAUTIC CIRCLE
The Hermenautic Circle is a secretive society managed by yours truly. I'm not at liberty to discuss the HC, but you can read what may or may not be a parodic version of our history here.
***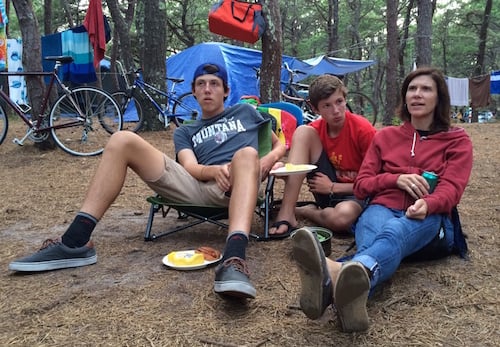 OTHER STUFF
In the taking it easy department…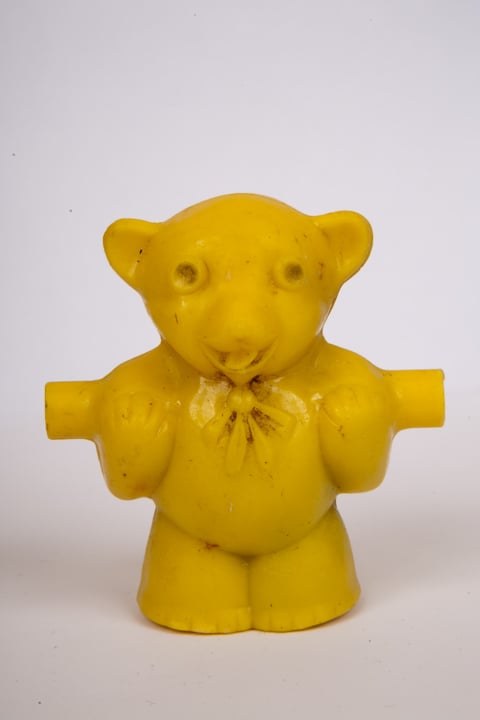 In July, I attended KNOTTY OBJECTS, the first MIT Media Lab Design Summit, with Rob Walker — my partner on the SIGNIFICANT OBJECTS project and book. Rob moderated a terrific panel, and he and I also spent some time being filmed — in a Central Square thrift shop — for a documentary.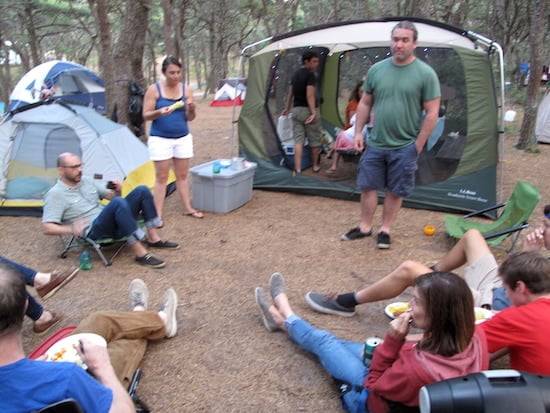 In August, my family and I went car-camping — at the beach, in Truro, Mass. — with the families of some good friends, including (standing) HiLobrow contributor Tom Nealon and (seated, far left) occasional HiLobrow illustrator Rick Pinchera.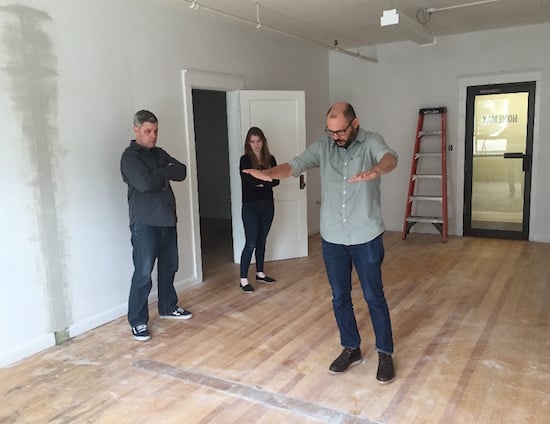 In August, we started moving the Semiovox, King Mixer, HiLobrow, Unbored, Tony Leone Design, and Rick Pinchera Illustration offices into a new space. Needs a lot of work, won't be ready until October. But it's really big!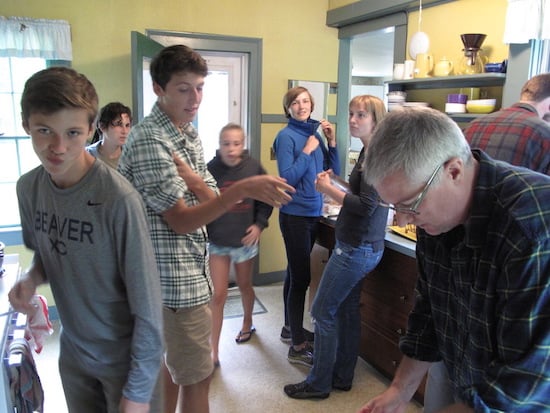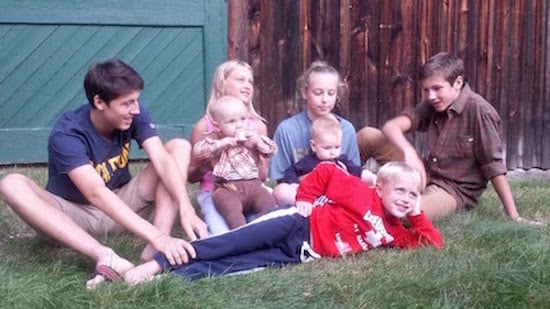 In September, Susan and our two sons and I spent a long weekend on a New Hampshire farm visiting with five of my six brothers and sisters, their (four) significant others and (five) children, plus my father and stepmother. It was a hectic, joyous event.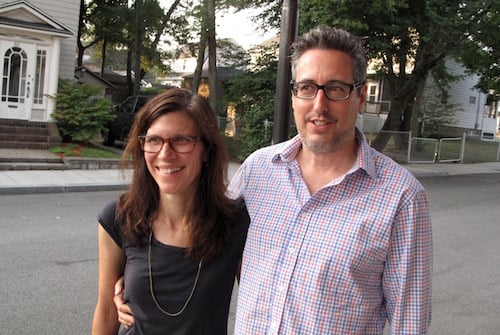 Also in September, Susan and I celebrated our 20th wedding anniversary — and 27th year together. And in all that time, as the Boston Irish say, never an unkind word!
***
MORE HYPOCRISY: 2010 | 2011 | 2012 | 2013 | 2014 | 2015 | 2016 | 2017 | 2018 | 2019 | 1Q2020 | 2Q2020 | 3Q2020 | 4Q2020 SNEAK PEEK.
On to 4Q2015!