Sergei Eisenstein
By: Brian Berger
January 23, 2012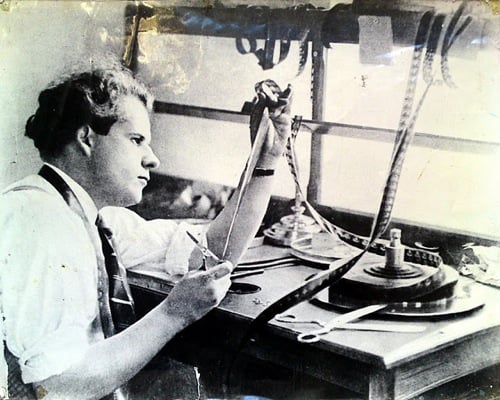 In August 1929, SERGEI EISENSTEIN (1898-1948), director of Strike, Battleship Potemkin and, most recently, The General Line (see below), headed west, destination Hollywood. But first Berlin, London and Paris — where James Joyce read Work In Progress to him — and New York, where Eisenstein arrived in May 1930: visionary, Bolshevist, Paramount Pictures' newest star. Theodore Dreiser — who'd met him three years earlier in Moscow — was among the welcomers; now it was hoped, Eisenstein could film Dreiser's shattering 1925 novel An American Tragedy, whose film rights Paramount owned. Eisenstein made California by summer. With him were his two Soviet collaborators, assistant director Grigori Alexandrov and cameraman Eduard Tisse, and a British admirer, Ivor Montagu. Eisenstein's first project was Sutter's Gold, from Blaise Cendrars' 1926 novel L'Or. Eisenstein dictated scenes to Alexandrov in Russian, which translators rendered into English that Eisenstein and Montagu then revised. The result was brilliant, but rejected; there were too many dark truths in this historical fiction. Undaunted, Eisenstein moved on to Dreiser. "Gentlemen, So here we see the miracle accomplished — An American Tragedy presented in only 14 reels!" wrote the authors upon submission. "The most moving script I have ever read," associate producer David O. Selznick wrote Paramount boss B.P. Schulberg. "It was so effective it was positively torturing." Thus genius rejected! With financial backing from Upton Sinclair and others, Eisenstein next went to Mexico and was there when Josef Von Sternberg's simplistic An American Tragedy opened in August 1931. So infuriated was Dreiser, he sued Paramount for aesthetic libel.
 

***
On his or her birthday, HiLobrow irregularly pays tribute to one of our high-, low-, no-, or hilobrow heroes. Also born this date: Django Reinhardt.
READ MORE about members of the Hardboiled Generation (1894-1903).