M is for Micawberish
By: Joshua Glenn
April 30, 2012
A series of 26 posts featuring excerpts from Joshua Glenn's The Idler's Glossary (Biblioasis, 2008) and The Wage Slave's Glossary (Biblioasis, 2011). Both books were coauthored by Mark Kingwell, who contributed entertaining philosophical-critical essays on the subjects of idling and wage slavery; and both were wittily illustrated and designed by the cartoonist Seth.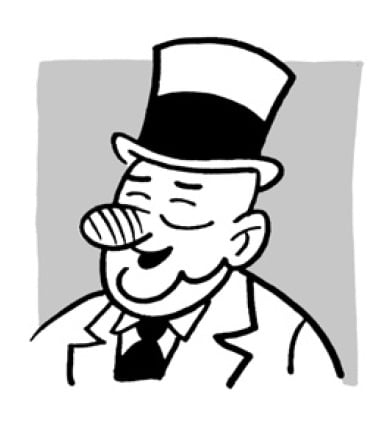 MICAWBERISH
Is anyone's heart so hard that it doesn't go out to Micawber, the secret hero of
David Copperfield. Micawber — portrayed brilliantly by W.C. Fields in the 1935 movie adaptation of the Dickens novel — lives in optimistic expectation of better fortune, but won't lift a finger to make it come any sooner.
***
ALSO: Alienation | Big Rock Candy Mountains | Corporation | Dawdle | Employee of the Month | Flazy | Greybearding | Hobo | Inemuri | Jack of All Trades | Knock Off Work | Lazy | Micawberish | Nobbing It | Onboarding | Pink Slip | Quitter | Robot | Stakhanovite | Time and Motion Study | Unemployment | Volupté | Wage Slavery | Xerox Subsidy | Yakuza | Zero Drag