HYPOCRITE IDLER 2Q2021
By: Joshua Glenn
June 28, 2021
To idle is to work on meaningful and varied projects — and to take it easy. The series title refers to this self-proclaimed idler's inability to take it easy.
HILOBROW is a noncommercial blog! The info below should not be construed as a vulgar advertisement for SEMIOVOX, UNBORED, THE ADVENTURER'S GLOSSARY, MIT PRESS's RADIUM AGE SERIES, SEMIOFEST SESSIONS, LOST OBJECTS, GO WEST, or any of my various more-or-less profitable projects. It is merely an update on my doings and undoings — in this case, during 2Q2021.
MORE HYPOCRISY: 2010 | 2011 | 2012 | 2013 | 2014 | 2015 | 2016 | 2017 | 2018 | 2019 | 2020 | 2021 | 2022 | 1Q2023.
Also see: HILOBROW 2Q2021.
***
---
SEMIOVOX
---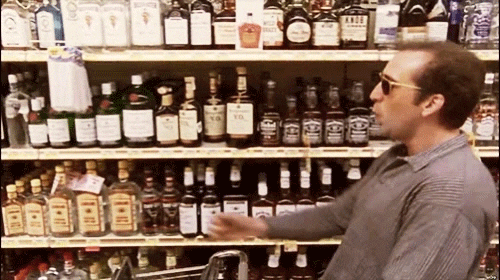 Above: Josh conducting research in the field.
I've fossicked as a consulting semiotician since 1999; in 2014, Ron Rentel and I cofounded the Boston- and New York-based semiotics-powered brand consultancy SEMIOVOX.
During 2Q2021, our team conducted semiotics-fueled audits, frequently combined with consumer research (via our sister company, Consumer Eyes), on behalf of — among other clients — an iconic European coffeeshop with thousands of outlets around the world, one of the world's best-known liqueur brands, and a Russian educational software company. Plus, we have just kicked off a fascinating project in China, which will involve collaboration with our semio and consumer research colleagues there.
Never a dull moment…
*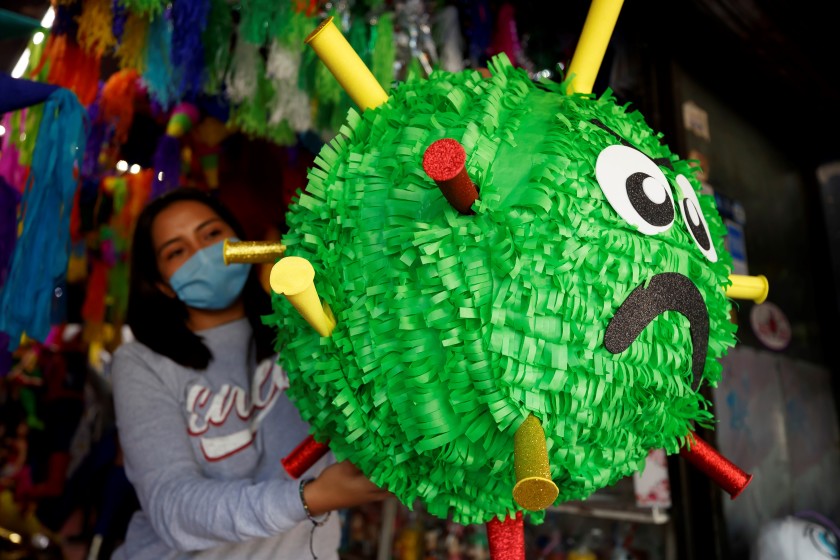 I'm the editor of SEMIOVOX's eponymous website, which features ongoing series such as OBJECT ORIENTED and CODE-X. Notably, during 2Q2021 we published the final installments in the 16-part, globally scoped series COVID CODES.
Here's the 2Q2021 COVID CODES lineup: GOOD ATTITUDE | TRUE GRIT | CONCRETE ACTION | RHYTHM & FLOW | GATE KEEPER | KEEP IT SIMPLE.
I'm the lead author and editor of COVID CODES; I'm grateful to the series' 30+ contributors, my semio colleagues from around the world.
---
SEMIOFEST SESSIONS
---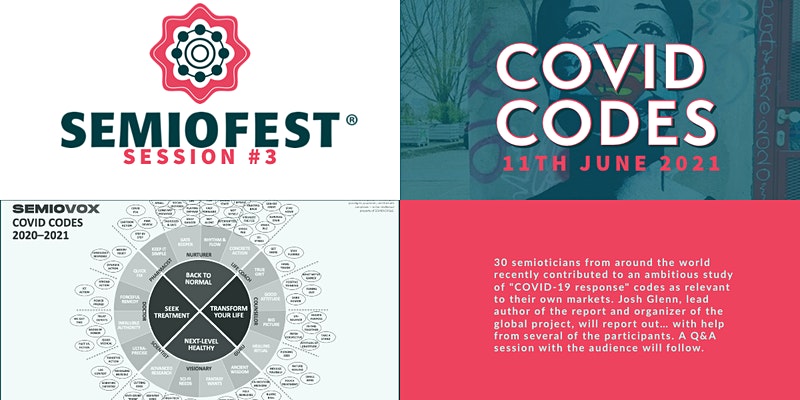 I've taken an active role in convening a monthly series of informal online gatherings under the auspices of Semiofest — the only annual conference devoted to applied semiotics. April saw the début of SEMIOFEST SESSIONS. Here's the lineup so far:
In April, the Moscow-based semiotician Masha Papanthymou and I discussed the uses of the so-called "semiotic square" in our practices — before inviting the attendees to share their own ideas.
Our May session, "Ask the Semiotician," featured a panel consisting of Luca Marchetti (Italy/France), Gabriela Pedranti (Spain/LatAm), Charles Leech (Canada), and Vladimir Djurovic (China), who responded to queries about client management, demonstrating the validity of semiotics, and more.
In June, I invited Sónia Marques (Portugal), Seema Khanwalkar (India), Maciej Biedziński (Poland), Ximena Tobi (Argentina), and Wei Fen Lee (Singapore) to speak about their culture-specific contributions to COVID CODES.
I'm grateful to Semiofest's board — Chris Arning, Lucia Laurent-Neva, and Hamsini Shivakumar — for their ongoing community-building efforts. Follow Semiofest on LinkedIn for updates.
---
THE ADVENTURER'S GLOSSARY
---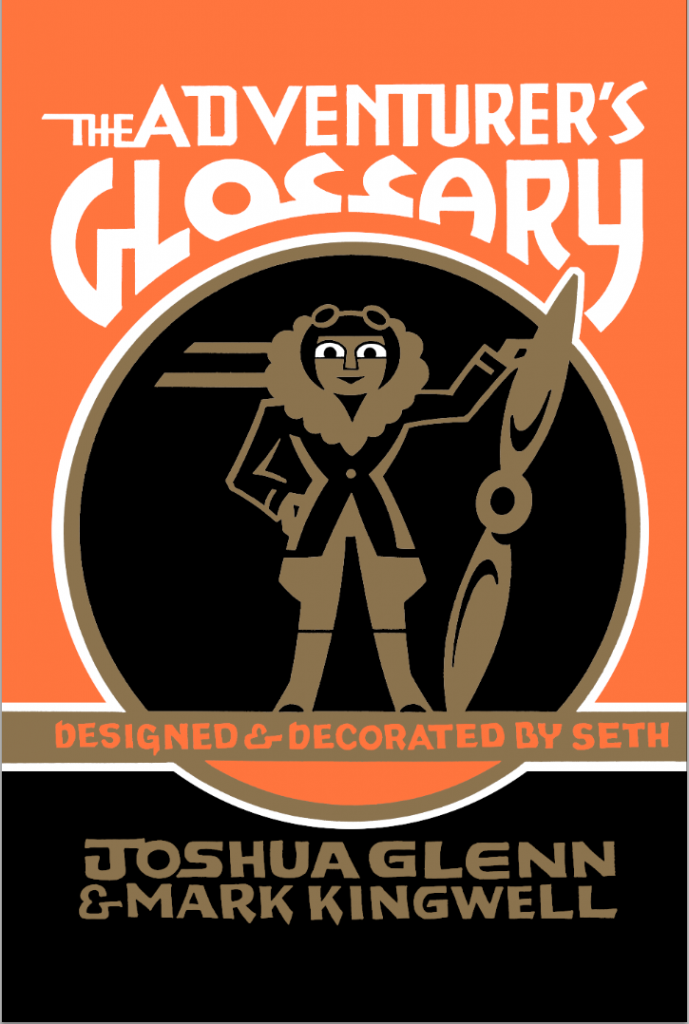 "A case for 'adventure' as a literary as well as a quasi-athletic genre and attitude, with a philosopher's aerial approach, a set of literary recommendations, and a great deal of cultural history baked into a very skimmable A to Z." — Stephanie Burt, author of Don't Read Poetry: A Book about How to Read Poems

"I read The Adventurer's Glossary with great interest and mounting enthusiasm; there is no book quite like it. I found surprises on nearly every page." — Luc Sante, author of Maybe the People Would Be the Times

"Joshua Glenn, Mark Kingwell, and Seth combine their talents to embark on a grand linguistic adventure. Together they map out the power of language to help the explorer navigate a rich narrative." — Ann Bancroft, first woman to trek to the North and South Poles
THE ADVENTURER'S GLOSSARY, my latest collaboration with Mark Kingwell and the cartoonist Seth — we previously created The Idler's Glossary (2008) and The Wage Slave's Glossary (2011) —  will be published by McGill Queen's University Press in September. During 2Q2021, we finalized the book's layout — not only the glossary and Mark's intro, but my Typology of Adventure appendix, the Adventurer's Team Certificate of Membership, and Seth's witty illustrations throughout.
The Adventurer's Glossary is the lead title in MQUP's Fall 2021 catalog. I am grateful to Khadija Coxson and MQUP's talented production department, and I owe a debt of gratitude to the litterateurs Stephanie Burt and Luc Sante, as well as to the pioneering polar explorer Ann Bancroft, for providing blurbs.
*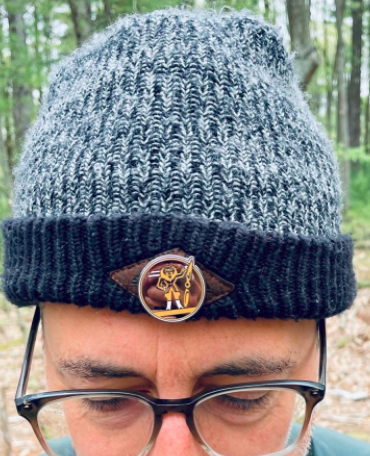 I'm grateful also to HILOBROW friend Peggy Nelson, who was instrumental in creating the enamel AG badge — which makes effective use of Seth's cover art — shown in this photo. Thanks to Mark Kingwell and MQUP, too, for sharing the expense of the badges' manufacture with me….
---
HILOBROW
---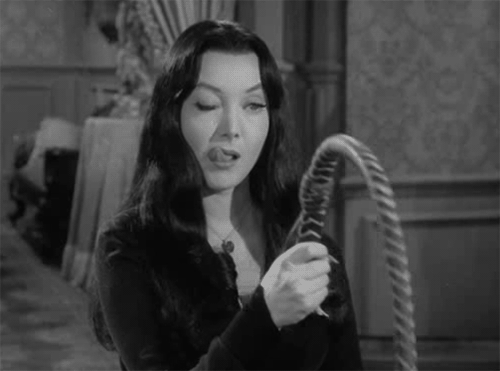 I'm the editor and publisher, here at HILOBROW. To see what our contributors have posted to the site recently, check out the HILOBROW 2Q2021 post. Here, I'll just mention our series FIVE-O YOUR ENTHUSIASM — which is dedicated to a few favorite TV shows from the Sixties (1964–1973, according to HILOBROW's eccentric periodization scheme). Here's the lineup:
Lynn Peril on DARK SHADOWS (1966–1971) | Mark Kingwell on THE MAN FROM U.N.C.L.E. (1964–1968) | Elizabeth Foy Larsen on I DREAM OF JEANNIE (1965–1970) | Luc Sante on SECRET AGENT/DANGER MAN (1964–1968 seasons) | Erin M. Routson on THE PATTY DUKE SHOW (1963–1966 run) | Gordon Dahlquist on HAWAII FIVE-O (1968–1973 seasons) | Annie Nocenti on GET SMART (1965–1970) | Sara Driver on THE ADDAMS FAMILY (1964–1966) | Carlo Rotella on MANNIX (1967–1973 seasons) | Adam McGovern on JULIA (1968–1971) | Mimi Lipson on THE MARY TYLER MOORE SHOW (1970–1973 seasons) | Josh Glenn on BATMAN (1966–1968) | Tom Nealon on HOGAN'S HEROES (1965–1971) | Miranda Mellis on THE ODD COUPLE (1970–1973 seasons) | Peggy Nelson on GILLIGAN'S ISLAND (1964–1967) | Susan Roe on THE BRADY BUNCH (1969–1973 seasons) | Michael Grasso on UFO (1970–1973) | Richard McKenna on DOOMWATCH (1970–1972) | Adrienne Crew on BEWITCHED (1964–1972) | Michael Lewy on STAR TREK (1966–1969) | Greg Rowland on THE PARTRIDGE FAMILY (1970–1973 seasons) | David Smay on THE MONKEES (1966–1968) | Vijay Parthasarathy on THE DICK VAN DYKE SHOW (1964–1966 seasons) | Carl Wilson on THE CAROL BURNETT SHOW (1967–1973 seasons) | Jessamyn West on EMERGENCY! (1972–1973 seasons).
I am grateful to the series' talented contributors, many of whom have donated their honoraria to the ACLU.
*
To see what's coming up here at HILOBROW in the next few weeks and months, please check out the SNEAK PEEK 3Q2021 post. HILOBROW stalwarts Peggy Nelson, Adam McGovern, and Matthew Battles have stepped up as editors of various series (in Peggy's case, even more series than she is already editing)… because I've been overwhelmed!
---
RADIUM AGE
---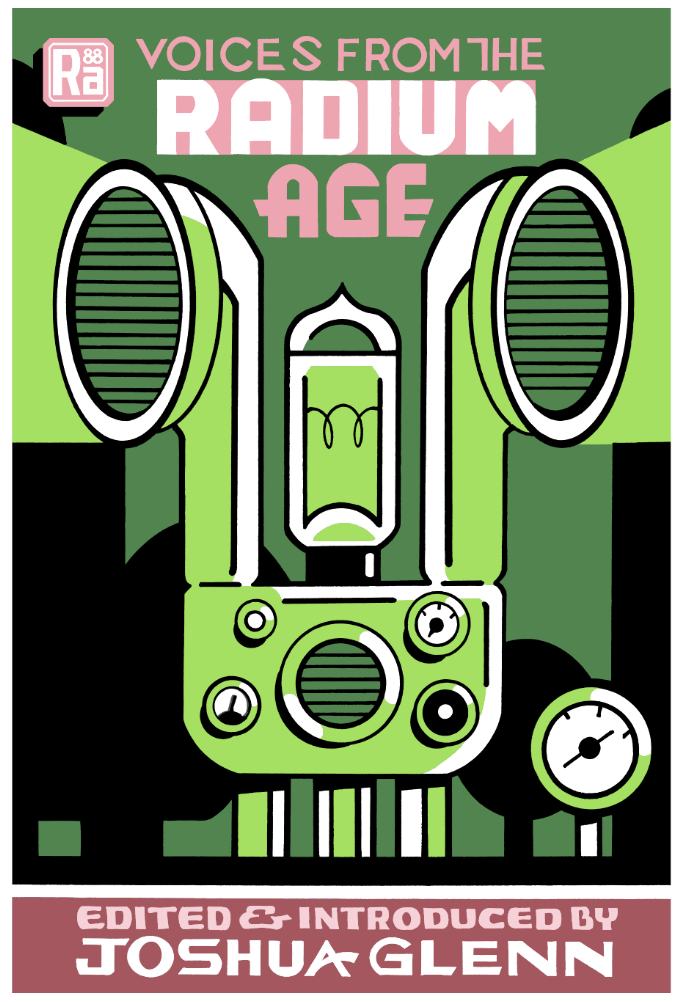 The first four titles in the RADIUM AGE series of reissued proto-sf (c. 1900–1935) novels and stories, a project I'm spearheading for MIT Press, will appear in Spring 2022. Here's the lineup:
These books were copy edited during 2Q2021, which involved a lot of close attention to detail on everyone's part, and now I'm reviewing final proofs. I'm grateful to MITP's diligent production team.
*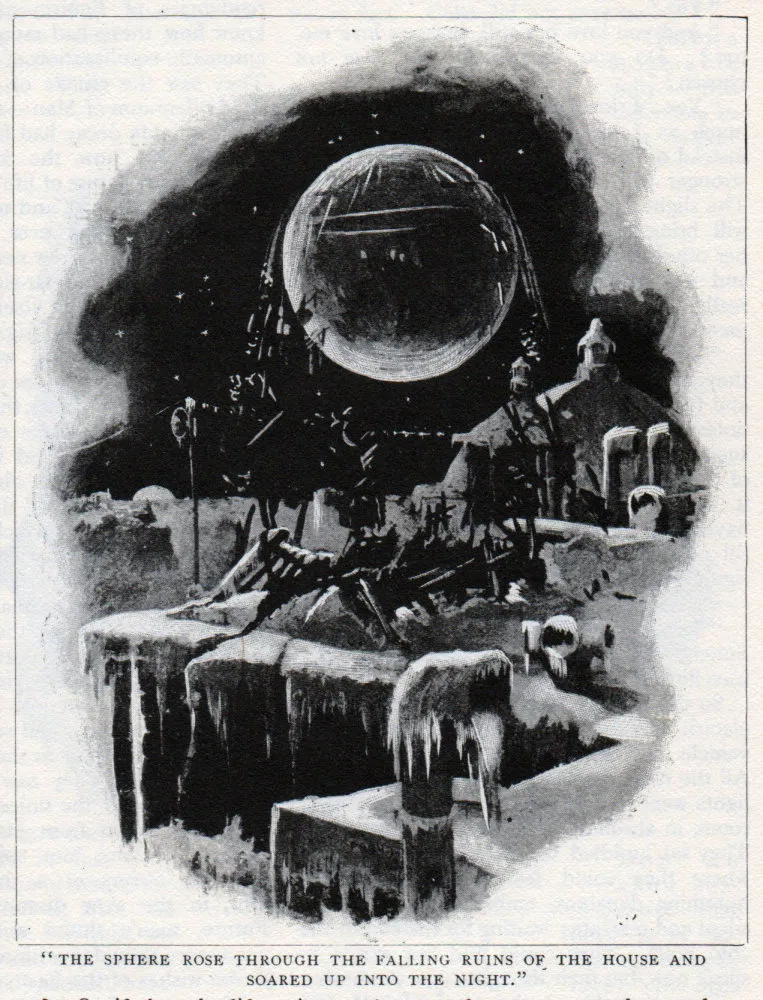 I hope to publish a second Voices from the Radium Age story collection in Fall 2023. So in April and May — particularly when Susan and I were in Truro, waiting for our second vaccines to take effect — I whiled away many pleasant hours revisiting proto-sf stories I've enjoyed, and discovering new ones too. In June, I submitted a proposal to MITP for a second "Voices" collection.
During 2Q2021, I edited three introductions and an afterword for the series' Fall 2022 titles; at the request of its author, the afterword was submitted to a peer review process — I'm grateful to the referees for their helpful notes. And I prepped the texts of the novels — comparing them, word by word, sentence by sentence, with the original published versions. Also, having received the go-ahead from MITP to publish two titles for Spring 2023 — one of which will be a single-volume collection of two novels — I assigned introductions to sf scholars whom I admire.
I'm grateful to MITP's Noah Springer, to the perspicacious contributors of introductions and afterwords, to our panel of advisors, and to Seth — who (as seen above) has created thrilling covers for the four Spring 2022 titles.
---
SIGNIFICANT OBJECTS
---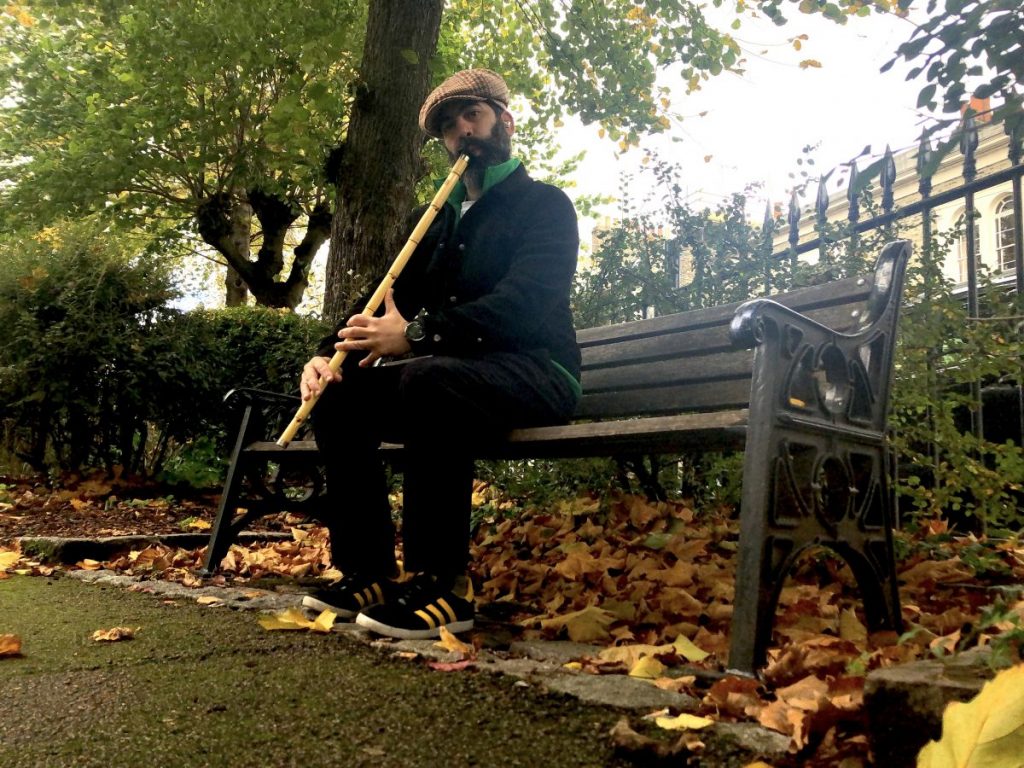 In 2009–2010, Rob Walker and I collaborated on the literary/economic/anthropological experiment SIGNIFICANT OBJECTS. Over a decade later, we're still at it — via PROJECT:OBJECT, here at HILOBROW.
PROJECT:OBJECT returned, during 2Q2021, with the volume SEMIO OBJECTS, a 25-part series of object-oriented nonfiction narratives by consulting semioticians from around the world. I edited this series, originally for our sister website SEMIOVOX; I'm grateful to the series' contributors for permitting us to cross-post their fascinating, often moving stories to HILOBROW.
The 4Q2021 PROJECT:OBJECT series — provisionally titled PROJECT:OBJECTIONABLE — will be guest-edited by Adam McGovern.
*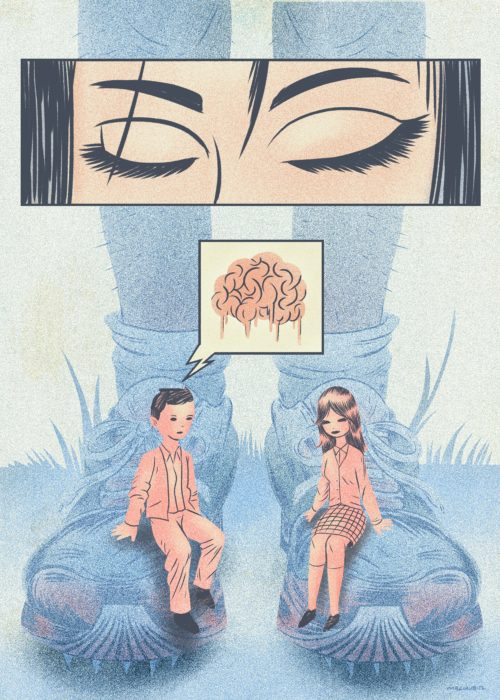 News flash! A few days ago, Rob and I inked an agreement with Hat & Beard Press — an independent, LA-based publisher that creates "original, illustrated nonfiction books of pop-cultural and historical significance that draw on existing cult audiences." Hat & Beard is a perfect fit for our (2017–2019) LOST OBJECTS endeavor — a collection of nonfiction stories, by 50 writers, regarding favorite lost objects… which were depicted by 50 artists.
We're grateful to HILOBROW friend J.C. Gabel for making this book happen. The LOST OBJECTS book should be available in Spring 2022. Here's the stellar contributor list, in no particular order:
Geoff Manaugh | Mariana Pita | Joe Yonan | Theo Ellsworth | Laura Lippman | Laura Didyk | Ben Katchor | Neil LaBute | Disa Wallander | Miranda Mellis | Adam Goldberg | Chris Piascik | Jenny Kroik | Anita Kunz | Debbie Millman | Heather Kapplow | Matt Wuerker | Lydia Millet | Berta Valló | Ben Greenman | Clara Selina Bach | Leah Hennessey | Dean Haspiel | Kathryn Davis | Dina Noto | Mikita Brottman | Sarah Williamson | Nathaniel Rich | Ellen Rose | Charles Glaubitz | Seth | Becky Stern | Monica Garwood | Mark Dery | Kelli Anderson | Paola Antonelli | Guillermo Meraz | Sara Ryan | Steve Lieber | Alex Gerasev | Margaret Wertheim | Armando Veve | Kate Bernheimer | Amy Evans | Dan Piepenbring | Josh Neufeld | Doug Dorst | John Holbo | Paul Lukas | Allison Bamcat | Mimi Lipson | Mister Reusch | Luc Sante | Kate Bingaman-Burt | Nina Katchadourian | Lisa Congdon | Matthew Sharpe | Glenn Jones | Claire Lehmann | Karen Kurycki | Jessamyn West | Amanda Clarke | Mandy Keifetz | Emory Allen | M.R. Sauter | Shayna Piascik | Amy Thielen | Heather Kasunick | Stephen O'Connor | Oliver Munday | Alice Boone | Rick Pinchera | Dante Ramos | Joe Alterio | Alex Balk | John Lowe | Chelsey Johnson | Rubi McGrory | Susannah Breslin | Jennifer Heuer | Seth Mnookin | Alex Eben Meyer | Dan Fox | Linzie Hunter | Lisa Takeuchi Cullen | Rose Wong | Michael Tisserand | Jackie Roche | Jeff Turrentine | Andrew DeGraff | Randy Kennedy | Max Temescu.
Rob and I are hard at work figuring out the book's introduction and design. We're grateful to Susan Roe for volunteering to help us round up 100 signed contributor release forms….
---
HERMENAUT
---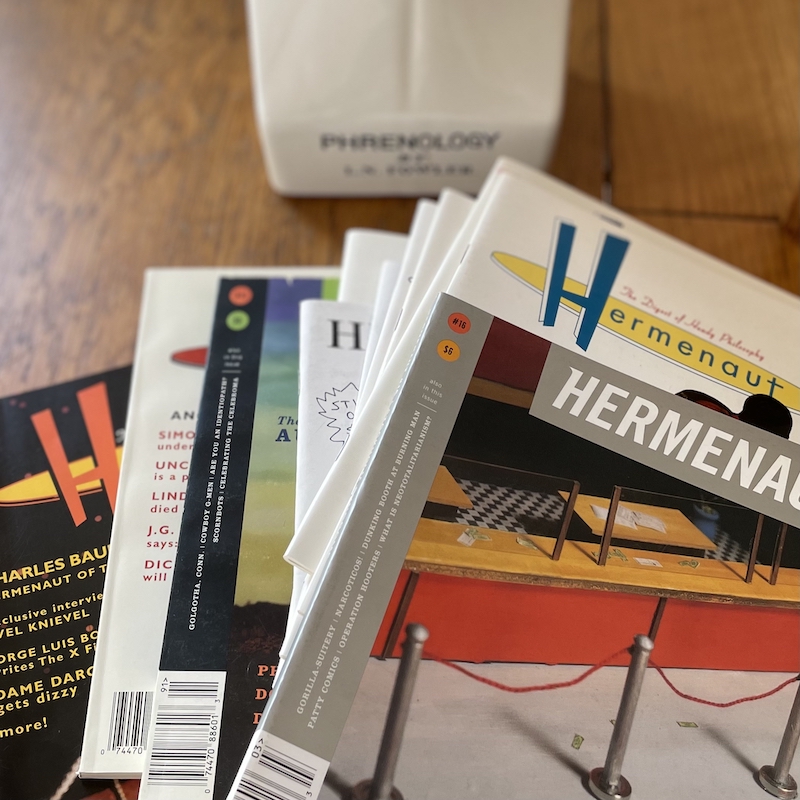 During 2Q2021, Lucas Gelfond, a Brown U. undergrad, persuaded me to donate a complete run of HERMENAUT — the intellectual print zine/journal that I published from 1992–2001 — to Brown's library. (I'm grateful to Heather Cole, head of Special Collections there.) The only other institution that possesses a complete run of Hermenaut is the University of Iowa Libraries — to whom I donated the bulk of my zine collection as well as Hermenaut "working files" — years ago.
The goal is to get the entire print run digitized… at which point Lucas proposes to build an online Hermenaut archive.
PS: Hermenaut was a DIY periodical described by Wired as "a scholarly journal minus the university," and by Lingua Franca as "a cultural studies seminar being crashed by well-read bohemians." I published the first issue in Summer 1992 in a xeroxed run of 50. Hermenaut #16, the final issue, was printed in Winter 2000–01 in a run of 10,000.
*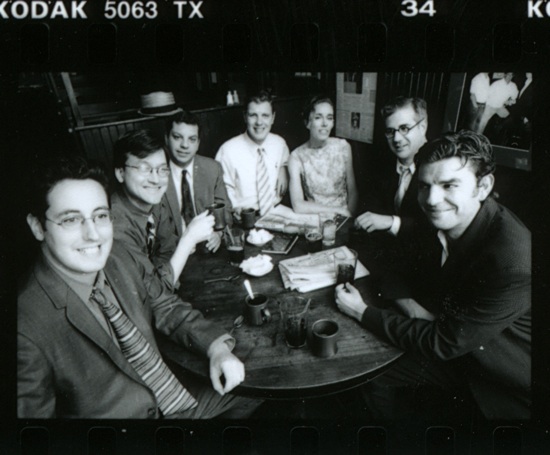 Summer 2022 will see the 30th anniversary of the first issue of Hermenaut, I've been informed. Perhaps a "best-of" collection — featuring contributions to the magazine and website by Hermenaut regulars A.S. Hamrah, Jennifer Engel, Clarke Cooper, Ingrid Schorr, Susan Roe, John Cradock, James Parker, Dame Darcy, Chris Fujiwara, Lynn Peril, R. Sikoryak, Matthew Battles, and Lisa Carver, not to mention guest appearances by the likes of Tom Frank, Lydia Millet, Matthew De Abaitua, Sam Lipsyte, Keith Gessen, Phil Milstein, Marilyn Snell, John Marr, Hap Mansfield, Louis Theroux, Gavin McNett, and Paul Maliszewski — might be in order? Risk-taking publishers, please get in touch…
(RIP, Hermenaut friends Margaret Blonder and Ernest Pascucci.)
---
READING & WRITING
---
At HILOBROW, I contributed a handful of posts worth mentioning, during 2Q2021:
FIVE-O YOUR ENTHUSIASM series intro. Excerpt: "Fifties TV wasn't politically engagé; Seventies TV was. Sixties TV is a bridge between the two eras — a bridge that spans the last black-and-white shows, c. 1964–1966, and the mainstreaming of shows shot in color. The the balancing act between cheerful, if shallow Fifties-ish fare and often right-on, if strident Seventies-ish fare is — at times, anyway — a marvel to behold."
BATMAN. For the FIVE-O series, I contributed a post on the 1966–1968 live-action Batman show. Excerpt: "The show's devotion to gesture, role, costume, supposition, and borrowed manner — West's deadpan delivery of absurd dialogue is best described as Ionesco-esque — demands to be understood as an ironic expression of heartbroken love for the pre-middlebrow Batman."
SEMIO OBJECTS series introduction. Excerpt: "An author-type approach to PROJECT:OBJECT series, as opposed to our usual object-meaning-type approach, opens up all sorts of possibilities."
At SEMIOVOX, I've expanded a notational post — about owls in pre-Eighties pop culture — that I originally wrote for HILOBROW into a series titled THE WOLERY.
Also, I've written installments for the next two "enthusiasm" series: one on Baudelaire's never-realized journal, Le Hibou Philosophe, the other on David Hargrave's self-published sf/fantasy RPG system Arduin.
*
I'm slowly writing — with moral support from fellow writers James Parker, Matthew Battles, and Charlie Mitchell — a "semiopunk" sf novel. Also, I'm trying to persuade James to help me translate a French Radium Age sf novel. Speaking of James, and writing slowly, my theory of the Virtuous Circle of Procrastination (VCP) rated a shout-out in James's latest Atlantic column.
*
Now that I've wrapped up my years-long BEST ADVENTURES reading project, I'm once again revisiting Radium Age-era proto-sf stories. I've tracked down all sorts of books I'd overlooked in my previous research, such as Claude Ferrere's Useless Hands (1920), say, or Salvador de Madriaga's The Sacred Giraffe (1925).
During 2Q2021, I've also enjoyed books by some of the MITP series' panel of advisors, including: Anindita Banerjee's 2013 study We Modern People: Science Fiction and the Making of Russian Modernity, Ken Liu's 2016 "silkpunk" fantasy novel The Grace of Kings, Sherryl Vint's 2021 MIT Press Essential Knowledge series installment Science Fiction, and Annalee Newitz's 2021 archaeological-urbanist study Four Lost Cities.
---
GO WEST
---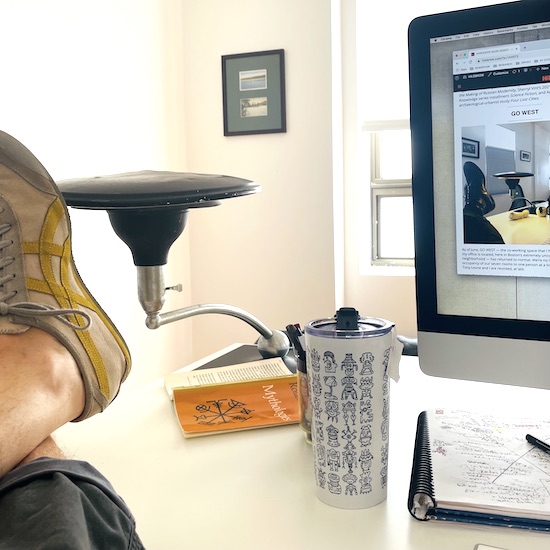 As of June, GO WEST — the co-working space that I helped start, and where my office is located, here in Boston's extremely uncool West Roxbury neighborhood — has returned to normal. We're no longer restricting the occupancy of our offices to one person at a time… which means that my longtime collaborator Tony Leone and I have, at long last, been reunited.
Jamie Folsom and I are grateful to the small businesses — including Anomia Press, Tony Leone Design, Performant Software, Jackrabbit Learning Experience, and Modern Renaissance Legal — and remote workers for, among other fine companies and NGOs, Archipelago Strategies Group, Calabash Labs, and The Building Electrification Initiative — who've hung in there with us.
---
TAKING IT EASY
---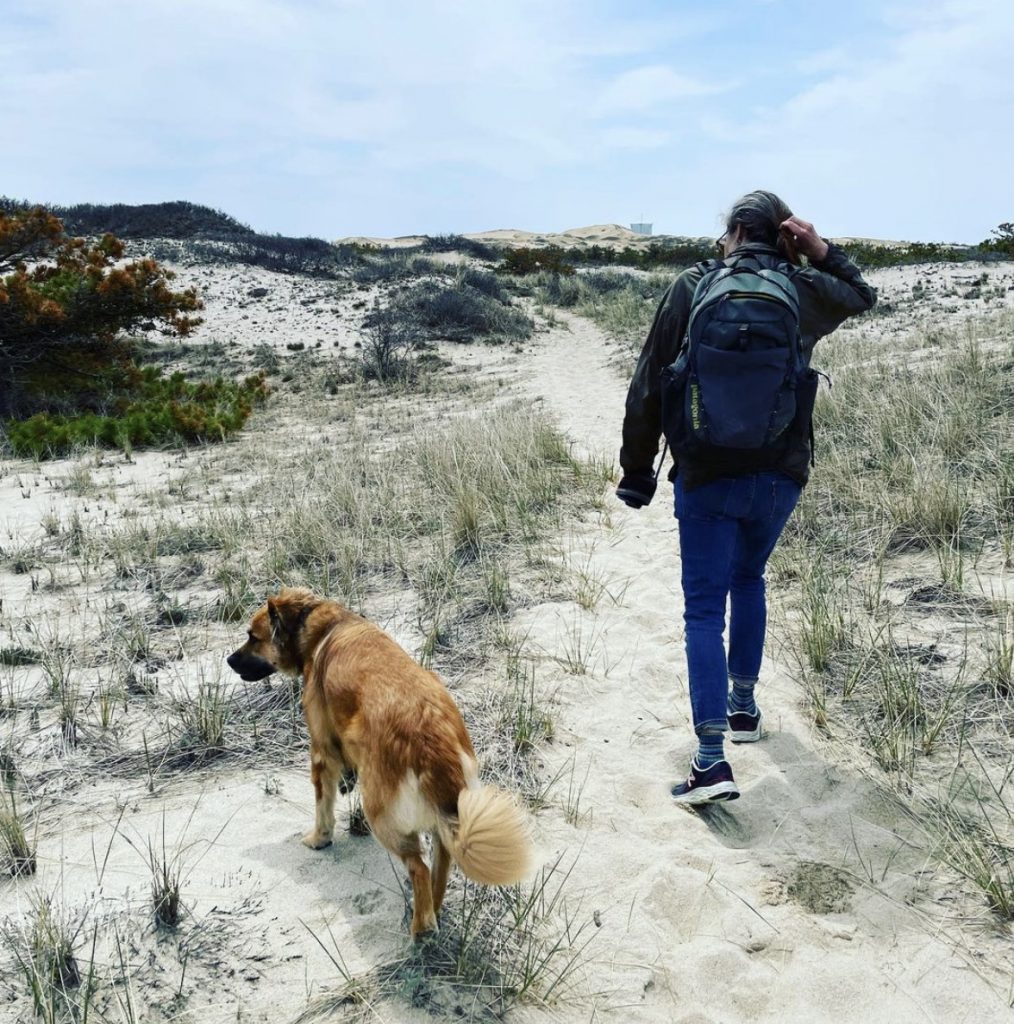 In April, Susan and I spent two weeks in Truro, Mass. Remember when we couldn't mingle freely with our fellow human beings?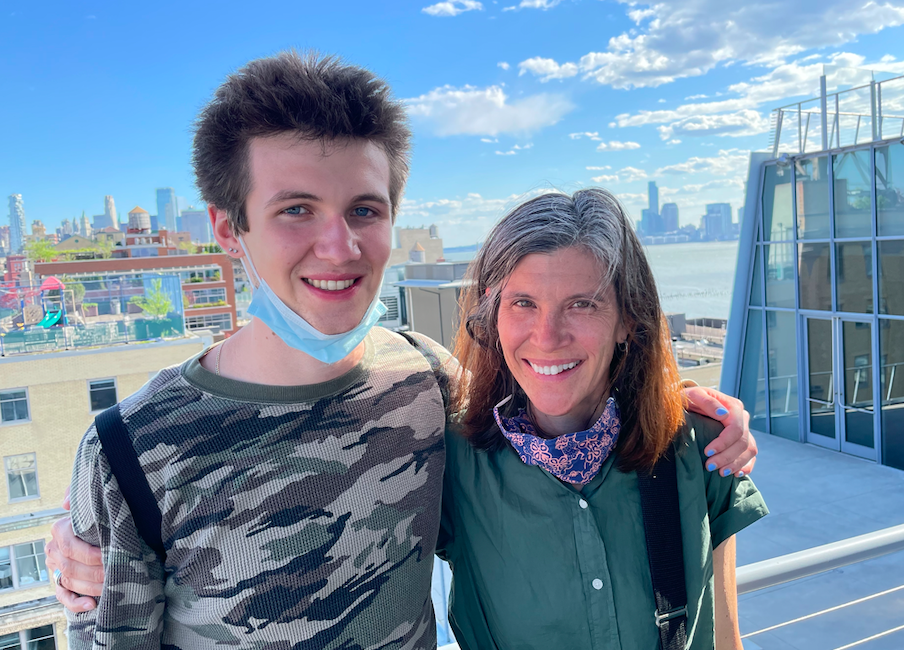 In May, we visited Max in NYC. I snapped this photo at the Whitney Museum just moments after learning of the CDC's announcement that fully vaccinated people no longer need to wear masks in public.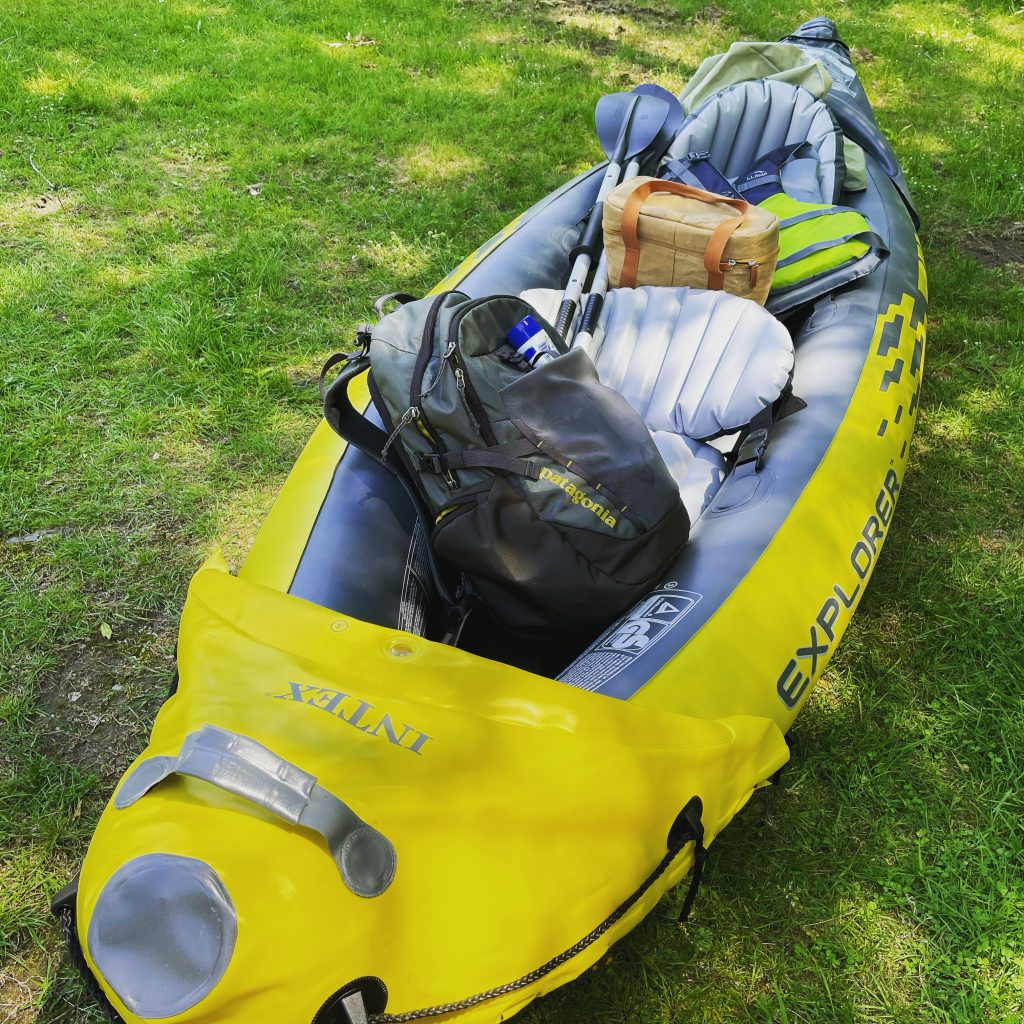 In June, Susan and I began convening with family and friends again. Here you can see our preparations for my brother Matt's 40th birthday picnic, which took place on an island just off the coast of Portsmouth, NH.
***
On to 3Q2021…
MORE HYPOCRISY: 2010 | 2011 | 2012 | 2013 | 2014 | 2015 | 2016 | 2017 | 2018 | 2019 | 2020 | 2021 | 2022 | 1Q2023.