BESTIARY (4)
By: James Hannaham
March 27, 2021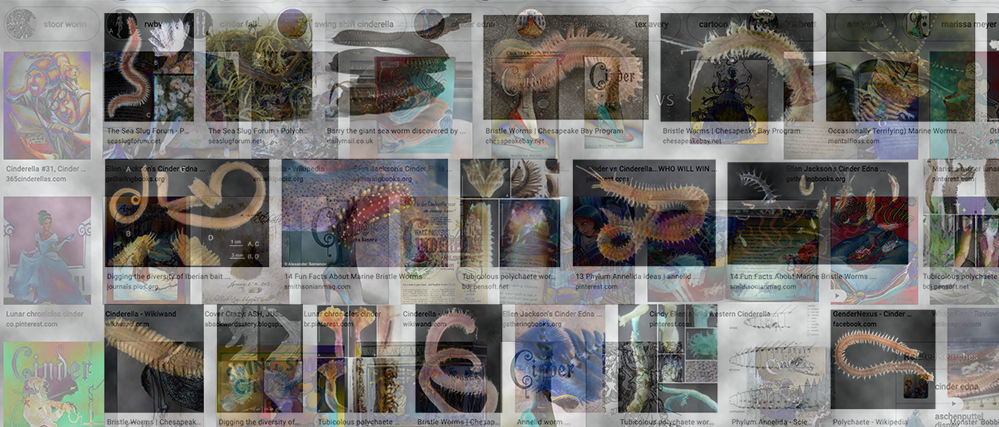 Cinder Worm/Cinderella (Google image search collage)
.
One in a series of posts — curated by Matthew Battles — the ultimate goal of which is a high-lowbrow bestiary.
---
PASTORAL (CINDER WORM)
---
They're about 1-3 inches long, with reddish bodies and round black heads, and they zip back and forth underwater like minnows without fins or eyes. Look across the pond; you'll see thousands of little wakes as they skim the surface.
It might be a worm, it might be a larva. Will the sky fill with vicious hornets and turn our refuge into a horror movie? In a year of worldwide what-the-fuck, we rule nothing out.
We watch a jellyfish, a strange one with four red rings in its central bell, sting a worm to death and begin to digest it. Knowing that things prey on them reassures me. That puts them on our side.
Large conventions of seagulls sit on sandbars in the shallowest areas of the pond. They don't feast on these things, but then again, they may have already eaten so many that they can't eat any more. The seagulls don't make any noise, just waddle ominously, like in that Hitchock movie.
We hope the worms don't bite. That they're not some bizarre type of leech. We park the boat and find that they don't, that they probably aren't. But what are they? Without knowing, I have trouble unearthing any information. My Internet searches, in order, go:

aquatic brackish larva new england
aquatic brackish larva new england red
aquatic wor
aquatic worms of rhode island
aquatic larvae of rhode island
water larvae of rhode island
salt pond "rhode island" aquatic wor red may
"rhode island" aquatic worm red may
nemertean worms new england
aquatic worms new england
aquatic larva new england
aquatic larva "new england"
aquatic wormlike "new england"
a new england nun
aquatic polychaete "new england"
red bristle worm
doba kayak
dobsonfly larvae
dobsonfly
phantom midge
larvae
soldier fly larvae
phantom midge larvae
mayfly
mayfly nymph
mayfly larvae
aquatic millipede
aquatic milkweed
aquatic mammals
aquatic larvae identification
aquatic critter
aquatic life
aquatic worms
wormythings
wordsmyth
wormy boi
wormy things in rhode island salt ponds
visited: May Cinder Worm Hatches
conderella
cinderella
cinder worms
"cinder worms"
Visited: Cinder Worms | New England Kayak Fishing Forums

For 15 years we have come to this place, usually just for a few days at a time, maybe as long as 10. But until yesterday, none of those days were the few days in May when the cinder worms spawn. (Some call it a "hatch," but this is inaccurate.) Only locals seem to know this phenomenon, specifically locals who fish for striper, for whom this event is a legendary boon.
When I teach fiction, I suggest that my students provide credible atmosphere by using details that only someone who has experienced a place over a long period of time would know. Here, for free, is such a detail. Set your story by a salt pond on the coast of Rhode Island, or somewhere else along the estuaries of the North American East Coast, one day in early May. Bear in mind that the spawn doesn't last long—before the next week, the worms will have died and disappeared—that it happens in the evening, or at night, before the summer season officially opens, and because of all that, when it happens, hardly anyone knows.
*
Feature image © Hans Hillewaert, CC BY-SA 4.0.
INTRODUCTION by Matthew Battles: Animals come to us "as messengers and promises." Of what? | Matthew Battles on RHINO: Today's map of the rhinoceros is broken. | Josh Glenn on OWL: Why are we overawed by the owl? | Stephanie Burt on SEA ANEMONE: Unable to settle down more than once. | James Hannaham on CINDER WORM: They're prey; that puts them on our side. | Matthew Battles on PENGUIN: They come from over the horizon. | Mandy Keifetz on FLEA: Nobler than highest of angels. | Adrienne Crew on GOAT: Is it any wonder that they're G.O.A.T. ? | Lucy Sante on CAPYBARA: Let us gather under their banner. | Annie Nocenti on CROW: Mostly, they give me the side-eye. | Alix Lambert on ANIMAL: Spirit animal of a generation. | Jessamyn West on HYRAX: The original shoegaze mammal. | Josh Glenn on BEAVER: Busy as a beaver ~ Eager beaver ~ Beaver patrol. | Adam McGovern on FIREFLY: I would know it was my birthday / when…. | Heather Kapplow on SHREW: You cannot tame us. | Chris Spurgeon on ALBATROSS: No such thing as a lesser one. | Charlie Mitchell on JACKALOPE: This is no coney. | Vanessa Berry on PLATYPUS: Leathery bills leading the plunge. | Tom Nealon on PANDA: An icon's inner carnivore reawakens. | Josh Glenn on FROG: Bumptious ~ Rapscallion ~ Free spirit ~ Palimpsest. | Josh Glenn on MOUSE.
***
ALSO SEE: John Hilgart (ed.)'s HERMENAUTIC TAROT series | Josh Glenn's VIRUS VIGILANTE series | & old-school HILOBROW series like BICYCLE KICK | CECI EST UNE PIPE | CHESS MATCH | EGGHEAD | FILE X | HILOBROW COVERS | LATF HIPSTER | HI-LO AMERICANA | PHRENOLOGY | PLUPERFECT PDA | SKRULLICISM.